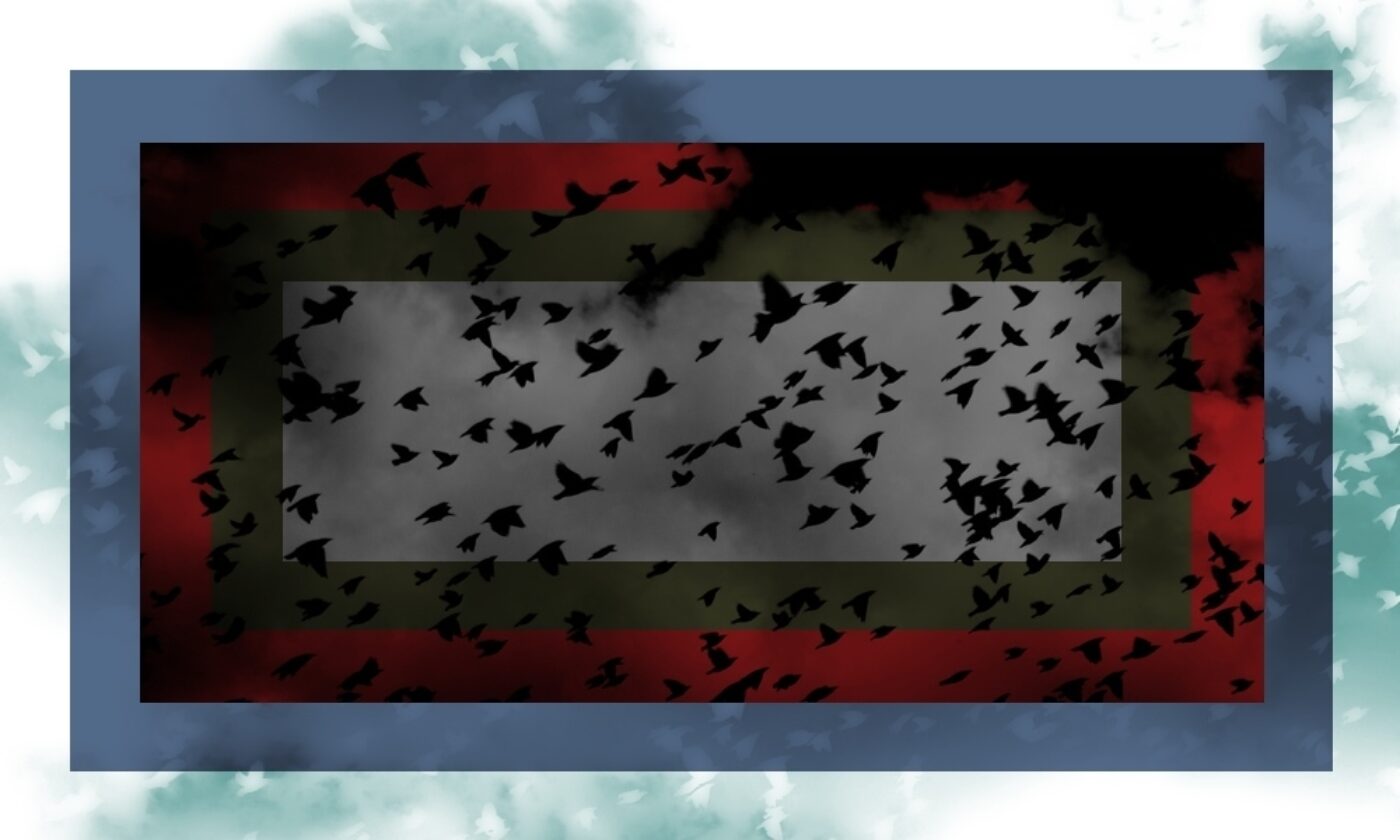 YOU'RE BEARING: 1619-2016
The concept of human races began during the Spanish Inquisition (around 1480)
—Eliza Sankar-Gorton, Huffington Post
What language are you now? Blood-fuck blanco-made
     on the leaves, (brother was blood in the ears) blood
        bitter crop, body-doubt, the poplar rain falling grape-grey
     in this cricket-eating fury again, from someone else's tantrum-madness, the limb
     tree, berries rolling under the dining table, the untied city rope
hanging, scraping (I dragged myself from yard to yard) knee. Kneel, & elbow-
     first on concrete, tire marks on the skin (they skin animals fur-first)
     not mine, but however, mine: inherited & ashamed
& born ass-asleep white with itch root and rot, that (Men) will work to hate
     each other a day in their hate toward someone they don't know, having
        their way beneath steeplechase hours, beneath breath to color
        (sister slow asleep there) & in the leaves of these eaten crops
made all, of concrete body, little mouthfuls of south song, dead salt thrown overboard,
that by word origin, tongue out & heat-wasted, such sass, such now, such shame
        rises in the outcrop god cotton mouth & sweat wheat life fire,
me-given against my will, blood genes apple-split in the subtitle in the peach head knot
        of history, sick in the instrument stomach.
THE HAT WE CANNOT PUT ON IS FULL OF HONEY
After artist Ann Hamilton
       She is trapped in the chair, her hands knitting amber
glue that is honey, that is primordial language trapped in the body
and in the felt hat in her lap. The body head is one wild sagebrush,
tumbleweed uprooted from its hillside desert floorboards
the father once hammered down. Down came the mother, unable to sleep.
               In sleep, the fisticuffs' minor scuffles and bee soufflés,
sex made for the music of spheres inside the chest won't rest. The imprisoned
heart there yawns though it is never tired of this excess. Cast wax votive heads
are trapped in a glass attic vitrine there. The sleeping daughter
(where 3 carrier pigeons fly freely) comes to know her body, to
know the mother and father this way. With the hat,
she is word-trapped in the chair at a nosebleed height
and it is a private matter.
"I AM A TRANSPARENT CLOCK"
Ann Hamilton & Ann Lauterbach/ whitecloth
              Double am, double Ann.
              Before being banished. That
the rain sweeps past the face, sweeps and sweeps
the moving mica chipped table top of the ocean,
      sweeps city landscape scaffolding like whale ribs.
This liver's labor clocks out every day past midnight. One
pore, one freckle begins the counting down, all follicles following close
behind. Face (time-phrase)
      it: The room's historical accident has it
in for us, a time-slot circumference bringing you back
                                   in the room, as far back as where
                                   you have already rehearsed the story.
                                   You can tell:
            Insects tick and birds drop from the mouth,
a language of getting there. All Time
is nothing you can say to yourself alone in the will of the rain 
repeated … Each drop, a thrown mirror, above the head keeping time.
There's this premonition of too many people
                    sitting, a gun
pressed to the ear. Hear it?
      One blue bicycle bell rings and rings under the bed
of skin.
I've always wanted to know if I could make/ love to a boy I've always known was a woman.
—Natalie Scenters-Zapico
of overnight windows peeled from paper trees, father's models' bodies undressed

and charcoal-cornered. Can you see me riding an Indian horse saddle seat, desert-out,

with only oranges to eat, their white waxed DDT skin flakes shining like so many dead

fish scales from my fingers, all caught fish bodies left market home on ice or on the street

against their own dusk stink? See this body float

twenty feet off the ground, middle passage film blood running through both boy and girl,

playing lover to myself and so sex-like unsafe: that dream-first ransom in wrist,

      the thigh, ankle

and neck-place, open mouth to kiss, pink water toy of the voice silenced high above

brush-line,—my body, the body

rising in void's tin can gravity, paint bleeding its tooth sand from caul ocean, child from adult

and reversed, perfect idiomatic, always in the known and known, cat piss from moan, each

dust-green cactus curt below, the far-off smell of fresh blue paint and the careless exhale

of waves as they ravage themselves.
Elena Karina Byrne, author of Squander (Omnidawn 2016), MASQUE (Tupelo Press, 2008), and The Flammable Bird (Zoo Press 2002), former Regional Director of the Poetry Society of America, is a multi-media artist, an editor, the Poetry Consultant and/Moderator for The Los Angeles Times Festival of Books, Literary Programs Director for The Ruskin Art Club, and one of the final judges for the Kate/Kingsley Tufts Prizes in poetry. 
Her book reviews and poetry publications, among others, include the Pushcart Prize XXXIII, Best American Poetry, Poetry, Yale Review, Paris Review, American Poetry Review, Kenyon Review, TriQuarterly, Denver Quarterly, Colorado Review, Slate, OmniVerse, Verse, Volt, Black Renaissance Noire, and the Academy of American Poets Poem-a-Day. Elena just completed a collection of essays entitled, Voyeur Hour: Meditations on Poetry, Art & Desire.