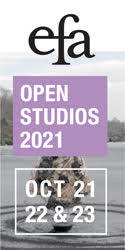 for Merril
5.
Imagine you're in unfolding layers of landscape
bright in the distance, a foreground of accented
shadows. Cool colored flowers in light turn hazy
A man living by the water loves lowland cities
The long-distance traveler ascends in experience
Things pose themselves as they are. When I
think of you, that mountain bird, black with a red neck, flies
toward a farther tree
The farther tree is lonelier. At sunset
it's the first to dim. Birds on the wing
hasten shadows downward
Sightseers make the distance dim
Then the lowlands. The wailing of deer
sounds from a disappearing landscape
I'm thinking of you. Late at night
the return road fills with turns
1.
Along the river, a stance of petition
allows autumn waters faithfully to reflect
golden yellow woods. Three blatant
virgins of day's lightrays
hover around the tenth moon
supporting that stretch of bonelike red
Swallows fly leftward
Cows' hooves sink down in
ever narrowing waters. The town is just now
filling with human touch. Wet bodies of rowers
in their hurry to go forward, speed the coming
night. The river: two persons begin to be
One who looks back blurs the horizon
Night birds cry, reflected in broken wood
A dog with a lonely expression
tries to pass the iron gate of a
children's woodland recreation center
My body approaches yours
in a state of nerves. That night
I witnessed another you
In a dream, I was walking toward the light
You stood by a red fence, pitcher on your head
a country girl, yellow dirt road behind you
and behind the yellow dirt road a warm and glossy sea
As lips feel lips in the thick of time, badgers
gather, congratulating us on our love
Horses whinny in a stable off in the distance
In the dark of night a bachelor sailor
sails his slender boat
out of the harbor, in serene security
7.
Out of state temperatures go up. Noon
makes nearby peaks
hush. White breakers in the distance obscure
a view from the study. Such a short poem to
pause before each punctuation mark
Classical, this face, elegantly
sidelit. Breasts small and round
exquisitely naked in the fine detail
of words. A waterfowl flies toward
shallower waters, the shadow of its wing
dimming those delicate nipples
White swans abstract and quiet
sitting on the water. They stretch out red feet
turning the sky in the lake even bluer
and your soft belly flatter yet
Clearly the traveler is entering
a parallel world, out into the deep
as a harp vibrates. Then comes that
sigh of yours, a sigh
of being barely tired. A man stands in the
distance, in the still downward cast of shadow
At the blurred intersection a bell begins to
ring.—Returns from long journeying
a lone traveler with the face of a lover
In thin-beaten iron the tail of a peacock
spreads, facing east. East is a glittering
golden horn, its mouth toward the west
When the first faint light makes visible
the lower length of your long legs, twelve
roses in love arrange themselves
in pairs. Pedestrians stand in
gloom amid blared car-horn
melodies. Cotton fields stretch outward
sweetly. The motionless wings of an eagle
make a distant home stand out in the
mind of a man in exile. Raising bright
dust, wild horses gallop off into
those days, most ordinary, most beautiful
9.
At a T intersection, afternoon sunshine
makes the forward wall look
old. Once again a fringe of morning-glory
curls upward. A black dog
barks at a red house. As I turn
left, it's you running
toward me. Your womanly face
rosy, your eyes filled with
water crystal clear
Ducks white and blue fly
upward in groups
within your loving gaze. In Beijing, twenty
years ago, myself listless, a young girl
ran along a quiet street, pointy breasts
bobbing under a summer
dress at once flimsy and lyric
Water in the deep sea is blue
Deeply loved, we are more sensitive
to details. Those tiny golden
crabs crawl from waves of ebb tide
glistening. Boats that have been out to sea
return in the dusk one after another
Light on the downward dyke is fading
but at the forward boat entryway
the siren from a lone tower
facing the open sea, still shrills
shortly but endlessly
Translated from the Chinese by Keith Waldrop and Hu Qian.
Keith Waldrop teaches at Brown University in Providence, Rhode Island, and, with Rosemarie Waldrop, is editor of the small press Burning Deck. His Silhouette of the Bridge received the America Award for Poetry for 1997. He has translated, among others, Anne-Marie Albiach, Claude Royet-Journoud, Paol Keineg, Dominique Fourcade, Pascal Quignard, and Jean Grosjean.
Hu Qian is currently working toward his PhD in Translation Studies at the University of Texas at Dallas. He is also a senior language specialist with Language Line Services, an agency that provides interpretation service over the phone in more than 140 languages. He has translated several books for various publishers and published a number of articles on translation and interpretation.
—Xue Di was born in Beijing in 1957. He is the author of three volumes of collected works and one book of criticism on contemporary Chinese poetry in Chinese. In English translation, he has published four books: An Ordinary Day, Circumstances, Heart Into Soil and Flames. His work has appeared in numerous American journals and anthologies and has been translated into English, French, German, Dutch, Spanish, and Japanese. Since shortly after the Tianenmen Square massacre in 1989, he has been a fellow of Brown University's Freedom to Write Program in Providence, Rhode Island. Xue Di is a two-time recipient of the Hellman/Hammett Award, sponsored by Human Rights Watch.
Originally published in
Featuring interviews with Rodney Graham, Pierre Huyghe and Doug Aitken, Jerome Charyn and Frederic Tuten, Ben Marcus and Courtney Eldridge, Kaffe Matthews and Antony Huberman, Jonathan Caouette, Laura Linney and Romulus Linney, and David Levi Strauss and Hakim Bey.