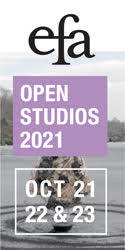 Stress Test
My chest is angry. Tight enough to bounce
that quarter I need for laundry. I can feel
my lungs work double time.
In this new economy, somebody wins. Big.
Really big.
And everybody else loses. Big.
Really big.
There's a ballad in this uncertainty.
A chorus for rebels.
A cantata for the long-time unemployed.
Harmony, melody, rhythm
in disarray. Today, a woman lost her home to fire.
The bank branch on Fulton was robbed.
Before these manmade disasters, there was a storm
that dashed trees down
like balsa wood sticks.
Child's play for the Gods?
Hurricane season. The first one named for my brother.
Bill is moving fast. But kindly.
Trees bending, some broken, homes trembling
few deaths. Lacking damage.
Oh, mighty, mighty wind.
Swimming to America—Half-moon Sky
Esther Louise and I were talking about Janis Joplin. We were talking about
how Janis Joplin sang as if she found a pain so wide it wounded her.
She sang loud and harsh. But the wound was big. The wound would not heal.
She sang as if nothing nothing could cauterize that wound.
She sang as if only only she knew the way to heal this wound was to burn.
Daily dousing flames from her mouth. Daily striking matches to her mouth.
She sang as if the only only way she could make her face
remove every trace of plainness was to burn burn burn.
She sang so hard and long and loud she came as close as she could
to the pain of those songs made in boxcars, juke joints
outside vaudeville tents home to deviants degenerates and the generous
family of hustlers, some of them women torched by the freedom of the road.
Oh yes, Esther Louise said, "that white girl can sing the blues."
Janis sang as if only only she could sweep away dry Texas air and burn
out like a nova leaving traces of wild hair, Indian bracelets all the
way up her arm. Her neck wrapped in layers of beads from Persia,
beads from Navaho land, beads from West Africa.
When I first saw Ntozake Shange, I thought, Janis Joplin.
A Tale of Morandi
The untold, oft-told story is that Morandi only painted three paintings of objects in his studio. He was morose, depressed, obsessed with procrastination. No, that is the early version. He was not morose or depressed, but obsessed with sunlight, air, the daily stroll. But then he would have to stay inside with the wine bottles or cups and paint them repeatedly. So he hired an assistant. Pier rot. A man whose talents presumed a precise mimicry. Morandi was pleased. Pier rot was pleased. He painted canvas after canvas. He would vary the grays, the blues, but the hues were troubling in their consistency. Occasionally Morandi would point out the need for a different amount of blue here or brown there because on his stroll the sky had changed light or the earth was more or less dusty in the park. Morandi would bring new bottles, but of the same shape. He drank the wine or he did not drink the wine—there are scholarly disputes. What is important to understand is that he liked to draw liquids from the bottles, so whether the wine went down his throat or splashed on the ground, what did it matter—the wine came from these bottles. Pier rot did not drink the wine from these bottles. He supped on potato soup and thick dark bread, but what he dreamed of, as he encountered his masterworks of mimicry, was dining on oyster stew, tender asparagus with a new white wine as crisp as the collar of his lover's finest shirt.
The Fringe of the Town (For Jeanne Larsen)
At the corner Laundromat, a tall light-complected woman
complains
about the heat—it's not even 70.
She tells the Pakistani man to turn on the big fan.
But it blows in dust, he says.
I don't care, says she.
It's not that hot. And I sit somewhere in 7th-century China
with a woman of the court writing a poem about her travels
to the Changning Princess's Floating Wine Cup Pond. For some reason I read this as
Changing Princess. But why not? Was the court woman's journey a swift escape
from the palace heat; her tiresome duties of charm and submission? Or
merely the annual pilgrimage up a mountain
so that her descent would carry the same urgency?
Would that pond please these women bitching about the heat, that isn't really here?
They enjoy ordering around the skinny man who runs the Laundromat. He's a foil
for their husbands, supervisors, bad news boyfriends, sons-in-law,
sons who roil their lives in small ways and large.
If given the chance, would they dive into the Changning Princess's Floating Wine Cup
Pond? Not likely—Scary items to city dwellers:
A lack of chlorine
The possibility of bugs.
The chaos of parties—those floating wine cups.
Sometimes it is good to be at the fringe of town
just this side of the hubbub, gossip, the need to demand
obeisance from a little man who is making maybe $10 an hour.
Sometimes, the search for the floating wine cup is as much fun
as drinking from it the first time—wine heavy and tart somewhat.
To be the Princess who named this pond, well, we can make up her story.
The pond's name and festive frame that surrounds the Princess's retreat.
Was she pretty? Was she smart? Did she catch the Emperor's eye?
Or feel the Emperor's hand brush her neck?
Did she piss off a scholar who could have helped her escape to a convent before
the cups took over her mind?
As for me, childless, husbandless, book reading—happy to observe
how these women shout a weary pride in their daily lives
Mothering so many or burying the poor men who used to hang on
the corner of or organizing the fête for Friday after next.
As huge washers rinse and spin and dryers remove yet another layer of fabric,
I am the woman barely visible, the intellectual, the possible slut.
Not one of us will jump into the floating wine cup pond, but it is pleasing
to know that one existed centuries before at a town's fringe.
Those centuries old breezes from China brush my neck
as we stand here folding clean underwear
& worrying about what to make for dinner.
Note for "The Fringe of Town: Riffing off of Shangguan Wan'er aka Shangguan Zhaorong's 'Twenty-Five Poems upon Traveling to the Changning Princess's Floating Wine Cup Pond'" in Willow, Wine, Mirror, Moon: Women's Poems from Tang China translated by Jeanne Larsen, BOA Editions.
Patricia Spears Jones is a widely published African American poet and author of the poetry collections The Weather That Kills (Coffee House Press, 1995), Femme du Monde (2005), and Painkiller, forthcoming from Tia Chucha Press. She is a contributing editor of BOMB.
Originally published in
Featuring interviews with Charline Von Heyl, Fred Tomaselli, Mika Rottenberg, Thomas Hirschhorn, Adam Phillips, Charlie Smith, David Toop, and Jan Lauwers.