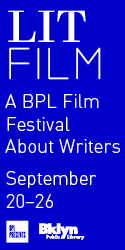 Cointet
His final play was never performed
during his life, but shortly after
comprised the very last writing.
The setting opens, ordinary
through a curtained window, the family's widow
who wears Prada; her aunt arrives
then rushes out the door, even mournfully:
She will never have
language in this casual, lifelike conversation.
Ambidextrous, Yves Saint Laurent
also produced a limited-edition newspaper
composed according to obscure rules,
books, works on paper, and works in space
speaking to the way in which practice
is infinite digression, on occasion,
the muse, known informally, where
where messages could be hidden, as it were,
in the open. It was only a matter of time.
The true stakes, then, are not in a text
but rather in the recognition; you might be forgiven
colorful geometric forms adding
adding another dimension to
failing the same exam:
Blue evokes a river, green evokes the grass
intermittently spoken as part of a conversation
reading aloud from the same sheet
that everything is ciphered—suggesting
"swimming pool," or "Pacific Ocean,"
without citation a pattern
or decoration between
visibility and legibility.
"For Khlebnikov," he said,
"a shift in sound that produced a shift
in meaning was a shift in the structure
in the universe." But it's hard to say
When a conversation starts or is finished; you realize
Only when you get on to another one.
From Subjects
The material called body
is not the revelatory role
which is called touch.
For touch is not the touching
as one now is not the same
or me the analog of myself.
That is why I am, though
I perceive the same and
subsequently I render
this to myself: the whole
world goes along with
this touching. Each
elaboration constitutes a
world. And if in struggling
with things I appear
to myself, the event is that
which occurs, after which
nothing will be
the same again. "It
happens" cannot be
"what happens." That is
to say, the event will be
in another history. Since
might be its reduction
to a moment after
which is nothing for
it is no longer an event:
History is no present.
It comes too late; or better,
too soon to follow.
Insert Metaphor Here
Some books are designed not to have authors, or authors
reflecting a lack of authorship, or authorship that refracts
across other authors, or ideas of them. Or so I guess.
And this is meant to suggest the "author," who is
everywhere and nowhere, since containing many voices
is to be no one at the same time as containing multitudes.
Which is only to ask, perhaps, whether we shouldn't already
be enough for each other.       [                  ]
*
I once knew someone who said, "You need distance
on something before you can write it." But how much
distance is required before you can read it? Or can you
understand something if you don't like it? Can you like something
if you don't understand it? If you don't like someone,
can you understand someone? Or if you understand
someone, can you like someone? If you like someone, do you
understand them? Or is it only distance?       [                  ]
*
On occasion, something arrives
as an essay. Only it is not
an essay. And as I look out
my window I imagine what
it might be saying, the swirling
snow a continuing manifest
of ideas; and, every once
in a while, a new art
happens, and when it does;
there are so many
authors, and so many distances,
and so much snow. Once someone
said to me I stayed on a subject
only because I was forced to;
the idea was only the form
of the poem being finished.
[            ]
Eclipse
to read to see to speak to hold
a mirror inside one's head, changing
to what one sees
and does not see, the signs
without separation.
No word not a thing
not speaking, no name
to read
Tim Griffin is executive director and chief curator of The Kitchen, in New York City. His book considering shifting terms for site-specificity in contemporary art, Compression, will be published in 2012 by Sternberg Press in Berlin. He is at work on Subjects, a book-length poem exploring changes in formulations of subjectivity during the past 50 years. The brief selection appearing here is steeped in the phenomenological concerns of the mid-1960s.
Originally published in
Featuring interviews with Jimmie Durham, John Miller, Suzanne McClelland and Barry Schwabsky, Paul La Farge and Peter Orner, Yang Fudong, and Radiohole.