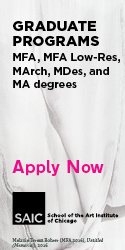 La escuelita
Dollar bills hang, tongues
from your dress straps as you one-kick,
two, in blue chiffon, throw your head
back. We stroke
our beer mugs, then our beards, gingerly
trace our lips. We need
to keep you at fingertips'
length: Continue
dancing. The band plays
Salsa in the corner, a wooden fan
slices the air, a salty wind
through a Caribbean scene.
And if we're exiles, we're only men
against ourselves,
exchanging partners for the dancers
we've invented, out of our wallets dollar bills
fighting their way. We toast
Salud. Our faces
warp behind the glass.
At night, inside the mirror
what do you see, makeup
off: your face
a stain between your ears? Do you see
bones inside your forehead, pores and stubble,
the lumpy throat?
Or are those clouds
fanning your crown, a blur of pomade
and sweat? It doesn't matter.
A steady round and you'll return the way
we want you, wearing
poppy-red and velvet, inviting our tips
as you kick your way
back on stage.
The stage is bright, the crowd
is dark, swaying as one.
X
A man sucks another man's
tongue, leans him against a tree
 
and in this jungle of masculine leaves
steadily dripping, hot light on tumid skin
 
bronzed and broad-backed they fuck with gusto
(or feign so), legs hoisted in a driven rhythm
 
(velvety squiggles, noisy snow across the screen)
 
I uncap the cream, let my hand drift down
their thick arms draped across each other
 
reach for mine
 
and I'm beneath them one at a time, a well-greased
machine in the guise of a man
 
(until it softens and the fluffer comes in)
 
Their black-sheathed bellies mesh hair
with hair, spouting sap like tuberous orchids
 
sprinkling the leaves
 
including mine, even though I know it's a lie
(my wrist yanked by an unseen chain)
 
even though after everyone's sighs
climb higher than the screams of toucans
 
a sleepy green eye
fades into a blue ray on the screen
Fantasia Nocturna
There's a merman singing in the shower,
a glittering seahorse trapped under glass.
Waves of coral emerge from the wall
and I'm the only one in the room.
I imagine tide pools, whorls of color,
glistening copper pipes rinsed in spray.
Yellow lichen and kirlian turquoise,
thunderous floods between sea and sky.
How do I know there's a merman, or that he's singing?
Dolphins leaping in formation under a full moon?
I'll strap on a wing and dangle from the balcony,
look for flakes of iridescence along the sill.
He sings because I want him to, his broad pectorals
taper into gold scales patterning his tail,
into powerful flips that bound him away
in a spray of bubbles through anemones and ferns.
In some other country, I might camp among cottages,
among dogs and hairy legs, I might listen
to tin roofs hammered by rain
(underwear dripping in the shower at 3 a.m.),
or the whistle of a train.
I grow, I think, my ears throb in the night.
The merman's wail stops at my door,
his iridescent tail lathered with foam.
A flutter of squid like luminous hummingbirds
merge and scatter. Eclipsed in the doorway,
his sinuous form drips and waits.
A fluted shadow undulates across the floor.
There's a merman singing in the shower,
a glittering seahorse trapped under glass.
Coral waves emerge from the wall
and I'm the only one in the room.
Ignatius
On the way from St. John the Divine
soup kitchen,
leaning on his cane—
Three pins hold his foot together,
limping the briar path
cold stings through.
Wool cap pulled down to his forehead,
over one arm an old plaid suit.
He tells me the impact of the Cadillac
was head on,
the hurl through the door
left him bleeding by the hydrant.
Pronouncing him dead
on the way past the morgue,
the doctor sought his pulse and said
this man is alive!
They brought him back, not from the grave
but from the dream
in which he approached an ebony pillar
backlit with a soft diffuse light,
he heard his mother call
Ignatius from a St. Croix balcony
(or was it a housing project in Queens).
She called him twice,
the third time, walking, he spun around
and woke inflamed.
"I've been stabbed sixteen times,
sustained a coma,
fought gangrene,
they wanted to cut my right leg off
but my mother told them
'he was born whole
and that's the way he's gonna die.'
Try closing your eyes
for twenty minutes,
keep very quiet, forget this realm,
this narrow corridor framed black and white
in pain, and when you open them
you're gonna see
what we can see and can't see."
Daniel Shapiro's poems, prose, and translations have appeared in publications including American Poetry Review, Black Warrior Review, BOMB, the Brooklyn Rail, CNN.com, and Poetry Northwest as well as in The Oxford Book of Latin American Poetry and other anthologies. His translation of Cipango, by Chilean poet Tomás Harris, was published to acclaim by Bucknell University Press in 2010. Shapiro has received translation fellowships from the National Endowment for the Arts and PEN. He is director of the Department of Literature at the Americas Society in New York City and editor of Review: Literature and Arts of the Americas.
Originally published in
Featuring interviews with Danny Lyon, Tom Murphy, Cass McCombs and Ariel Pink, Brian Evenson, John Newman and B. Wurtz, Ralph Lemon, Eija-Liisa Ahtila, and Wayne Koestenbaum.