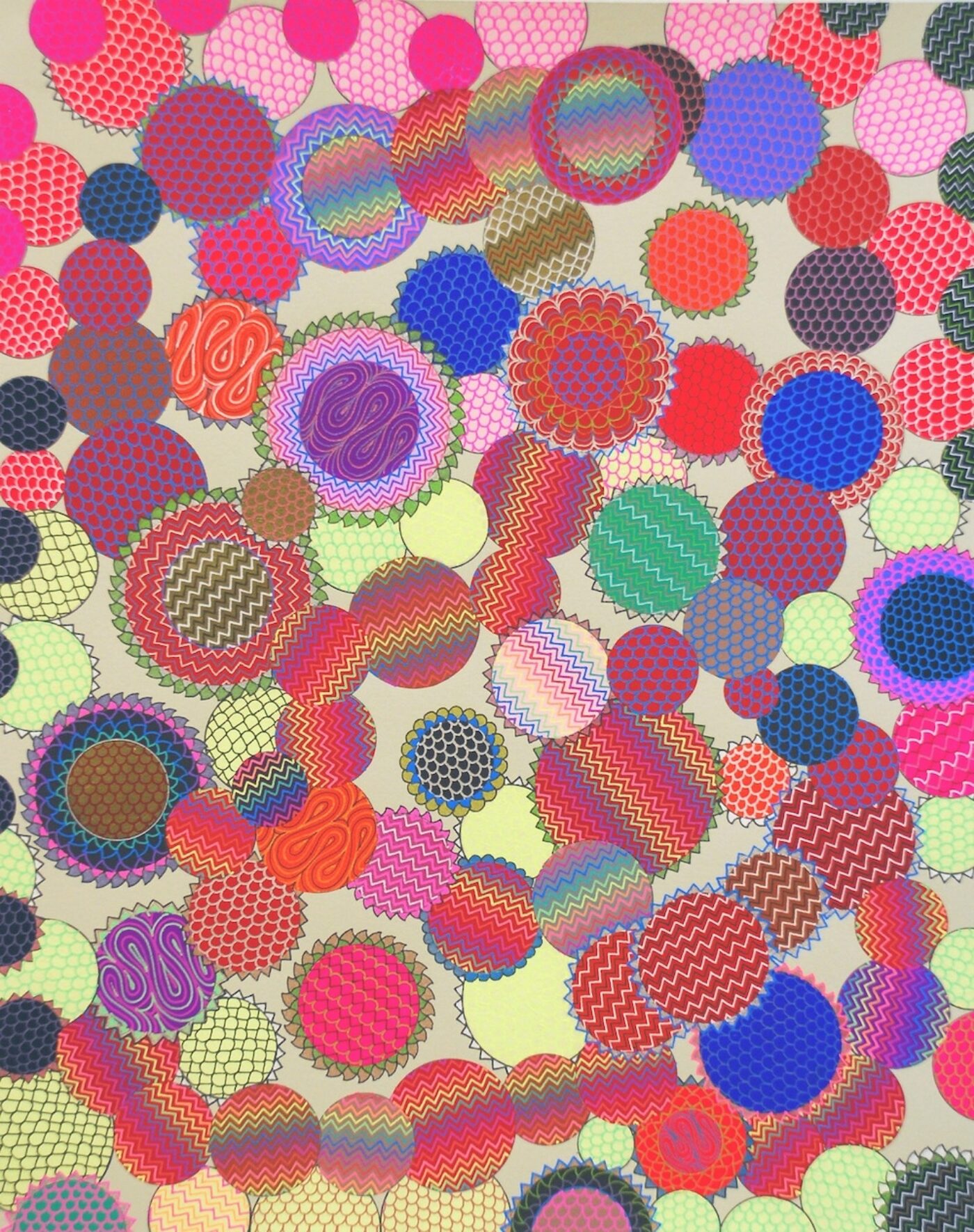 The Ache Poem
We think the sea is invulnerable & we are
wrong. I watch water evaporate from
the vase. I watch your face as it turns to water.
Cars are louder than I am. Above the street I am
staring at two green shelves leaning against my wall.
Like a sailor, I whittled my heart into a hook & threw
it in the sea. The sea is a sink, a ceramic duck,
your stack of paper plates saved for picnics.
Our dog whines & I don't know why. I've failed
in someway that has yet to be revealed.
Replace my heart with a lightbulb, a bleacher.
Nothing fits. I replace my heart with your
face. Scallops hold my hand, lead me to
that wet, grey scale. From the raft, I will
the shelves onto the wall. I will your face to
look up at me, from inside my chest.
Have I failed the sea. Refill the vase.
The Ache Poem
From inside the mountain I'm
a drum. Inside the drum, I'm
counting slowly to ten, trying to step
out of the hottest shower. Next
& naked, I wash the dishes to air-dry.
People leave by airplane. They leave
by UHaul. By cloudy Fords. With full
tanks. By noose & ash. I know they're not
leaving me, per say, but how do you not
feel left. Silhouettes fill with pollen &
slivers of soap. Somewhere you're
eating breakfast or hanging from my mind's
bridge. Somewhere you're sidereal, fixing
high beams. Or blowing eyelashes from your
computer keyboard. Inside the mountain is
room temperature. Air circulates through
a series of words. I stack three towels
for guests. An new bar of soap for the squeamish.
Soon a silhouette will send a painting in the mail.
Of a bloody train, a lace carousel, the sound I'm trying
to fill each space with. Outside the mountain
my hair glints like a CD on your dashboard.
Transportation means I miss you. Or maybe
a mountain could find a tunnel. Like how right now
my arm plunges into your guts. You are a drum set.
The sky above these plains looks like it belongs
to the sea & here I am with those excited eyes.
The Ache Poem
Maroon lint from the dryer makes me
wonder what I wear. Dog's leash
sprawled on the carpet & a bereft beer opened & left
out overnight. I have an irrational fear of
venereal disease. Like, I'm standing in the street's puddle
& something insidious springs from damp ankles.
To grind in the disposal woeful egg shells & onion skin.
Sometimes I'm afraid I want to get married
for the wedding & have children for the names.
If I tell you what I fear it's easier.
Fruit flies hover like lost freckles. A watermelon
hacked into rose quartz is what glimmers.
To wash & wring out words—they're not
cleaner or softer—they feel.
I'm marooned & recovered by language daily.
We've all swallowed a seed to see what would happen
or snapped an apple core into an hourglass.
In this ice-cube hour, I make myself visible.
Rent is a place for feelings. I open
the birdcage roof to water the plant.
I've never talked to the dead, though
I've prayed to a stuffed animal & a cloud:
Please let the plane land in one piece. Or, please
let this work out between us.
Something like a faith in pushing words
through the air? White dog hair on a grey sweater
reminds me not to care about certain outcomes.
How many times we have invented wings.
What words will you make? Swarming with seascape.
I'm looking for a breeze. Names squirm with
sticky melon children. The pull of letting. Now I mouth
Let this be okay. Look forward to watering plants.
Look forward to the ache of each word & how
they skip gleefully over the sea before sinking.
This is the new place for feelings. A wet castle grows
under the waves, it does not fear.
The Ache Poem
The sea isn't even close.
I've learned that the face
is not enough. If you're the quarry
where is the cart of extractions?
To gather like an invitation.
An arbalest zings though quarreling trees.
Wind like a treaty cannot wait.
Sometimes the war warbles:
I will send you lavender & antimatter.
I will send you the splintered telephone.
I will send you a blamable cufflink.
I will send you cucumber moons.
The infinite stretch of a black hole
is nothing like me. Nothing like
the acute faith that unfreezes
the face's language. Had you flown
the quarantine flag in early light
what help could have—
what kind of help—
Sometimes I miss myself.
Sometimes I gather dead bees
in a soapy satchel.
Weather is whatever's there.
My blue blue veins, circling.
I have faith in you. It's my best
offer. My only offer. Twirl
a dirty curl with one hand & type
with the other that the forest holds.
Creativity is survival. I'm trying not to
miss myself anymore.
It has to do with feelings.
A few words ignite & signal biplanes
swooning through the chest.
Most only ash to anger, which these lilacs
extinguish. The sea is not wine-dark. It is lilacs.
My tresses, my tresses, mercy.
If you give a feeling away
then someone can help. Mortal kite,
the snap of an inchworm Crayon,
& letting it creep out of us.
Alleviation is a certain kind of space,
quavering. Unlike feelings, we cannot
eventually assuage language.
Ash caught in my blond. Out of bounds
of my green, your face. I'm not
trying to reach anything, I'm
reaching through it.
Julia Cohen is the author of Triggermoon Triggermoon (Black Lawrence Press, 2011). Her work appears in journals like Colorado Review, Kenyon Review Online, jubilat, New American Writing. She is the Associate Editor of the Denver Quarterly and curates the Bad Shadow Affair reading series.
Geoffrey Todd Smith's intensely patterned and intricate painting/drawing hybrids have recently been included in solo shows at Luis de Jesus Los Angeles and Nudashank in Baltimore and in group shows at The Green Gallery in Milwaukee, the Hyde Park Art Center in Chicago, Geoffrey Young Gallery in Massachusetts and Baer Ridgway in San Francisco. He will have work up concurrently with the Western Exhibitions show in "Afterimage" at the DePaul Art Museum, running through November 18. His work is in the collections of Hallmark Inc. in Kansas City, the Jager Collection in Amsterdam, the South Bend Art Museum in Indiana and Harper College in Illinois and has been written about in art ltd, the Chicago Tribune, and Chicago Magazine, who called him one of the "rising stars we should be collecting now." Smith lives and works in Chicago.