Disastrous screenings, Nam June Paik's meeting with Bill Clinton, and time spent as a dog.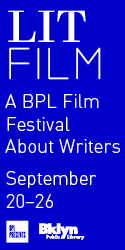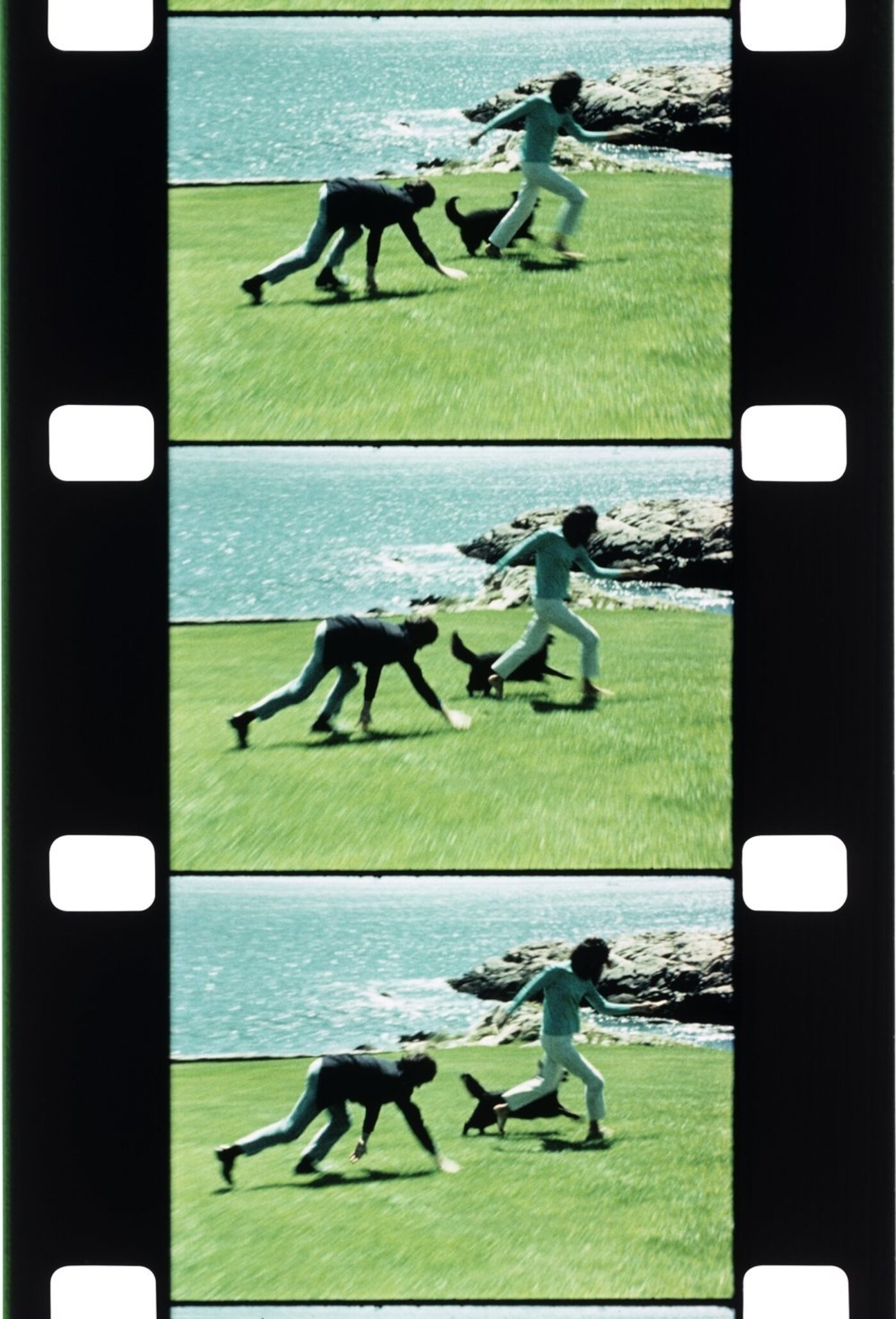 A Day in My Life as a Dog
I don't know how it really happened, but one day in 1967, I decided to try a dog's life. I mean, to live like a dog among dogs.
I was helped in this idea by the fact that I was staying at the house of Minnie Cushing—actually it was an old mansion, in Massachusetts, and there were many dogs in it, big and small, old and young, and they seemed to be all of a family, a family of dogs.
It was not really my idea. It was an idea of Peter Beard who often gets such crazy ideas. But I liked it.
So I spent most of my day on all fours. That is, running around with other dogs on all fours. It was a grueling task, but I was in perfect physical shape so I had no problem with that. More of a problem was the fact that the dogs were usually running faster than I could—that is, on all fours. And what's worse, they were not in favor of sitting still for too long: They preferred just running around all the time, the whole bunch of them. I had no choice but to stay in game with them, including chasing after cars, which drove me really nuts. The other problem was drinking water out of the bowl. I just couldn't squeeze myself between their snouts, my head always got in the way. But I was not bad in the bone-catching games, which surprised Minnie. Things like that.
I have to tell you that in spite of the grueling day, I ended up feeling great. I thought that a dog's life, after all, was not that bad; actually, it was great compared to the lives of humans around me. I'll never say again, "Oh, this is a dog's life."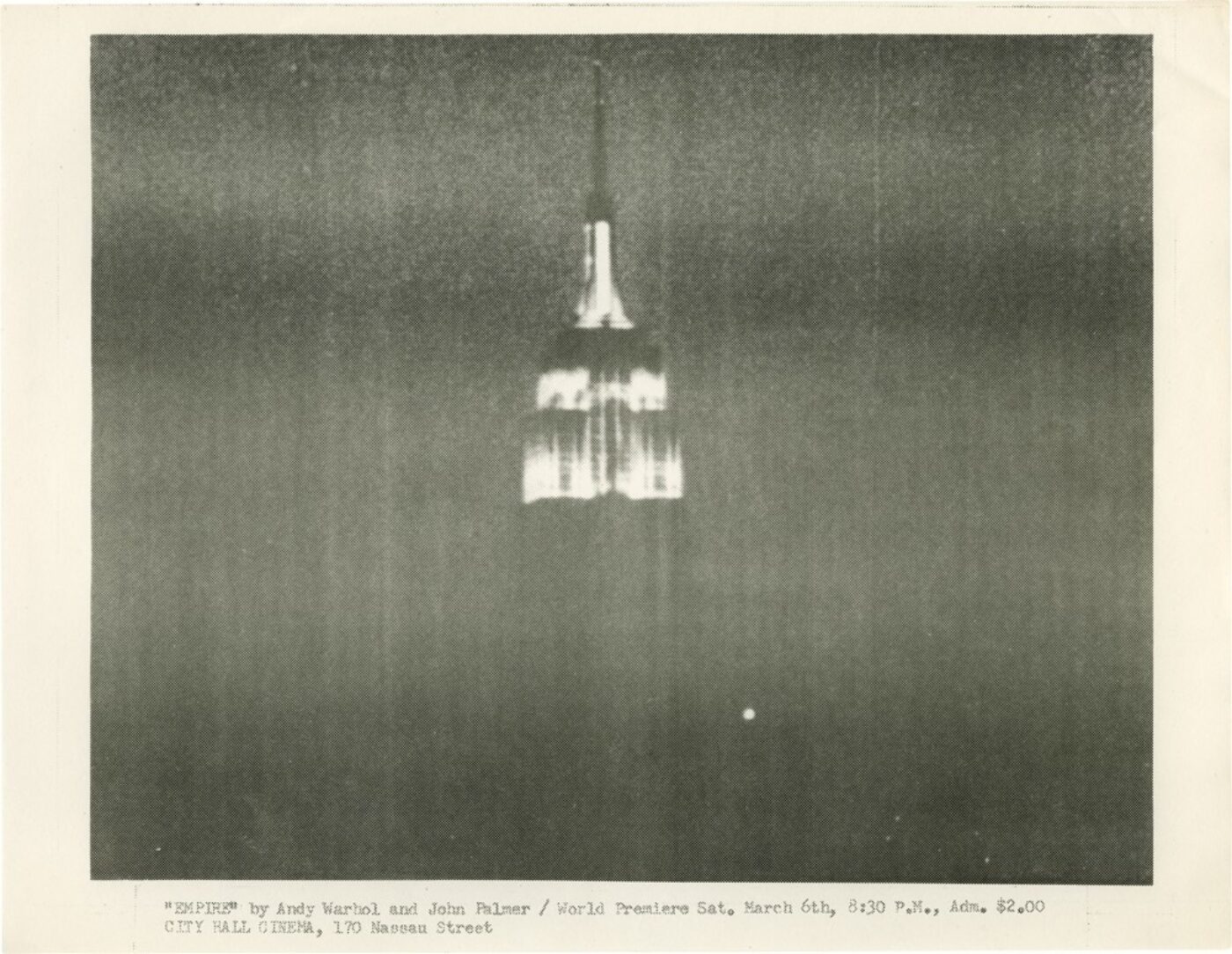 It's October 22, 1994. I was in Vienna to introduce a Warhol exhibition at the Museum Moderner Kunst.
As a part of the exhibition, the Warhol film Empire was scheduled to be shown. I introduced the film by telling about its premiere at the City Hall Cinema in New York in 1964.
"Good to see so many of you (the place was full). At the premiere in New York, I had some 200 people. At the end of the film I had some thirty or so. I am curious how many of you will be here at the end of the film."

They all looked a pretty determined bunch. So I went to the Apostelkeller for some wine. Two hours before the end of the film I went back to review the situation. I found that everybody was still bravely there. That amazed me greatly but there was still a lot of time to go. So I went back to the Apostelkeller and had some more wine.
I came back to the theater some fifteen minutes before the end of the film. I could not believe my eyes: Everybody was still there!
The film ended and nobody had left. I walked in front of the audience, almost in shock, and I said:
"You Viennese, you are amazing. You are really amazing. You are amazing…"
And as I was talking like that, standing there, there comes this woman on my right and she begins to talk to the audience ignoring me completely as if I wasn't there at all, and she says:
"I represent Austrian Airlines. Okay now, since you are all still here I have no choice but to have a lottery for the ticket."
I shut up and listened in amazement to what she was saying and, of course, the following became clear to my stupid head:
The screening of Empire in Vienna was taken by the press as a big joke, as a challenge to the audience's patience. Austrian Airlines joined in the joke by announcing that the person who will be able to stay to the end of this most boring film ever made will get a free round-trip ticket to New York…
I was pretty crushed by this turn of events. I had to go back to the Apostelkeller for more wine.
Later I was told that the lottery took place and a young Viennese filmmaker, Kurt Palm, was the lucky one.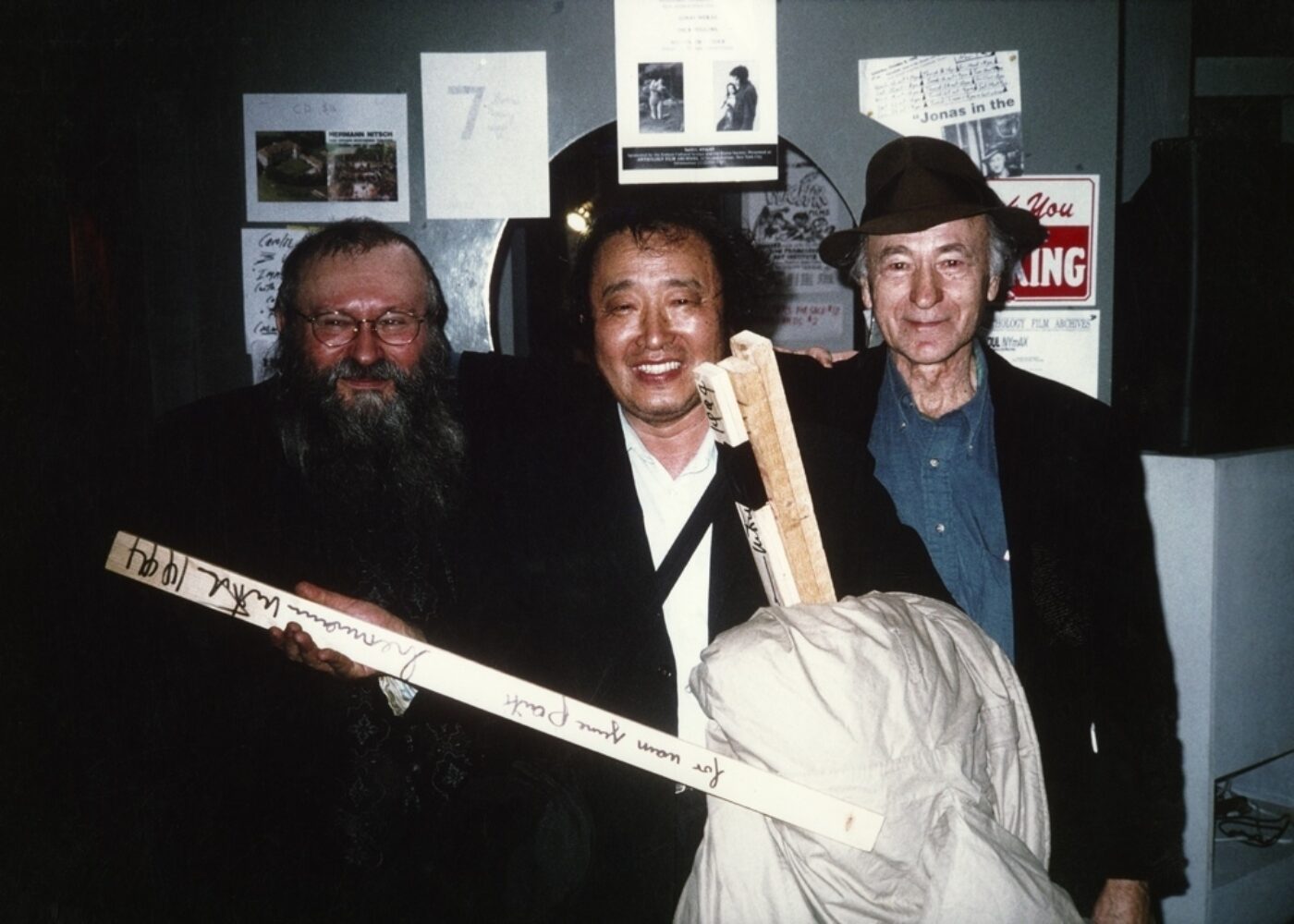 Nam June Paik's Political Performances
January 5, 2005
We did many things together with Nam June Paik over the years. There is nobody greater than Nam June Paik…
But I am most fond of our political Fluxus performances. After all, we both were, and probably still are, exiles.
One thing that we used to do is to remind audiences of Human Rights as defined in the United Nations Charter. One of the last such performances we did was at the University of Cincinnati in March of 1968. We went on stage and I read the United Nations Charter in Lithuanian, while at the same time Nam June read it in Korean. I said read, but what we actually did was struggle through it trying to translate it from English into Lithuanian and Korean. And I have to tell you that it's hard to imagine a harder task. Reason for that being that the language of the United Nations Charter is incredibly bureaucratic and convoluted.
So there we were, Nam June Paik and myself, on stage, struggling with the text. And, of course, we did a horrible job of translation. But, of course, nobody knew it—the audience spoke neither Lithuanian nor Korean. But we didn't care about that. We had to make our political statement and we did it in a Fluxus sort of way.
I have to tell you about another political performance of Nam June Paik. I wasn't part of this one. It took place in Washington D.C. When I tell people about this performance not everybody believes me. And it was only in a paragraph in the New York Post that it was reported. No one else, as far as I know, dared to report on it. Unfortunately, I have misplaced the Post clipping [included].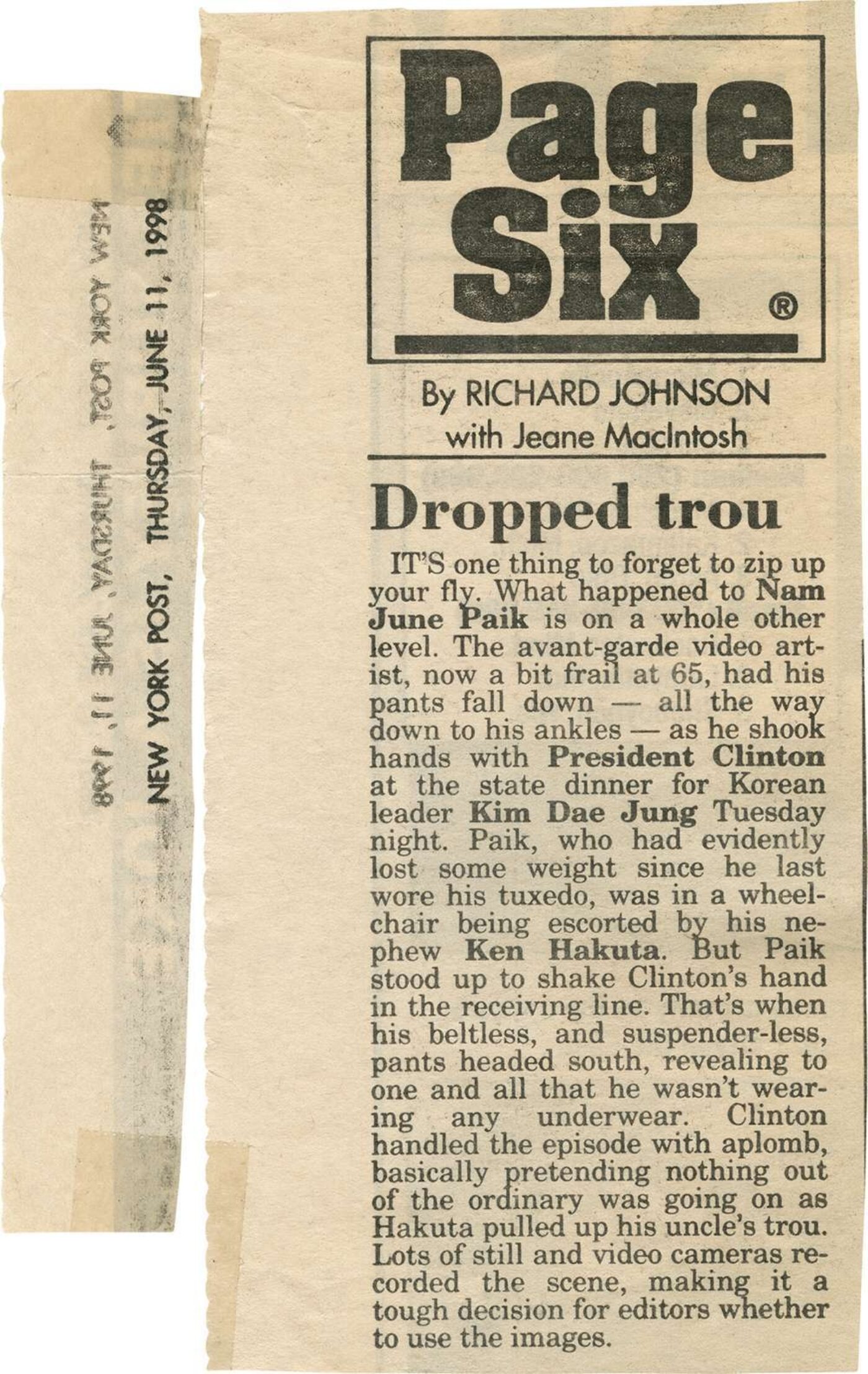 In 1998, the President of South Korea was visiting President Clinton at the White House. I do not have the exact date with me as I am writing this down, but anyone interested in it can find it easily. Anyway, the President of South Korea was meeting President Clinton. For that occasion a dozen prominent Koreans living and working in the United States were invited to the White House. And, of course, none is more prominent than Nam June Paik.
As some of you may know, in 1996 Nam June Paik had a stroke, as a result of which he has been restricted to a wheelchair. So here he was, at the White House, in a wheelchair. President Clinton approached each of the Korean guests and greeted them. Noticing that Nam June Paik was in a wheelchair he indicated that he should remain seated. But Nam June Paik insisted that it was only proper for him that he gets up to receive the President's greetings. And so he did. And as he did stand up, his pants fell down. His pants fell down! In front of all the dignitaries and all the TV cameras. An immediate brief explanation of the happening came from I am not sure whom, Paik himself or the person in charge of the wheelchair, explanation being that Paik had lost so much weight because of the stroke that most of his clothes had become too large for him…
Now you have to remember that this event happened during the Lewinsky affair period…
I asked Nam June Paik, some years later, if it was really an accident or a planned event. He laughed but did not offer an explanation. But I am absolutely sure that it was all very carefully planned, all of it. It's a 100% Paik. Outrageous and totally innocent at the same time. But right to the point.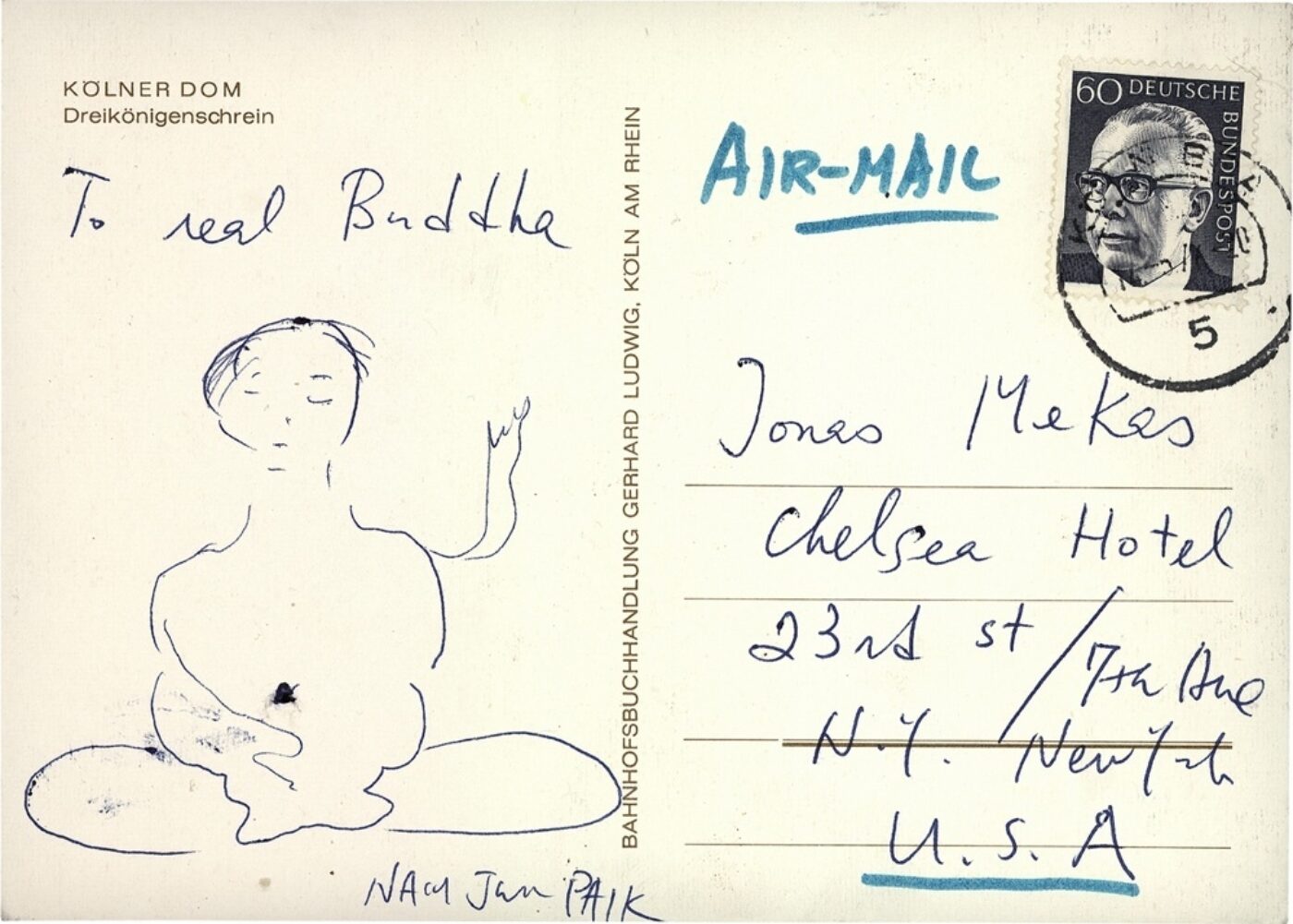 P.S. On May 26 of this year (2006), the Guggenheim Museum held a memorial evening in honor of Nam June Paik. There were several speakers telling a lot about Nam June Paik's eventful life. On that occasion, I decided to tell to the friends of Paik, crowded in the Guggenheim Museum's spaces—the balconies were opened to the attendance of the memorial—yes, I decided to tell them about Paik's White House event. The story was well received, as it should have been. I added that the story may be completely invented, even if it seemed to be in a perfect Paik/Fluxus style.
But the audience was in for a surprise. Ken Paik Hakuta, Nam June Paik's nephew, came to the mike and admitted, "Yes, it was me who pulled up Nam June's trousers. It all happened as you told. President Clinton's face did not betray any reaction one way or the other during the incident, but I saw Hillary's face and she looked mad as hell."
A Screening of "Flaming Creatures" in Vermont
I do not remember how it really came about, but it happened that in 1964, the Robert Flaherty Film Seminar that took place in Vermont every year had invited me to come and screen Jack Smith's film Flaming Creatures as a special event of the Seminar. Earlier that year I was arrested in New York for screening it. So I figured they wanted to find out what the fuss was all about. I agreed to come.
Our little gang, consisting of Barbara Rubin, her friend Debbie, Ken Jacobs and Flo Jacobs—both of whom were also arrested that same evening with myself—we drove to Brattleboro, Vermont, with a print of Flaming Creatures.
The screening was announced for 10:30pm. We, New York City folks, we thought that was a perfectly good time for closing an evening with a movie.
We arrived on time—actually half an hour early. We drove into the Seminar grounds and we were a little bit surprised to find it totally empty. As we were wandering about it, someone came to us from the half darkness. I recognized the man: It was Louis Marcorelles, my good friend from Le Monde, Paris.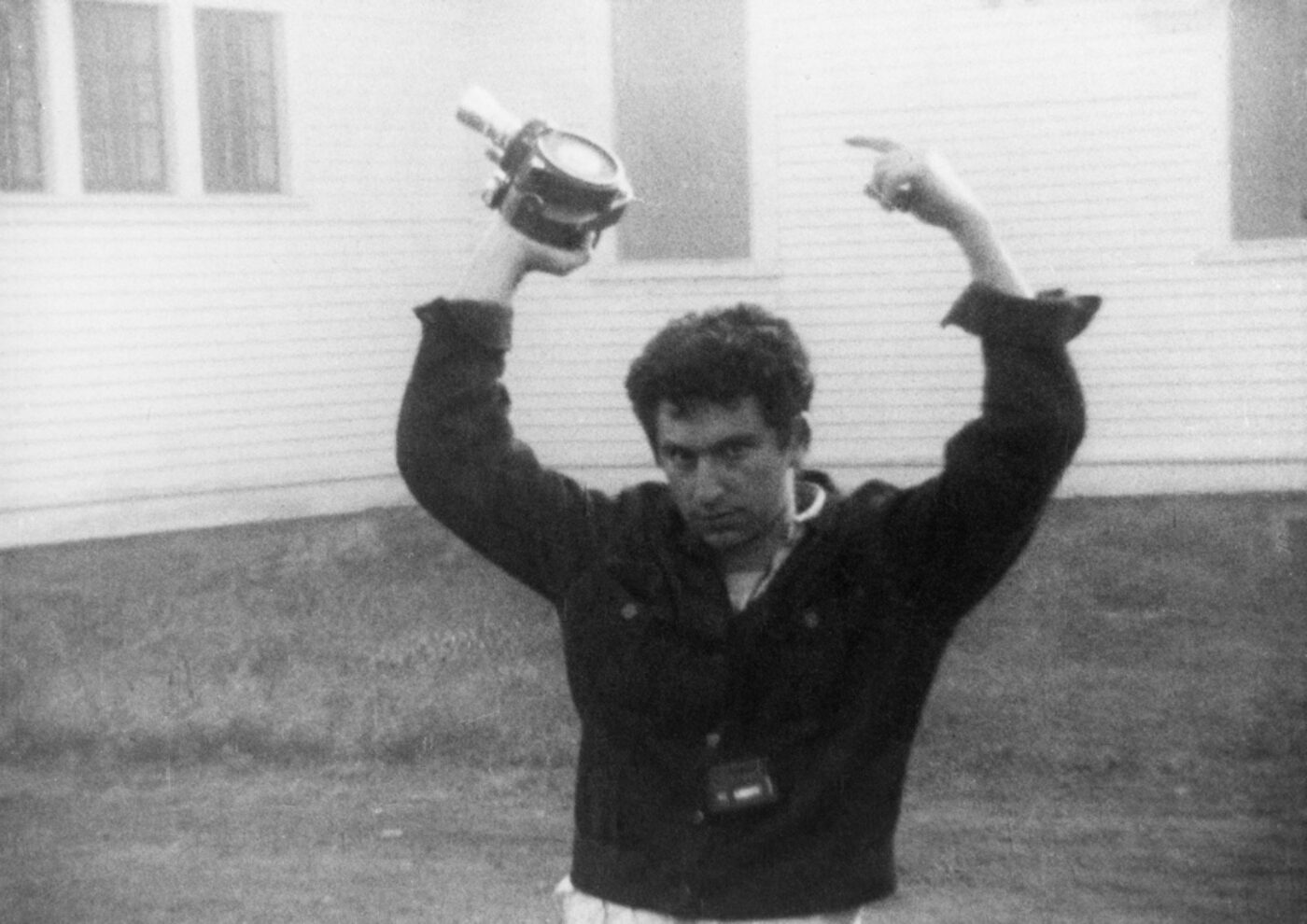 "Where is everybody?" I asked. "They are sleeping," said Marcorelles.
At that point, a young man appeared from the dark and introduced himself as a man in charge of the screenings. He asked us not to be so loud, people were sleeping. "How come?" I said. "What about our show?" So the guy says, "This being the country, the sleeping time at the Seminar is ten o'clock." "But our screening was scheduled for 10:30," I say. "How come?" "Oh," says the guy, "we told everybody about the screening. We put it on 10:30 slot because of the controversial nature of the movie. We have the projectionist ready for you." "But we have nobody here to see it," I say. "I want to see it," said Marcorelles. "I came specially for it from Paris."
"Let's screen it!" we all said enthusiastically. And so we did. For Louis Marcorelles.
It was a cold night in Vermont.
After the screening we were ready to crash. So we asked our host to take us to our rooms. "No," says the guy. "All rooms have been filled. Sorry, guys."
"Okay, sorry to hear that," we said. "We'll be okay. Don't worry about us."
We managed. Some of us slept in our beat-up van. I slept among brooms and pails in an abandoned open country truck I found on the grounds.
No, we didn't sleep well that night.
We all got up early.
We were surprised to see a Vermont morning emerge over the landscape. It was beautiful. It was very peaceful and serene. We stood there, still half asleep, looking at the morning, almost in ecstasy. Then Ken and myself, we pulled out our cameras and we began to film. We had to do it, we had to film; we were filled with the ecstasy of cinema. We felt we were the monks of the order of Cinema.
Then we got into our beat-up van and we began our journey back to New York. We looked at the Seminar houses: Everybody was still sleeping. We thought we had a most perfect screening. We drove singing, happy, as the day was opening around us, a beautiful Vermont day.
From A Dance with Fred Astaire. Reprinted with the permission of the publisher, Anthology Editions. © 2017 by Jonas Mekas. There will be a book launch and signing at the NY Art Book Fair on Saturday, September 23, at 1:00pm, table Z03.
Jonas Mekas has been called "the high priest of Underground film," and the "overlord of avant-garde film" (both by Vanity Fair), "the godfather of avant-garde cinema," and a "troubadour in the American avant-garde film movement" (WWD.com). He is the founder of both Film Culture magazine and Anthology Film Archives. The Village Voice's first film critic, he was jailed in 1964 for screening the "obscene" film Flaming Creatures by Jack Smith.