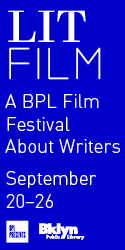 On Transcendental Power
Inside a riot of grill-work demarcating property 
Exist high-ceilinged perspectives leading to 
Full window enlargements on visual themes: 
Lawn, track home, sea and sea and sea we re-
Open conversation with an astronomical film 
Find on model earth water creeps higher until 
Bathing suit a flash of red we go under then 
Nothing until backs of buildings lift to foothills 
Where a single bird escapes in more substantial 
Ways than ever we could our oak, vine, maple
Ivy, rose overtaking hardened and soft bodies
We Must Realize to Be Made Real
We won't pretend to anything other than vision
Constructed with pollen in our eyes, sabots tack 
Slowly the river it might be necessary to wade 
Water made with salt a pool more like an ocean 
Core of earth talking in dream than describing 
Childhood's front porch pocked concrete step 
Stubbed toe a conversation punctuated by tight 
Sharp minds of jam jars, ruby eyes hallucinating 
Night, by day bronzed busts of famous men watch 
Partitioned from the esplanade where bikers 
Sling hammocks to willows, rock under waterfalls
So slender so green we married salt produced by
Brisk wind so we might with animal acuity see
On Return
If we were to speak you would find our voice
Trivial as we glance furtive toward cameras
We shouldn't know exist our dance camouflage
For singing we hear in circulatory systems
Our ankles crossed with little bells propel
The inevitable: the bells the ankles their crossing
Verver our heart only out of melon-rotted earth
Rather than rooms papered damask or muslin
Draped walls of a set we move across so slow
Legs then pelvis torso shoulders arms head then
Legs again pelvis torso shoulders arms head
Nearly an hour before realizing shore and home
Under all that fabric merely addresses on a bill
On Montage
On the beach begin urgent running anguished
Ecstasy on our face this only happens when alone
With jazz its evolutions we suddenly leap off rock
Land in front of the bathroom mirror dash
Through the white bedroom with a man dying in
A Continental Shirt how pretty can you look find
Out in Judy Bond's debonair no-iron charmer
Graceful lines flowing ruffles running through
The time of river rocks and the time of socialites
Gathered 'round the table dressed in Bondella
Dacron polyester looks like delicate silk crepe
Available in white in natural in lilac blue running
And running along the shore until the camera
Fills with paper parasols decorated with flowers
Polka-dots stars swirls of red and pink and blue
Karla Kelsey is author of three books of poetry, most recently A Conjoined Book (Omnidawn, 2014). Of Sphere, a book of experimental essays, is forthcoming from Essay Press. She edits and writes for the Constant Critic and copublishes SplitLevel Texts.
Originally published in
Featuring interviews with Steffani Jemison, Amitav Ghosh, Curt Stager, Ron Athey, Stephin Merritt, Rita Ackermann, Bryan Hunt, David Levine, Hari Kunzru, Sjón, and George Saunders.