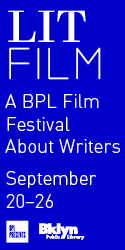 Self-ignorance is my house. A shell.
To wear masks put them off.
My work never comes quite to be.
As I get fatter I will sing more.
I believe in error, an aesthetics of error.
Error is Arrow I've sd.
Maybe the bow
tie swims
in curled water.
I found in the flats my face.
There's an occult meaning in initials.
What happens is not what matters.
What matters is what's here.
The planet is a hummingbird.
Reveal amber, the color of time, & the happiness of glue.
Sad men fail art relentlessly.
Space brighter even than Queens—I sit in the center of it like a rabbit smelling
the grass.
Don't write my house a bird sd in the water.
The eye steams in a beautiful flower.
What goes by not me.
We are an 18 plus a 19. (1819 was a "Panic Year.")
Ruth sees Saints, Sol sd.
I like animals & dirt.
I'll invent who I am, against what is.
My name & time: a Queens of the mind.
Walking to Utopia Parkway is like shipping out to sea.
A dictionary will follow me, leaping like a hare.
Schmutz is my sign.
I rearrange time. It's confused in me.
This envelope contains stars.
Hoops & diadems; heads.
As my hair dries my mind goes.
The impossible air of feathers.
I'm perverse & green in my middle days.
If a bird can use the wind I can use the brown Queens smut.
Art is a mannered & cold thing.
In a quiet nudist dream, marks of apropos.
But white ripostes,
not art, come
to me at noon.
I woke from a dream with the word "pledge" on my tongue.
A whole day recognizes the day. A picture organizes itself in the same way.
A pox on
the family-
less.
Radiant therapy, my foot!
Mine is a wisdom that limps.
Imagination is foolish. Mine hops like a rabbit.
I suck my finger after tea like a pasha in his robe.
The mind practicing a strange, white cloud.
Where the horizon lifts, a girl's skirt also. Motions on the edge of sleep. Flutter-
ing eyelids in the place between.
I'd walk a mile in a canary blue bathing suit just to get a Coke for you.
Your head resides in the constellations, Mary-blue. All is sublimation with you.
Dreams of a houseboat, a stolen letter, a manuscript in a puddle.
Failures surround us, Joseph. Sol is their sign.
But I am a selfish woman.
Maybe simply because the air
is fair, my eye is not.
The smell of the lindens in spring.
Mind's a warble but by no stretch a bird.
Then again as needles go, still a book, the full.
I walk with a library at my ear.
A peach cream soda fountain pleasure.
& the brittle girls on Flatbush Ave. & the boys with holes in their heads.
The galleries are made for fashion. Nothing I make is.
Only Imagination counts.
I pretend I understand the sky.
& when I bleed the world goes brown. It looks like something in my dirty pictures.
Now in the water
perhaps a little floating
vellum sheet.
Very little as the mind goes holds.
I'm both spry & limping, beautiful under my umbrella.
Sol has big ears.
Blake saw angels in the trees.
Me, I'd sit in the snow, cold as a rabbit.
Words make me itch.
A picture is a ripeness.
So much is asleep in the kitchen & the bank.
When I slip in the mud the sky opens up.
Legs twitch in glue, print. We are nuns of it, none of it, a priestess & a bird at
heart.
In a sum of signs my head, rocking.
This is made of nerves.
I'm green the wind sd to a Studebaker.
Today I wrote my nose into place.
Everything makes figure.
My pictures have no shadows.
Now whose air is whose,
Whose hair whose?
Listen: five times five bells ring.
Glue was made from rabbit-skin.
You're always a wandering possibility.
The number 18: a fat woman beside an elegant man.
The "dust bunnies" are in my head, not under my bed.
I may not be thinking of me now.
Nobody makes potato latkes / like I make potato latkes.
I travel when I do by wind.
The day bends gently over fountains.
Shaping is sidereal & unaccomplished.
I make hat, toe, eye, belly.
If the house dream
the mind falls, aware
& a horse.
My thighs hum when I work.
I remain in practically all things a
beginner.
There's always something more to paste in.
A bottle cap is a summons.
I tune myself toward dying.
Art go ding in my tired room.
Green as the color of a shoe in the grass.
Burdens mesmerize me.
As I age I see more.
The honeybee is out today.
The mind is a toe.
I make & unmake figures as a pageantry I see.
Gobblers Knob Club
is the Club for me.
In lateness is sourness.
The Indictments: a broken eye.
Art is mesmerism.
I can only make a word stick with glue.
My book is a running bet with time.
My resources are staked on it.
Lulu snores, Lulu snores. Ha ha Lulu snores.
Pictures are Emblems.
In Queens I know how the grit
Sits & who I love & all my dead.
My heart is what is weakest in me.
The world is very far. My eyes are not.
Feet to the ground —
What's found.
I brought a seasoned goat to the bath mat.
I follow a line that isn't mine.
Stem the head on its shaking course.
Spots of color on the image: stars upon its body.
An unclear heart laughs.
My mind is wrong.
The little not enough.
I have invited an owl into my barn.
Sol is a black sun.
Demesne of green stays brightest Queens.
The head is a wheel.
My gift is fear.
What is ripe is also weak.
I have a zoo in my mind.
Every animal dances.
When the racket halts my heart
beats again.
In the house my head swerves.
Burnt studious sweet wondering.
The carriage too (my typewriter) goes thru the lagoon.
The moon's rancid tonight, like my foot.
Dust is stars in turmoil.
It is all a cobble-ment.
It's the windows are white
every even day.
What we manage is what is.
Whatever has a wheel / is real.
Sol is not the sun.
My name is magnified at the margin of the page.
I was given the word Rue, Ruah, Ruth,
Wroth. In the desert I carry a parasol like a wheel.
Art has a hole in it the size of Queens.
A picture always wants to be something else.
Time's my only matter.
My dreams have a rope-ish quality.
Not even at the market the right colors or smell.
What I determine is not what is. Even the sky is frugal.
I have no imagination for what is.
I am always a little visible behind my mask.
Teeny scares me.
I'm naïve in my navy pants.
The small thing sings. Hummingbird matter.
(An envelope in the air.)
What you mark is soon.
The stain is beautiful, beyond any order.
Thought wields a siphon.
I love the possibility I am still possible.
The page is operatic.
Beyond what I am is what I wld make.
A picture is always a book.
Morning rain is happy mind.
The girl sings a new ding.
I'm a written thing.
Duct tape
the dumb mind.
Even the stars
in my sleep
empty.
A trembling animal at the edge of thought.
We fold up lost men in our wings, our arms robes.
My art is a damaged thing, made of damaged things.
Let complaint rise into beauty:
a curmudgeon's bell.
I will not hope a lawn
foursquare in the noon
& ripe with mules in the distance.
Genius never arrives.
I hear how the distance is.
Patch the word with tape.
Birds elope in my hair.
Fake fur attracts the gapers of Ithaca.
A banana is not a door wedge.
Melancholy inspires form. Depression
empties it.
I write my life. I make me up.
Blake drew his brother Robert with a star at his foot.
Roussel had one stuck to his forehead.
The bachelor is light; the maid heavy.
Unrequited affection is ugly.
What the sky can't say the stone is.
There is sun in my preserves. It lights up every jar.
I am every bit a towel.
What is green is always first.
Sol is an "Oont" (Mole).
"Goop Joe," of the "Loyal Order of Moose," is the man for me.
Time opens fountains in every thing.
A slug in the bath
is worse than two in the hand.
The sky leaked saffron, the picture was wet.
Half my moves are moves to cancel.
Saul has a shoe
like art has time.
Both are muddy.
Collage is nerve art.
Here's a lark in the bedroom.
& the outsize name of animal.
Gentle dogs prowl beside their friends the fleas.
In my bag was a horse.
Shall I wear a chair I sd.
If I honk, standing center, with Sol & my hares around me, will anybody notice?
I climb memory of image & make the possible; all one moment.
Imagination,
my flounder —
I drip honey-paste, slick fluid. & draw with it. & paste.
In the sweet finalities
(by & by) rose
& pink holes.
Sky is touch. Green & red.
Still the morning
reading the upside down,
which is a flower.
What poetry comes out of it goes into.
The eye in matter —
Looking at me.
Shower with spiders, sleep with flies.
It is so much to one, & so much to two.
In the hold of myself
myself, locked as in
a ship hold.
My nose. The rock. A wheel.
My desk's beautiful & wood, a tree (house) for art.
Banking murders mind.
The rabbits |are| the stars.
Rigidity accompanies & shapes my end.
I am thinking you are hoping I am not.
I'd run thru town hopeful as a
mongoose.
Sometimes the bone is white; more often it is yellow.
Secondary meanings
swale, as in a
dovecote a cat.
Art begins in admiration.
My biography: a slow moving north into cold.
I am jealous of Henrietta Sontag, Hadley, Ondine, Lauren Bacall, sylphs
of all stripes, Emily Dickinson, Mary Moore (of Trenton), Mary Moore's
mother, Marie Taglioni, Marilyn Monroe, Fanny Cerrito, Carolee Schnee-
man …
I am notating the sky.
What we see — word sees.
Sludge go by, little roam,
clouds my noodle in the pot.
The ship & the sea. The sky above the cabin.
Sound dies in a goblet.
The man goes away.
Awry.
I am sick of sleeping.
What's in yr mouth, rabbit?
Where's your ear,
now Rome is here?
I see creatures in my urine.
The imagination is luminous, mad & nervous.
I am such vision as white is, a laughing bone in my room.
Let the ants know,
this house is not hospitable.
The hand opens time, drawing it.
Distress makes a picture.
I shower with the moths.
All art is collage.
From rough to the sun in a boat "not brilliant." Going is the only event.
I used to be a bubble.
My mind's not mine.
When I cry I think.
My navel is between my legs.
Only the healing imagination has ani-
mals in it.
Stars sit like stones on my shoulders.
A rabbi is nearly a rabbit.
A mole has long toes.
My tongue a patter,
marmalade sky.
The grave's stink's on me.
This vehicle is not prescient.
Imagination resides in the rocks.
I am the house I glue in.
My nephew is a nut.
With a sad eyebrow hidden beneath my cape.
The worm & the rabbit & the star.
Robert Seydel was born in New York and lived in Amherst, MA, where he taught at Hampshire College. His most recent solo exhibition was at the Cue Art Foundation in New York. His work was also included in Five Contemporary Visual Poets at the Wright Exhibition Space in Seattle. He was the editor of Several Gravities (Siglio, 2009), a volume of collages by Keith Waldrop. Book of Ruth was published by Siglio in April 2011. He passed away suddenly on Thursday, January 27, 2011.
All images and text by Robert Seydel from Book of Ruth. Reproduced with permission from Siglio Press.
Originally published in
Featuring interviews with Jim Nutt and Gladys Nilsson, Rochelle Feinstein, Rae Armantrout, Tristan Garcia, Apichatpong Weerasethakul, The Bug, Sarah Michelson, and Adam Pendleton.