Form and Politics: Theodore A. Harris Interviewed by Kristin Prevallet
Creating a poetic history book with collage.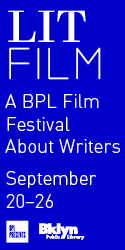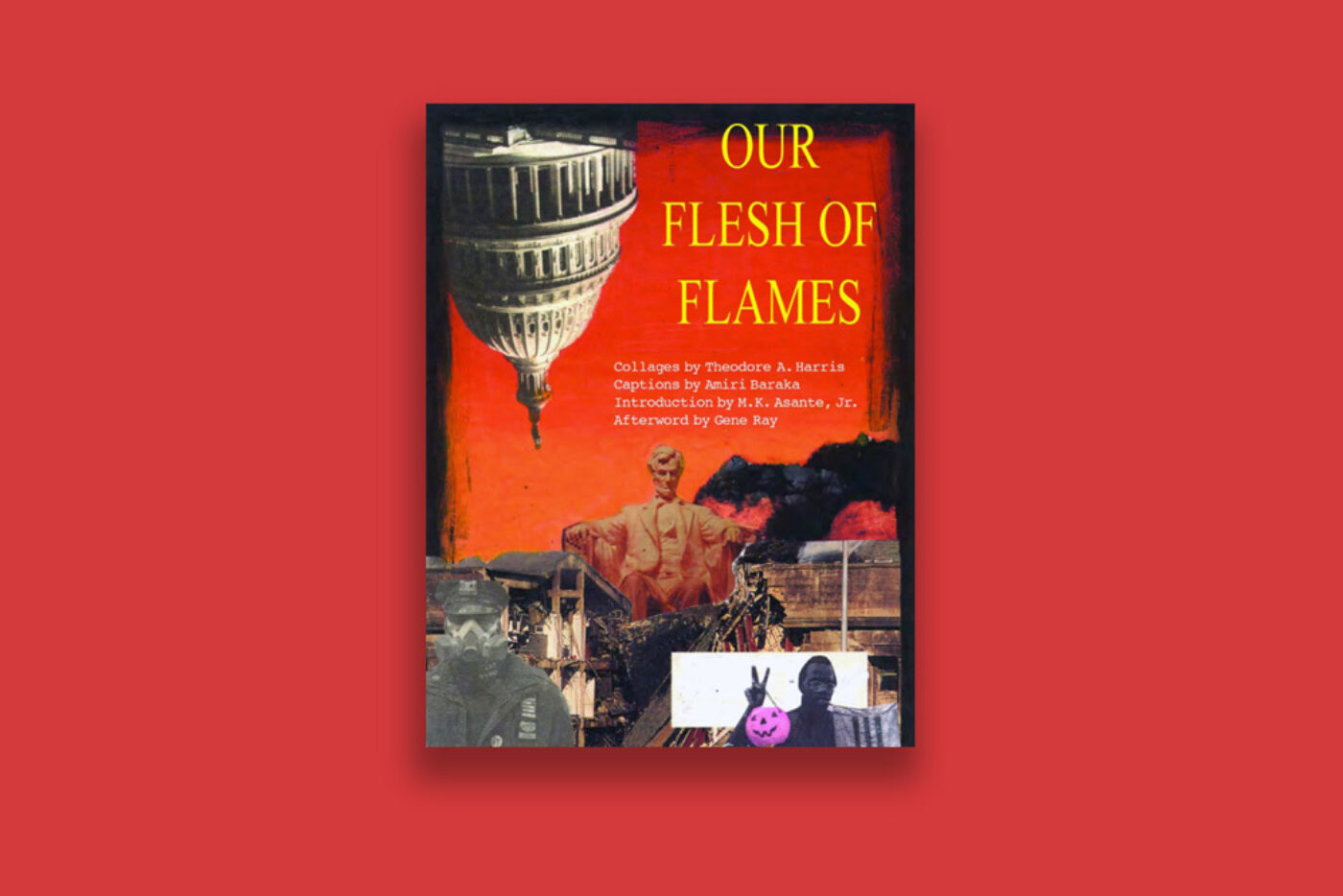 Theodore A. Harris is a collage artist and poet; his work has been exhibited nationally and internationally. The deep orange, red, and black colors of his collages bring into focus roughly cut images from newspapers and magazines: found photos, Black faces and figures, pictures from war zones, and inversions of the US Capitol Building combine to build a stark political critique and an impassioned plea for racial justice. I first met Theodore at Amiri and Amina Baraka's house in the late 1990s, and I later included his book Our Flesh of Flames: Collages by Theodore A. Harris and Captions by Amiri Baraka on the syllabus for a class I was teaching at Pratt Institute. I was excited to hear that Our Flesh of Flames had been republished, and wanted to talk to him about it.
—Kristin Prevallet
Kristin Prevallet To begin, let me say congratulations on the reprinting of Our Flesh of Flames. The book was initially published in 2008, and tragically, in terms of systemic racism and the brutality of the capitalist machine against people of color (what Amiri Baraka calls the "twisted rules of capital"), not much has changed between 2008 and 2020. Can you talk about your early process, and how it has evolved over the years?
Theodore A. Harris Thanks, Kristin. When I started making paper-on-paper collages in 1989, I used very basic materials. Most of the images were from newspapers and magazines, and I put them together with glue sticks. Later, with the Collage and Conflict series (2006–10) of mixed-media triptychs, I wanted not only the compositional challenge of working on three panels at once, but I also wanted to experiment with different materials such as spray paint, markers, and acrylic—materials that would make the surface more abraded.
KP "Abraded" is such a great word to describe your work. There really is that sense of being worn down; but at the same time, there is the energy of resistance surfacing through the friction. I like how in the afterword to Our Flesh of Flames Gene Ray describes your collages as "weapons of struggle" that are "aimed at racist oppression and imperialism." How do you see your collages as being a call to action and resistance?
TAH When people view the collages, I would like them to not only engage with the political stance but with the formal qualities as well. So whether a lay person, art critic, or art historian, I want the viewer to see both the content and the form—because the content informs the form and vice versa. In that sense, I do hope they function as calls to action and resistance. I hope they go beyond what I would describe as a surface politics of aesthetics and formalism. I hope they deal with the past and present at the same time. I hope that they are read as a poetic history book in which we can learn from our victories and our failures—a mirror in which we can envision ourselves going forward by making things with our hands.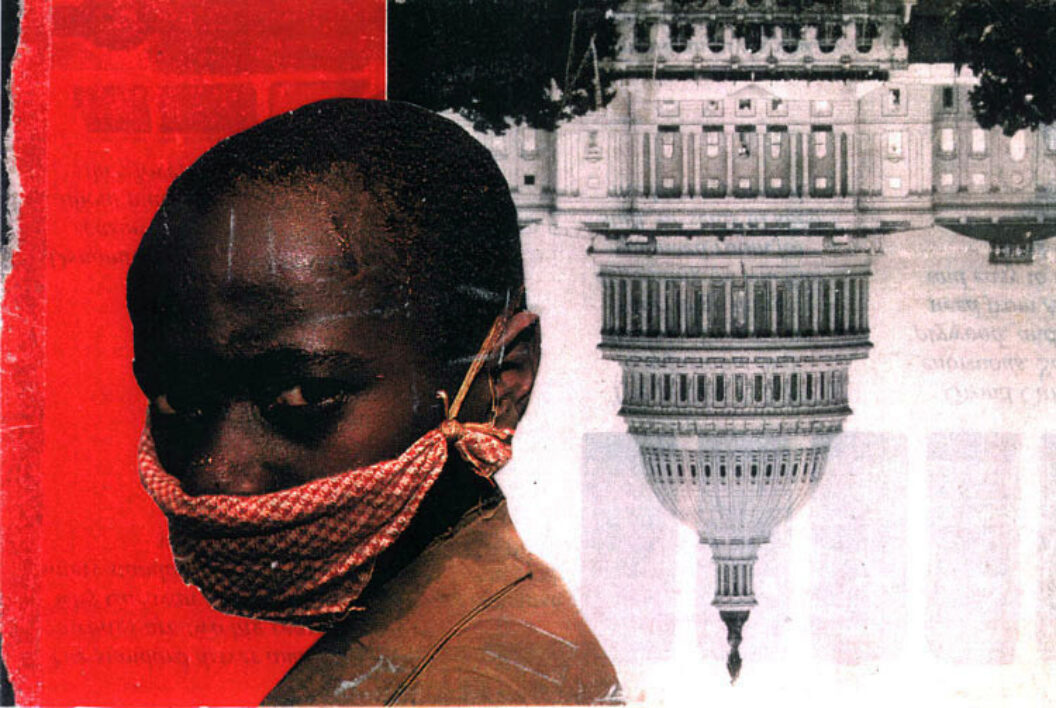 KP What you do with the Capitol Building in terms of repeating the image over and over again definitely blows up any form and content distinctions. Anyone seeing your collages really can't see the "right-side up" Capitol in the same way again.
TAH Yeah, in 1995 when I inverted the US Capitol dome in Vetoed Dreams is when I made a breakthrough with the collages.
KP Amazing. I really like A Dying Colonialism (2005). In that one, you've got the upside-down Capitol basically being swallowed in the blood-red sea of the horrors it stands for: "US hegemony+Money=bloodbath"; "our fingerprints are everywhere"; and "your cross are is my hand cuffs." The repetition of the upside-down Capitol shifts its meaning ever so slightly as it moves between the images: sometimes it's like a whaler's harpoon, a violent and piercing weapon; other times it's like an ominous UFO that brings law and disorder.
TAH Thanks for mentioning A Dying Colonialism, which is named after the title of a book of essays by Frantz Fanon. While I was reading Fanon, I was also reading Jean-Michel Basquiat's work. I was inspired by his crossed-out text, brave paint-stick gestures, and overall anti-colonialist stance, for instance, in a painting like To Repel Ghosts. By the way, I think this is the main reason Hilton Kramer disliked his work: he painted the white supremacist nightmare. His paintings free us from the mind bondage of the Greenbergian, formalist fire escape. I hope to do the same thing!
KP The fire escape that doesn't help you escape any fire—I hear you! In building new structures through your art, whom do you want to reach? Will different people have different understandings of it based on where they are coming from and what they know about—for example—the Capitol Building or Black intellectual history?
TAH This question of the audience is one I think about a lot because it's so hard to answer. Several things come to mind. One is that there is an assumption that people interested in the arts are liberals, and that the work I make is preaching to the choir. If that's the case then I should preach my poetics to the choir and to the unconverted like Reverend Billy does with the Church of Stop Shopping.
KP Or, is there also the possibility of energizing the converted and creating communities of artists and poets whose work fuels larger social movements toward justice? You were a part of the vibrant community and movement that gathered around Baraka, and that was clearly a super-generative space for you. In response to your collages, Baraka wrote amazing poems, which he called "captions."
TAH Well, visual artists and writers in the avant-garde don't always agree, so we have to stay in a dialectic with our own work. This was one of the great things that came out of working with Baraka on Our Flesh of Flames. Because he brought so much knowledge in his response to the layers of history in the images, the captions he wrote for the collages made me see some things I had not seen before. Like him saying that the inverted Capitol Building looked like a falling bomb; or the activist and historical figures he mentions like H. Rap Brown (Jamil Al-Amin) and Henry Box Brown, whom he cites in the caption/poem for the collage Remember Eric Smith: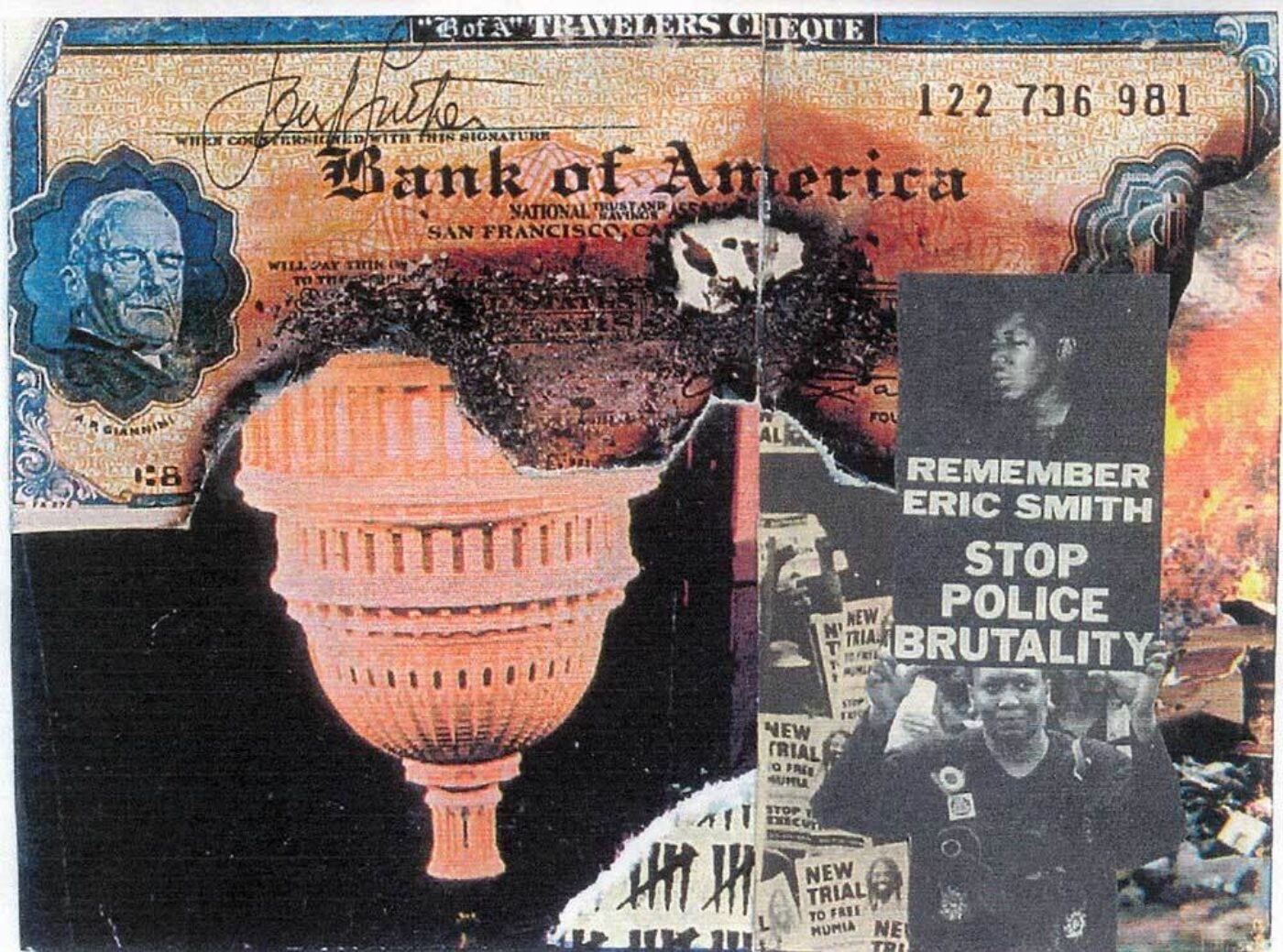 1999 Remember Eric Smith

Dis is THE CAPITAL of HELL

H. Box Brown
Was how I found
Out this mammy jamma
Was upside down.

Like H. Rap later
Box had to split
From the subjugator
& they slavery shit

God called Box
Allah called Rap

Told both of them
To get they hat

"Yall cant be around
This slave – master rat

"HATE GOOD LOVE EVIL
Think They God When They The Devil!

That's why
Everything
Turned around!

They got the whole
World
Upside
Down!

FREE MUMIA!

(excerpt from Our Flesh of Flames: Collages by Theodore A. Harris and Captions by Amiri Baraka, Anvil Arts Press/Moonstone Press, 2019)
KP "World Upside Down"—indeed! Can you talk about your relationship with Baraka and how that came about?

TAH I first met him in person when poet Lamont B. Steptoe introduced us in Philly, I think in 1996. He published a few of my collages in his Unity and Struggle journal. In that Baraka circle, I also met editor Christopher Funkhouser who published Baraka's essay "Teddy Harris' Work" and some collages as cover art on a few issues of the Newark Review. And it was at one of Amiri and Amina's parties years ago where you and I met, right?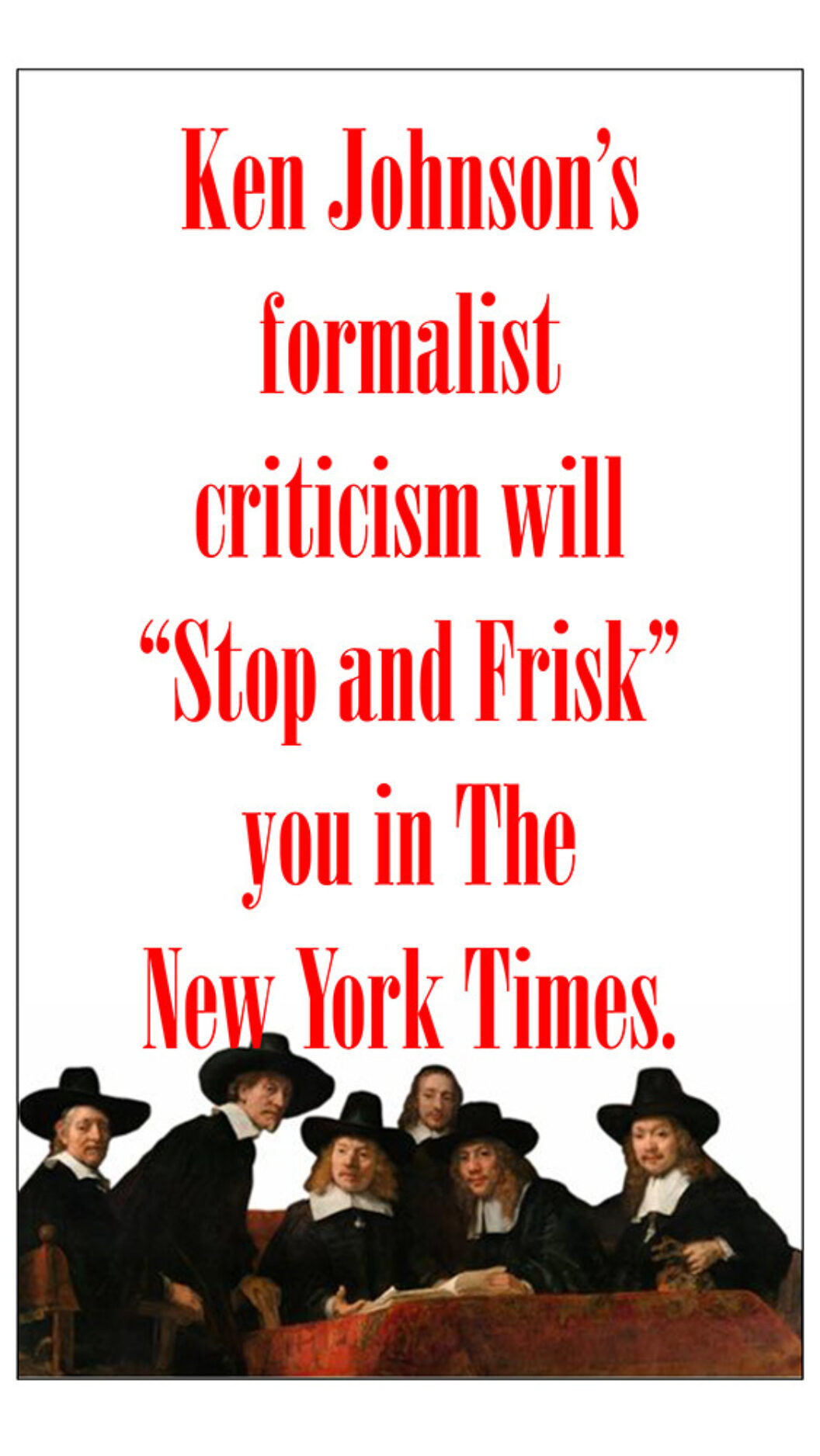 KP Yes, that's right. Food in the kitchen, music and poetry in the basement. It was an incredible convergence of energy and talent descending on their house in Newark for the monthly salons. I'll never forget it! And it seems as if Baraka was a true mentor to you. Aside from collages, you have also created a series of manifestos, which is one of Baraka's great forms. Can you talk about the juxtapositions of word and image, and their relationship to your collage work? I'm especially thinking here of your series Thesentür: Conscientious Objector to Formalism (published as a book in 2017).
TAH Formalism functions as the cosmetics of art criticism, like aluminum siding on a slumlord's property. It is an attempt to disguise what is crumbling beneath the surface of its proselytizing church bells, ringing in the megachurch/museums and galleries where there are more Black bodies guarding the white cube than exhibiting in it. Thesentür: Conscientious Objector to Formalism is a series of minimal image and quotation-based works that use poetry to confront mainstream art criticism and art history. The series seeks to look beneath the surface politics of aesthetics and formalism by creating a form that is not self-referential (meaning it isn't putting a Black face on the art history of imperialism, as in the work of Kehinde Wiley). What marginalized artists know is that canon formation is a battlefield, and critical art is the weapon against what I call "Stop and Frisk" art criticism. I have taken this on as a subject at the same time knowing I may be narrowing my audience.
KP You and Baraka have been pushing the flame of critical art and poetry through decades of resistance. I think now is a time when your work can finally be received by a larger audience!
TAH When my work is viewed in a museum or white cube, it is a reflection of what is going on outside that space. Since Trump got into the White House, and even more recently since COVID, my collage Vetoed Dreams is being referenced more and more. In the midst of all this, the presidential election is coming up, and Trump is lying about how mail-in voting causes fraud—just one more way to marginalize and veto our dreams into nightmares. So maybe you're right! Great rappin' with you, Kristin.
KP Yeah, great talking, Theodore. Your work reveals the real deep state: the deep state of mind needed to see the edges for what they are, speak truth to power, and not accept Trumpist facades of imagery and language as being anything other than masks for a blatantly cruel power structure. Onward, and with momentum!
Theodore A. Harris, Our Flesh of Flames: Collages by Theodore A. Harris and Captions by Amiri Baraka is available from Moonstone Arts Center.
Kristin Prevallet is a poet who teaches for Bard College's Institute for Writing and Thinking; she is currently offering online courses at trancepoetics.com.