For Eyes and Ears: Ursula Block Interviewed by Alan Licht
The founder of gelbe MUSIK, the renowned record store and gallery space, speaks about its history.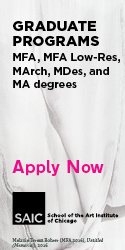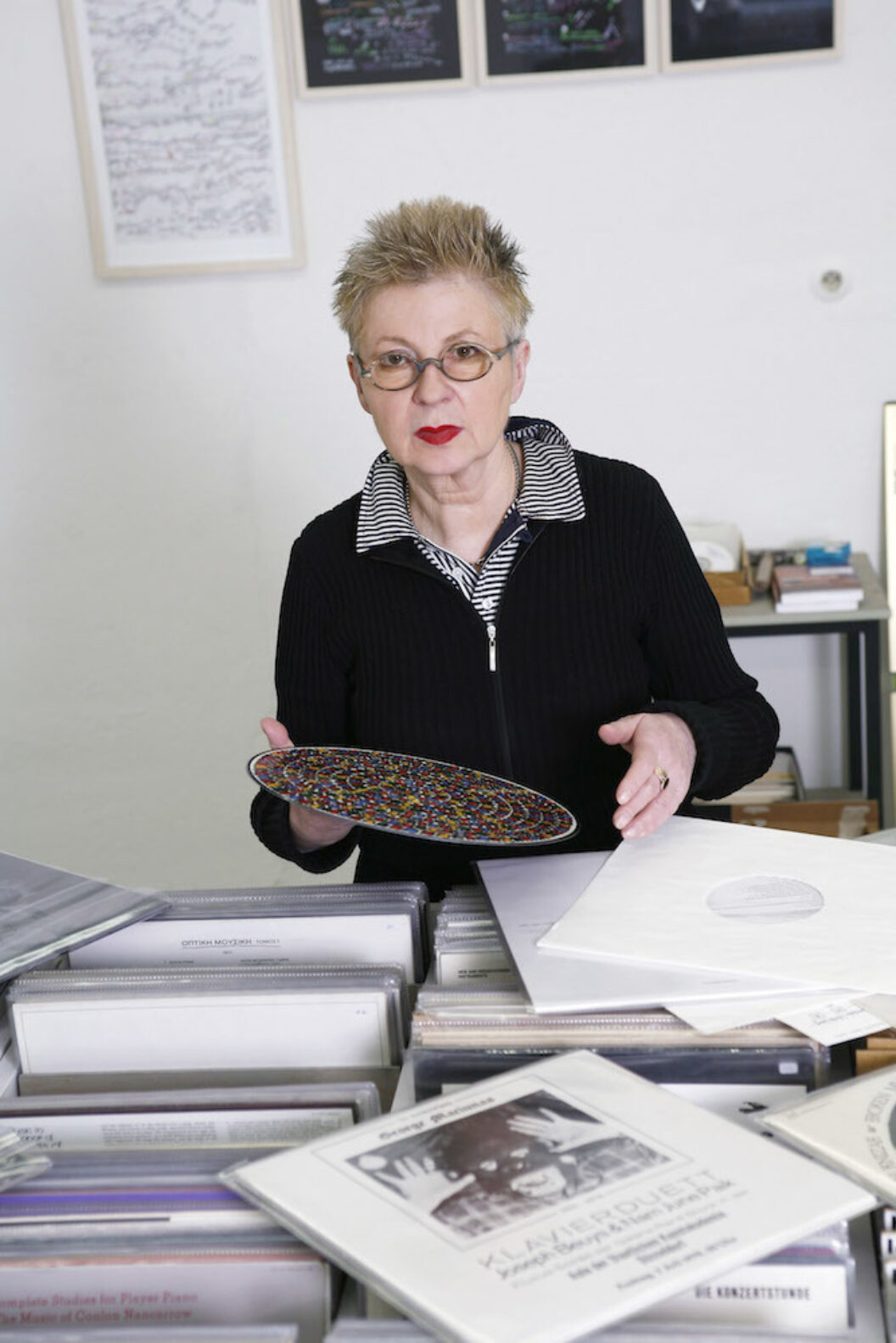 In 1981 Ursula Block founded gelbe MUSIK, a Berlin store that would occupy a unique position between the worlds of avant-garde music and art for the following three decades. It sold artists' records and experimental music but also functioned as a gallery space for scores, sound sculpture, and other intersections of visual art and music. Ursula organized a number of exhibitions of artists' records outside gelbe MUSIK, including Extended Play (1988), co-curated with Christian Marclay, and Broken Music, named after an album by the Fluxus artist Milan Knizak. The book Broken Music, meant to be both a reference work and the show's catalogue, became legendary as a resource for artists' records and record artworks from the twentieth century. I encountered it in college, through a friend's copy, when it first came out; almost ten years later a fan came up to me after a concert and was talking about Fluxus music and gelbe MUSIK. I got their catalog and immediately began faxing mail orders to Ursula. On the occasion of Broken Music's reissue by Primary Information, Ursula and I talked a little more extensively about her history with artists' music.
—Alan Licht
Alan LichtWhat was your relationship to records growing up? And which were you interested in first, visual art or experimental music?
Ursula BlockIt wasn't until I finished high school and left home to study at Kölner Werkkunstschulen in Cologne that I got my first record player and started buying records. From those days I remember a mixture of The Three Penny Opera with Lotte Lenya, an organ concert by Frescobaldi, and Carmina Burana. The cultural programs of radio stations in Germany offered a very ambitious program with a lot of New Music in the sixties. These would have a decisive influence on my knowledge and taste.
I started really collecting records much later, around 1974, when I joined René Block's gallery in Berlin. I got to know many of the Fluxus artists during that time, with René organizing a series of sound rooms, performances, and concerts.
AL1974 was around the same time Germano Celant exhibited Record as Artwork in London, the first show of artists' records that I know of. Was that show something you and René were aware of? Alongside this, I'm also wondering how you viewed records in relation to concert performances. Was something like David Tudor's Rainforest more effective as a live performance than on record? How do you feel about records as a mode of documentation?
UBWe only knew of Germano Celant's show, but we never saw it. We also had the small catalogue from it, where he listed a hundred artists' records. We saw it as a kind of verification of our own collecting activity, which was already underway at that time. As for the record as document, I was lucky enough to experience Rainforest live, as it was part of René's exhibition Für Augen und Ohren (For Eyes and Ears, 1980). But if you don't have the chance to see the performance or installation live, the record documentation becomes quite important, for the artist at least.
Quite seldom, however, it might happen that the recording appears closer to the intention of the artist than the live performance. When you make a record in a studio situation, you are in full control of what happens, while during live performances there are always uncontrollable moments. You might catch a bad seat; the speakers might not be in the perfect position; or the acoustics are just not right. This applies especially to very complicated pieces, even for the work of someone like John Cage, who hated records.
ALWhat about the economics of making an artist record? It seems like the record business wants to make as many copies of a product as possible, while the art world places a premium on limited distribution. I've always been curious how galleries would perceive the idea of making fifty copies of an album, which is considered a very low run in the record business, when the idea of an artist's multiple, if that would be the nearest equivalent in terms of a visual-art object, should ideally be less than five or ten. Do you have a sense of how enthusiastic or reluctant galleries were to produce albums by their artists?
UBI only can talk about our motivation to produce a record. And for us, it always depended on the situation and whom you want to reach. Sometimes fifty copies are too much, sometimes too few. For example, you might produce a record with an artist who's making use of all kind of media, including sound. The record here might be necessary mostly just to realize her or his artistic concept. And sometimes this exclusive or "deluxe" edition will be sold to help finance an additional "public" edition for a better price. Other times the record serves as additional information. In this case the gallery might give it as a present to their customers. There's also the case where you produce a record and sell it for a very reasonable price, but years later, when the edition is sold out, it reaches fantasy prices on the art market. Generally: making a record is no business. You do it because you like the artist and you like the artwork.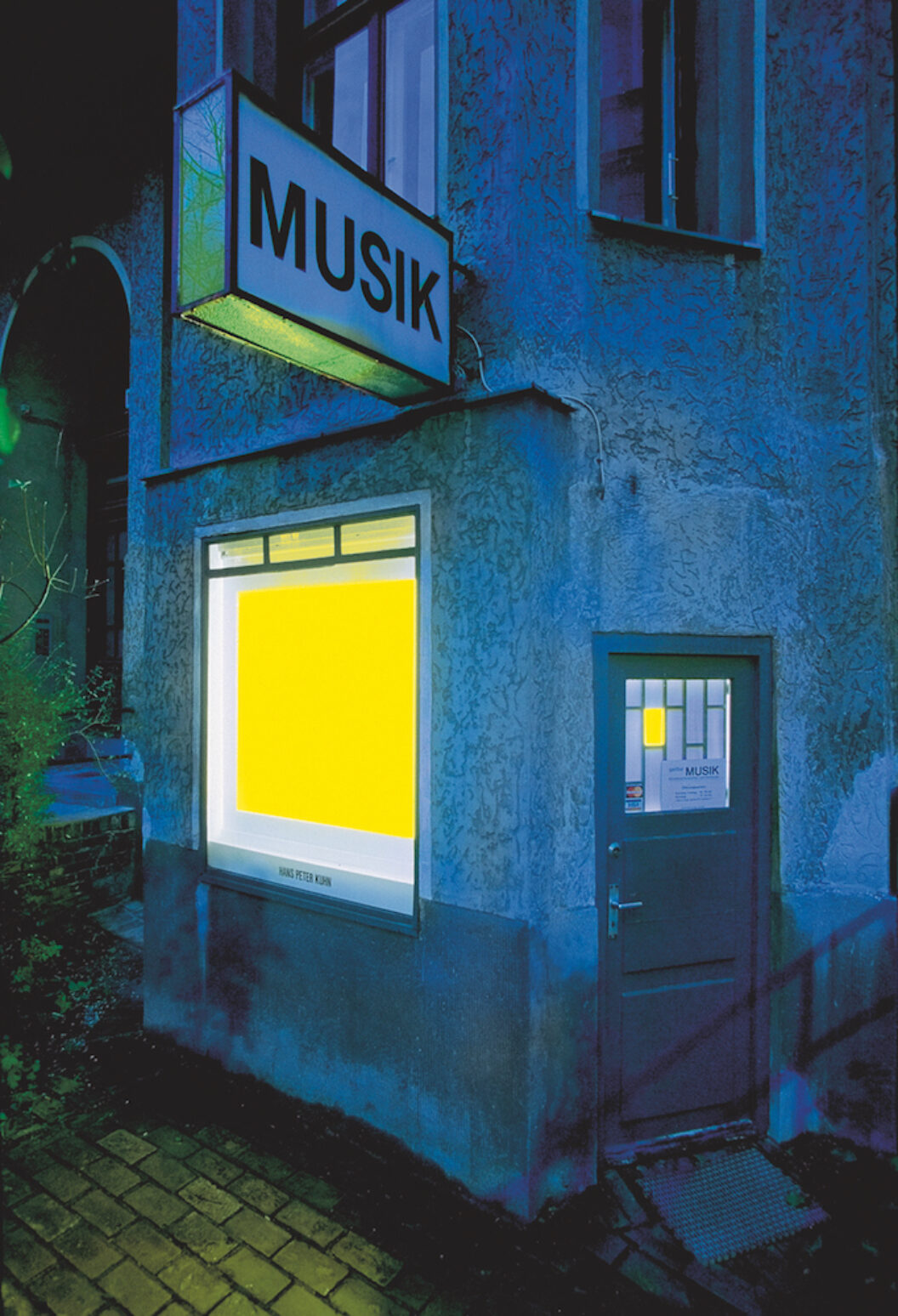 ALWhat led you to establish gelbe MUSIK? Its dual function as a record store and gallery was a very unusual arrangement that has hardly ever been duplicated. Was the success of Für Augen und Ohren the year before a motivating factor?
UBYes, Für Augen und Ohren was one of the most successful exhibitions the Akademie der Künste ever organized. I installed a kind of audio library in the site, where visitors could listen to artists' records, which we had transferred to audiotape. People liked it. So I thought I could try to offer something similar in a more permanent setting. There was an empty storage space in René's gallery, and the idea came about, along with selling records, to show background material like scores, written concepts, artwork by composers, and sound objects by visual artists. Though the concept was received very positively, I had also hoped to finance some of the shop's expenses by selling visual material; this plan did not really work.
ALBut the shop was open for the next thirty-three years. How did you manage to keep it afloat financially?
UBI kept the expenses as low as possible. Werner Durand, who was working with me from the beginning until the end used to come by one day a week to help. He was a fantastic adviser in terms of music. Almost everything practical I did by myself: from bookkeeping, customs, and taxes, to writing and designing the catalogues, mailing, installing the exhibitions—sometimes with the help of the artist. A few times, in very tight financial situations, I could count on the help of my husband, René.
ALCan you talk a bit about Broken Music? The book was meant to be a reference work as well as a catalogue for the exhibition which shared its name; since that time it has held up remarkably well as a definitive sourcebook on artists' records. How much of what's in the book was in the actual exhibition? And how much of what was in the exhibition was from your personal collection, and how much was actually available at gelbe MUSIK at the time?
UBSince the opening of gelbe MUSIK, my aim was both to collect and offer all kinds of records. In 1986 I had the first show at gelbe MUSIK, titled KÜNSTLERSCHALLPLATTEN. Artists' Records. This show included records by Harry Bertoia, Joseph Beuys, Henning Christiansen, Philip Corner, Hanne Darboven, Bernard Heidsieck, Die Tödliche Doris, Jean Dubuffet, Joe Jones, Rolf Julius, Yves Klein, Milan Knizak, Christian Marclay, Nam June Paik, Charlemagne Palestine, A.R. Penck, Robert Rauschenberg, the Residents, Soviet France, Wolf Vostell … all of them for sale. In 1987, a small Hamburg gallery—an artists' cooperative—invited me to organize an artists' records exhibition titled KÜNSTLERSCHALLPLATTEN. gelbe MUSIK. To accompany the show we printed a poster with some of the exhibited objects and a few short texts. After this I also applied for a grant with the proposal for a broader compendium of artists' records. I brought on the art historian Michael Glasmeier as an important coauthor. Most of the material for the Broken Music project was drawn from my collection and some of René's. A few objects that were no longer available were loaned from other private collectors and a few museum archives. For the Broken Music book, Michael and I insisted on checking every listed piece personally, to avoid all of those constantly transmitted mistakes. Our main interest in all of this work was the book. The exhibitions, which moved from Berlin, to France, to Canada, to Australia, were necessary mostly to find additional financing.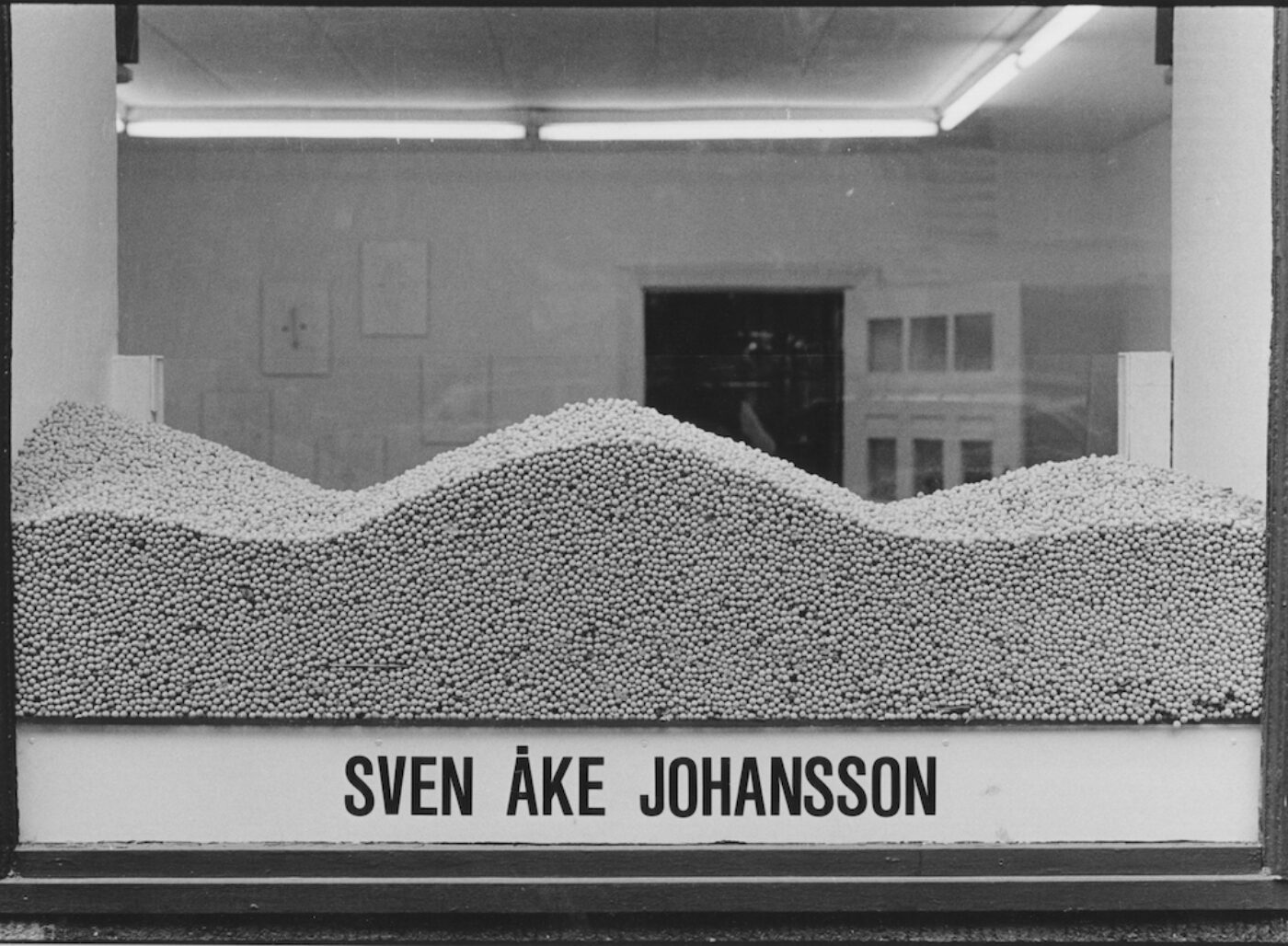 ALAlthough the book mainly covers records either designed by or containing music played by visual artists, there were some instances, like with Peter Brötzmann or Sven-Åke Johansson, where they were mainly known as musicians even if they also practiced visual art. There are also a number of records in the book associated with "industrial music" (Soviet France, Z'ev, the Throbbing Gristle single on Sordide Sentimental) and experimental rock (the Residents' Eskimo). You also include the releases on Brian Eno's Obscure label. How did these particular records come to be chosen for inclusion? I always find it fascinating how the idea of "artists' music" can be fluid. At a noise event organized by Mike Kelley, I remember being struck when he introduced Jad Fair by saying that his Half Japanese was one of the first artists' bands in the U.S. I'd never thought of them in that way and had only ever seen them referred to as an underground rock band.
UBAs for the question of what to include, the explanation is very simple. These particular records in Broken Music had been chosen because we knew about the artists and we already owned the records. Of course, it was a very personal choice. For instance, that California scene with Kelley and others was not very familiar to us. For a long time I had refused a reprint of Broken Music, thinking if it gets reprinted it would need to be extended with missing and new titles. As for the particular cases you noted, the reasons varied. For Soviet France, we liked their unusual handmade covers. And Brian Eno's "Obscure" series was planned visually as one coherent artwork, with different photographic windows. We were fascinated by the Residents' concept of staying anonymous. Johansson, foremost known as a percussionist and member of Free Music Production, always worked on a second level. He was a very inventive solo performer, using his own texts and unusual material for percussion—telephone books, plastic toys, and peas. These solo records were the ones we included. The Concert for 12 Tractors is one of his most famous concerts. In 1998, I actually organized the second performance of it, in Denmark in the countryside.
ALBroken Music also coincided with the rise of CDs in the late eighties. Did you have a sense, given that the smaller format was much less conducive to imaginative packaging than vinyl LPs, that artists' records as objects had peaked? How would you compare artist recordings in the CD era of the nineties to the previous decades?
UBYes, generally the LP was much more attractive to artists than the CD. Not only did it offer broader possibilities designing the cover, but it also used vinyl, which could be used as sculptural material. Or to reflect essential functions of the record as a medium, like Marclay did in an ingenious way. We always regarded the CD more as a practical tool, whereas the record could be an art object.
ALI know that Christian felt that using records in his work didn't have the same meaning after CDs became the dominant form of mass-produced media for music. Ironically, now nobody buys CDs, and digital music streaming has become the most popular form of music consumerism. Vinyl records have made a comeback, but as a kind of boutique item, probably closer to the gallery editions in the old days, funnily enough. At the same time, music and sound seem to have become more prevalent in the art world. So, I'm wondering what effect all of this might have had on gelbe MUSIK's closure in 2014, and how you see the future of artists' music both in relation to the art world and the record industry.
I'm also curious what, in looking back at gelbe MUSIK's history, you've found to be the most memorable exhibitions or artist visits.
UBYou are right. When I closed gelbe MUSIK I had the feeling that my activity was not so necessary anymore. Now it's more a subject for museum archives or libraries; though at the time I was running it, it all felt quite interesting and lively. As for memories, I wouldn't want to emphasize a few events over others, they all were interesting. But maybe the first exhibition was of special importance. The opening exhibition showed different kinds of scores, from the traditional noted score, graphic score, text-instruction, photo collage, etc. The most unusual score was a string with different knots for notation made by Terry Fox. Some of the scores—all originals—I collected in New York in the weeks before the opening. There were no questions about lending papers or insurance at the time. I remember meeting Earle Brown in the Spring Street Bar on West Broadway. He arrived with a portfolio and asked me just to choose what I wanted to exhibit. I picked some scores out, and I took them in my hand luggage to Berlin. This first show defined the gallery program for the following years. In all of this, I was lucky to get to know people like Cage, Maryanne Amacher, Christiansen, Akio Suzuki, Fox … and of course Knizak, to whom I owe the most inspiring theme "broken music."
Broken Music is available to order from Primary Information.
Alan Licht is a musician and author based in New York.