Following the Logic of Paint: Jennifer Coates Interviewed by Stephen Ellis
An artist updates the traditions of pastoral painting.

Discover MFA Programs in Art and Writing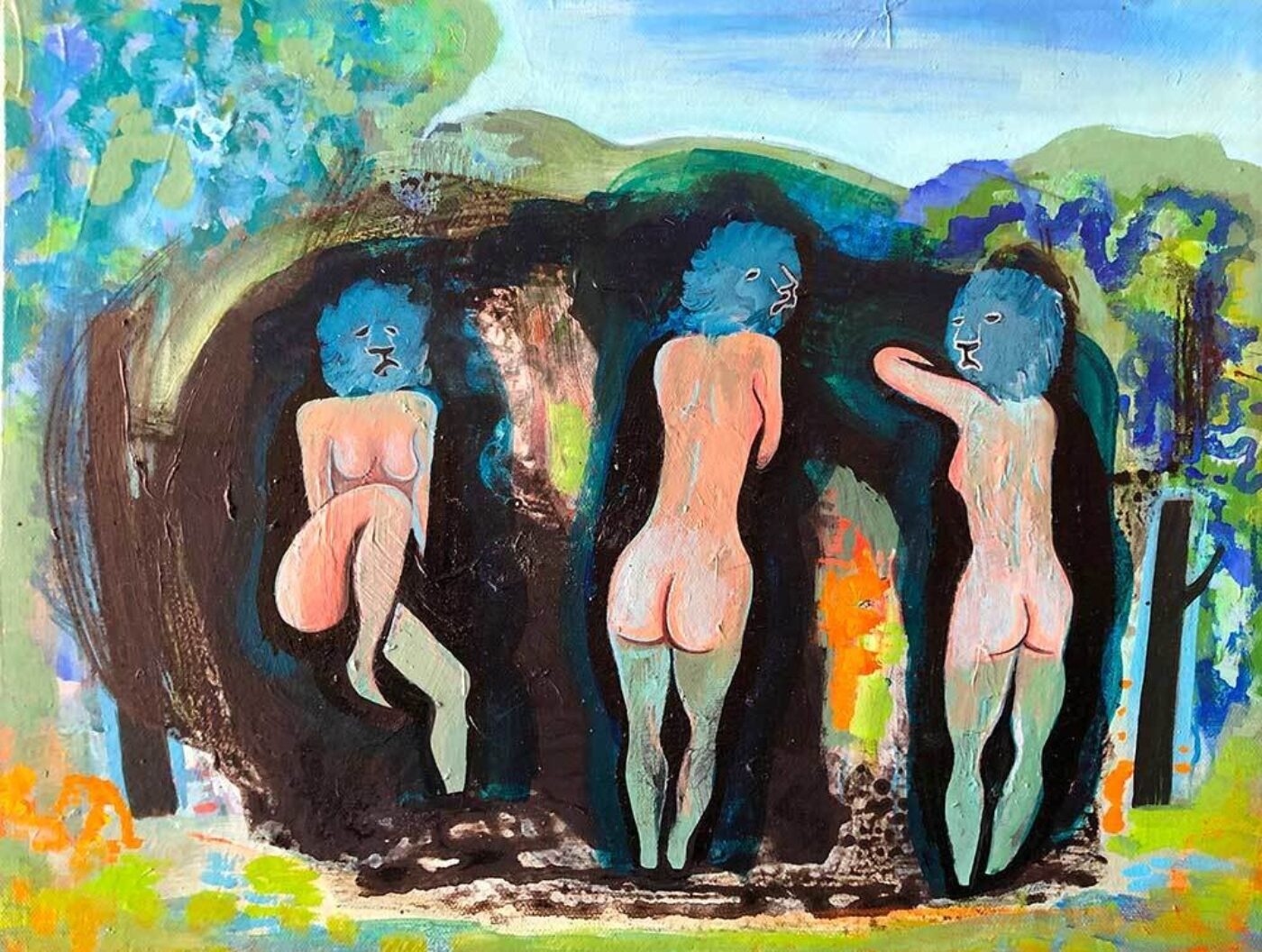 Over the last few years Jennifer Coates has been quietly building a woodland world. It's a painted world made of forests repurposed from Henri Matisse, Pablo Picasso, Ernst Ludwig Kirchner, Franz Marc, and other early twentieth-century poets of the pastoral who were themselves updating Claude Lorrain, Nicolas Poussin, and Jean-Baptiste-Camille Corot. Coates peoples her forest with mythical beings—lion- or horse-headed women, satyrs—as well as the odd bear or deer. The mythical and the familiar flow together or apart according to the mood of a given painting or drawing. Coates's Forest of Arden isn't only a fairyland refuge: from one minute to the next, luxe, calme et volupté shift to toxicity, disquiet, and nausea. The woods are not a simple place to be these days.
Toxic Halo, Coates's current show at High Noon Gallery, combines drawings and works on paper completed last fall during a residency at the Civitella Ranieri Foundation in Umbria, Italy, with paintings made in her studio in rural Pennsylvania.
—Stephen Ellis
Stephen Ellis You've been painting landscapes for many years now, from the small, lapidary ones of the 1990s and the big, cosmic-soup ones of the early 2000s to the present group of paintings that clearly invokes the long history of pastoral painting from Claude and Poussin to Picasso and Matisse. There's some mythopoeic component to all of these, but although the new ones have the most explicit references to myth, they also seem the most direct, not only in the literal sense of drawings of actual trees, but metaphorically in the possibility of quasi-autobiographical dramas involving nymphs, fauns, centaurs, bears, and other forest sprites. How do you plead? Are you guilty of transforming yourself into a forest sprite?
Jennifer Coates I absolutely plead guilty. There is nothing I'd like to be more than a forest sprite. I have spent a lot of time in the forest of northeast Pennsylvania, and this past year I also got to spend a good deal of time in what was known as the Secret Garden on the grounds of a castle in rural Umbria. The trees in Italy have such a different character than the trees of Pennsylvania, but I allowed these half-animal, half-human hybrid characters to enter both settings. I am fascinated by the history of pastoral painting and with how each generation reaches back to engage with it. In my mind it goes back to the Paleolithic period, where animals deposited on the surfaces of caves look like they are running across vast landscapes in the dark.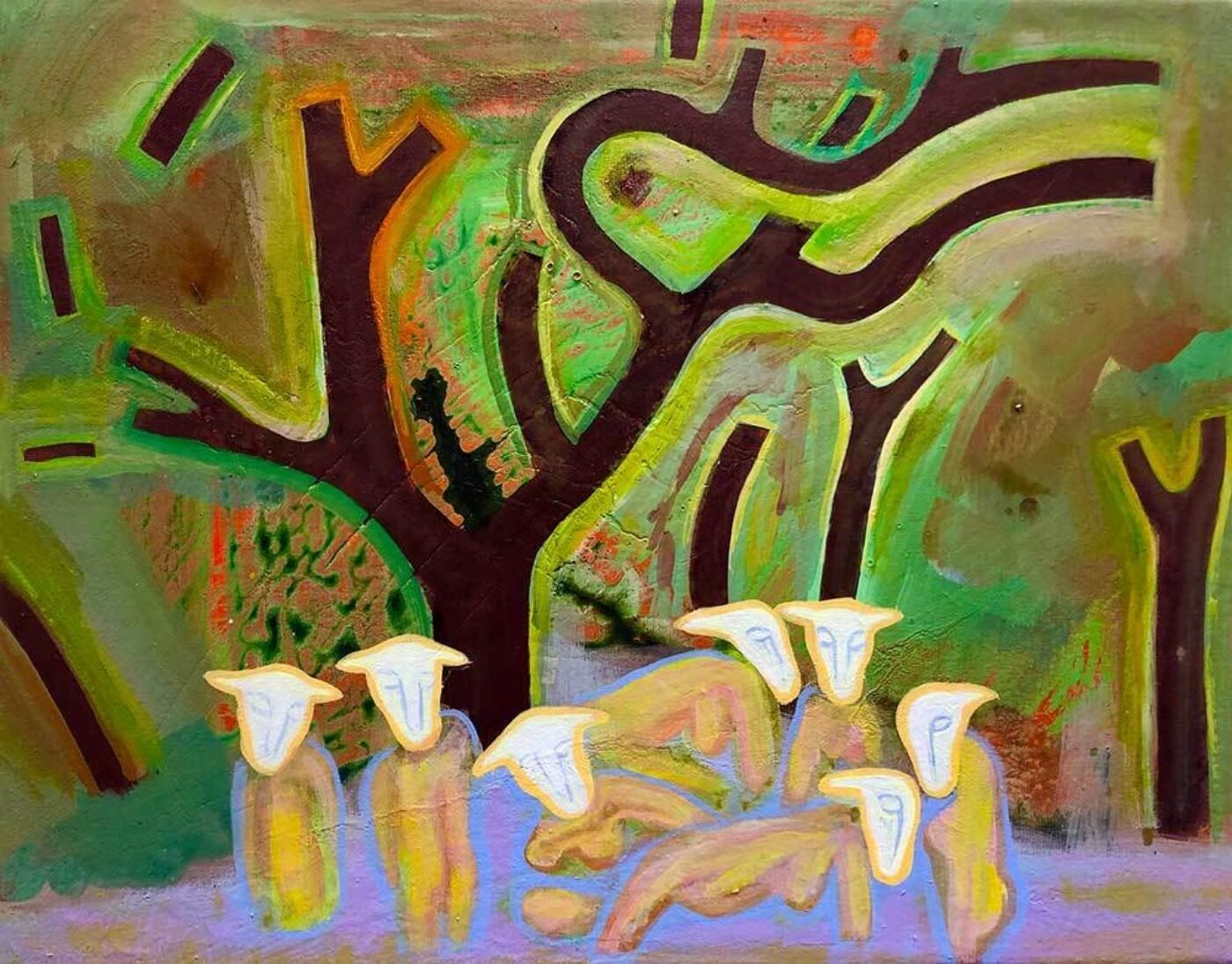 SE I'm curious whether the big, lush eastern forest in Pennsylvania elicited different mythical creatures than the elegant, Poussinesque foliage of Umbria. Cedars and olive trees instead of oaks and maples.
JC Yes! In Italy most of my animal interactions were with representations in art history, most specifically with frescoes by Giotto in Assisi and an incredible under-known Renaissance fresco by the Salimbeni brothers at the Oratorio of San Giovanni in Urbino. In one of my drawings I transformed St. Francis into a wolf-woman preaching to a flock of birds. In another, I lifted soulful horse heads from the Urbino fresco and placed them onto women's bodies. Often the animal presence in my paintings is in the form of masks placed onto the bodies of bathers lifted from Cézanne, Kirchner, Picasso. My bathers are all female.
But in Pennsylvania I have direct experiences with animals—deer, bear, cows, cow skulls, a turkey—that I make drawings and paintings about. I've had some incredible interactions with animals there. Ten days in a row I was visited by a one-horned deer who was alone and covered in flies. He would come by my studio, we would look at each other, and I'd say out loud, "Hi, one horn." I've seen wild turkey families with long lines of babies, an adult turkey out front clicking in an otherworldly language as I tried to stay as still and quiet as possible while it cased the area around my studio to see if it was safe for the rest to follow. I walk along quiet country roads with herds of dairy cows grazing in pastures. Sometimes I talk to them and get little groups of them to walk with me.
SE That sense of being a privileged, silent observer in nature has to be one of the defining human experiences. When I was a teenager, I used to wander in the miles of pinewood behind my parents' house. Once I stumbled on a wildcat. We stared at each other for about two minutes until she padded off. The stillness of a moment like that is unforgettable.
JC I think we are being observed more keenly by the animals than we ever could observe them. Isn't that why shamanic rituals often involve trying to embody the attributes of animals? These paintings are a way for me to merge with the landscape and the animal world rather than observe from a distance. I want the figures to be almost a by-product of the environment that they are situated in.
Representing the landscape feels urgent now because it's under threat. I used to attend these visualization meditations where we would be led through imaginary landscapes, actively using our minds to conjure what was being described by the trusted leader. One evening a few years ago I had a particularly vivid sense that the concept of "landscape" was my own skin, and there were roots and tubers growing beneath it, swelling and bursting through the surface. In my vision the earth bled and screamed. I am in mourning, as a lot of us are, for damaged ecosystems and disappearing animal species.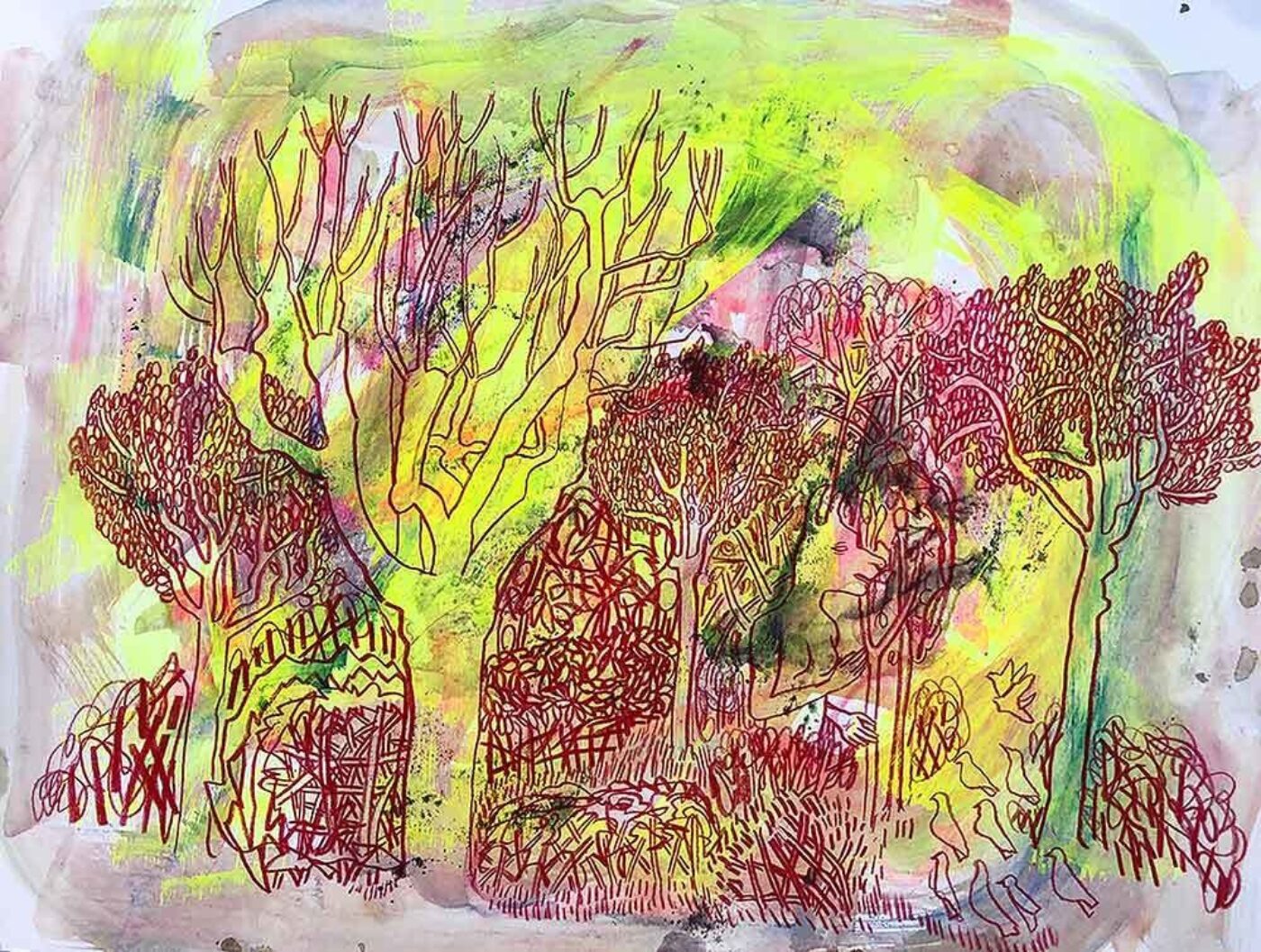 SE But hasn't the tradition you mentioned of pastoral painting and poetry (where it all started with Theocritus) always been a way to think about the disparity between our ideal and actual relationships to nature? I mean, from the beginning the svelte and songful shepherds and nymphs don't have a lot in common with actual agricultural workers—they're obviously projections of the poets into a fantasy of beneficent nature. The same is true for Claude as for Theocritus. Maybe what you're up to is to insist on that powerful felt relationship—between us and "nature," whatever we may mean by that at a given moment—without pretending that all is well and the genre can continue to operate in denial.
JC One of the most interesting things about pastoral poetry is that it is the fantasy of urban poets, right? So fantasies of nature are a counterpoint to a more urban experience. There is a sense of nostalgia around that; and as you say, the characters and settings are poetic projections. The utopian nature experience exits the grasp of the poets' minds just as it turns into words. It's inherent that something is already lost. While there is a powerful, felt relationship between humans and nature, no, all is not well. I think what may have appeared as blissful denial, an untrammeled, ideal beauty, is a signal that its opposite is looming.
SE Yes, that's a really poignant irony—that those who actually live in the web of nature don't need a fantasy idyll. It's the urbanites who need these dreams.
JC I have often returned to Simon Schama's enormous book Landscape and Memory in which he points out all the ways in which the land is both interpreted and shaped by the human mind. He talks about the Dutch origin of the word landscape and how wishful thinking has been embedded in it all along. The word first appeared in the late sixteenth century, and it meant painting or drawing a view of natural scenery. If landscape is a framing and representing of nature, it cements the idea that nature is an invention of the psyche, an illusion of tame and wild, leisure and threat, life and death.
SE What are you actually thinking about when you start painting? I'm sure all these abstractions have to be brought to the level of action on the canvas somehow!
JC When I'm painting I am trying to build up irritating problems in layers of color and texture. I spill and puddle and scumble to make atmospheres that range from tarry to luminous while being as emphatic as I can about the radiance and light sources that don't follow any logic aside from the logic of paint and the rules the painting produces within itself. I feel like I am digging for the scenes, isolating forms to make figures, branches, and a sense of both encrusted surface and receding space. I know vaguely what I want to find, but I'm teasing it out, searching for a story like a diviner reading tea leaves. Gestures become the animals and people; they are part of the swamp of marks that veer into the realm of things. Mess coheres into specificity and leaks back into mess. I know when the painting is done when I think it might be breathing.
Jennifer Coates: Toxic Halo is on view at High Noon Gallery in New York City until March 1.
Stephen Ellis is a painter, living in New York, who writes about art and music. He is a professor in the LeRoy E. Hoffberger School of Painting at Maryland Institute College of Art (MICA).