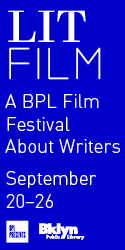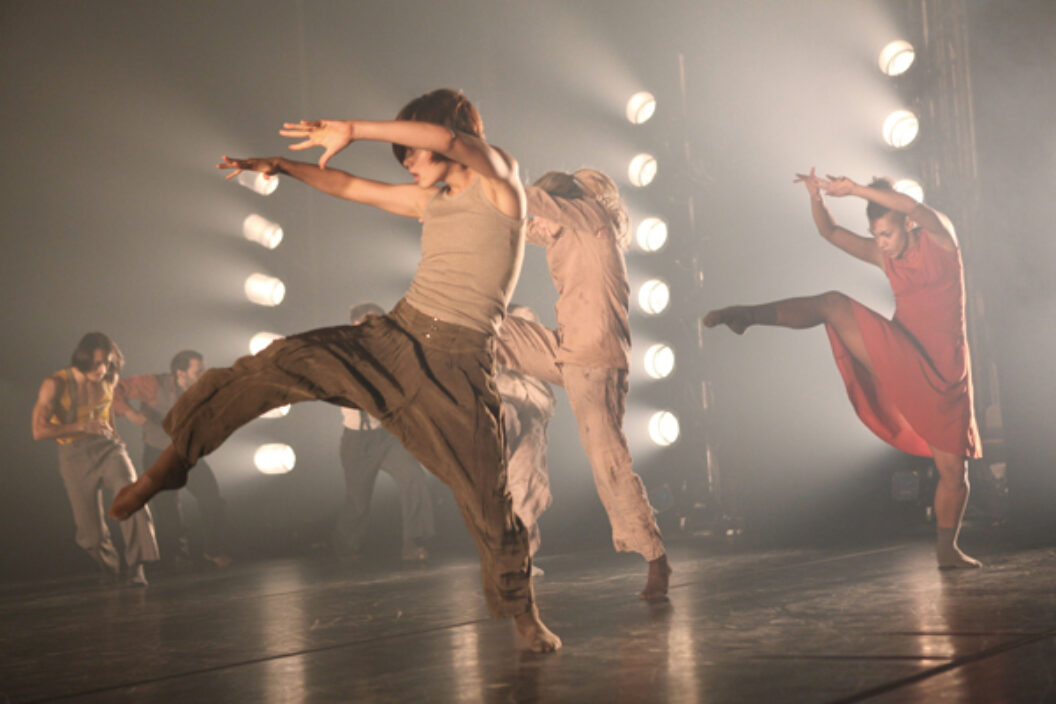 Political Mother is a massive jolting spectacle, choreographed and directed with skill by Israel-born and London-based choreographer Hofesh Shechter. This work depicts a bleak world of pervasive powerlessness; it challenges me to find hope in the ways that performance, perception, and embodiment might disrupt the kind of thinking and behavior enabled by systems of domination.
The dance opens by falling back in time. Through the haze of stage smoke, a man dressed as a Japanese warrior attempts suicide accompanied by soothing baroque choral music.
Soon seven musicians (drummers, guitarists, bassists) emerge out of the darkness, performing on two raised platforms that hover above an open stage area below. These powerful male musicians unleash pulsing chords and rhythms from their instruments. Periodically throughout the performance, a male singer/speaker screams into a microphone. Shechter, who composed this music, seems to intend for this sound to assault the audience. It does not invite participation in the events unfolding on stage, but rather pins the spectators to their seats. The figures at the top of the stage frame are all men, they wield sound as weapon. The opening of this dance reveals that an unyielding masculine presence controls what we hear and how we feel.
Performing underneath these immobile musicians are a company of excellent movers. They are Maeva Berthelot, Chien Ming Chang, Sam Coren, Frederic Despierre, Karima El Amrani, James Finnemore, Bruno Karim Guillore, Yeji Kim, Kim Kohlmann, Philip Hulford, Erion Kruja, and Hannah Shepherd. The movement that Shechter has created for this work is marked by a closeness of limbs to the body, arms and legs reach out only to fold back in on themselves. There is a sense of perpetual dissolution: the dancers yield and flow, shuffle their feet, cast their eyes downward, and frequently reach their arms limply above their head in a gesture signaling surrender. But the dancing is also full and lush and fast and difficult. Dancers smoothly fold limbs in and out of improbable positions, performing virtuosic compliance—bending seamlessly into the movement demanded of them by the choreographer. For all their evident physical ability and sophistication, these dancers are rendered powerless by the choreography—a regimented fluidity is imposed upon them. The movement in this work makes me see the performers as disempowered soldiers and war ravaged civilians.
During the performance, I kept asking myself, What does it mean to move a body like this? What is the agency of these performers? Who are they as individuals? In this work difference is muted—the flow in one body is similar to the flow in another body. Fluidity becomes an ideology of domination.This type of movement does not allow the dancers to reveal what distinguishes their experience from the experience of any other body. The stage smoke obscures the dancers; the music creates a barrier that kept me at times from even being able to discern my own presence as a spectator, and the choreography constantly presents fractured images and narratives such that I found myself unable to relate to the individual bodies on the stage.
Much of the choreography depicts groups of dancers melting between scenes of vague dramatic content. At one point a performer in a gorilla mask inspects a line-up of dancers with their hands held meekly above their heads. In another moment a fake gun is held up threateningly before a group of dancers rushes on stage and a rough stomping line dance is performed—the gun shining in the hand of one of the performers like a glittering accessory. The most satisfying and beautiful choreography comes during the transitions between these scenes. During these in-between moments, each dancer often follows an exquisite and unique path of action, seemingly melting through space only to land in another scene of domination.
Towards the end of the performance, a line of text is illuminated on stage. "Where there is pressure there is folk dance." Folk dance is certainly an influence in this work as evidenced by several scenes in which circle or line dances are performed by a majority of the cast. In this work a connection is drawn between the bodies of the refugee, the soldier and the folk dancer. Folk dance in Shechter's world becomes another tool of the state used to control and manipulate the bodies of its subjects. Rather than a dance that alleviates pressure by rising up out of bodies eager to celebrate unity and solidarity, these dances affirm the agenda of an external authority and mandate a compliant body.
The bodies of these performers reflect a technology of limitless capacity—their training conditions them to be available to simultaneous forces that ripple through their bones and muscles, allowing them to move with liquid ease into the floor and through the space, with speed and precision but without ever sacrificing flow, without ever shutting off the possibility that they might follow a line of force elsewhere. Their bodies remain obedient to the choreography, but also remind me of their sustained availability to other movement possibilities. They could rebel, they could move out of this dance with defiance. But they don't, they remain bound by the fluid brutality of the choreography.
What is tragic about this dance is the performers' exquisite ability to offer no resistance to the dominating ideology of control built into the choreographic structure. This is not a critique of these excellent dancers, for they have committed themselves powerfully and without reservation to the bleak, demanding totality of this dance. It is instead a reflection on relationships between capacity, coercion and domination that circulate within and beyond the space of this choreographic work. Shechter is calling attention to the fact that we don't always perceive the ways in which we are complicit in systems of domination, or perhaps we perceive our participation as the fulfillment of our potential (this is after all what we have been trained to do).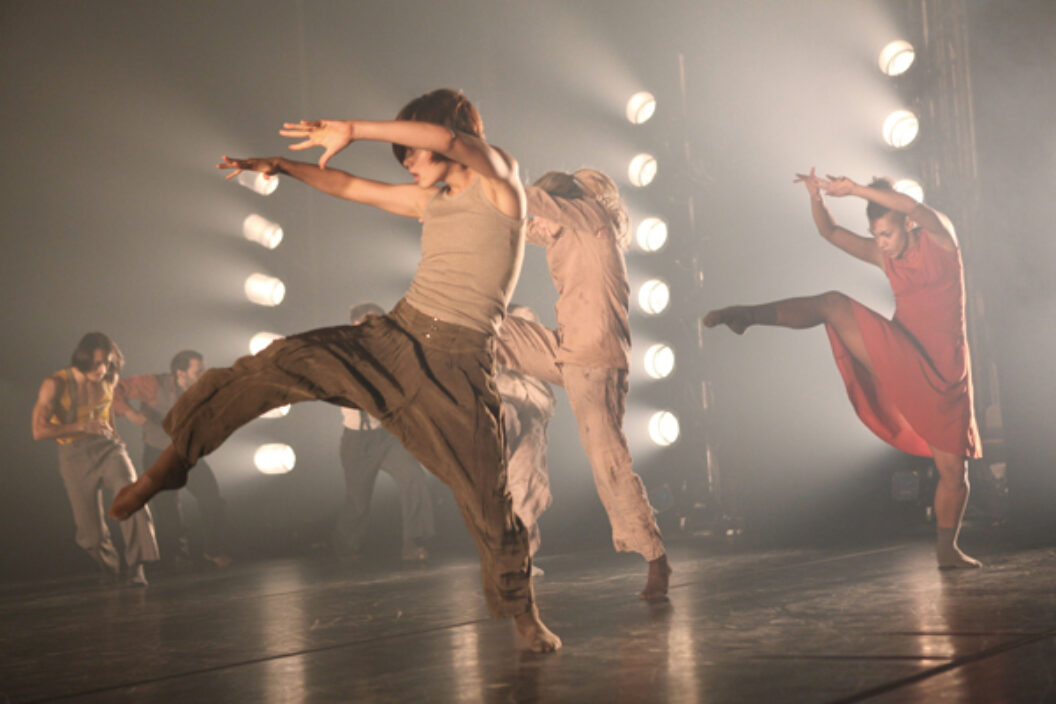 This dance offers little hope on how we might imagine the radical and resistive potential of the human body in motion. Dance can remind us of our submission to ideologies that colonize our bodies, where mastery of a technique renders us subjects in a regime that ultimately denies our agency. But dance can also teach us that through our acquisition of technique—our disciplined labor of embodied understanding—we can become agents of social transformation, subverting, deflecting, and defying those systems that seek conformity and submission.
I look to dance to teach me about the potential power of bodies in motion, and because I want to be carried by dance performance into a space where meaning unfolds in ways I can't immediately describe in words. I want to discover something that couldn't have existed before, to find new options for perception and action. This expansion of possibility usually comes about as a result of experience: a new sensation I feel while watching a work triggers a question or a shift in how I understand a familiar construct in the world. This is what live dance performance can do best: it reveals fissures in the relational and social constructs that we employ in our lives. It fills these gaps with new options for being with each other.
In the last few minutes of Political Mother, I had the rare experience of perceiving something familiar in a new way. The performers rewind through much of what had already happened in the dance. They re-perform Shechter's choreography in a mesmerizing, fluid and fast retrograde. Despite the emotional music booming through the theater (Joni Mitchell), the theatrical smoke drifting out from the stage, and the dim lighting that all served to distance me from the bodies of the performers, there was still a thrilling liveness to this act of sustained rewind. In fact, it was the haunting, ghostly quality of the dancers' bodies in motion that drew me in. I felt myself trying, for the first time all night, to feel what they were feeling, to hold onto the traces of the movement that were slipping so rapidly away. The feeling of loss—of the body, of movement, of time, of the experience of the performance—made me yearn for all of it to re-materialize.
Seeing live bodies rewind their way through a dance made me feel something new about my perception of time: memory is a physical, embodied experience of the present moving forward. I felt myself slipping forward and backward at once so smoothly, with such exquisite care. Here, I felt the tenderness and remarkable expertise of Hofesh Shechter's choreography. I momentarily forgot that time tends to hold me so tightly in its onward thrusting grasp, this grasp which is sometimes glorious and sometimes merciless. I felt my body suspended in between past, present and future, haunted by sorrow, by all the energy expended and lost in the course of this performance.
We spill ourselves into countless directions at once just to keep moving through this world, to stay afloat through currents of domination, distraction, manipulation and desire. At what point do we loose control over the direction our bodies are taking, over the actions we perform? At what point do we relinquish our agency and allow ourselves to be choreographed into narratives created for us by unseen powers? Are we doomed to slip into narratives of disempowerment, coercion, and vacancy, to rewind, repeat, rush through the same structures and surrender again and again?
What little hope this dance does offer is in its conclusion. Memory moves us forward. The dance rewinds itself to the opening trauma of simulated suicide. We watch the performer dressed as a Japanese warrior un-kill himself. This moment suggests the possibility of exercising memory as a tool for moving forward, not toward death, but toward new possibilities in perception and action, to new points of departure. How might we chose to move differently, advancing forward from this moment given what we know now, what we can clearly remember, re-perform, re-inscribe?
Political Mother at the National Arts Centre in Ottawa, Canada on November 9-10th. They will also be performing at the Orpheum Theater in Minneapolis, Minnesota on November 13th.
Jesse Zaritt is a dancer, teacher and choreographer living in Brooklyn, New York.