Fletcher Williams III's City Block by Chase Quinn
A Tale of Two Charlestons

Discover MFA Programs in Art and Writing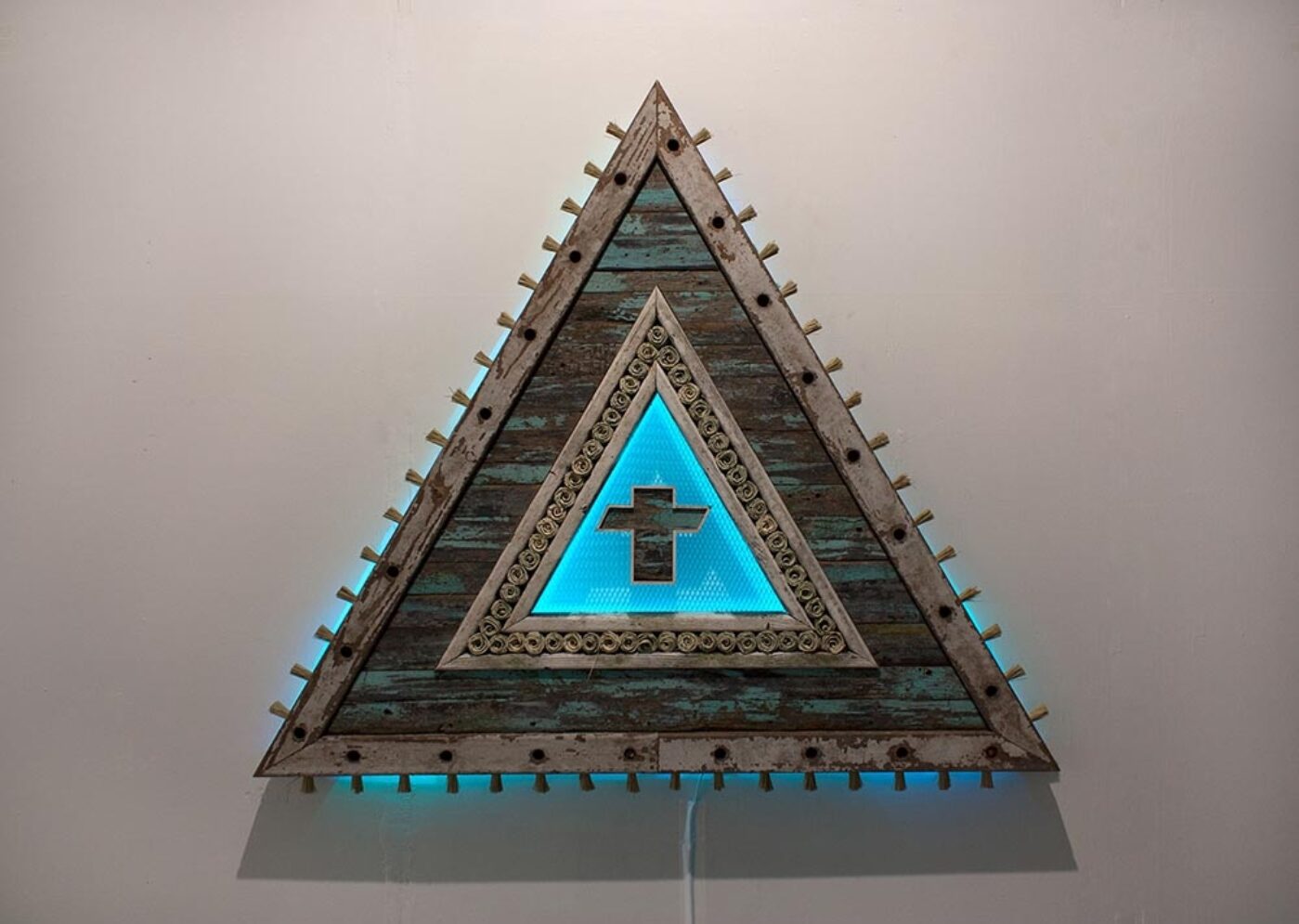 From inside the Historic Reynolds Ave Fire Station, the street looks almost deserted. You can see a barren parking lot, the broad backside of a white-steepled church, and lots of chain-link fencing. Up the block is a barbershop and next-door is Emily's Delightful Banquet Hall with a colorfully painted sign that reads "IF GOD DIDN'T FORGIVE SINNERS HEAVEN WOULD BE EMPTY." Only minutes by car, this part of town feels a world apart from the iconic single-style homes, verdant gardens, and two- and three-story piazzas of Charleston's historic district. Literally framed by the garage windows of the fire station, it's clear that this landscape is as important to Fletcher Williams III's current exhibit, City Block, as the sculptural structures on the walls.

A native of North Charleston, Williams's work is composed of reclaimed wood, building parts, and automotive paints he salvages from the city's streets. "Due to frequent demolitions of old homes and remodels of unoccupied store fronts, materials for my work have been abundant," he explains in a statement written for the show.
The first room of the two adjoining galleries features stripped-down sculptural pieces that evoke the gabled roofs and architectural elements of the surrounding community. You can see in the chipped, white-washed wood used in pieces like Stacked (2017) the familiar weather-beaten exteriors of neglected and, in some cases, abandoned homes in communities all across North Charleston, in part the result of its shifting cultural, sociopolitical, and geographical landscape.
Between 2014 and 2015 Charleston was ranked among the top 20 cities with the highest rates of population growth nationally. Rents continue to soar, and through the ongoing processes of gentrification Charleston has been transformed from a city, which in the 1980s boasted a population made up of 2/3 black residents, to the overwhelmingly white space that it is today. Indeed, as a black writer living downtown, spotting another black person in a restaurant or at the theater has become a losing game. The result, like in so many other cities, is displaced black communities being pushed farther and farther out of the city center. With City Block, Williams pays homage to these increasingly marginalized communities and casts a melancholy note for the uncertainty of their futures.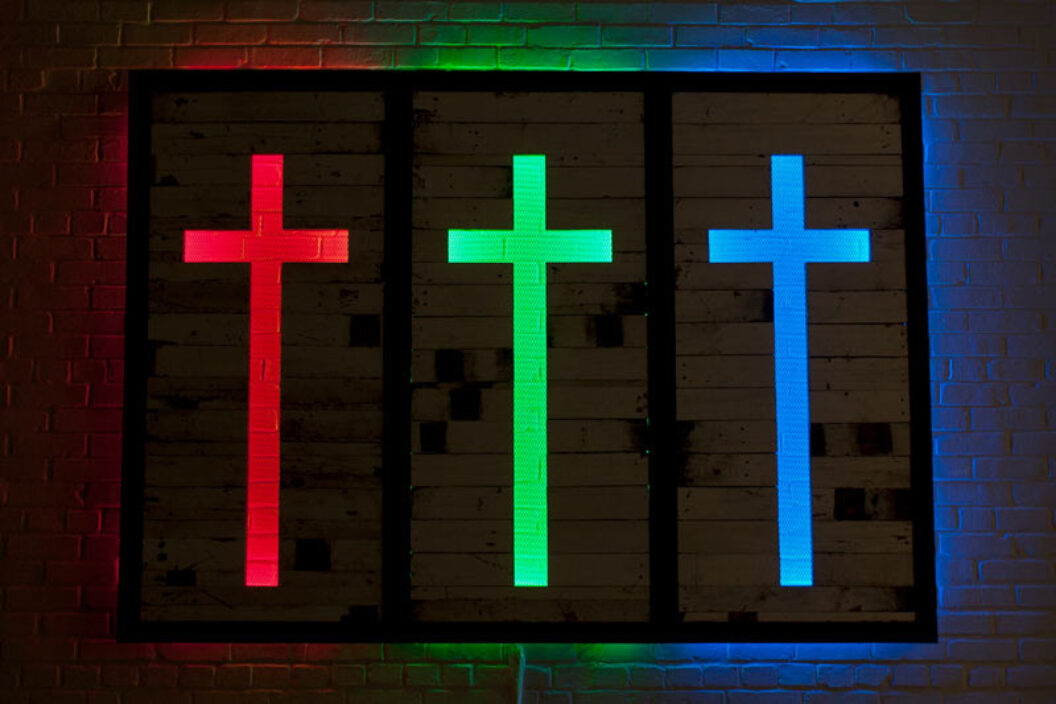 In the adjoining gallery, the focus shifts from exteriors to interiors. In Faith is No Match for Man's Retribution, three crucifixes carved into wood panels are backlit in neon blue, green, and red. The effect is reminiscent of the otherworldy glow of neighborhood bodega lights. The juxtaposition of religious imagery with references to capitalism, evident throughout the exhibit, suggests a value system at play that Williams wants to both glorify and interrogate.
In another example, Bless Those Sittin' High and Ridin' Clean, Williams's irony actually borders on kitsch. At the center of the piece, which is backlit with an aquamarine blue, is what looks like another crucifix, but on closer inspection is the Chevy bowtie logo. Framed by five triangles, the piece echoes the triangle eye on the dollar bill in what is perhaps a nod to illuminati lore, and also a comment on America's culture of brand worship.
Decidedly, Williams is at the height of his powers when he shows restraint. In Subfloor, with no lighting effects, he uses discarded wood, plywood, automotive paint, and metal flake to create what resembles a fragmented piano. There is a baseboard of plywood from which white wood boards extend like ivory keys. The negative space between these boards reveals a glimpse of shimmering blue metal flake, creating the illusion of sharp and flat keys and an alluring depth that draws viewers close. This keyboard-like appearance and deep blue color work at once to connect Williams's narrative of displacement to black musical traditions, like the Blues—traditions forged by people on the move: traveling musicians, migrants, and the dispossessed.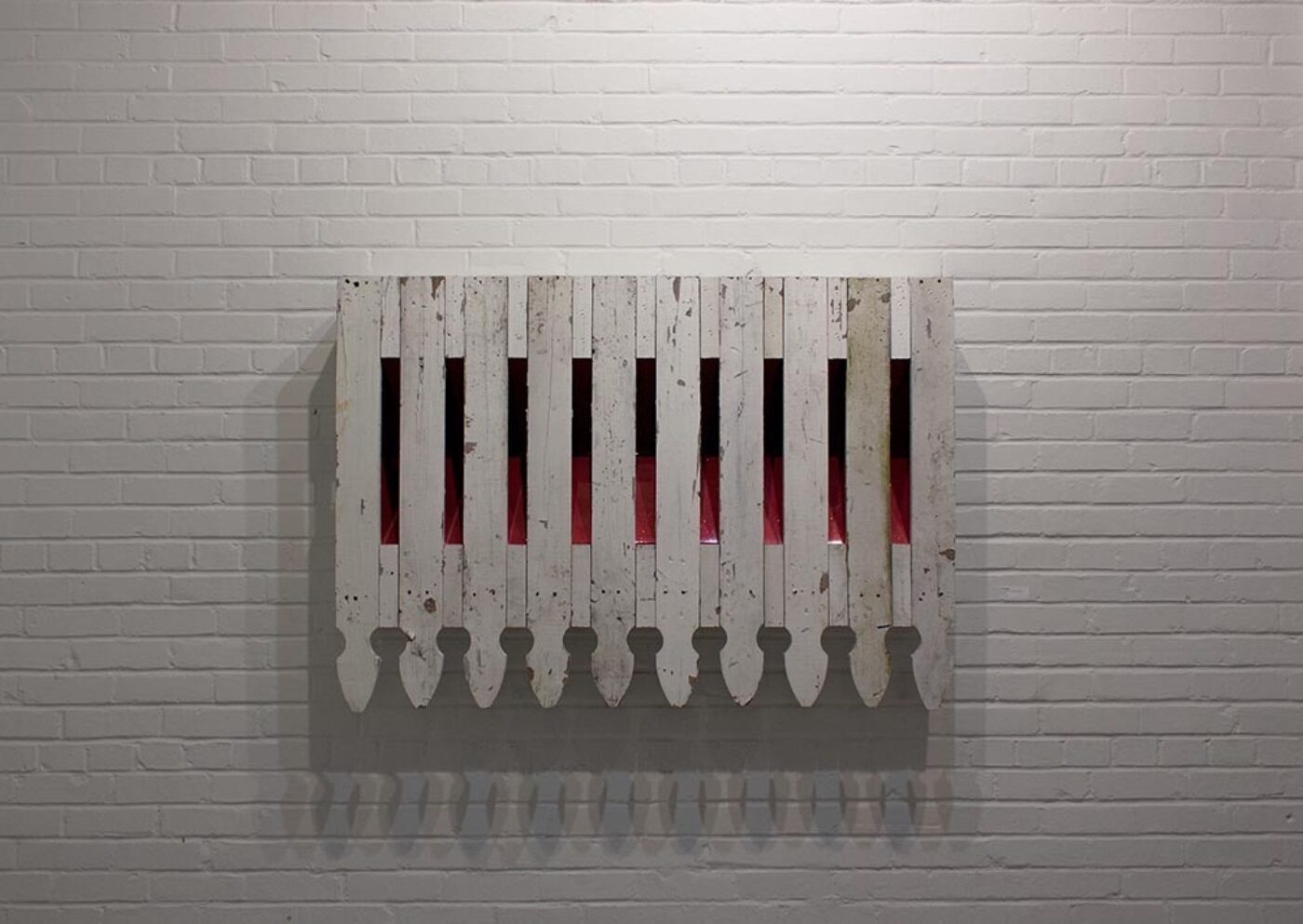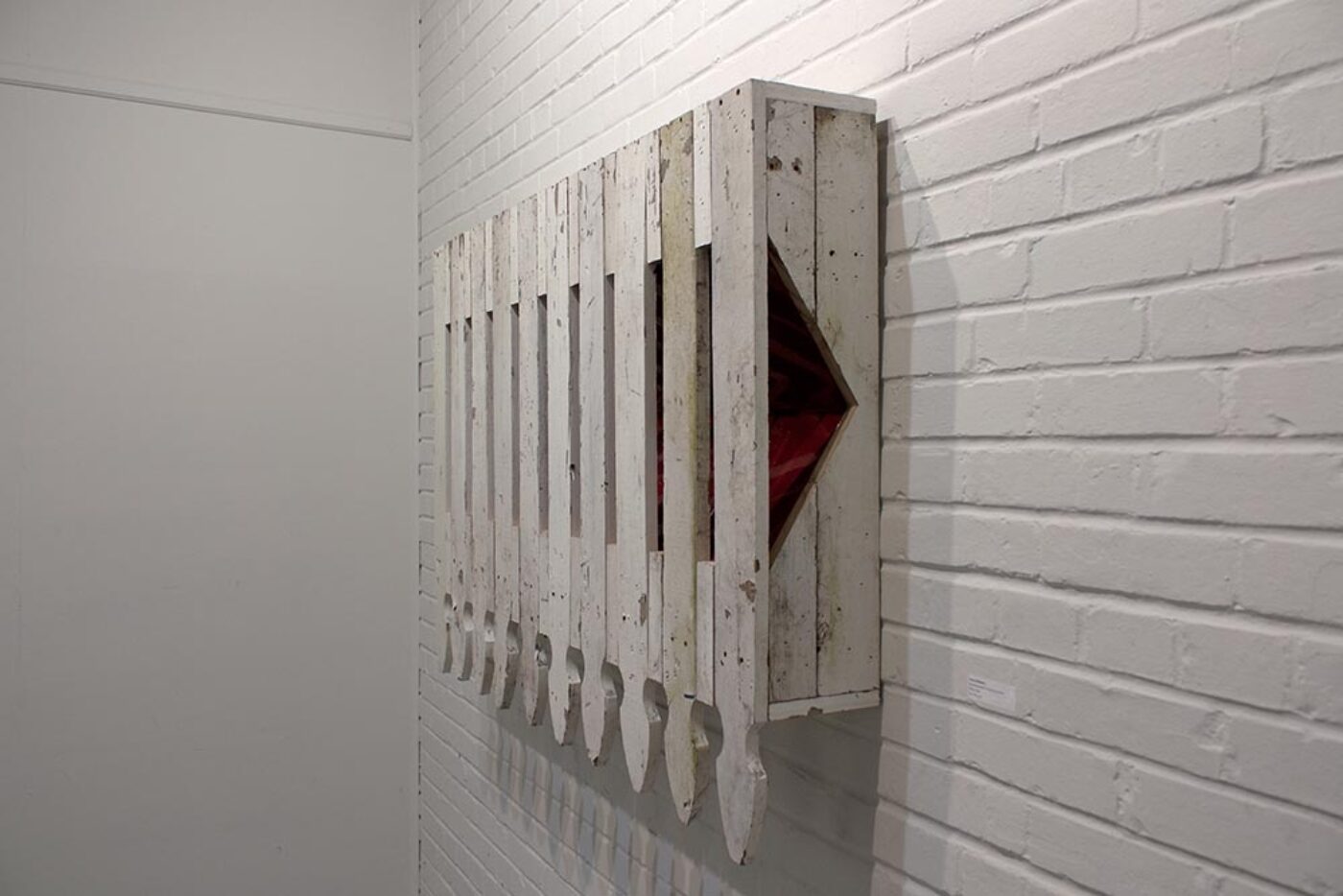 Similarly, From a Distance (2017), creates the illusion of an interior, this time obscured by an inverted white picket fence. There's a cavity behind the fence lined with glittering, red metal flake. Through this construction, which is a pretty satisfying critique of the American dream just on its own, you can see the glow of something like blood. Like all of our most seductive fantasies there's also an element of danger here. Is a threat being fenced in or fenced out?
Leaving Williams's show, I sense that the story is unfinished. An original musical composition by Philip Lipton for bass and soprano clarinet called "Outworld Spiral" captures this feeling of aimless momentum beautifully with its repetitious and un-abating movement. Designed as a companion piece to the exhibit, it's unfortunately only accessible through Williams's website. Although the link and headphones are provided to encourage visitors to listen on their smart phones, upon hearing this music, the unstated and impending feeling it conjures feels essential enough to the experience that one wishes it had been better integrated.
City Block is an age-old story that translates to cities everywhere, from Wilmington, Delaware to Bedstuy, Brooklyn, which Williams clearly understands. What is unique to Charleston however, and what makes his work important, is that in many ways this is where the story begins. After all, as the first stop for 90% of the slaves brought into the United States, you would think the descendants of the people who built the city might still have a place in it.
City Block is on view at the Historic Reynolds Avenue Fire Station, North Charleston—as part of the North Charleston Arts Fest—until June 3, 2017.

Chase Quinn is a writer based in Charleston, South Carolina. His work on race and cultural identity has appeared in Vanity Fair, Artforum, Guernica, BOMB, and Huffington Post, among others.