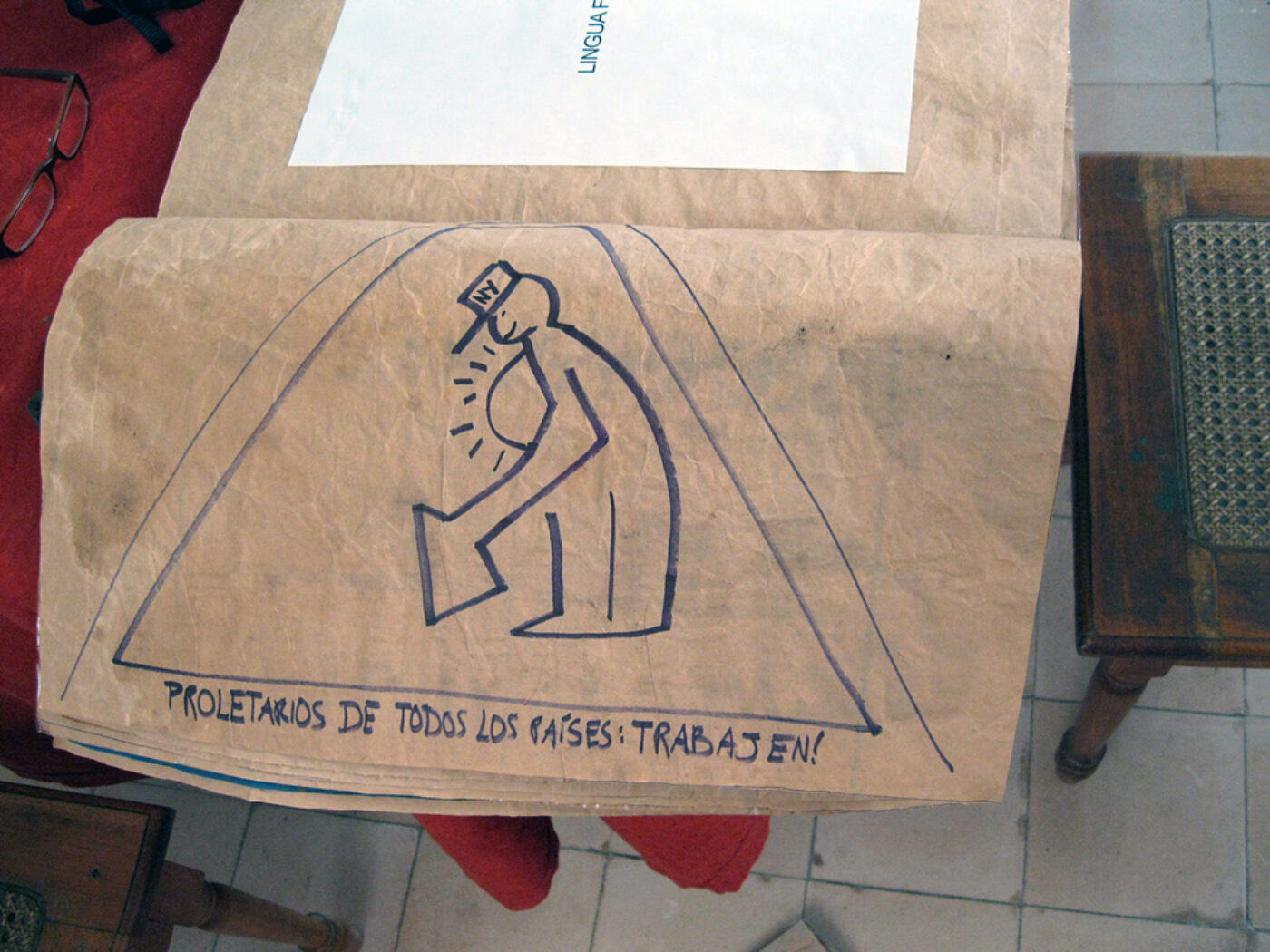 Translated from the Spanish by Kristin Dykstra
Why Does Yemayá Need Blue Cloth Scraps?
At coral reefs we have observed, among many sorts of garbage,
scraps of blue cloth as large as a square meter
which devotees toss to the goddess
we put forth this hypothesis:
Yemayá doesn't need those, what could she do with them, wipe down a big rock?
observing anthropomorphic infatuation Yemayá notes one advantage, the cloths
proliferate across rocks and sands, in so doing they attract attention from scientists
who can usually get the attention of impresarios
who will know how to persuade the whole world that gods need nothing at all
Para qué Yemayá necesita telas azules?
Hemos observado en los arrecifes, entre los múltiples tipos d basura
trozos d tela azul
d hasta un metro cuadrado q los devotos arrojan a la diosa
adelantamos esta hipótesis:
Yemayá no las necesita, qué haría con ellas, secar el diente d perro? 
advirtiendo la infatuación antropomórfica, Yemayá ve la conveniencia d q las telas proliferen por rocas y arenales llamando así la atención d los científicos 
y estos, como d costumbre, la d los empresarios
ellos sabrán qué hacer para persuadir a todo el mundo d q los dioses no necesitan nada
La muerte de un ser humano
"In the last couple of days," the neighbor says,
"no life signs in the kitchen."
Vital signs, kitchen: miteramu.
Cadaver translated by the police, efficiently.
"It's a sad day." But the sun glows
furiously.
Sit down by the water and a little girl
greets the ducks:  
"Kwek, kwek, kwek
ik ben wel goed mar ik ben niet gek!"
Oh Milky Way,
night fell. Sunflower
now go wherever you want.
Death of a Human Being
"In the last couple of days", dice el vecino
"no life signs in the kitchen".
Signos vitales, la cocina: miteramu.
El cadáver traducido por la policía, efficiently.
"It's a sad day", sin embargo el sol brilla
desaforado.
Siéntate junto al agua y la niñita
saluda a los patos:  
"Kwek, kwek, kwek
ik ben wel goed mar ik ben niet gek!"
Oh, Vía Láctea
es noche, girasol
ahora puedes ir adonde quieras.
The Concept
In a revolution riddled with cavities, fillings are constitutional,
motions by an atrophied organ occur before a physician.
changes in mentality must be inspected in address records.
the army erupts into the streets following coordination with criminals
duly selected by the populace
in case seawaters rise, take a condom to the beachhead
swimming and fishing are prohibited until further notice
to see how fish react to the runoff
any act of contamination will be referred to the general office of taxation
El concepto
En una revolución d caries la prótesis es constitucional
los movimientos d un órgano atrofiado se realizan ante un facultativo.
el cambio d mentalidad se fiscaliza en el registro d direcciones. 
el ejército irrumpe en las calles previa coordinación con los criminales 
debidamente seleccionados por la población 
en caso d penetración marina, llévese el condón a la cabeza d playa
el baño y la pesca están prohibidos hasta tanto no se determine 
cómo los peces reaccionan a los desagües
cualquier acto d contaminación será remitido a la oficina general d impuestos
Personal Notes
My name is Omar
E, per l'appunto, perso.
Commander of the killers' cigarette
which the Iranian pen of Florence
would have documented, energetically.  Mountain
Oh the mountain: music: cymbals,
opera, symbol all'opera. In Persia's mountains,
not the assassins' mountains,
my only furor: apples and remembrance
of yr tulip cheeks;
song: a land where a horse waits
selected pages? nor dead:  water
and with the left hand. Magical! they say
but I who know
my own 
unhurt unhurting
Persian personal heart
seek refuge in starry tapestries.
Not in vain did they name the proprietor Omar!
Apuntas persas
Mi nombre es Omar
E, per l'appunto, perso.
Comendador del cigarro de los asesinos
que allá en Firenze l'iraniana pluma
escribiera con savia. La montagna
Oh, la montaña: música: címbalos,
ópera, símbolo all'opera. En las montañas de Persia,
no las de los asesinos,
mi única furia: manzanas y la memoria
de tus mejillas de tulipán;
canción:  una tierra donde espera un caballo
páginas escogidas? ni muerto:  agua
y con la mano izquierda. Es magia!, dicen
pero yo que conozco 
a mi corazón
indolido, indoloro
persiano, perso,
pido refugio en las estrellas tapices.
No en balde a Omar llamaban el tendero!
Fifteen Babels
Dissenting from the hegemonic existence
of the single-Babel system
we propose to create fifteen
in order to do so we will discuss the program in 3 tongues for 5 years
or in 5 tongues for 3 years until achieving the desired effect
discussion within one single tongue for 15 yrs may yield the same result
Quince babeles
En desacuerdo con la existencia hegemónica
del sistema de una sola Babel
proponemos crear quince 
para ello discutiremos el programa en tres lenguas durante cinco años
o en cinco lenguas durante tres años hasta lograr el efecto deseado
discutir en una sola lengua durante quince años puede traer el mismo resultado
Omar Pérez is a poet, essayist, and translator. Born in 1964 in Havana, Cuba, Pérez has published an array of work on the island. He won Cuba's Nicolás Guillén Award for Poetry in 2010 with the collection Crítica de la razón puta. Other books of poetry include Algo de lo sagrado (1996), ¿Oíste hablar del gato de pelea? (1999), Canciones y Letanías (Extramuros, 2002), and the unusually multilingual Lingua Franca (2009). An early collection of essays, La perseverancia de un hombre oscuro (2000), received a National Critics' Prize. Following that award Pérez worked as an editor specializing in the essay at Letras Cubanas, an editorial house in Havana, and has returned to the essay in projects such as El corazón mediterráneo (2011). Among his many literary translations are works by contemporary writers in Italy, Africa, Great Britain, and the United States, as well as a rendition of Shakespeare's As You Like It. In addition to working with multilingual poetry and prose, Pérez has explored an interdisciplinary arts practice. He participates as a percussionist in collaborative works with dancers and among his writing projects are a variety of notebooks with visual components, including collages for his new manuscript La carrera (The Race), from which several of the selections above are excerpted.
Kristin Dykstra's translation of Other Letters to Milena, by Reina María Rodríguez, was published by the University of Alabama Press in December 2014. She won the 2014 Gulf Coast Prize in Literary Translation, and her new essay on the translation of Angel Escobar's abject poetry appears in the March 2015 issue of The Volta. Two more of her translations are forthcoming from UAP in 2015: Breach of Trust, by Escobar; and The Counterpunch(And Other Horizontal Poems), by Juan Carlos Flores. She received a 2012 NEA Fellowship for Literary Translation to complete the collection Catch and Release, also by Rodríguez.