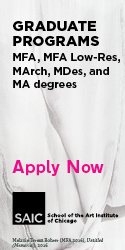 We have opened up an establishment
by the side of the road. Occupying
an abandoned position, a foregone
conclusion; twice-told, foreclosed.
We hope to make good use of a space
that was poignant for its cultural
insignificance, an eyesore
from bygone days of absolute
value. What was here was non-
transferable; they served up pie
and coffee. We offer a menu
of inexhaustible delicacy: one dish collected
from the surfeit of each blasted country, arranged carefully
on the surface so as not to displease the eye
in synchronicity with its mother
tongue. Again we have that feeling
"I do everything,
and it's relatively rewarding." Picture
statuettes and friezes, a well-trained
gauntlet of discrete professionals, glacial
chill preserving water at its highest
arc: it tumbles from the fountain's throat
like a goat skittering down a hillside. And feast
your eyes on Firefly.
The restaurant is ominously busy.
It makes a noise. And like everything, this
venture acquires its significance
through a process similar
to investment. I feel so clean and tired all the time.
I am here working like a god
—excuse me,
like a dog. Slow—
embarrassingly so—
the movement of the hand
after the eye, in going
to swat the unlit fly
in the light of day
and as any relationship is unequal
in so much as it is forged—the doubled,
quartered
symmetries of a winged miscreant,
a man and woman dancing
around and around an erection—
so will be this partnership
of parts.
"What kind of an establishment is this?!"
—indignant voices
    rising above the genial hum
    the general throng
"Congratulations," I shrieked,
"that is absolutely beautiful.
It is not often, after all, that you will find
the maker at his center."
For one thoughtless moment I
identified myself with a pale moth
trapped inside at closing-time. I opened
a file at random, and came to a happy
coincidence, a correspondence: recollected
in tranquility, the most beautiful word ever spoken
or written (of course,
in English): file it under
Firefly. And fix your eyes
upon the object of which Desire has chosen to make
its reproduction. It must be so much fun:
concept and execution. There is a staircase
on the property, which we do ascend. The floor—we decided
for the floor on a sea-water green. It very nearly reminds me
of the ocean, waving,
on and on, on and on. A customer once said to me:
"I can't go drowning in the sea
(at the end of my life)
without seeing a lot of these tiny white lights."
— "Congratulations," I shrieked … .
"Once you have settled on an image
to be reproduced
allegorically
it will be replicated
ad infinitum. And
in this roundabout way
you will discover
the many ways
in which there is always
one within the …" If this were a museum—
a reliquary for the standard—
we would have to ask you constantly to still
your tapping toes, hush
your jubilant cries. As it is, feast
your eyes. Clarity is
in the domain of the beholden, unto
whom we offer this special
honeymoon rate, no
guarantee of ascension—a getaway
from the tyranny of the emotion.
And again we have that feeling
of something's gotta give
We'll make a go of it.
Twice in one short life to have this chance
to tickle the palate of the patron, to satisfy
the esoteric demands of the starved:
objects of formal beauty
won't you shine your light at least
until the firefly—
              by the firelight
              is extinguished.
—Rebecca Wolff was born and raised in New York City. She is the editor of Fence, a journal of poetry, fiction, criticism, and art.
Originally published in
Featuring interviews with Errol Morris, Peggy Shaw, Laurie Anderson, Carlo Ginzburg, Raymond Pettibon, Judy Pfaff, Mellisa Marks, Edward Said, and Margaret Cezair-Thompson.