Finding the Right Wrong Tool: Cherrie Yu Interviewed by Vijay Masharani
Dance and movement that transcribe prior choreographies.

Discover MFA Programs in Art and Writing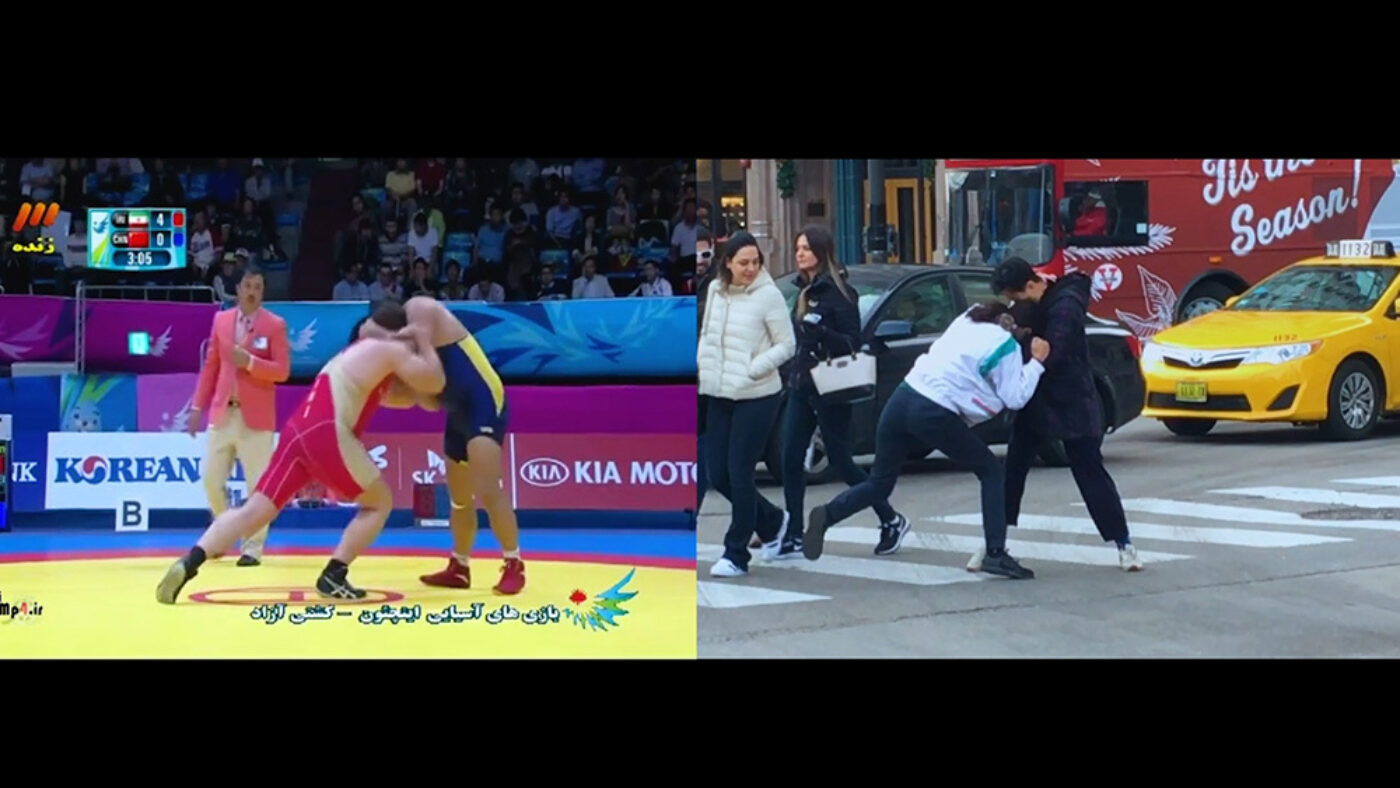 The videos in Cherrie Yu's Studies Series (2017–ongoing) withhold little. Videos of the artist and their collaborator(s) pantomiming a wrestling match or a basketball dunk are presented alongside the original footage from which the choreography is sourced. It can get harrowing, as when Yu wrestles with their faux adversary in the middle of a busy crosswalk while cars anxiously swerve around the dancers as they grapple.
Yu remains agnostic about genre. In their work, dance and its subgenres are considered with a seriousness equal to the on-stage mannerisms of the Taiwanese pop singers Christine Fan and Angela Chang or the trade skills of Matthew, a maintenance worker and repeat collaborator who appears in two of Yu's lengthier pieces. These are not as funny, and they disclose their internal logic less readily. In Lydia and Matthew (2019), the titular performers begin as expected: Lydia, a professional dancer, does a dynamic warm up; and Matthew, a custodian, sweeps the sidewalk in front of an upscale food hall. Then, slowly, their movements unravel.
—Vijay Masharani
Vijay Masharani Your work often involves a process of transcription; for instance, in Studies Series you transcribe a televised musical performance, a basketball dunk, a wrestling match, and a performance by an Isadora Duncan dancer. Then you, your friends, or hired actors reenact them. What's the utility of transcription to you?
Cherrie Yu Transcription is one of the tools that I use to respond to an archive. It's the simple process of pulling something out of one context and planting it in another. A lot of the time, I don't know what I'm looking at, so I try to reenact what I see or re-perform it. It's only after this that I understand and I can follow the language and logic of a motion, even if not precisely. I had no understanding of Accumulation with Talking Plus Watermotor (1978) by Trisha Brown before I tried to learn parts of it. This happens a lot more with postmodern dance, which is a special aspect of these dances as archives: you don't understand them just by looking at them. It's an embodied thing.
VM The works in Studies Series seem to aspire to a kind of mimesis, but they inevitably fail because you're using the wrong tool, i.e., a watermelon is not a basketball, and a makeshift wooden hinge is not a ballerina.
CY The idea of mimesis came from my training in literary criticism, my understanding of words, and how language gives meaning through difference. If you look at Ferdinand de Saussure's writings, he sketches out how we assign a word meaning through difference. So we know "cat" means "cat" because it's not "car." What I was trying to do was to take something preexisting and then make another version constructed through difference. You can call it failure if you ground yourself in the original version. But if you move your perspective to the space between the archive and the reconstruction, it doesn't look like a failure, just different.
In Wrestling Study (2017) I reenact a sequence from a wrestling match in a busy crosswalk. Crosswalks have a specific rule that governs people's mobility that is different from the kind of mobility allowed in the wrestling ring, and the piece is about that difference. So there's a technique in using the wrong tool or putting someone in the wrong place. Not every wrong tool would work. You have to find the right wrong tool.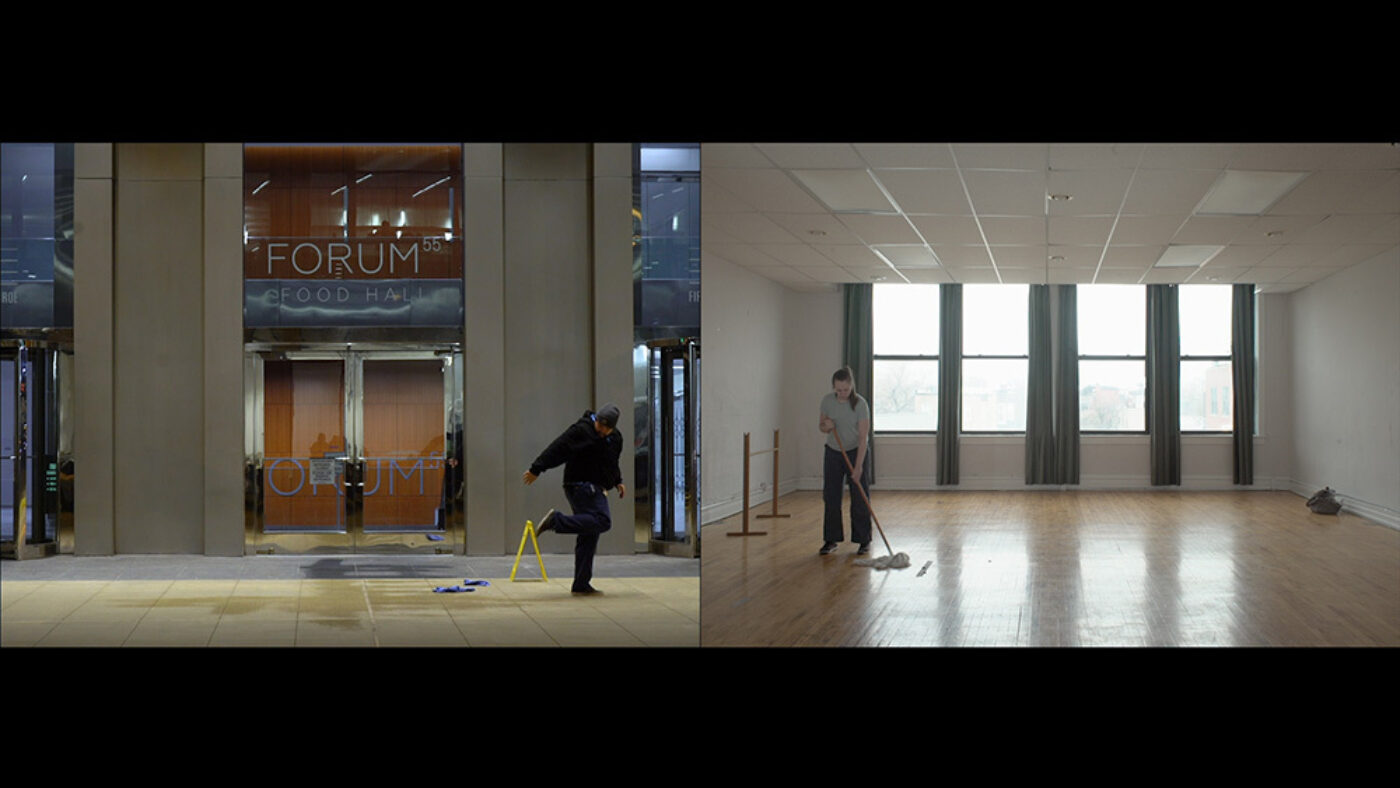 VM The only repeat performer besides yourself and your parents is someone named Matthew. Who is he, and what did you both work on together?
CY Starting in 2018, I developed a habit of going out and filming people walking, working, and moving in public. I often talk to the people I film. I found myself gravitating toward people doing maintenance work because their movements have a certain sense of clarity. There was an aspect of the movement that I could follow. Which goes back to what I said about the archive having its own logic that lends to learning and elaboration.
I met Matthew on a walk after class; he was cleaning windows outside a luxury high-rise in downtown Chicago. I was looking for someone to fill in a role in a film since I had this other dancer, Lydia, and I was actually looking for someone to play a janitor. I began working on a duet for them; in preparation, we talked a lot about what they did at work. With Matthew, we talked about taking things apart, cleaning them, and putting them back together; with Lydia it was her training, and her past performance experience. We focused on the movements that correspond with this work, and I took these chunks of little movements we had put together, and I assembled a score for each of them. The two solos correspond to each other. Matthew performs in front of the building where we met, and Lydia in a dance studio. The film is called Lydia and Matthew.
I wanted the film to have a kind of arc. It starts with each performer fitting into their environment, and then it goes somewhere else. You get the same effect from the wrestling video, but it happens without changing the environmental context or the camera but the person's movements. That transformation happens along a continuum. It's slightly lopsided, though—people tend to gravitate toward Matthew's performance.
I think there's a slight danger in romanticizing this kind of work, because as you said the work does in a sense bring together people who otherwise might not work together in this way. But it happens within a designed system, and it does not guarantee permanent change.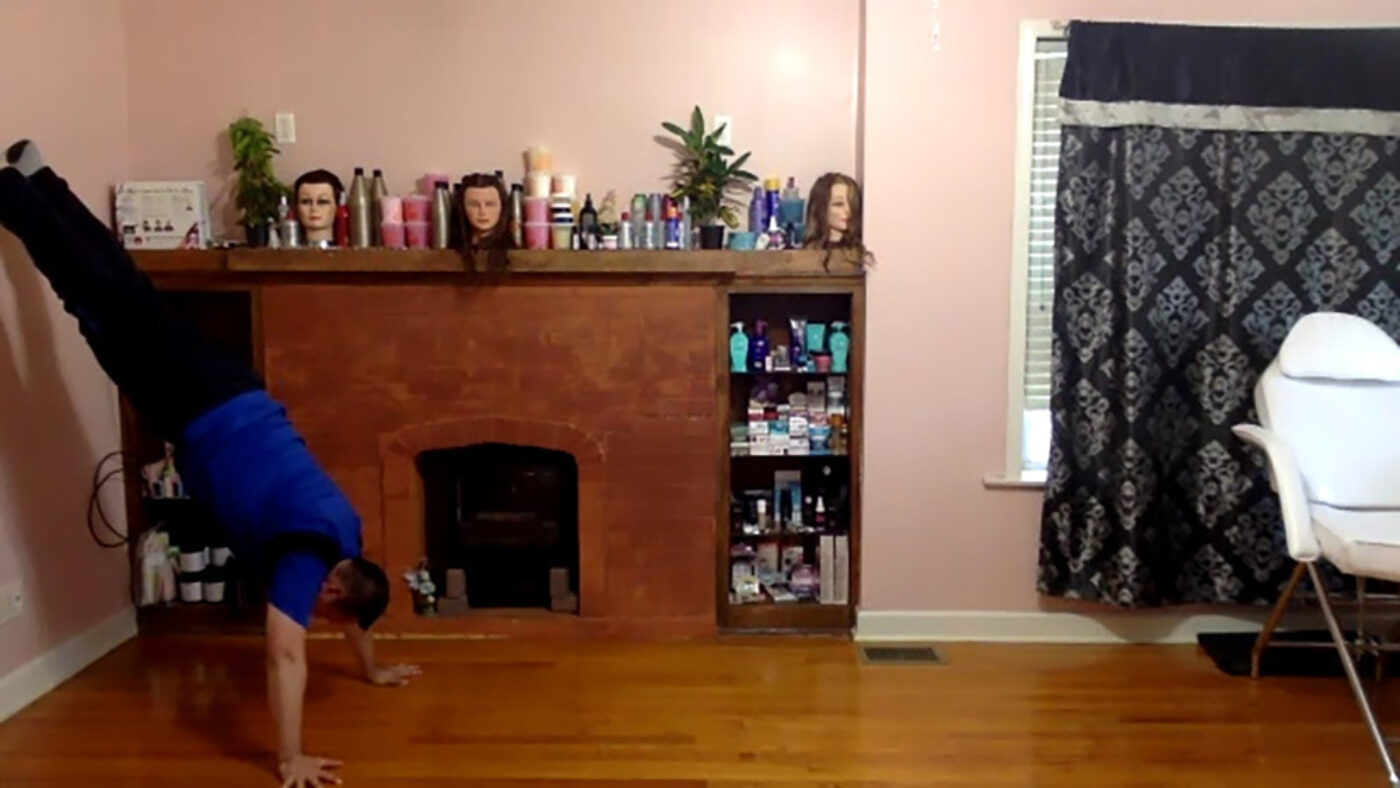 VM How do you see your role in a work like this in which you're not dancing alongside other people? Is it pedagogical?
CY Right, I was not visible in the film. I was a conduit between the two. Lydia would tell me about something, I would bring it to Matthew, and then he would respond with his own ideas, which I would bring back to her the next day. The film was silent, and I cut out a lot of the process. I wanted to figure out a way to involve myself and present the process, which led to a subsequent performance at the Museum of Contemporary Photography in Chicago, Cherrie and Matthew (2019). I decided to include monologues from each of us so that we could talk about how we met and why I felt the need to reach out to him.
Rather than teaching, I consider it tuning. I always tell people with whom I work, "I'll never ask you to do something you don't know how to do. Everything will come from everything that you already know. We're just going to put it next to, or mold it into, something else. It's not about teaching Matthew how to do an arabesque. It's about noticing his body as he bends down to pick something up. In my ongoing Trio A Translation project (2020–), which involves me transcribing Yvonne Rainer's 1965 performance Trio A for a number of performers, I am more like a director or a dramaturg. If it goes well, I'm watching, sometimes facilitating, and I'm not that active.
The work has trained me to be more persuasive. So I'm also operating as a preacher. (laughter) I'm getting more competent in convincing people that their knowledge is not to be overlooked and that there's some sort of value in exchanging it with someone else. I do this by admitting that I don't know what the value is yet, so we have to do it first.
VM How do you change your approach working with trained dancers versus first-time performers?
CY With the so-called "untrained" dancers it really takes a shift in perspective for a person to realize that, okay, this task that I perform has the potential to be this other thing that is concrete while also abstract. With the trained dancers, it is about slowing down their decision-making processes and breaking down preexisting movement habits. For example, what exactly happens during a handstand or an attitude, and what can we take from it without calling it that name? The work does attempt to make new languages while not completely rejecting old ones. It's important that this new language is not sculpted only by my vision but by a process of fitting and discarding.
I consider the movement-making process a digestive one. I take in the information as it is, often breaking it down into distinct parts, and then reconfigure it. This digestive process intentionally disrupts the parts' previous relationships with each other as they were originally presented to me. This process does not only happen with Matthew but also with Lydia as well as with everybody in the Trio A Translation project.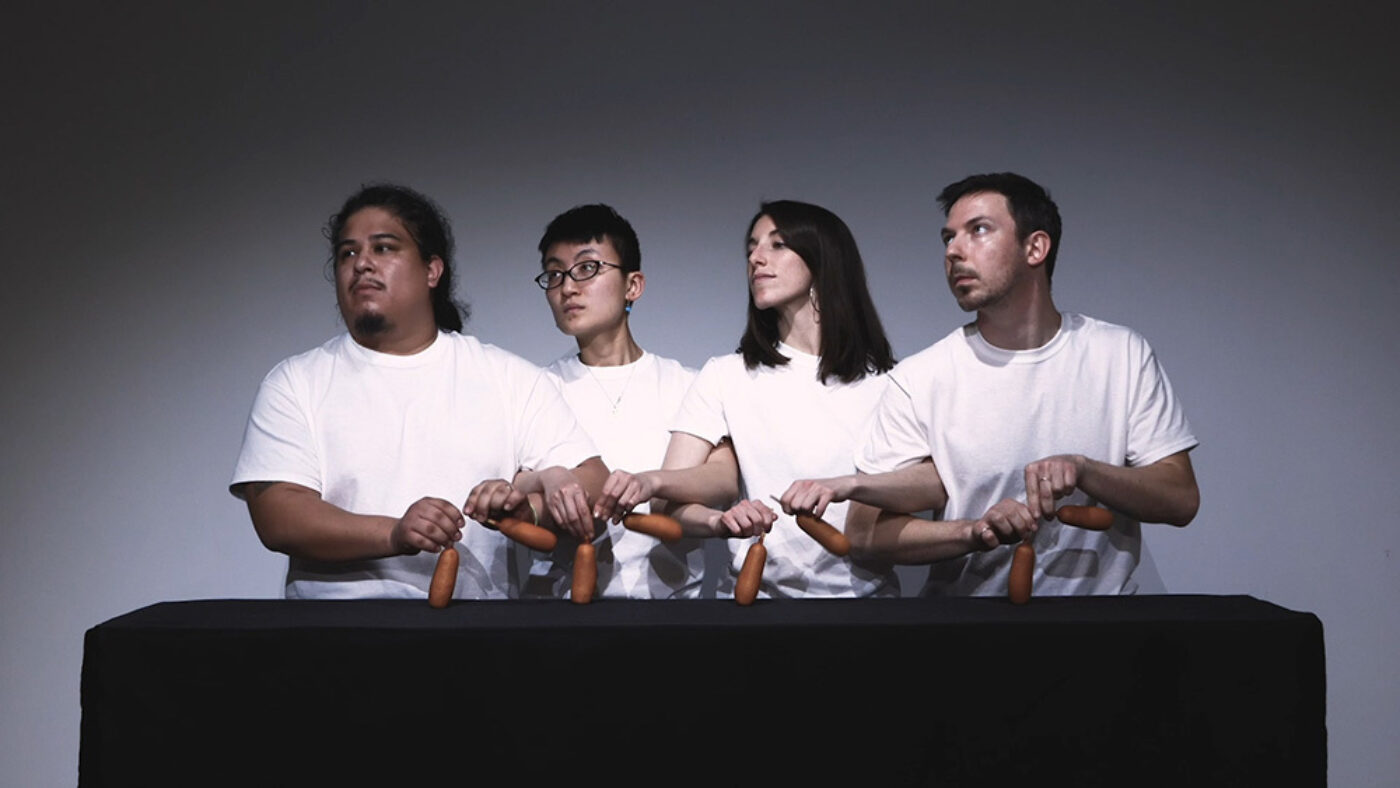 VM More often than not, these performances live on as films, which brings all the complications of that format, too.
CY I think there's something to the wide, frontal shot that corresponds with my attitude toward movement. It's the perspective of someone on the other side of the street or of an audience looking toward a stage. When I watched The Great Train Robbery for the first time, I was struck by the scene of the actual robbery, with every last passenger being forced off the train and their wallets taken at gunpoint. It's a steady, single shot. It's the same idea when I show the duration of a gesture and how long that gesture would take from beginning to end; ultimately, you're not looking at the body, you're feeling the time. So it asks, "Can you get beyond the surface when the camera isn't helping you?"
Cherrie Yu's work can currently be seen in the group exhibitions Choreography For An Unfamiliar Here at Trestle Gallery in New York City until April 10; Embody at the Ely Center of Contemporary Art in New Haven until April 18; and Domestic Geographies at Front Gallery in San Diego until May 7.
Vijay Masharani is an artist and writer living and working in Queens, New York. He's recently exhibited work at Helena Anrather (New York), Clima (Milan), Home-Sweet-Home (Bangalore), and Shoot the Lobster (Los Angeles). His writing has been published in X—TRA, Artforum, Brooklyn Rail, and elsewhere.