Discover MFA Programs in Art and Writing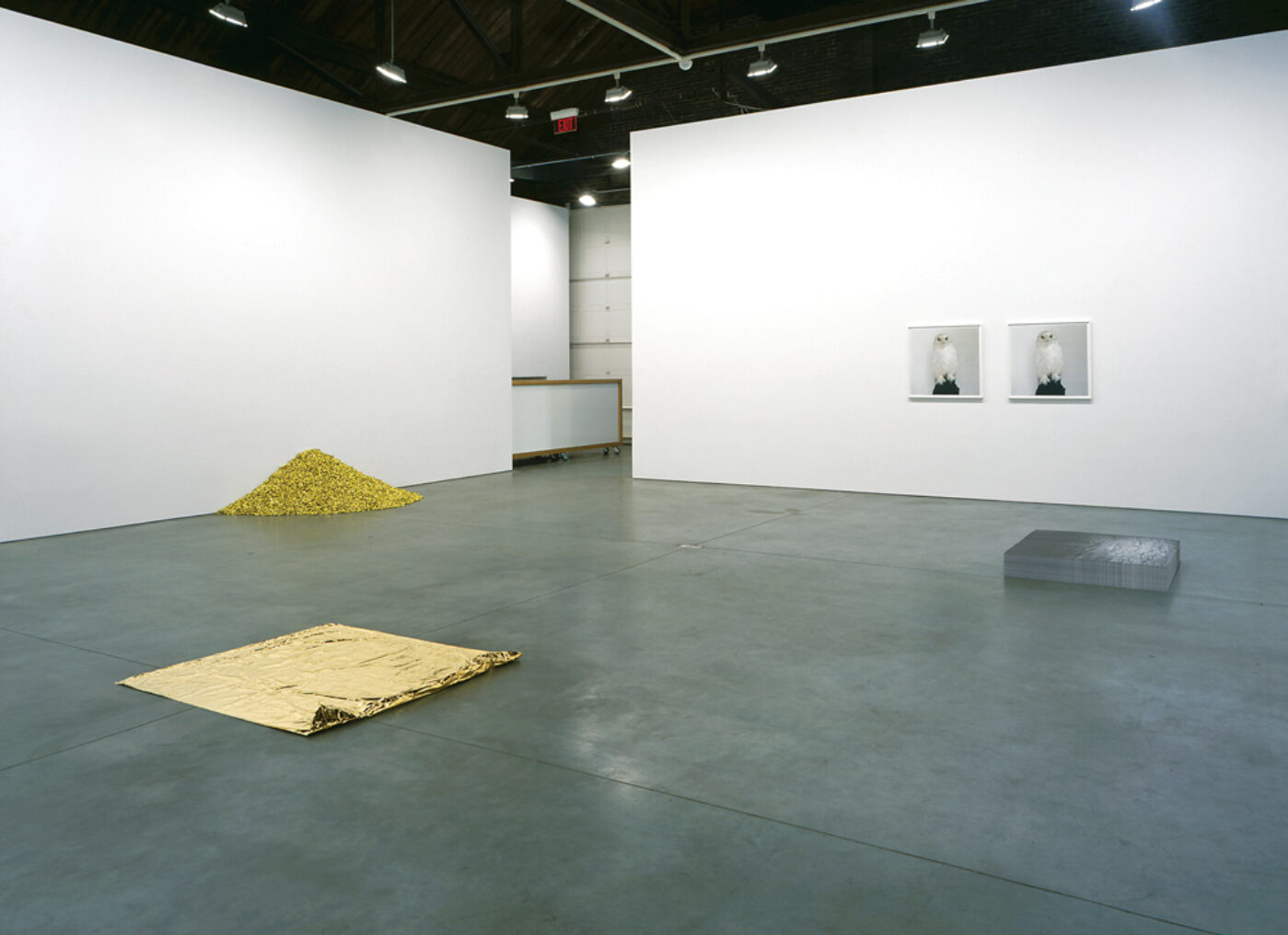 Some things that fly there be,—
Birds, hours, the bumble-bee:
(Emily Dickinson, from poem 14)
At the Andrea Rosen gallery this spring, New York-based artist Roni Horn installed a spare but electric show, the second in a series of two-person exhibitions at the gallery exploring her longtime friend Felix Gonzalez-Torres's affinity with other artists. Horn (whose 1996 project Earths Grow Thick was based on her research of Emily Dickinson) chose precisely; the charge of each work expands when viewed sequentially, a proposition for transcendence through seriality.

Gonzalez-Torres first became aware of Horn's work when he encountered her Gold Field, a square of gold foil resting on the floor of an otherwise empty room in the Los Angeles MoCA in 1990. Visiting the exhibit with his longterm partner, then gravely ill with AIDS, Gonzalez-Torres was deeply moved by the experience, and wrote of Horn's piece that it was "a new landscape, a possible horizon … waiting for the right viewer willing and needing to be moved to a place of the imagination." Soon after, he created a piece in response, Untitled (Placebo—Landscape—for Roni) (both reproduced in this show); subsequently the two became close friends.
Some things that stay there be,—
Grief, hills, eternity:
(Emily Dickinson, from poem 14)
Gonzalez-Torres's response to Horn's "new horizon" was one of his trademark candy spills; a mound of gold-wrappered candies. Viewers are encouraged to take one, and the pile is replenished each evening, shrinking and swelling in defiance of the supposed monumentality and nonrepresentational ideals of Minimalism. The work invites a participatory response that includes the desire, anger, fear, and personal experience sublimated by Minimalism's neutral aesthetic.
Before Gonzalez-Torres died, he asked Horn to speak at his eulogy. "Your life," she wrote, "is a rare form of transparency through which I have observed the world becoming more present to itself and through which I have become more present to myself." Horn, like Gonzalez-Torres, frequently employs a technique of doubling; in this show, two stuffed white owls (Dead Owl) stare from adjacent frames at Gonzalez-Torres's paired wall clocks (Untitled [Perfect Lovers]). The perceptual nuance between twos is put forth in seconds. With registers of change sutured to the constantly advancing present, looking back on both artists' work is not like looking back at all.
Felix Gonzalez-Torres and Roni Horn was on view at the Andrea Rosen Gallery this May.
Originally published in
Featuring interviews Edward Dimendberg and Allan Sekula, Luc Tuymans and Kerry James Marshall, Nell McClister and Paul Chan, Sue de Beer and Nancy A. Barton, Heather McHugh, Susan Wheeler, Miranda July and Rachel Kushner, William Wegman and George Steel, Tony Conrad and Jay Sanders, and Carolyn Cantor.