Fault Lines: Abigail DeVille Interviewed by Jane Ursula Harris
Sculpture that investigates contradictory symbolism.

Discover MFA Programs in Art and Writing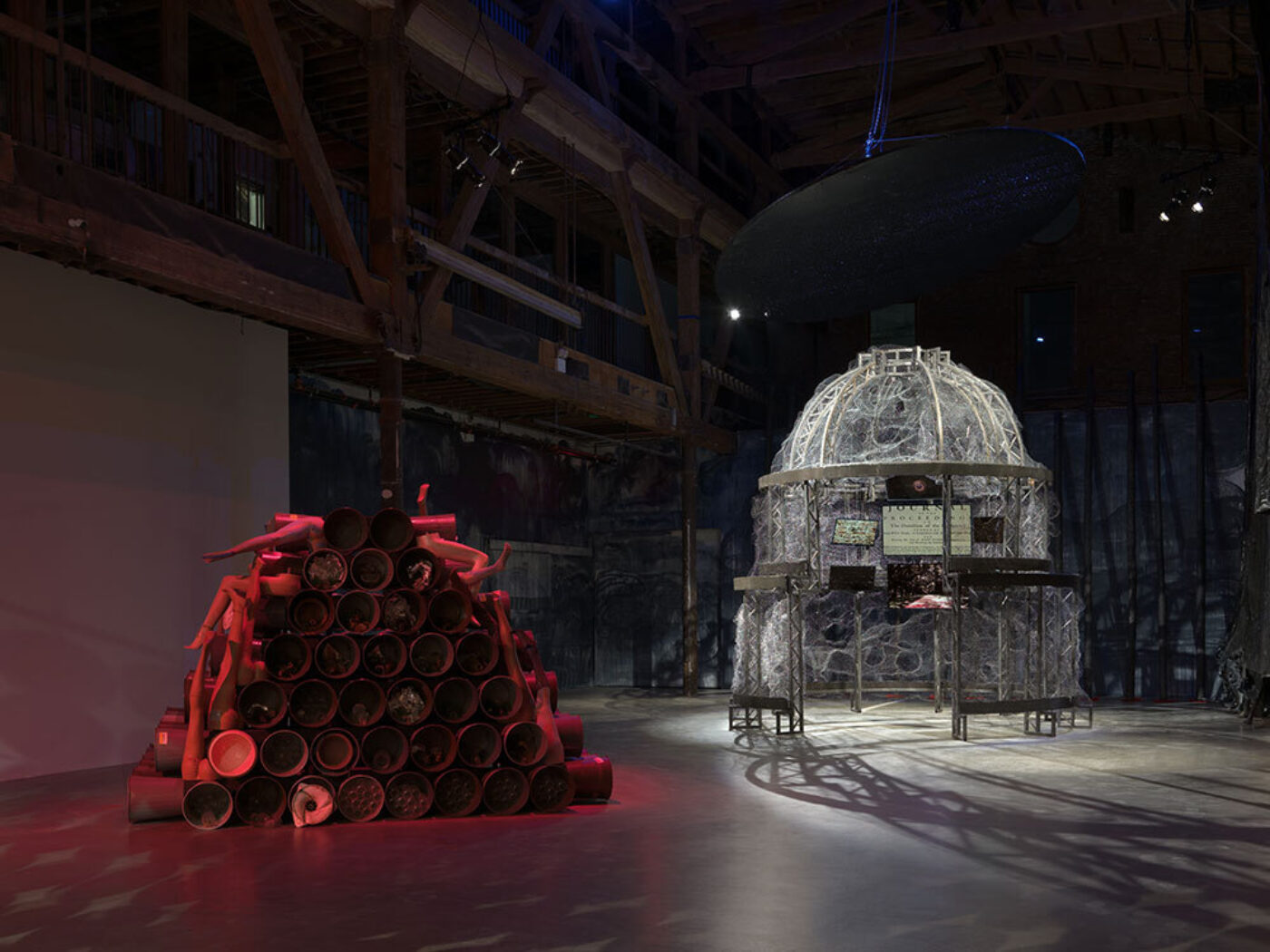 New Materialism, Afrofuturism, and revisionist history are all radical forms of agency and authorship that allow artists to reconceive truth beyond the binary of "fact" and "fiction." Abigail DeVille brilliantly engages all three, working in the interface of matter and metaphysics, fantasy and archive, the canonical and the heretical. Excavating what she calls the "invisible histories" buried by racism, neglect, and greed, her architectonic assemblages explore various sites through materials salvaged from archives and dumpsters alike. Ongoing themes in her work include the legacy of slavery in communities of color, patterns of cultural migration and gentrification, the rhetorical power of historical monuments, and the aesthetics of "yard art." In her current exhibition at Pioneer Works (part of the three-person show Brand New Heavies), these themes are manifest through the potent symbol of the US Capitol Building, which was attacked earlier this year by anti-democratic forces.
—Jane Ursula Harris
Jane Ursula Harris What motivated you to make The Observatory?
Abigail DeVille My desire was to interrogate the mythology embedded in Federalist architecture, particularly the Capitol Building, which I started thinking about during the Trump administration. I found myself researching the history of its iconography, which is part of what I explore in my twenty-foot steel version.
JUH Can you talk more about the symbolism you're referring to?
AD At the top of the Capitol dome is Thomas Crawford's Statue of Freedom (1863), a figure originally meant to represent Libertas, the Roman Goddess of liberty who manumitted slaves in Roman society. Jefferson Davis, the Secretary of War from 1853–57, intervened in the final design, and so she got conflated with Minerva, Roman goddess of war, and a tame version of a pre-revolutionary "Indian princess." So that's what the helmet and its eagle feathers symbolize. All of this reflected the struggles leading up to the Civil War, and for me this embodies the original fault lines in our nation's consciousness and all its contradictory symbolism.
JUH Your structure, which has a cage-like feel, removes the allegorical figure altogether and leaves the dome open. Why?
AD Because in my dome there is no goddess. The cake topper is gone, and there is an open portal to the cosmos instead. The structure is cage-like, but also meant to evoke a web. My inspiration came from a NOVA documentary I saw featuring the cosmologist Tiziana Di Matteo who developed a computer program simulating a virtual universe identical to our own. The simulation revealed an intricate cosmic web of gas that draws matter together, and like the Big Bang creates both galaxies and black holes. Ultimately, I'm underscoring how the universe reveals itself through seemingly simple structures like chicken coops and spider webs.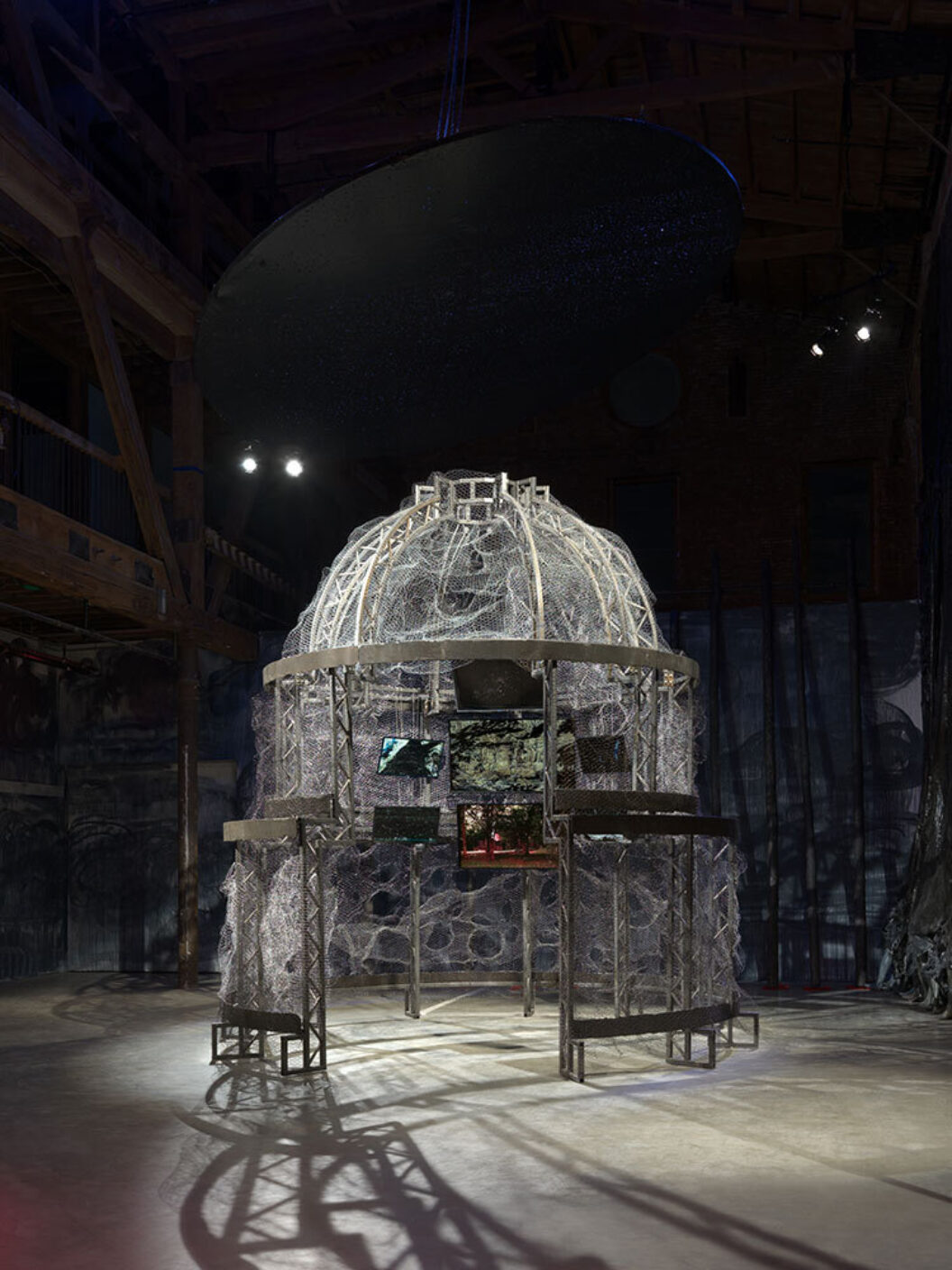 JUH And how do the references to the cosmological engage the political connotations of the piece—the history of the Capitol Building and its symbolism—or are you trying to create something more transcendent here?
AD Both, I think. Thomas Jefferson wanted the Capitol Building to be modeled on a Roman temple. Creating Roman temples to house the Senate and House of Representatives was a visualization of the greatness and grandeur of the American democracy project via the Classical tradition. So this ancient model is itself a kind of time travel to what's still perceived as the apex of human civilization. The work connects the birth of power architecture to the birth of the universe. The multiple portals in the chicken wire are further metaphors for the slipperiness of time and the holes in America's foundational myths.
America has numerous black holes in which it tries unsuccessfully to bury the bodies of its many democratic operatives. I use black holes as a loose metaphor for historical erasure. Black holes eviscerate matter, but the gravity of the matter remains to be discovered, interrogated, and recognized.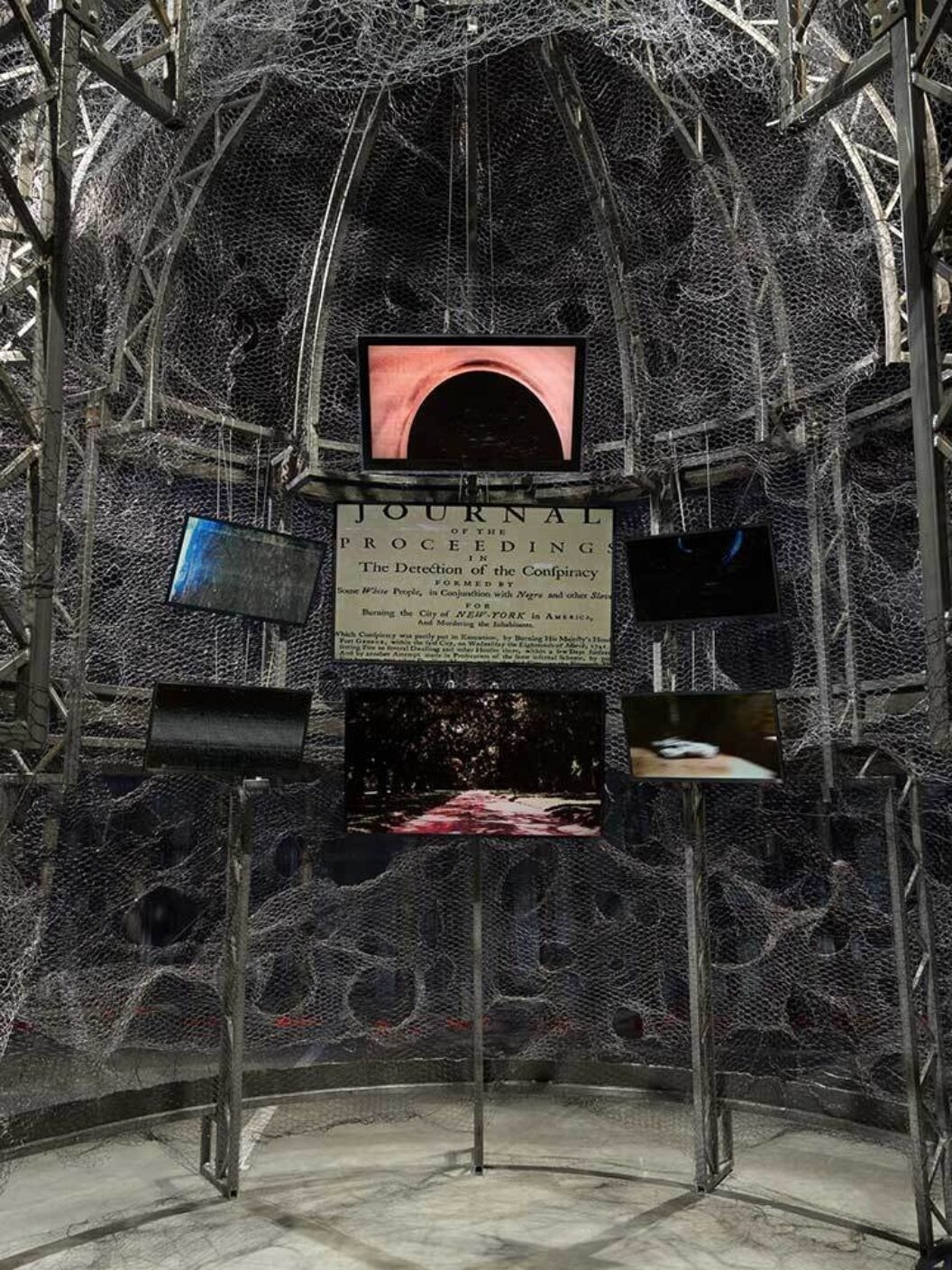 JUH The seven monitors inside The Conservatory reflect a ten-day trip you took down South to visit plantations in a kind of reverse migration. What was that like?
AD Yes, the seven monitors inside the dome are spliced videos of a trip I took visiting plantations from Washington, DC, to Jacksonville, Florida. That trip was a pivotal experience for me. It changed me from the inside out. We followed the Seaboard Air Line railroad route. My dad's family is from the South, and with no elders left on Earth, I wanted to see and experience it myself. I felt like my guts were being scrambled from place to place. Nearing the end of our journey, my friend Phil looked up from his cell phone and said, "Who is Mike Brown?" It was incredible to be on a plantation and Black cemetery tour of the Southeast and hear of more senseless violence on Black bodies. A book that's been important to my thinking of this work is Leslie Harris's In the Shadow of Slavery: African Americans in New York City, 1626–1863. It tracks how Black communities have been compromised and undermined from the beginning. The videos are not didactic, though. They're a texture of old city maps, spiderweb formations of the early universe, black holes colliding, archival images, etc., that forge a new creation myth.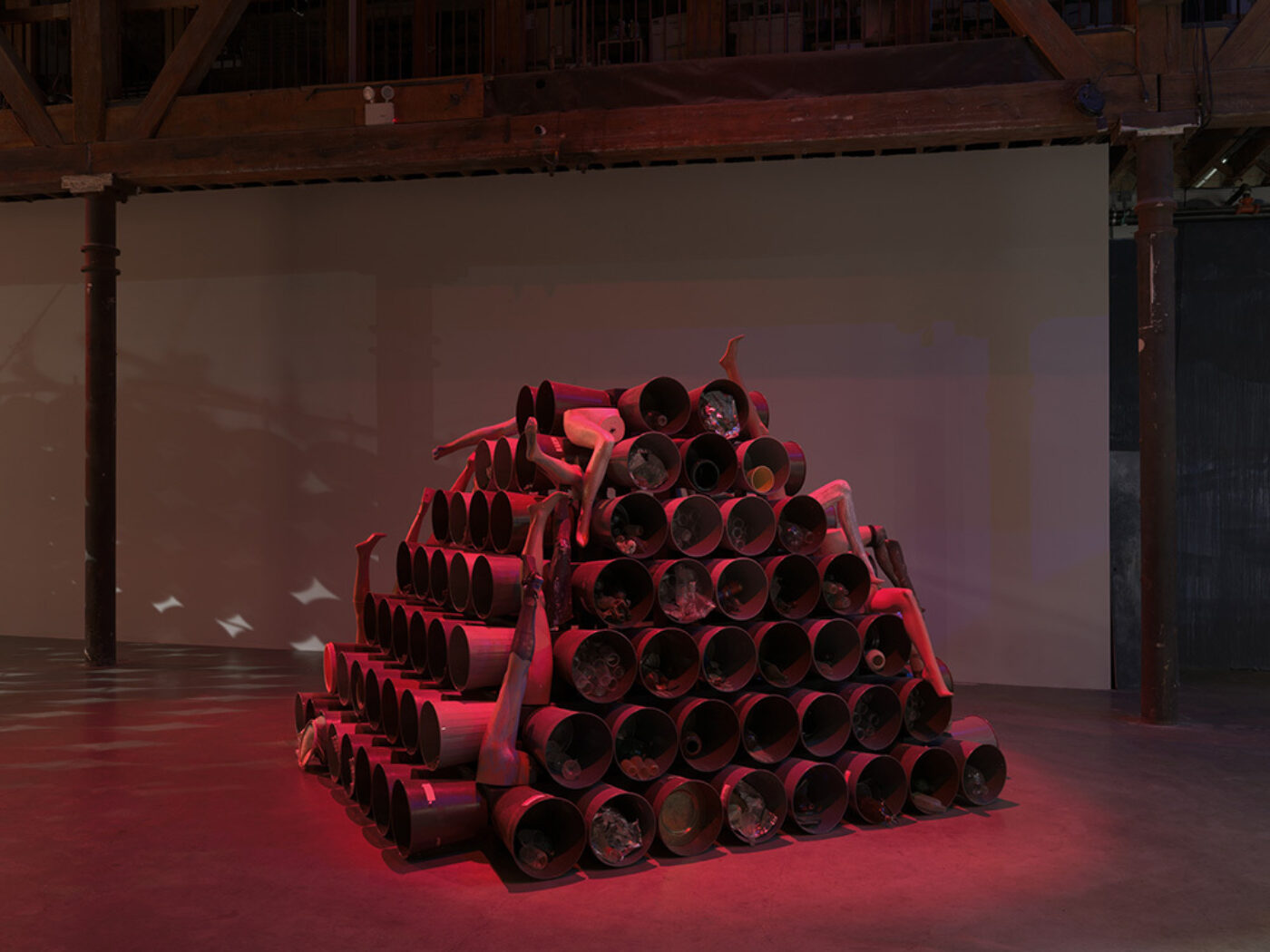 JUH The pyramid of trash cans, Freedom Triumphant in War and Peace (2021), is another architectural reference that suggests this macro-micro relationship between history and the cosmos, the mundane and the historic. Are these portals as well?
AD Yes, the cans are repurposed from a previous installation I did in 2016 at the Peale Museum in Baltimore, and came from a defunct Social Security office building. I see the cans as repositories of material histories but also as small portals that can hold and capture memories as well as speak to the compression of time.
JUH The pyramid's foundation features your trademark use of mannequin parts. How do they function in the context of this work?
AD The dismembered mannequin legs in various flesh tones that flank the pyramid represent the precarity of the body, particularly the broken, brutalized Black bodies of enslaved people who built this country, this pyramid scheme we call America. When I made it, I was thinking in particular of a diorama of a slave ship in the National Great Blacks in Wax Museum, also in Baltimore, but it's a surrogate for many experiences and ideas that folds in on itself and yet still has the material potential for alchemy. Change is possible if we face the truth of our history. As Langston Hughes wrote in his 1949 poem "Words like Freedom":
There are words like Freedom
Sweet and wonderful to say.
On my heartstrings freedom sings
All day everyday.

There are words like Liberty
That almost make me cry.
If you had known what I know
You would know why.
Abigail DeVille's work is on view in the group exhibition Brand New Heavies at Pioneer Works in New York City until June 20.
Jane Ursula Harris is a Brooklyn-based writer who has contributed to Art in America, Artforum, BOMB, Paris Review, Flash Art, The Believer, Vice/GARAGE, Surface, and Time Out New York, among other publications. Her essays appear in catalogues including Carnegie Mellon/Miller ICA's forthcoming Jacolby Satterwhite: Spirits Roaming on the Earth; Participant Inc.'s NegroGothic: M. Lamar; Hatje Cantz's Examples to Follow: Expeditions in Aesthetics and Sustainability; Kerber Verlag's Marc Lüders: The East Side Gallery; Phaidon's Vitamin D: New Perspectives in Drawing; Phaidon's Vitamin P: New Perspectives in Painting; Universe-Rizzoli's Curve: The Female Nude Now; and Twin Palms's Anthony Goicolea. Harris curates on a freelance basis, and is an art history faculty member at the School of Visual Arts.