Expanded Benefits: Matthew Lutz-Kinoy and SOPHIE by Legacy Russell
Artist Matthew Lutz-Kinoy collaborated with producer SOPHIE and triple-threat Chelsea Culp at the New Museum in September. The result? Paint on the dance floor, and an inescapable harmony that you can't help but whistle to.

Discover MFA Programs in Art and Writing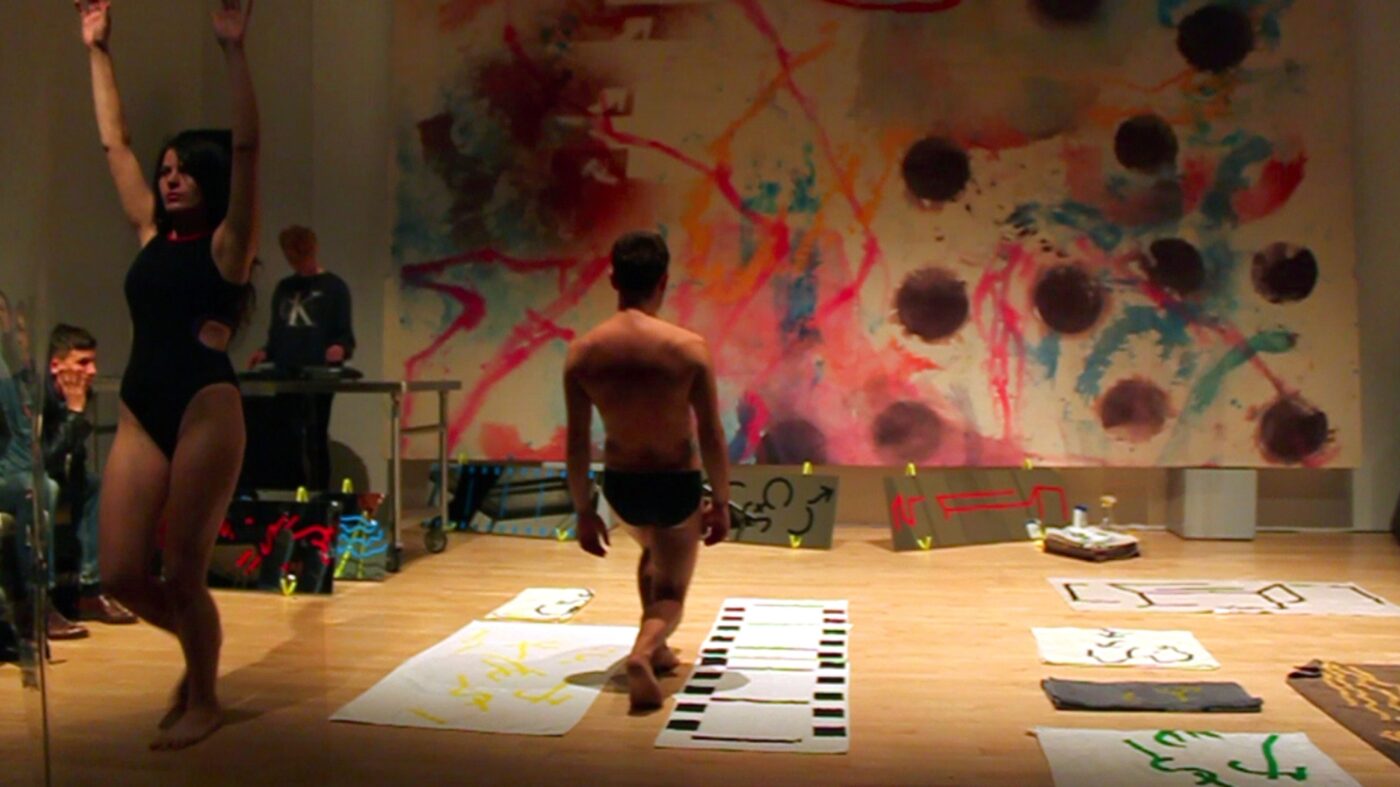 The night of New York-and-Berlin-based artist Matthew Lutz-Kinoy's Fall performance of hisDonna Haraway's Expanded Benefits Package (DHEBP) at New York's New Museum (featuring Chicago-based artist and curator Chelsea Culp and London producer-on-the-rise, SOPHIE) I found myself at home with the flu. It was only until later, after I had come back from the dead and was dining with friends downtown, that the reviews began to pour in.
"Describe it to me." I demanded.
"I can't, I'm sorry. I just can't. You gotta hear it first."
Hear it?
I went home and revisited Lutz-Kinoy's website, a white space dotted with a variety of photographs, paintings, text, layered and liberated in their somewhat decontextualized presentation. There it was: D O N N A. And hear, it was (well—"(external)here":http://soundcloud.com/msmsmsm/ny-live-samples-mp3). It was a palpation of a Fluxus-infused ecstasy, a sort-of-Schneeman-1964-Meat Joy in the air—but in lieu of the sanguine, and paired with Lutz-Kinoy's tactile images, was the aural-ocular sensation of honey and glitter being poured all over me from a distance above. I listened to the track intermittently in the coming days and found myself, honied, floating in the ethereal regions between the art-haus, the funhouse, and the dancehouse. It struck me that, in some small way, though I had missed the show, I had not missed the performance.
Over the last few months, over the digital stratospheres somewhere between New York/London/Amsterdam/Berlin, I sat down with Lutz-Kinoy (a sculptor, a dancer, a video artist, a painter–and that's just getting started) and the London-based musician SOPHIE to discuss DHEBP, cruising utopias, and how this producer/artist collaboration makes room for beautiful instrumentals in their combines.
Legacy Russell Matthew, can you talk about Donna Haraway's Expanded Benefits Package(DHEBP)? What was the impetus for this work?
ML-K I think the most interesting starting point of this work is a merge that happened between my intuitive production that is heavily informed by collaborative relationships betweencurators or artists and the recent application of those methods into a framework that emphasizes political agency. This was heavily informed by José Esteban Muñoz's bookCruising Utopia. But that's getting ahead of myself and that context has a lot to do withframing and structuring, and I would say the real starting point—at least the more raw content—begins with a practice located in the atelier, the dance studio, and the night club, some place that locates itself between a painting and the representation-painting-dance.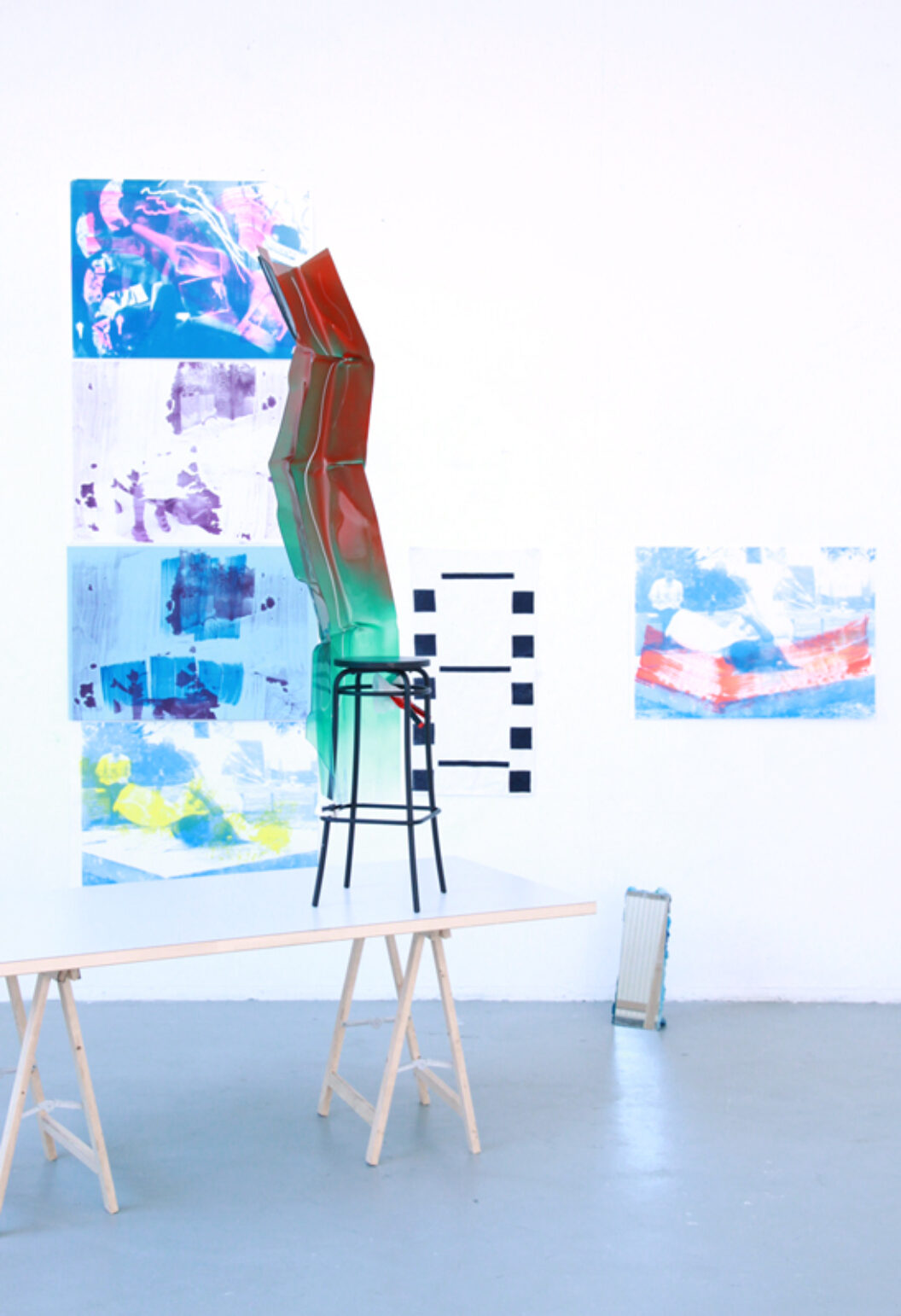 LR Why the New Museum? As a site, was it relevant in the presentation of DHEBP?
ML-K I'm not invested in a conversation regarding that institution beyond their fabulous legacy; the fact is that they did an amazing job technically, and Lauren [Cornell] is a force, wonderful to work with. This piece flourished around various discourses that push the limits of reading through a lens of Fine Arts, not dance, not music, not painting, but the formation of layered and complex dynamics between creative forms. This work is so much about the developed relationships we have to heavily framed objects and the slippage of those figures in a social and performative situation, which is to say that this work is vulnerable and needed that museological framing to give it some stability.
LR What does the title—"Donna Haraway's Expanded Benefits Package"—mean to you?
ML-K It means that everything comes all at once. And the possibility of legibility and control is singled out for fragments of power. For this title I wanted to reach out to a singular figure who has a Herstory marked with a powerful and problematized vision. I wanted to focus on a real life figure's anti-utopian problematics. And expand upon it through abstraction. We must look back at the practices that influence our own history in the arts, especially regarding a relationship to moving image. As Jackie Hatfield states in Some Reasons for a Review of the Avant-Garde Debates Around Narrativity, "Because what actually went down was totally different."
LR How did SOPHIE get involved?
ML-K SOPHIE and I used to play in a band called Motherland, and we have worked together on two other performance works, one of which was called Welcome To The Story of My Life, a one-man show/musical with live music/dance, projected video, and sculpture. We were able to take that piece all over- from Berlin to the UK and then later to Amsterdam, it was so nice to travel with. The music that SOPHIE produces is really cool and I want everyone to hear it. Every-major-city-style.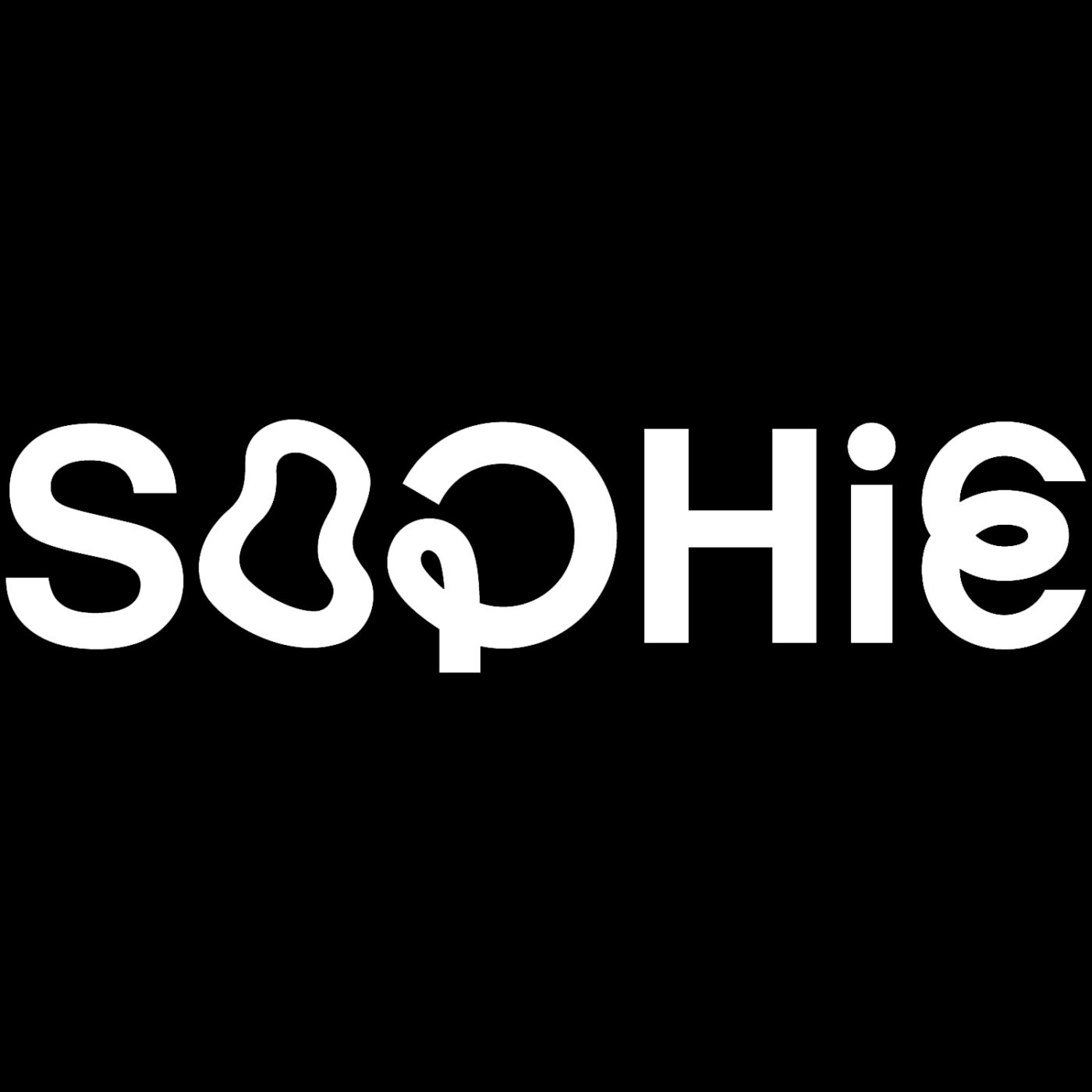 Listen to SOPHIE's OOH
LR (laughter) Man, I hear that! I listened to the mix SOPHIE made at home and it totally transformed the space. Suddenly, the dance hall was in my living room. Within a single clip we seem to enter different spaces, different periods of an evening, different eras, different dance floors. It seems that your work and SOPHIE may have this in common—the movement between different rooms—whether that be visually, or with sound. The idea of painting andsculpture in motion is striking to me. What types of influences, methodologies, aesthetics, do you call upon when going through the process of creating a work like this?
SOPHIE I try to make music which is fun to dance to—that should be the loudest voice talking. I think it would be extremely exciting if music could take you on the same sort of high-thrill 3-minute ride as a theme park roller coaster. Where it spins you upside down, dips you in water, flashes strobe lights at you, takes you on a slow incline to the peak, and then drops you vertically down a smokey tunnel, then stops with a jerk, and your hair is all messed up, and some people feel sick, and others are laughing—then you buy a key ring. Well, that's the way I like to envisage the potential of the music. Of course—instead of being strapped to a seat (the New Museum) people would instead be dancing.
LR Do you feel that playing your music in tandem with performance allows the "roller coaster" effect to come to life? Is your music most impactful within—or outside of—the performance space?
SOP It would be nice to think that you could build in all the excitement of a live performance to the recorded tracks—the music would be so vivid it could almost emanate the colors, materials and movements of a performance such as DHEBP itself. But although that's certainly inspiring to reach towards with my production, it does give you a lot more scope to present your whole vision when you can string together your best efforts yet in the form of a live show—if there are some soapy plastic sculptures and swimming costumes nearby then that can only be a good thing, I think.
LR How do you select your sound clips? Who or what do you keep in mind when you create?
SOP I select tracks just by trying to put in ones that are closer to my personal vision of how my music should be and filtering [out] ones which seem to compromise it. I find the main thing to keep in mind whilst making music is the feeling of dancing to, and being excited by, music in clubs. However, this excitement is often a combination of what's actually going on in reality and your fantasy of what could be going on—I think that's important, going out and imagining, then keeping those compound real-life/imagined experiences in mind when creating. Also seeing how people respond to music and trying to work out what triggered those responses. Once someone walked right in front of me and put his middle finger up—I haven't been able to listen to that one since, and try to avoid making things which might provoke such reactions.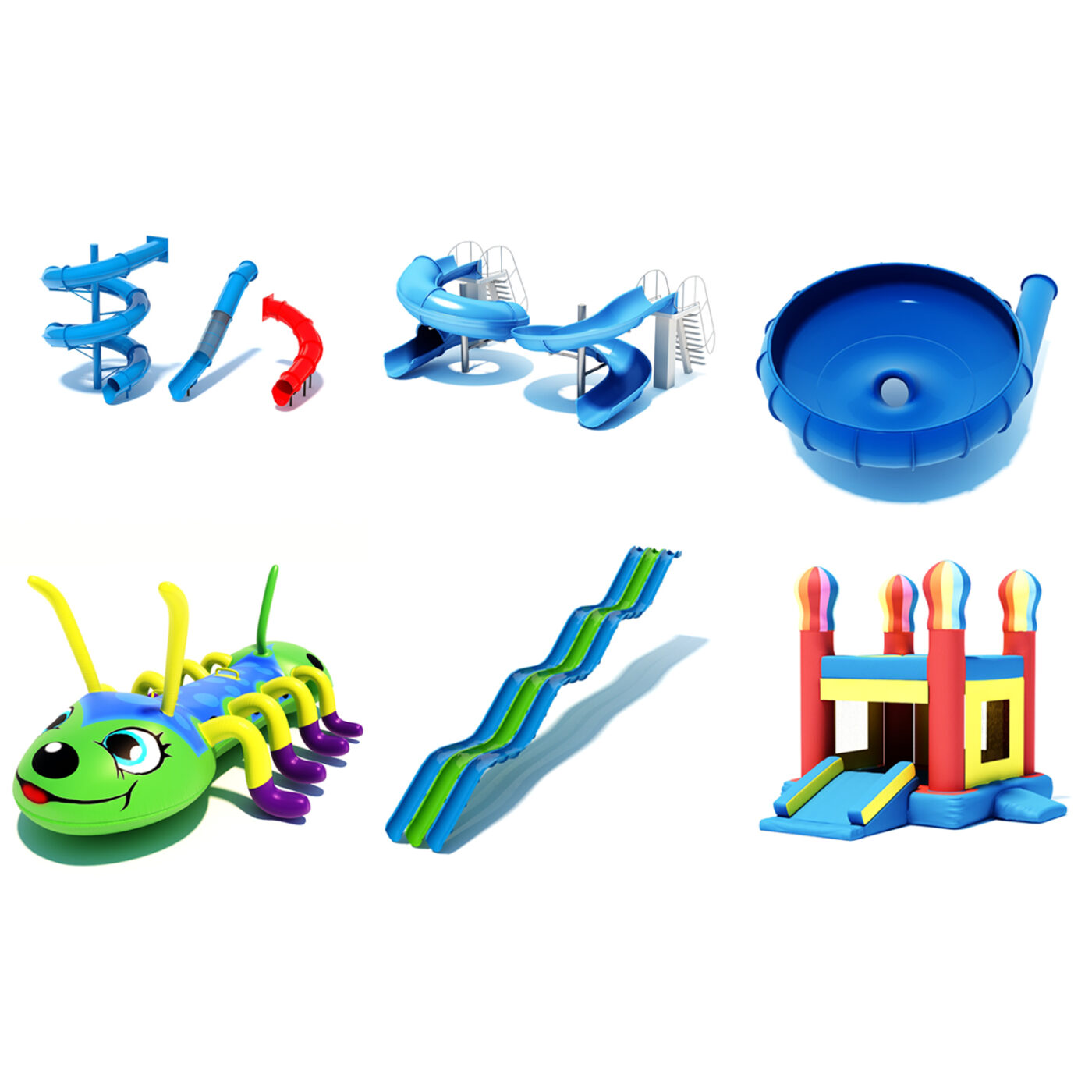 Listen to SOPHIE's ELLE
LR (laughter) What about you, Matthew?
ML-K I was just looking over the Playbill for DHEBP with Vivian Zihrel, and on the last pages of the playbill are the footnotes of the performance—José Esteban Muñoz, Jackie Hatfield, Adam Christensen, John Giorno, Emily Wardill and Ian White—artists [and writers] who I directly quote. While [they] are sources of quotation, they also assist in the work's form. Muñoz's thoughts on form and marginal content in his book Cruising Utopia, were recently the most directorial and inspirational. His chapters on John Giorno and Fred Herko are awesome. Its all about an "empire state of mind" inspiration. We love Mapplethorpe and Judson Church not to mention the origins of Maintenance Art—Mierle Laderman Ukeles.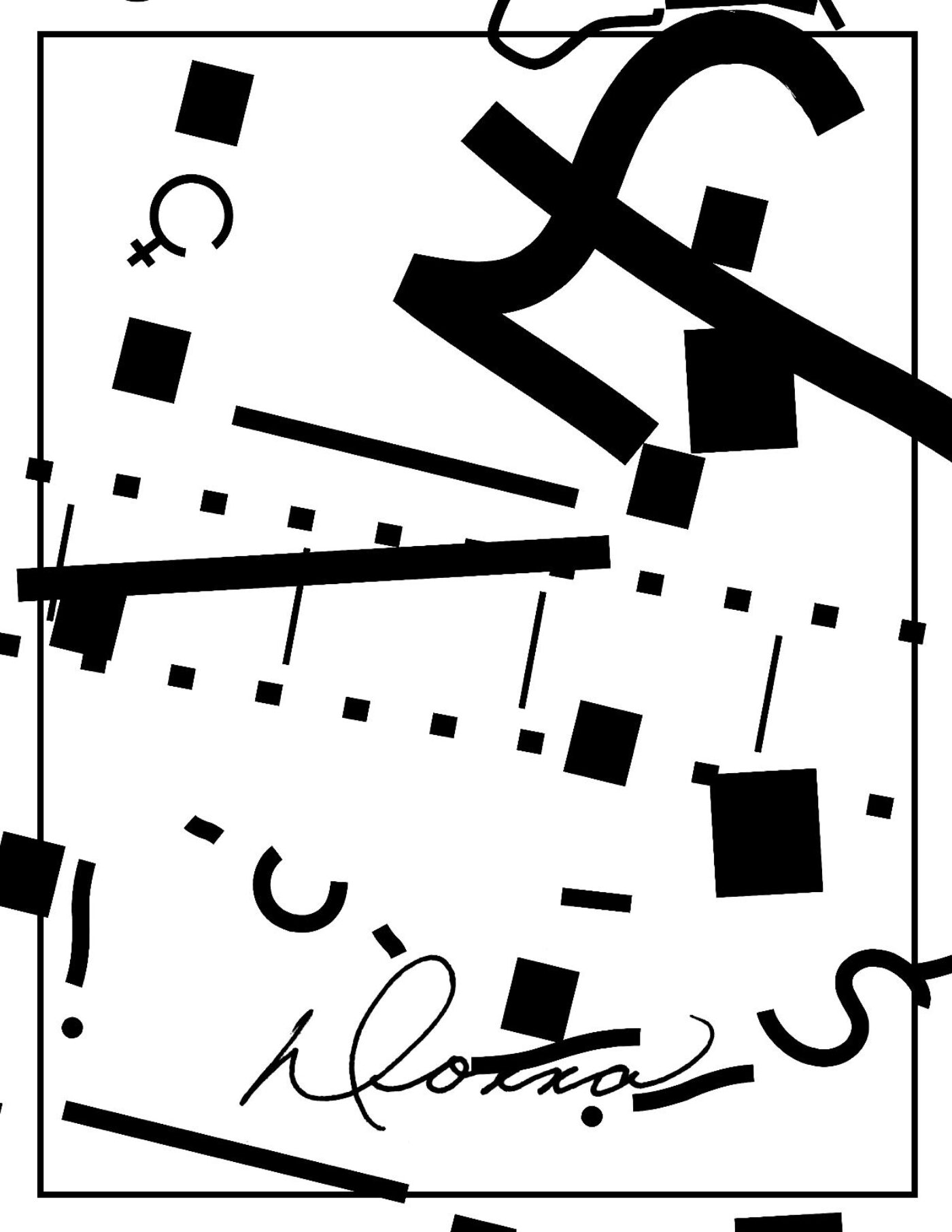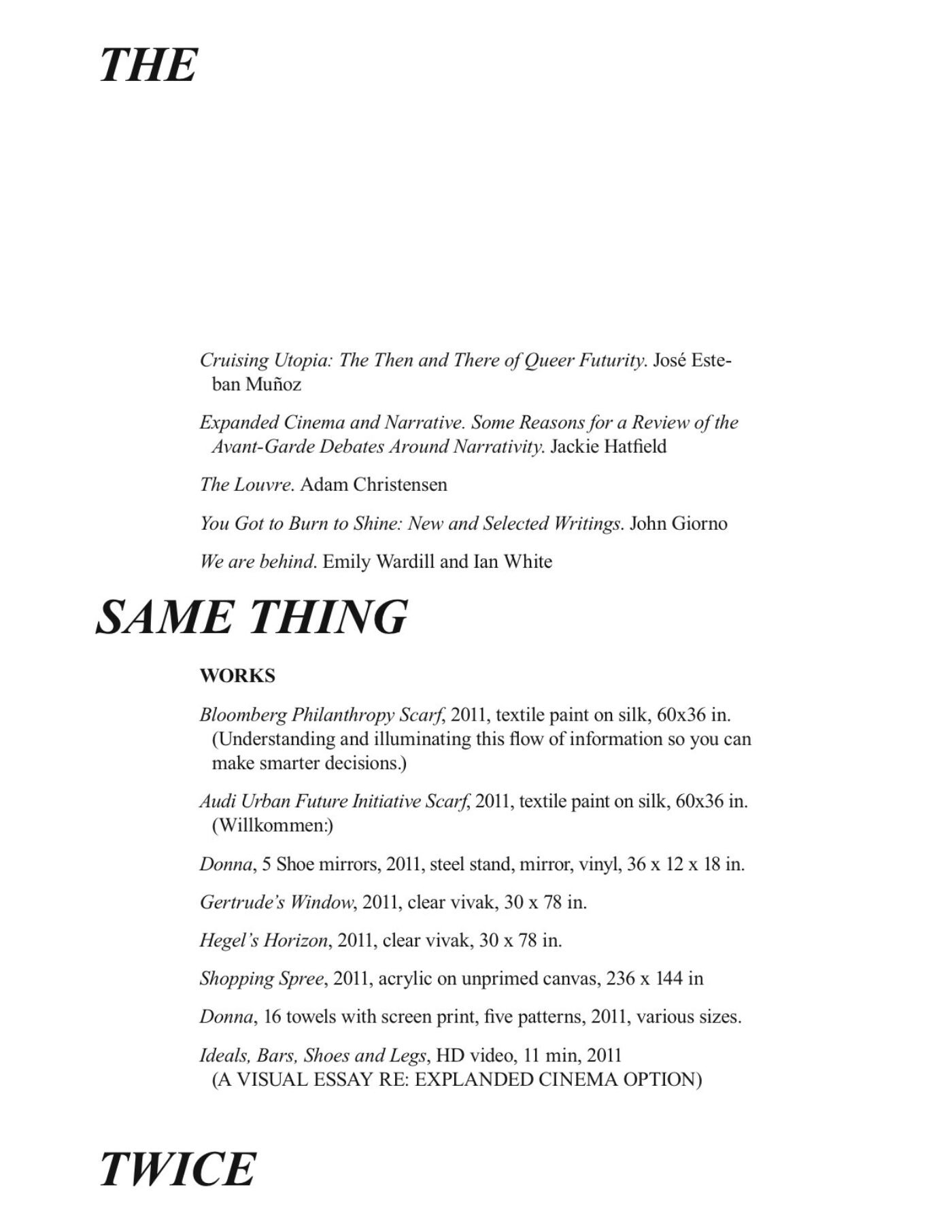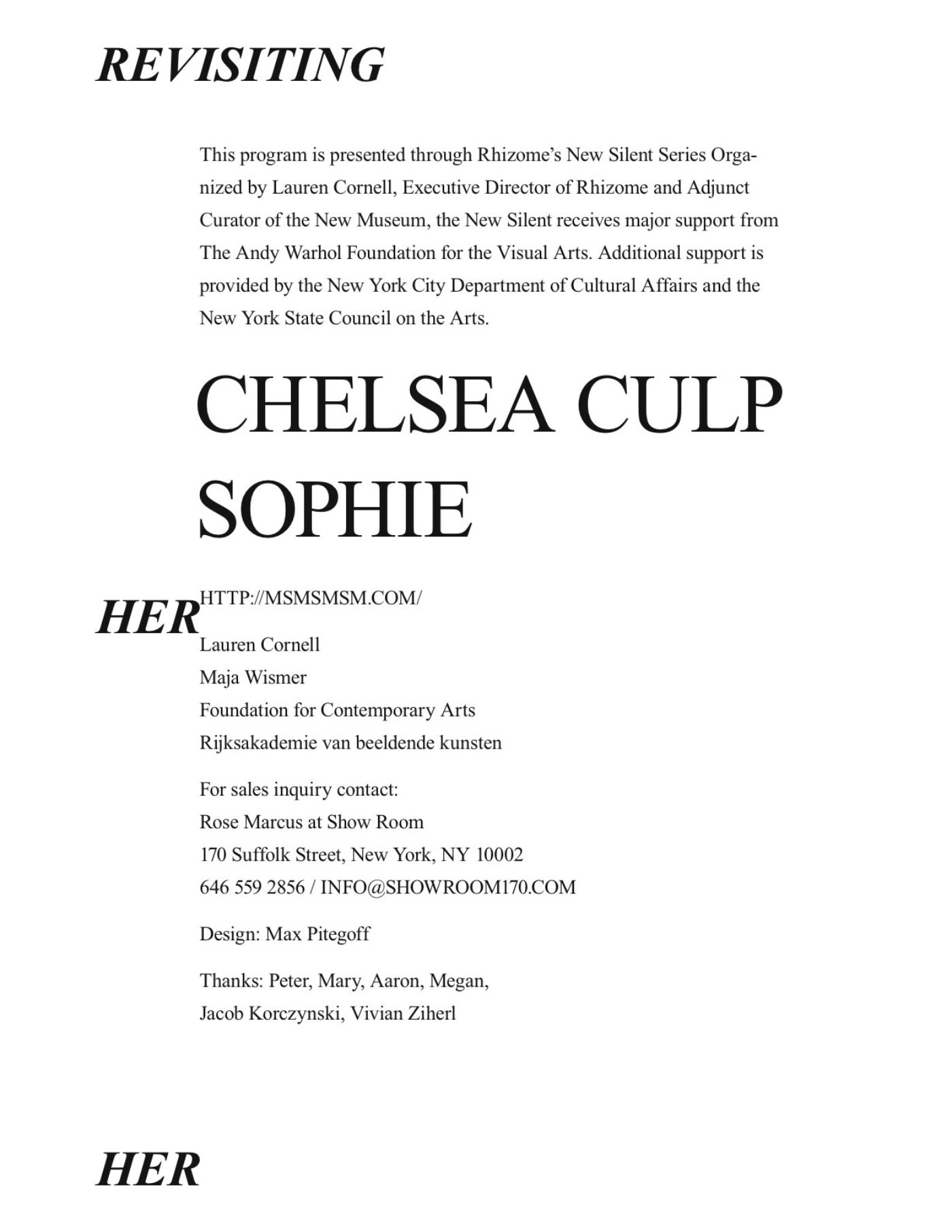 LR So there are these sort of bodies as physical sculpture, as socio-political sites, as one sees when viewing Mappelthorpe's work. Then there are these spaces, like Judson Church that are sites of religious practice but also very much so a point where the rituals of contemporary art practice, activism, and performance are able to merge into the area of theological pomp and ceremony. Then Maintenance Art, the presence of Ukeles, building on the politics of space, and a dialog about communities rendered invisible due to social and cultural structures. Do you think that the "not yet here" noted in Muñoz's book is capable of extending its reach to the aforementioned influences? Is queerness as much a state of transition on a larger scale, a utopia to strive toward, as it is a claimed identity?
ML-K I mean, as Ben Kinmont might put it, the third sculpture is that space of potentiality, and the "not yet here" can be located in fragments as seen through a window of a live theatrical act. The thing we strive towards is the anti-anti-utopian vision, and I am performing in the anxiety-inducing wake of my fellow New Yorkers. Yvonne Rainer is there, but so is Rauchenburg, and a lot of John Cage—Cunningham's passing was only two years ago—this trajectory is not historic, it is a part of New York's living timeline and we are inside it!
And I suppose this is where the idea of rooms comes in if you're thinking about the aforementioned crew, thinking about Kaprow. In this particular work, we are taken through all this material that aches of its origins, we have the painting, plastics, the design, the movement, the documentary videography—what a dense location! So many things to look at and to interpret. In their development, as well as in the performance, all the works are in isolation—they connect someplace in the beginning. And all take their separate roads in the house. Eventually in the performance there are some Brechtian elements that turn this house transparent—then there is no house, no walls. And we are able to see them all together in various combinations and shades of light.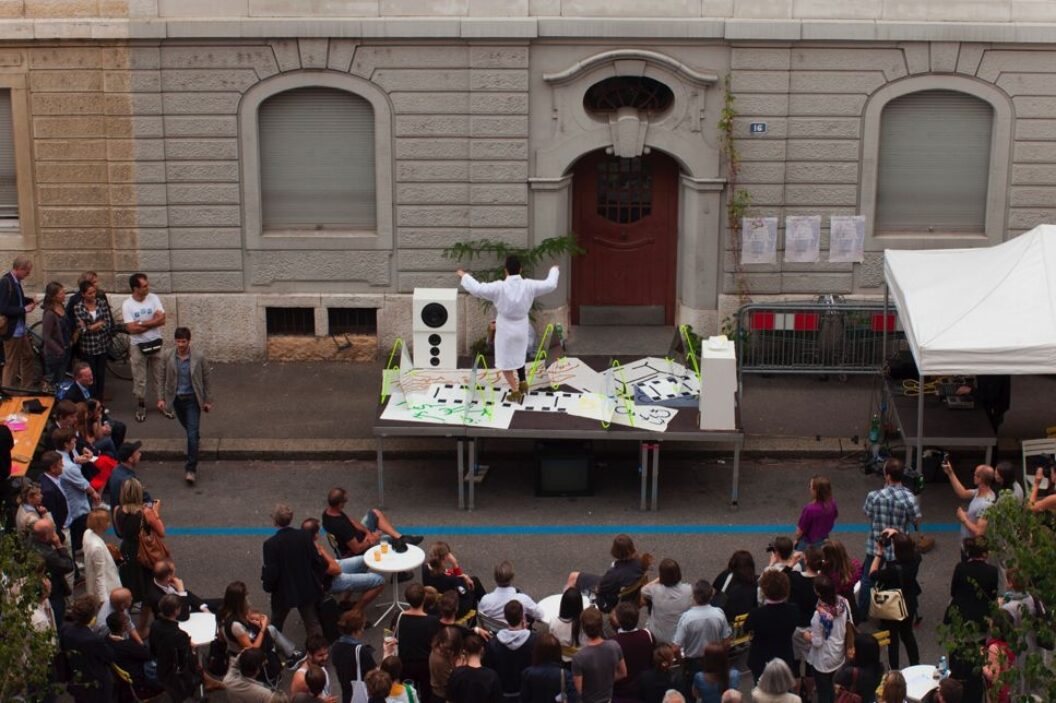 LR You also worked closely with artist Chelsea Culp for DHEBP. Can you talk a little bit about what role she played? What kind of balance do you look to strike in such collaborations?
ML-K Chelsea Culp is number-one talent. If there is an equivalent in contemporary art to thetriple threat, she is that. She helped with choreography and structural organization but mostly when collaborating we focus on the excitement that comes from our interaction.
Culp and I enjoy being present in the world and interacting with vibrant people. When she offered to take off time from her gallery in Chicago (New Capital) to assist in this production, I knew it was going to get freaky at the dance studio; we rocked it. My two collaborators forDHEBP are great at what they do, youthful specialists in their fields. Both Chelsea and SOPHIE are long-time collaborators of mine. We work together in all types of situations and conditions like family. What I look for in a collaborator is skill. There is nothing more attractive than an artist with an expanded, organized toolbox.
Listen to SOPHIE's BIPP

LR Matthew, how does your recent ceramic work seat itself in your practice? And what's in the next room?
ML-K If you look at the large painting in that photograph from the DHEBP performance, you can begin to see [the impetus for the] ceramic work. I want to push those colors and that scale into a realm that moves through space. We need to enter into that room holding a functional art object because that is the new gay, the new dance, the new kinetic art. I guess you're right to use the word seat_, they are too exciting to look at standing up, and that's exactly how it's working (_laughter)—in a seating arrangement. The ceramics should be exhibited in a theatrical setting to an audience as functional ceramic objects. All of this is set inside an exhibition of large-format floral and landscape paintings. This all should be happening atElaine [Mgk] in the courtyard of the Kunst Museum Basel. Make sure you reserve a seat because it is going to be real awesome.
For a full downloadable recording of the performance, please visit Matthew Lutz-Kinoy's website, by clicking here.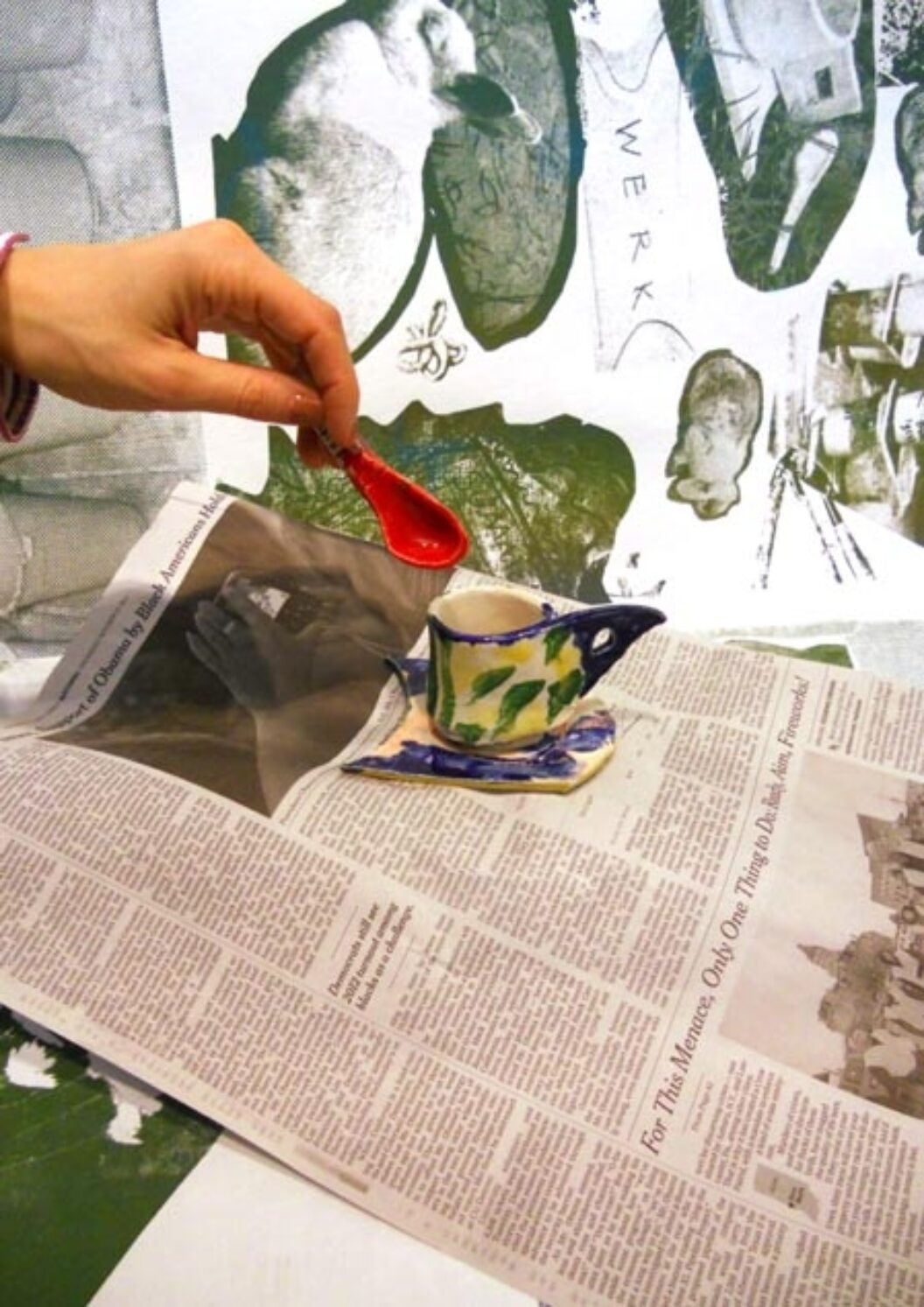 Legacy Russell is BOMBlog's Art Editor. She is an independent curator, artist, writer and cultural producer.