Natalia Brizuela Why put the reader in the place of a character? And why have narrators who are writers? Could you explain the presence of characters who are writers in your books?
Bernardo Carvalho It's a way of making the reader be conscious of what, in principle, can or must happen with any novel: that an active participation is expected of him or her, that reading is also creating a work. This is not mere rhetoric. All of my novels propose a game to the reader. And it's up to him to participate or not.
— from BOMB's interview of Bernardo Carvalho by Natalia Brizuela, Winter 2008, issue #102
An excerpt from Bernardo Carvalho's Nine Nights, translated by Benjamin Moser and published by William Heinemann, 2007.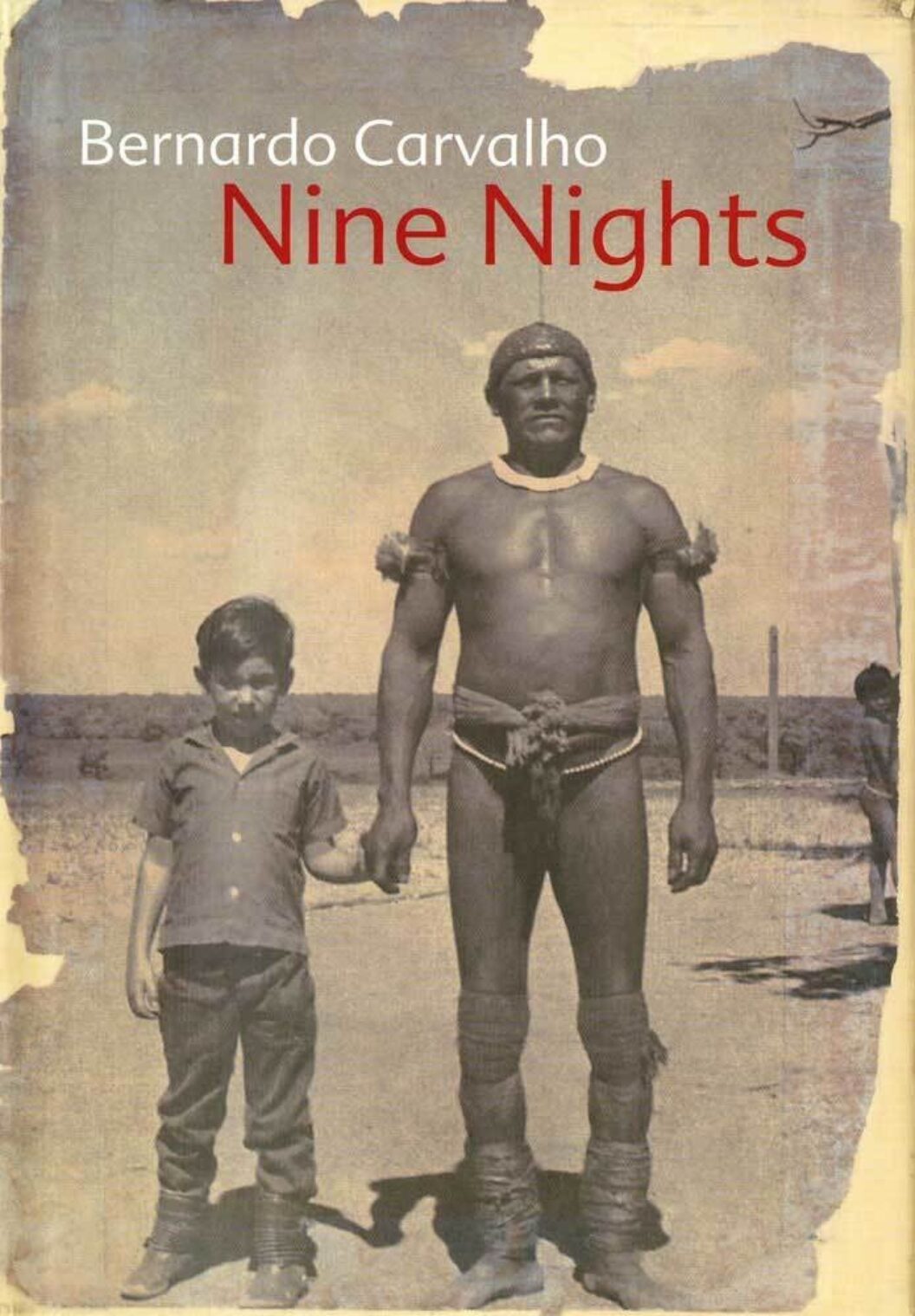 This is for when you get here. You have to be prepared. Somebody has to warn you. You are entering a place where truth and lies no longer have the meanings they had outside. Just ask the Indians. Anything. Whatever crosses your mind. And tomorrow, when you wake up, ask them again. And then the day after tomorrow. Each time the same question. And every day you'll get a different answer. The truth is lost among all the contradictions and absurdities. When you come looking for something the past has already buried, you need to know that you're in a place where memories are lost for ever. Secrets are the only things we can take to our graves, and, like you and me, they are the only inheritance left behind. They wait to be assigned some meaning, even if they conceal no mystery at all. But our curiosity about these presumed mysteries relies on their lack of meaning. The story rests on facts that must have seemed unquestionable. That the American anthropologist Buell Quain, my friend, died on the night of 2 August 1939, aged twenty-seven. That he killed himself for no apparent reason, in an inopportune act of terrifying violence. That he did so despite the pleas of two Indians who accompanied him on his final day, as he returned from the village to Carolina. And that they fled, appalled by the horror and the blood. That he slashed himself and then hanged himself. That he left remarkable letters that explained nothing. That he was described as unhappy and deranged in reports I myself had the misfortune to help write, in order to avert an official inquiry. I have spent years waiting for you, whoever you are. I have only told the things I know for sure. But I can no longer trust to luck and risk having my memory disappear along with myself. Nor can I entrust to unknown hands things that are properly yours, things that during all these years of sadness and disillusionment I have kept under lock and key, waiting for you. Forgive me. I can't take the risk. I am no longer young enough or strong enough to face down death. Tomorrow I'm taking the boat back to Carolina. But before I go I am leaving this testimonial, for whenever you arrive to confront this absolute chaos.
Welcome. They're going to tell you that the suicide was all very abrupt and unexpected. That it took everyone by surprise. They'll tell you all sorts of things. I know what you expect of me. And what you must be thinking. But don't ask me for things I never found myself, facts in black and white, precise times and dates. All you can go on is the imponderable, the fragility of what I have to tell you, just as I had to depend on the stories the Indians told, and Professor Pessoa's uncertain translations. Stories rely on the trust of the person hearing them, and that person's ability to interpret them. And when you come you'll be on your guard. Dr. Buell, in his way, was also sceptical. He resisted as much as he could. We need reasons to believe. Would I be abusing your patience and tolerance, whoever you are, if I reminded you that we all shall die? I remember the day in March 1939 when he arrived in a city he described in his letters as dead. The first time I saw him he was as sceptical as you are now. Everyone recognized the rumble of the Condor seaplane as it approached the city. Nobody else visited us. Lots of people ran down to the river. I was busy working, but I could still see the shadow of the plane on the floor of the roofless house, as it flew over the mango trees on its way to the river. I finished what I was doing and went down to the port. He was posing for the photographer the Condor agent had hired to commemorate the event. With his camera mounted on a tripod, the photographer immortalized the illustrious ethnologist's arrival. Together with the Indians and the pilot, the visitor stood on the wing of the plane. His arrival provoked a sensation that five months later had nonetheless already been forgotten, if that's what you want to know. We so quickly grow accustomed to the extraordinary. I'm the only one who remembers him now. But on that day, neither I nor anyone else in town could have imagined what we were getting. He arrived in a white hat, like the captain of a ship, a white shirt, wide, loose trousers, and boots. Neither I nor anyone else could see past his elegance, so loftily inappropriate for the place and the occasion, and even more so when I look back on it now. Nobody could have foreseen the disaster that in less than five months would end his life. I moved closer to the scene the city was mutely watching, not understanding the mission it was welcoming, a mission no human soul could have turned away. I was that soul. The Condor agent introduced us, but the ethnologist didn't register me. He shook my hand like any other and smiled, smiled at everyone, but he didn't notice me. He hardly heard my name. If he had, he certainly would have made a joke, because he did have a sense of humour, after all. People always laugh at my name. And he had just arrived. Only later would he understand what he had got himself into, and the advantages of an alliance with me. Only then would he accept my friendship, when he had no other. I might be from the back of beyond, a friend of the Indians, but I am educated and I am not a fool. I don't hold grudges, especially not against Dr. Buell, my friend, despite everything he might have thought or written. My only access to his writings was via Professor Pessoa's uncertain translations, when I rooted through the dead man's papers in search of an explanation, papers that I myself did my best to hide. I didn't need anyone to find a meaning. You can't let the dead take over from those who remain. I couldn't have predicted the tragedy. From the beginning, though, I was the only one who could see the desperation in his eyes, the desperation he was trying, not always successfully, to hide. And I guessed at his motives before they were revealed, though I preferred to ignore them, or pretend to, if only to take some of the pressure off him. In that way, I believe, I aided him as best I could. During those few times when he could no longer contain himself, I had been there, and I knew that for him my silence was the proof of my friendship. That's how men are. Or do you think that when we looked at each other we weren't aware that we were both trying to hide the same thing? Nothing is more valuable than the trust of a friend. That is why I appreciate the Indians, among whom I have lived since childhood, ever since my grandfather pacified them. I always welcomed them into my home. I always knew what they said about me behind my back, that they thought I was a little crazy, not so different from all white people. But the important thing, for me, is that they could count on me. And that they knew I didn't expect anything in return. They would get anything they wanted from me, and God knows their demands are endless. I did everything I could. And for Dr. Buell as well. I gave him exactly what I gave the Indians. The same friendship. Because he, like them, was alone, unprotected. Regardless of what he thought or wrote, he was no more than a boy. He could have been my son. Nothing in my life has upset me as much. Not even when I was fired from my job as chief of the Manoel da Nóbrega Indian Liaison Post by Mr. Cildo Meireles, inspector of the Indian Protection Service, three years after the tragedy, when he recommended that I ought to leave my heart five leagues from the Post, and took me away from the Indians for good—he didn't want me around. Not even the humiliation of having been removed from the position I had held for a little more than a year and which, to help defend the Indians, Dr. Buell himself had helped me get, sending letters of recommendation to Rio de Janeiro. And not even the massacre of the village of Cabeceira Grossa, which Dr. Buell might have been able to prevent had he still been alive, if he had still been among them when the great landholders ambushed the Indians a year after his suicide. Nothing saddened me as much as the death of my friend, whose memory I decided to honour. I greeted him when he arrived. I have no regrets about anything I have thought or written. I asked for nothing in return, because I know that, deep down, I was the last person he could depend on.
I left the roofless house at dusk, just as a cloud of bats departed the hollowed-out trunk of a mango tree. They hurled through the streets in a torrent, a blind, sweeping flight, oblivious to both bicycles and pedestrians. In that dead city (his words, if we can trust Professor Pessoa's translations) the pedestrians were as oblivious to the bats as the bats were to them. I may be ignorant, but I was never superstitious. The cloud of little vampires that greeted him may have been an ill omen. But when I reached the riverbank all I saw were his eyes, the expression they had taken on, out of distraction and fatigue, between one photograph and the next, when he forgot that others were looking at him. He wanted to go to the village. He was exhausted. He wanted to escape the gaze of others. Only you can tell me what he had come to do here, if he really came to die, as I ended up suspecting when I received the news of the suicide. For years I've been waiting, in vain.
Towards the end of the afternoon of the 9th of August, five months after his arrival in Carolina, twenty Indians arrived in the city. They brought the sad news and, in their baggage, Dr. Buell's personal items, which I myself, with tears in my eyes, received and catalogued: two music books, a Bible, a pair of shoes, a pair of slippers, three pairs of pyjamas, six shirts, two ties, a black cloak, a towel, four handkerchiefs, two pairs of socks, a pair of suspenders, two linen suits, two worsted suits, two pairs of underwear, and an envelope of photographs. His picture was not among them. There was a picture of a wooden house on a beach; of the blacks of the South Pacific, who had told him legends and sung him songs; of the Trumai of the Upper Xingu; but there were no pictures of his family, neither of his father, nor of his mother, nor of his sister, nor of any woman. He might have burned them along with the letters he had received before he killed himself. The Indians hadn't touched anything. They came directly to my house without stopping or speaking to anyone along the way—they were frightened, fearful of being incriminated. That didn't prevent the news from spreading, and before long a small crowd had gathered in front of my modest dwelling. I sent for Professor Pessoa at once. He, after reading one of the letters the unfortunate man had left behind, in English, calmed the Indians and affirmed that they had no responsibility for the tragedy. There were letters addressed to the United States, to Rio de Janeiro, to Mato Grosso, and two for Carolina: one for Captain Ângelo Sampaio, chief of police, and another for me.
Since then I have waited for you, whoever you are. I know that you will come to claim your property, the letter he wrote to you before killing himself and which, for safety's sake, forgive me, I kept. I was wary. I had my suspicions, but I couldn't understand it, and I didn't want to take the chance of asking Professor Pessoa to translate it for me. It was the only one I didn't send on to Rio de Janeiro. Now, barely six years have passed since Dr. Buell's death, and the professor himself has announced that he is an ethnologist, a self-proclaimed student of the Krahô. He acts as if no ethnologist had ever set foot in Carolina, placing himself on a level with a man who didn't know him and who claimed not to remember who he was. From his perspective that is only logical, since recalling the memory of that man would only throw his mediocrity and ignorance into sharper relief. I myself may be from the back of beyond, but I'm not a fool. Of the sealed envelopes, that was the only one not addressed to Dr. Buell's family, or to an anthropologist or missionary. Please understand. Those were tough times. I did it all out of friendship, out of a desire to protect him. You can't imagine, whoever you are. The letters went to Rio de Janeiro before they were sent to the United States. Nothing could guarantee that they wouldn't be opened and read. That's what the Maranhão State authorities did when they brought them to Professor Pessoa for an explanation. Or they might have been lost in the post. An inquiry may have brought still other risks. So I kept that last letter with me, to protect him, and the Indians. I swore that no one other than you would ever lay eyes on it. I sent you a note in place of the letter, in code, it's true, which Professor Pessoa helped me draft in English. He didn't know to whom I was writing or why. He thought the note was meant for one of the dead man's relatives, since I had asked for his help once before with a letter of condolence to his mother. I could never be sure that you received the note, or that you understood it, since you didn't come. I have been waiting for years, but I can't take the chance, and I no longer have the strength to stare death in the face. Tomorrow I'm taking the boat back to Carolina. Before that, I'm leaving this, for when you get here.
Originally published in
Featuring interviews with the Campana Brothers, Cao Guimaraes and Marila Dardot, Ernesto Neto, OsGemeos, Bernardo Carvalho, Francisco Alvim, Lygia Fagundes Telles and Manuel Alegre, Karim Ainouz, Arnaldo Antunes, and Paulo Mendes Da Rocha.