Everywhere at Once: José Maceda's Musical Territory by Aki Onda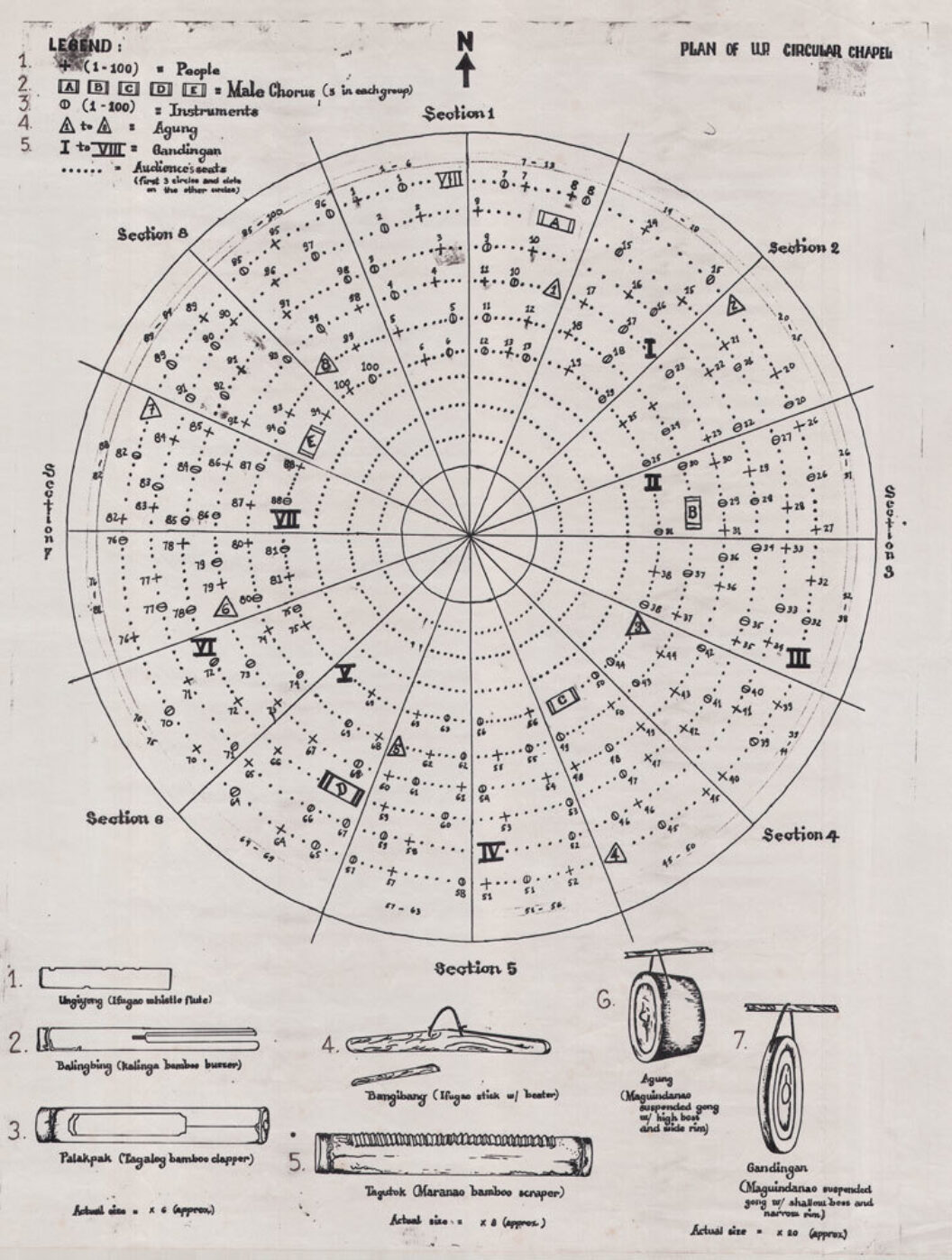 The secrets are boxed within. That's what I thought two years ago in Quezon City, where I was doing research at the University of the Philippines Center for Ethnomusicology. The collection houses an impressive array of recordings, scores, musical instruments, and print ephemera related to the ethnomusicologist-turned-composer José Maceda, whom I wanted to learn more about. Despite this wealth of material, the building's roof was old and a heavy tropical squall was causing some serious leaks. The sound of pouring rain that accompanied my listening sessions snuck into my impression of Maceda. Or perhaps it was there already, as I'd later read in his writing: "A fundamental source of musical thought in Asia may be found in nature itself—in its abundance and in its density. And man's role in that tropical wealth is to accommodate nature."
Maceda emerged from the context of twentieth-century avant-garde music, but he remains little known in the West. Born in Manila in 1917, he was formally trained as a pianist and attended his city's music academy. He then went to study French piano repertoire with Alfred Cortot at the École Normale de Musique de Paris before the breakout of World War II. During the '50s, he visited Edgard Varèse at his SoHo apartment, was presumably introduced to musique concrète by Pierre Schaeffer at the GRM studios, and befriended Iannis Xenakis. He absorbed the golden age of avant-garde music.
However, while studying at Queens College and Columbia University, Maceda developed a strong interest in ethnomusicology. Eventually this interest would draw him home to document so-called "village music"—the indigenous music of the Philippines that had been performed in ceremony and ritual for thousands of years. Maceda rigorously recorded Southeast and East Asian musical practices and folkways, informing his own compositional theories about overlapping fields of sound, an approach he referred to as "drone and melody." It was only after extensive field work, at the age of forty-six, that he began composing. He then worked steadily until his passing in 2004, pushing toward a new model of Asian music that would both preserve indigenous tonalities and employ contemporary approaches to distribution, sound-making, and presentation.
I first became aware of Maceda while living in Tokyo in the '90s. The renowned pianist Yuji Takahashi was instrumental in introducing his work and translated his book Drone and Melody into Japanese. Yuji's sister, Aki Takahashi, premiered Maceda's piano compositions such as "Music for Five Pianos" and "Two Pianos and Four Winds." I had read about his work in magazines, which sparked my interest, but it was only after moving to New York that I heard Maceda's music. I was fascinated by Ugnayan, released by John Zorn's Tzadik label in 2009. It sounded utterly mysterious, even mystical. Though none of its constituent parts were obvious, I could recognize the traditional gongs and bamboo instruments, and maybe even a hint of contemporary Western technique as well. But all of this was peculiarly deconstructed. I couldn't suss out a defining influence, specific background, or even motivation behind such weird and beautiful music. Much to my frustration, there were no available publications in the West, and so, up until traveling to the Philippines, Maceda remained only an enigmatic cult figure in my mind.
After early compositions for traditional Asian instrument ensembles, Maceda shifted his attention to the relationship between sound and space. In 1968 he premiered Pagsamba in the Chapel of the Holy Sacrifice, a domed church with a circular floor plan at the University of the Philippines. It was composed for voice, bamboo instruments, and gongs. A total of 241 performers were scattered among the audience, all facing the center of the circle where the conductor would lead the ceremony. The sheer quantity of the instruments, as well as their placement within the audience, created mass tonal structures that would sound different to each individual. As this was intended both as a concert and Christian mass, it also called for a very specific social engagement—that of spiritual worship. The priests in attendance, however, were supposedly unsettled by Maceda's composition, as eerie as it was intense.
In a leaflet for a later restaging of Pagsamba, Maceda notes that he had originally intended to replace the musicians and singers with an array of 241 loudspeakers, each playing back pre-recorded sounds. This idea never materialized, but its conception shows a clear interest in sound spatialization and foreshadows a separate musical innovation at the GRM—Francois Bayle's Acousmonium, an eighty-loudspeaker sound diffusion system devised in 1974 for Radio France's Olivier Messiaen Concert Hall that is still in use today.
In 1971 Maceda premiered Cassettes 100, which involved one hundred participants carrying cassette players into the spacious lobby of the Cultural Center of the Philippines in Manila. Each participant was given simple instructions on how to position themselves and when to ascend or descend the Center's interconnecting staircases. They pressed the play buttons of their cassette players at the same time, running the recording for the piece's thirty-minute duration. Though Cassettes 100's sound was sourced from and meticulously scored for bamboo percussions, flutes, and gongs, the composition was also the composer's first for electronics. By re-coordinating the score as a mobile array of recordings, Maceda constructed a looming, three-dimensional cacophony. As soon as Cassettes 100 commenced, people were encouraged to circulate around the lobby and into the balconies, erasing the line between participant-players and audience. Chaos took over. Everywhere there was stroboscopic lighting by Teddy Hilado. From the top floor, colorful toilet paper streamed down (the work of artists José T. Joya and Ofelia Gelvezon-Tequi). Indeed, the event was referred to as a "sound happening." In light of the frenzy, the public and media reaction was mixed, though a pleased Maceda commented: "If the production of goods is merely for material comfort and not for spiritual enlightenment, society will fall apart."
While his use of modern technology shows hints of musique concrète (an influence the composer openly acknowledged), I believe his intention for adopting cassette players was to diffuse sound into aural space, rather than to augment the nature of the sound itself. Throughout his career there was an attention to how sounds flow through and occupy territory. Even his earlier works dwell in the multivalent, atmospheric qualities of rituals heard in rural villages. Unlike the sonic abstractions of his European contemporaries, he did not use tape manipulation and electronic processing, or other typical musique concrète tactics. If musique concrète had a role in his composition, it's perhaps in how he deconstructed compositional elements. In his first composition, Ugma-ugma, from 1963, Maceda would mix instruments from across Asia, placing their varying pitches and timbres alongside one another. Maceda mobilized the spirit of musique concrète to transform these traditional harmonics into sonic masses.
Maceda's next challenge was Ugnayan, an expansive work to be broadcast at 6 PM on New Year's Day, 1974. Arguably the most ambitious, provocative, and controversial work in his repertoire, the fifty-one-minute-long piece consisted of twenty separate tracks, each to be played on a different public radio frequency simultaneously, producing a musical atmosphere at the scale of the city. Ultimately, all thirty-seven radio stations in the metropolitan Manila area would turn over their channel for Maceda's sound diffusion, with some tracks playing from multiple stations.
Millions of listeners tuned in. Manila's parks, plazas, and street corners were converted into what the government called "Ugnayan Centers"—142 locations in all. In one of the biggest, 15,000 people congregated, their personal radios creating a stunningly knotted mass of sounds.
Alongside the work of other avant-garde artists, Maceda's ambitious project was realized with the extensive support of the notorious far-right Ferdinand Marcos regime. Over the nine-month production leading up to the premiere, the event was heavily advertised by the national media, drawing strong patronage by the first lady, Imelda Marcos, who was chairperson of the Cultural Center of the Philippines. Indeed, Imelda went so far as to name the piece Uganayan ["interlinking" in Tagalog] despite the fact that Maceda's original title was the less-localizable—Atmosphere. Such support and contribution from the regime may be seen as more surprising given that the broadcast called for mass crowds to congregate in public space, a radical proposition as martial law had been declared just two years earlier. Somehow, with Imelda's support of the project and a belief that it would offer an image of national unity, the Marcos regime backed Maceda's out-of-the-ordinary experiment.
Again, however, Maceda's audience struggled with the work, reacting almost apathetically. It was too idealistic, too alien for a mass listenership without knowledge of the musical avant-garde. Further, only a small portion of the population was familiar with the Philippines's own indigenous music; the culture had become strongly Westernized due to centuries of Spanish and American colonization. Maceda's musical adventures in the '70s were quite unique and outstanding in their originality and the unconventional relationships they forged with audiences. They were meticulous in concept, technologically cutting-edge, and keen in the fusion of ancient and modern. Significantly, they also demonstrated a commitment to departing from the idioms of Western musical composition and nurturing the possibilities of collective action. Despite these singular achievements, Maceda's work is surprisingly under-recognized and rarely performed. The critical discourse around his work is severely outdated, and many questions go unanswered. His entanglement with the Marcos regime is complex. The government fueled a political climate that suppressed the open expression of political opinion, even as it backed numerous progressive artists and composers. More than four decades after Cassettes 100 and Ugnayan, we can more easily evaluate the extra-musical rationale and sociopolitical agendas of these artistic experimentations. But the music itself is probably still too far ahead of its time.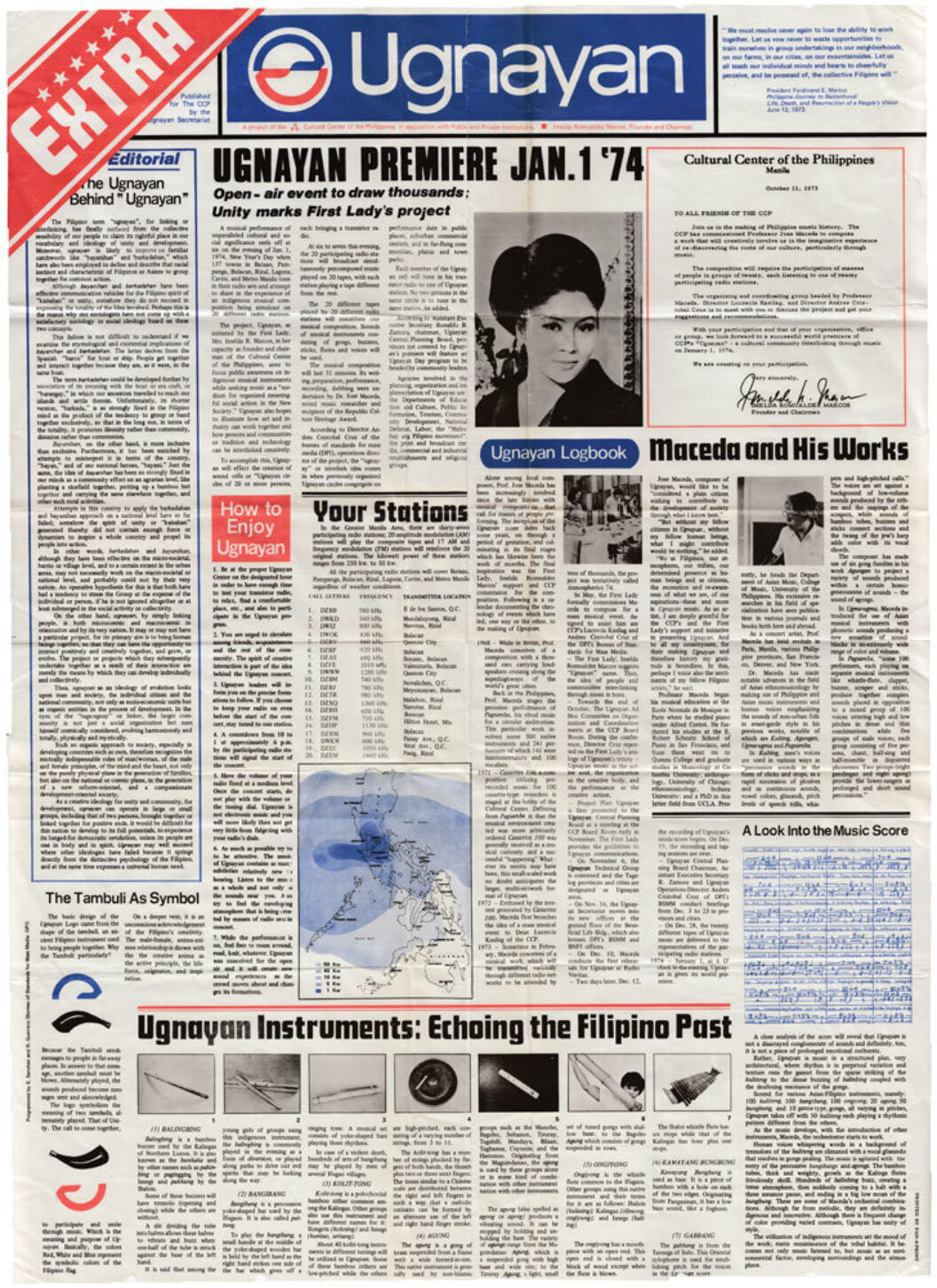 Aki Onda is a New York-based artist and composer. He is known for his Cassette Memories—works compiled from a "sound diary" of field recordings collected using a cassette Walkman over a span of the last quarter century. He creates compositions, performances, and visual artworks from those sound memories.
Originally published in
Featuring interviews with Young Joon Kwak, Kazuo Hara, Bill Jenkins, Ligia Lewis, William Basinski, Titus Kaphar, José Roberto Cea, and Barry Lopez.