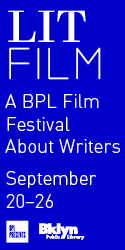 A girl sits in her room by the window, which is open to the evening. She is robed demurely in white. She smiles, sadly. On the small dustless table beside her is a thin cake of soap in a dish. Every few minutes she breaks off a piece of the soap and places it delicately in her mouth and chews. Her lips are frothed with soapy foam. It glitters like infinitesimal jewelry in the last rays of the sun.
Across the street, the youth who loves the girl hopelessly paces the terrace of the cafe. He smokes wretchedly, in distraction. Time and again he stops and looks up at the window at his sweetheart, and his heart breaks. The spit in his mouth turns sour and poisonous, and he covers his lips with his handkerchief and turns away.
Out back among the overgrown weeds and flowers of the garden, the father of the house finishes his business in the privy. As he wipes himself, he whistles. Then he stands over the seat and inspects what he's done. He comes out into the humid, mellow air and stands around leisurely, whistling. He snaps a couple of roses off a bush and smells them and sticks them, boutonniere fashion, into the outhouse door. Then he strolls over to another bush and shakes off a handful of blackberries and stands around eating them from his unwashed hands.
From the guest bedroom window, his wife watches him. "Old idiot," she mutters. She sighs. Then she puts on a luxurious smile, and she rolls back into the middle of the disordered bed. Across the room the youth's best friend crouches over the bidet, splashing himself. The wife chuckles, watching him, her eyes shining. "And now we're going to get it dirty again," she says.
Originally published in
Georgia Marsh, Paul Bowles, Michael McClard, Olivier Mosset & Fred Brathwaite, and Duncan Hannah. Cover by Mary Heilmann.