Discover MFA Programs in Art and Writing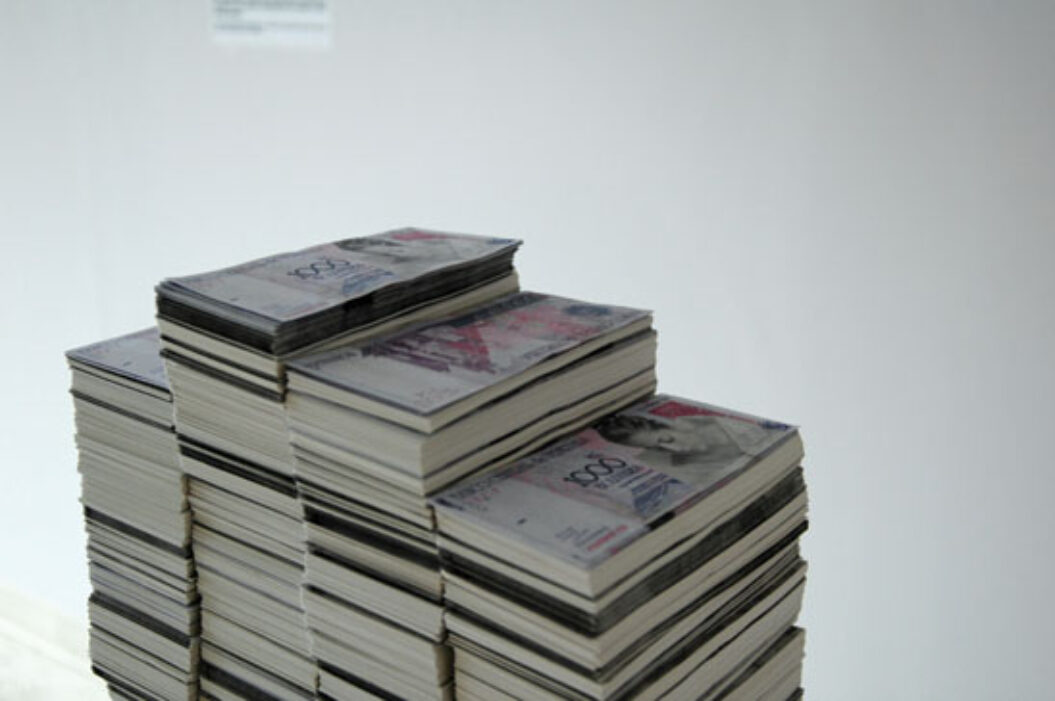 Esperanza Mayobre creates passwords. These are not acts of secrecy or exclusivity. They propose an entry into a body of work that defuses deceptive cultural hierarchies. Her projects progress with intimate moments of empathy and independence. For this Caracas-born and Brooklyn-based artist, passwords are byways for investigations that attempt to decode the trauma of displacement.
Mayobre's process is similar to a writer's; she undergoes long periods of research in order to mine narratives and draft propositions. A Venezuelan, her instincts are rooted in the traditions of Latin American literature, music, and visual art that have always been—and still are—influenced by the morphing culture, conditional politics, and patriotic leisure that define the entire continent. Since Mayobre arrived in New York in 2004, she has adopted new levels of contrast by immersing herself in New York's own saturated landscape, and it is from this space of itinerancy that Mayobre creates environments and images that uncover how cultures and ideologies merge and overlap.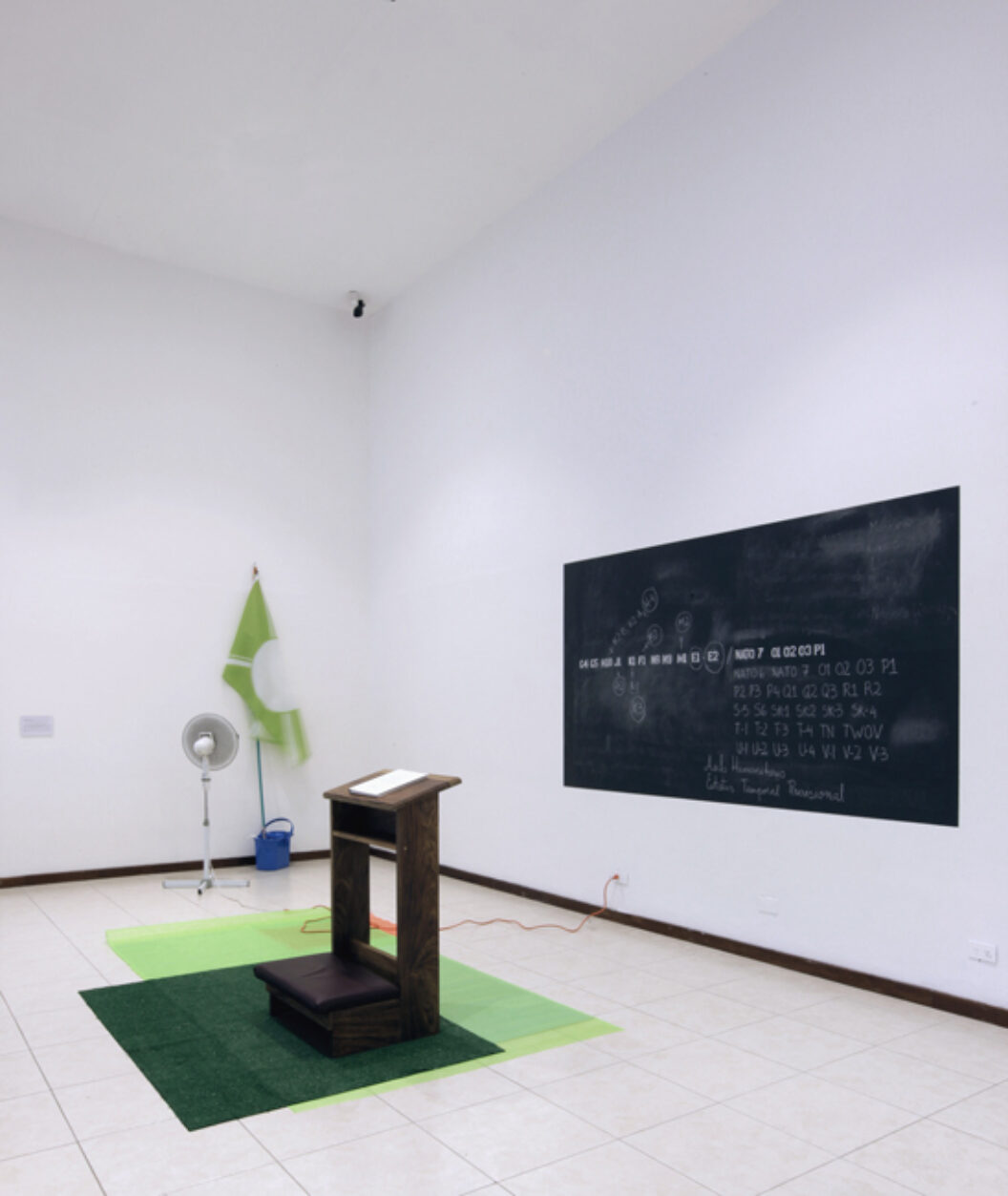 Mayobre's art plays with the duality of being bilingual and constantly shifting back and forth between thinking, speaking, and expressing herself in English and Spanish. The double meaning of certain phrases and the obtuseness of certain words mimic her constant, transitional acts of translation. This is evident in her recent installation, La lucha por la locha vs. Another day another dollar, whose title of partial slogans in two languages evokes two different connotations that chant the same message: a call to arms for immigrants caught in arenas of socioeconomic and personal compromise. A chalkboard with a handwritten list of confusing travel visa types hangs above a prayer kneeler containing a laser-engraved instruction book on how to apply for legal residence in the US. Nearby, a green flag erected on a mop and emblazoned with the work's title wobbles inside a bucket. Its sole audience is an old fan that noisily voices its support.
Like its title suggests, the installation mimics the difficulty of operating equally in two cultures. Its result is a site with dual points of existence. On the one hand, it is obvious that the space has been used, but its participants have disappeared. Perhaps they tried to learn the byzantine legalities of immigration and gave up. Perhaps the bureaucracy of the process forced them to immigrate illegally. On the other hand, it is also a tableau of hope; its bizarre ritualism implies that if not accompanied by action, hope on its own is the root of utopian impossibility.
Another strain of Mayobre's practice sorts the congruencies between verticality, disintegration, and perception, riffing on modernist architecture and urban development. Though seductive in its visuality, the series isn't limited by a purely abstract or lyrical conversation; it derives its poetry through site specificity. Symphony of Nothing, a graphite and charcoal wall drawing made during Mayobre's recent Lower Manhattan Cultural Council residency, balances the symptoms of progress and failure. A landscape set within the precarious setting of towering skyscrapers reflects the amorphous and ingenious engineering of Latin American shantytowns, where dwellings are built, brick-by-brick, at the same rate as their owners' influx of income. The drawing's location—an abandoned office building on Wall Street—and its soaring architectural backdrop proposes a parallel interpretation; a Xerox of the American financial industry's inability to control its greed.
The relationship between the Financial District and a shantytown is crucial. Mayobre could almost be said to be tampering with global issues in her work. This is evident in E$peranza, where she symbolically paid off the debt of all third-world countries by printing altered Venezuelan bills, with her own insignia, matching the amount of accumulated debt. The bills were taken by gallery visitors and eventually disappeared. Her interweaving of reality, absurdity, comedy, and tragedy is a direct and poetic antithesis that deflates propaganda and brings the discussion back to a human level.
Mayobre's passwords grant more than just an invitation to interpret her opinions on class struggle, the polarization of power, or her pursuit to live up to her name, which in English means "hope" (as can be seen in her various self-narrated works from 2003–2007). The codes that so often divide society are decrypted so that the viewer can reconsider his or her role as protagonist, antagonist, participant, or contributor. Once a point of entry is found, the parameters that reward access are reset. In doing so, Mayobre alters a framework of social polarization and creates a hybrid space filled with harmonic contrast—a direct extension of her own history as a malleable refractor of culture.
José Ruiz is a New York City-based artist and curator, by way of Lima; Brasilia; Washington, DC; and San Francisco. He works collectively, primarily with nonprofit, alternative spaces, and his interdisciplinary projects have been shown nationally and internationally over the past several years.
Originally published in
Featuring interviews with Antonio Caro and Victor Manuel Rodriquez, Ducle Gomez, Ana Teresa Torres and Carmen Boullosa, Evelio Rosero, Juan Gabriel Vasquez and Silvana Paternostro, Javier Tellez, Mario Galeano Toro and Marc Nasdor, Sergio Fajardo, and Carlos Cruz-Diez.