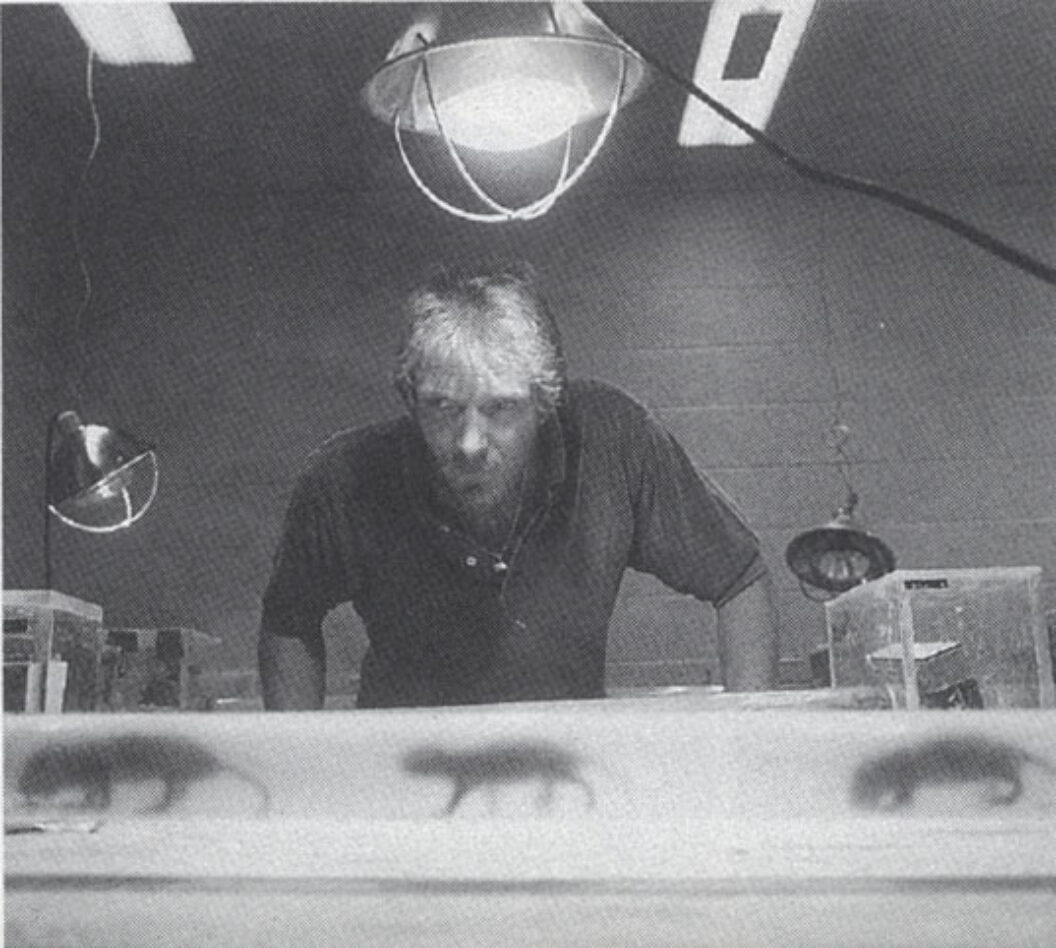 Referred to by its filmmaker as the "ultimate low-concept movie, a movie without a one sentence description," Fast, Cheap & Out of Control interweaves the stories of four men seemingly obsessed by animals: Dave Hoover, wild animal trainer; George Mendonca, topiary gardener; Ray Mendez, naked mole rat specialist; and Rodney Brooks, MIT robot scientist. Through documentary style interviews, stock footage, old movies, and cartoons, Errol Morris (best known for his earlier "documentary" films, The Thin Blue Line and A Brief History of Time) has crafted a musing on human nature, a Sisyphean study, and a 21st-century Frankenstein flick where the humans, again, are the evil geniuses, and insect-like robots the usurping creations.
Photographed by Richard Richardson (known for his work with Oliver Stone, most notably Natural Born Killers) in 35mm, 16mm, Super-8, and video in both color and black and white, and superbly edited to collage-like effect, Fast, Cheap & Out of Control is in some way more thrilling than a thriller. The clues slowly begin to appear: Mendonca's shorn animals made of hedges and trees; Brooks's insect-robot that does "what is in its nature." Mendez presents his mole rats' Marxist leanings ("They expend the individual for the greater whole."), and Hoover opines on feline psychology ("Never let him know that you're weaker than him."). The story, it seems, is in how to understand life by building and observing something that is life-like; the climax, when it occurs, is in Brooks's suggestion of a future world where silicon replaces carbon in the evolutionary order.
By the end of Fast, Cheap & Out of Control, when an old movie clip shows the villain screaming, "Earthquake!", and the hero escaping with the damsel in distress, the wonder is: will the next film begin with a robot on the hillside, watching as we humans are killed by that which we've created, but cannot control?
—Jenifer Berman
Originally published in
Featuring interviews with Gregory Crewdson, Lorna Simpson, Allan Gurganus, Louis Auchincloss, Marie Howe, Rilla Askew, Rupert Graves, Andrew Blanco, and Paula Vogel.