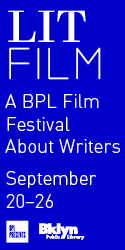 Underground USA is a satire of contemporary New York "scenemaking" in the form of an update of Sunset Boulevard, Underground USA is both a personal triumph for its creator, actor-director Eric Mitchell, and a further indication of the importance of New York's new-wave film movement. New-wave filmmakers like Mitchell have emerged to challenge both commercial movie making and the avant-garde. Shown in rock clubs and lofts, these loose, free-form super-8mm narratives quickly gained a loyal cult following for their witty explorations of hip urban life and times. In a style combining amateur enthusiasm with sophisticated visual know-how and a sharp sense of social and political observation, these films are the diametric opposite of the staid formalism of the ''experimental'' establishment.
His first feature, Kidnapped (1978), took on political terrorism, recasting it in the form of a group improvisation for jaded, aimless bohemian types who dabble in it like the latest fashion craze. Political satire figured in Mitchell's next feature, Red Italy (1979), as well. Here the actor-director found fun in recreating the style of Italian films of the '60s, shooting his story of a young disillusioned worker (played by Mitchell himself) and his glamour-ridden starlet girlfriend (Jennifer Miro) in any "Italian movie"-type location he could find—espresso bars, restaurants, vacant lots, etc.
Underground USA is, on the surface, less political than these other films, but in moving the super-8 underground into the 16mm big time, Mitchell has managed to remain true to his "outlaw" origins while at the same time bringing the New Wave movement to the attention of a larger public than it has ever enjoyed.
Underground USA is set in the present, but just as Sunset Boulevard was haunted by Hollywood's silent movie past, so Mitchell's film uses the Warhol '60s Pop Art scene as a point of reference. As played by Patti Astor, Vicky is clearly meant to represent Edie Sedgwick, the superstar of Warhol's legendary cinematic psychodramas (Poor Little Rich Girl, Vinyl, Beauty No. 2). Like Norma Desmond, she lives with her butler (Rene Ricard as an effete Erich Von Stronheim) in high style, half-mad and lost in drug-induced dreams of a comeback. But instead of William Holden's disillusioned writer-turned-gigolo, a completely spent and soulless Joe Dallesandro-styled hustler, played by Mitchell himself, is offered.
But while paying generous tribute to the Warhol era (the cast is filled with Warhol veterans like Jackie Curtis and Taylor Mead) Mitchell's approach is never nostalgic. "No More '60s, No More '70s" reads the actor-director's press release for the film. Underground USA is in many ways a ritual purging of the past to end a decade whose main stylistic theme (echoed culturally high and low, front art deco to Grease and Happy Days) appeared to be a desire to escape into the world of other supposedly "better" times.
What the film finds in the present is a New York too sophisticated for its own good. As the characters drift from party to party engaging in idle chitchat, we learn of an art market so controlled by capital that paintings are bought only to be stored away for profit, never to be seen again.
We eavesdrop on chic gossip about a fashion world so stagnant and corrupt that no one of taste dares be caught dead in the clothes of a successful designer. People only come to life when prodded by drugs. Money has replaced sex as the object of everyone's desire.
Mitchell's social prognosis is grim, but on the visual level the effect of Underground USA is oddly cheering. Frame after frame shows the inspiration of the best of European and American filmmaking. Mitchell's eye is as keen as Godard's in ferreting out color and detail in the most banal of circumstances. Strategically placing his camera to take in as much space as possible, Mitchell uses mirrors and Sternberg-style heavily shadowed lighting to give the cramped spaces his characters move in an enormous sense of depth.
The deadpan acting style he and most of his other players indulge in owes much to the work of Rainer Werner Fassbinder. But while this flat affect approach is Mitchell's main dramatic technique, it doesn't stop him from utilizing work done in a contrasting style, as is the case with Rene Ricard's remarkable emotional tour-de-force as Kenneth the butler.
There's a rich, multi-layered texture at work here. Characters exist less for themselves than as iconographical anchoring devices—points of reference in a hall of mirrors crossing space and time. The time is now, but it is also the then of the '60s and the '50s and (remembered) '20s of the Billy Wilder melodrama. As these spent sophisticates move through Mitchell's carefully designed decor trapped in their narcissistic fantasies, going through the motions of rituals that have lost all meaning for them, we may giggle but at the same time be touched by their lives of noisy desperation.
This chic wistfulness comes to a climax in the film's final party scene. Told by Kenneth that "Andy" has called, and she'll be shooting a film next week, Vicky—wearing an incredible neo-cubist black and white dress—emerges from her bedroom to face what she thinks will be a roomful of well wishers. But it's just her butler, her chauffeur, and her hustler—the same people she's been with throughout the film. Without losing an iota of cool she languidly approaches her chauffeur, who's slowly opening a bottle of champagne. "Is everyone here?" she asks. "We only invited a very select group," he replies.
Originally published in
Betsy Sussler by Craig Gholson, Carl Apfelschnitt by Sarah Charlesworth, Michael McClard by Kathy Acker, Eric Mitchell, Becky Johnston, and Amos Poe. Cover design by Sarah Charlesworth.