Radical Collectivity: Ephraim Asili Interviewed by Chrissie Iles
On his debut film, The Inheritance, which weaves together histories of the MOVE organization, the Black Arts Movement, and his own time in a Black Marxist collective.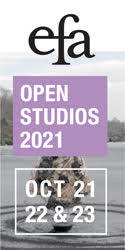 Ephraim Asili is an artist, filmmaker, and professor in the Film Department at Bard College. His new film, The Inheritance, is an ensemble work that unfolds through a fictional narrative scripted by the artist and based partly on his own experience in a Black radical collective, interwoven with documentary recollections of the West Philadelphia-based liberation group MOVE, victims of a notorious police bombing in 1985. Cameos by MOVE's Debbie Africa, Mike Africa Sr., and Mike Africa Jr., as well as poet-activists Sonia Sanchez and Ursula Rucker, are layered with pan-African histories and the Black Arts Movement in a rich narrative collage of Black liberation, cinema, music, and thought. The film, commissioned by the Experimental Media and Performing Arts Center at Rensselaer Polytechnic Institute, premieres at the Toronto Film Festival on September 14, and Asili's new artist's book, Measuring Time, will be published by the Visual Studies Workshop later this fall.
—Chrissie Iles

Chrissie Iles The Inheritance is created from so many layers—activism, music, poetry, literature, photography, Black revolutionary history, politics, and community. Can you talk about how this hybridity reflects your evolution as an artist, filmmaker, activist, and musician?
Ephraim Asili The film is a genre that I am self-defining as "political science fiction," exploring models for living in the very near future. I make cinema out of life experience. In film school, you're taught to think about the audience first. I'm doing the opposite and thinking about my own life first. I look at film as a synthesizer that I can put things in, including music. In the mid-2000s I was producing music, and I took a course in French New Wave Cinema. I watched Jean-Luc Godard's Breathless, and the way he chopped the film up reminded me of beat-making; it's a remix of sorts.
CI This interdisciplinary approach is also evident in the way you think about images through objects.
EA Yes. I've always been a record collector and a lover of cover art and jazz photos; I discovered Roy DeCarava's photography through LP covers. In grad school I had a lightbulb moment looking at David Hammons and Robert Rauschenberg. I started teaching myself how to sew, and made my first tapestry/quilt. I was thinking about how that process related to montage editing. I also started working with what I found in the streets; I gathered cardboard from a local liquor store in West Philly and made art with that. During a studio visit, someone suggested taking photographs of what I found in the streets rather than sculpting with it. It was around the same time that I discovered avant-garde filmmaking and the Bolex camera. I began to make connections between the approach of someone like Stan Brakhage or Peter Hutton and my own work. I also noticed that there were virtually no Black artists contained within the canon of experimental film, and I thought that this was an avenue worthy of deeper exploration.
CI How did your early experiences with music shape the film?
EA Through my background in music in Philadelphia, I became acquainted with Tyrone Hill, who is a member of the Sun Ra Arkestra. He talked about my camera as though it was a musical instrument. Years later when I first picked up the Bolex, the hand-eye action of it made sense; it felt like a musical instrument. The filmmaker and the camera are one, as the musical instrument and musician are.
Tyrone introduced me to Marshall Allen at the Sun Ra House in Philly, and I made the film Points on a Space Age with the Arkestra. One thing I learned from Ra is that the idea isn't to make perfection—that's the dead world. "Anything which is ended is finished. That which is perfect is finished; the perfect man is no exception to the rule." Sun Ra would create gaps in the work, and he would put someone who barely knew how to play an instrument next to some of the best musicians in the world. This was of great interest to me—the tension between order and chaos, between the structured and the random. I thought, how could I take Sun Ra's concepts and apply them to film?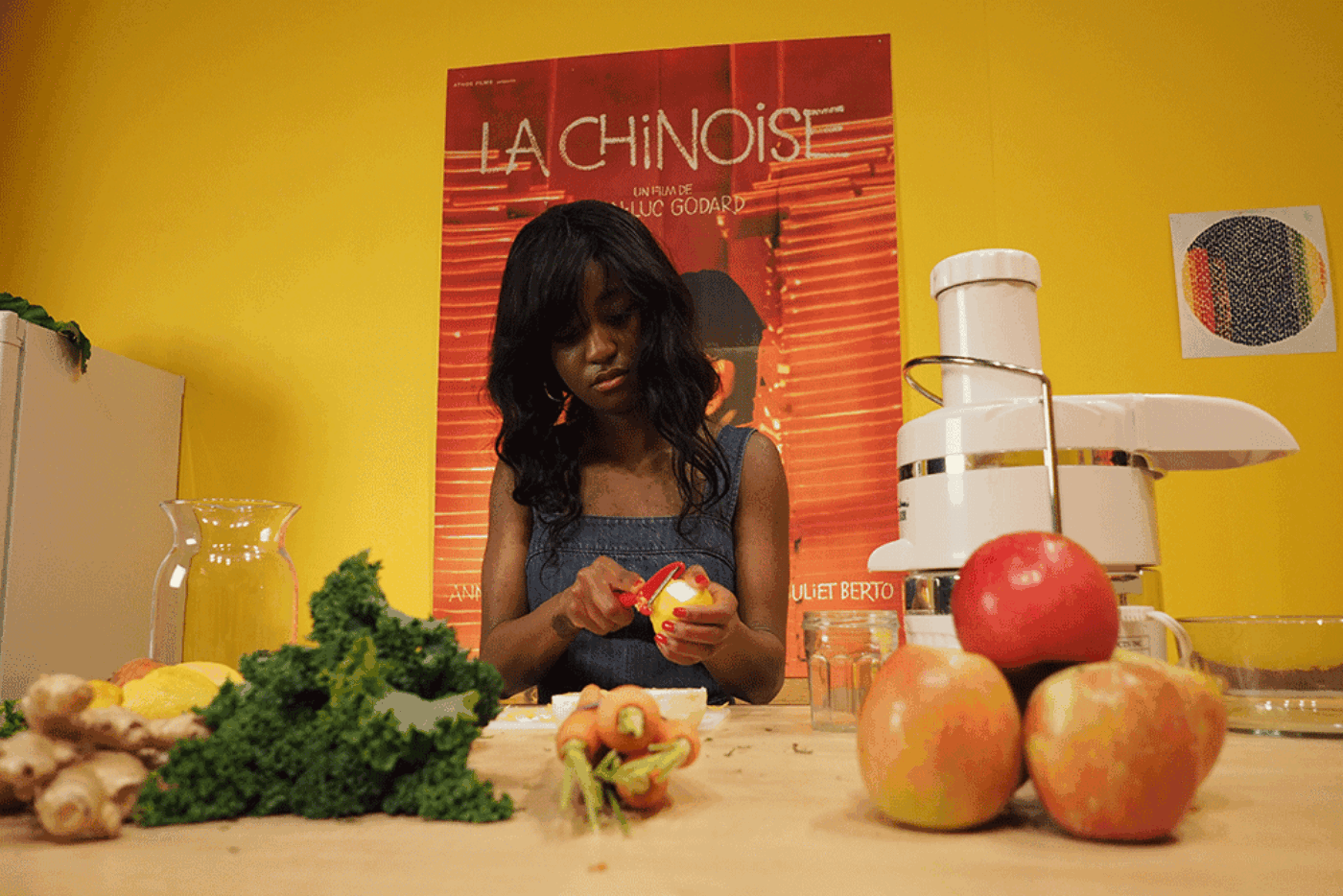 CI The set of The Inheritance seems to be a container for exploring that, and the artifice of its design evokes Godard's La Chinoise. How did you build the relationship between the different elements—the colors, fabrics, blackboard and chalk, vintage books, LP covers, photographs, furniture, and archival materials in the house?
EA This was the first time I'd worked on a set, and I thought about it in terms of photography or painting, starting with a blank canvas and deciding what should be in the frame and what my palette was. One big influence was Robert Bresson, who was influenced by the minimal set design of Carl Dreyer's films. I would ask myself what connotes a kitchen, or a living room, and leave the design there. The color of the walls and the lighting were also important. I used gels to create subtle light effects and paid careful attention to the fact that film stock is optimized for white skin; a lot of the work with gels and color was to make sure that my camera did justice to the skin tones of my Black actors. I wanted the production design to suggest something between realism and fantasy without being too self-conscious.
CI The film unfolds like jazz improvisation, moving between scenes in the interior of the Black collective's house, intercut with archival footage of MOVE and the 1985 bombing of their house, along with spoken word performances.
EA It was shot out of chronological order. In the editing room every scene was configured in at least five different ways; the one that ended up in the final film was often the most unpredictable scenario. In his music, John Coltrane will state phrases then reconfigure those phrases again and again until the solo extends into new and seemingly unexpected territory. It's very advanced thought; it's like process art, running through all the permutations, layering new concepts and discoveries.
William Greaves's film Symbiopsychotaxiplasm was an important early influence. Its structure is subversive, like the cuts in Breathless. His ruptures are less structured and more intense, and the structural plays against the narrative. With structure, you have to push it to a volatile situation, almost to failure, for it to work.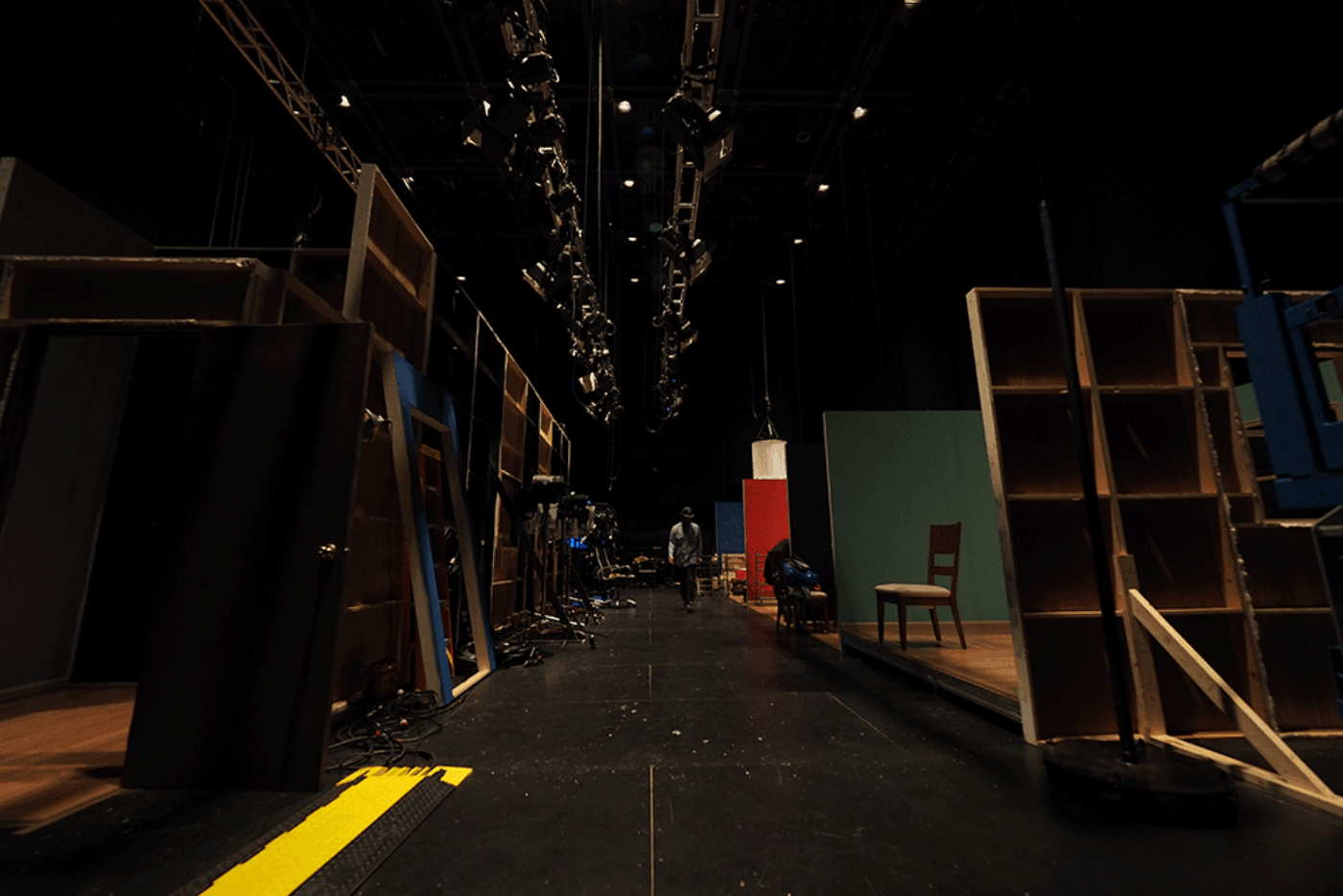 CI What does that volatility produce?
EA If you include the flaws and expose some of the scars, it makes the work stronger. If someone moved out of the frame, it became part of the composition. These so-called mistakes often enhance the work. I'm from Philadelphia, and Marcel Duchamp was my first experience of art. His work Glass is about trying to destroy the illusion of the picture plane and to point out the absurdity of it. It was not complete until it was broken. To me, the signature "R. Mutt" on his urinal piece was hip hop; it looked like a tag.
CI That breaking open in the film transforms the gaze into something shared; it changes the relationship between the camera, the actors, and the audience in a way that echoes how the characters are exploring models of radical thought and living within the film itself.
EA That feeling is achieved through editing, camera position, and the montage sequences; I built gaps into the script to give myself room to make unexpected connections and improvise.
CI Language is woven into the film in so many different forms, from books, reading, and spoken word poetry, to the lesson on African language with the blackboard, and performances by Sonia Sanchez, the Black Arts Movement, and Ursula Rucker, whose performance is powerful.
EA Sonia is a living legend, and Ursula is magic; she's under-appreciated outside of Philly.
CI I was struck by how her shift between the sung and spoken word is echoed in the way the pink tapestry on the floor that two actors lie on in one scene is flipped to be vertical in Ursula's scene, so that it becomes the backdrop for her performance. That reiteration feels musical—layers of language, fabric, color, voice, and space.
EA Yes! The tapestry was only meant for Ursula's scene, but so much work went into it that I wrote it into another scene in order to use it twice. It also stands alone as an art object. The scene with the tapestry on the floor was written the night before it was shot.
CI There's a formal rigor to the way you contain these improvisations within a cinematographic grammar. Every frame is like a photograph. The intimacy of your camera connects moments of emotional sharing between the actors to a larger sense of community within the house, which gestures back toward the utopian communal space of MOVE. The interconnected layers of historical, philosophical, and emotional intimacy feel both performed and real.
EA Half the cast are professional actors and real-life figures from Black cultural and activist communities, and the other half are students from Bard College where I teach. Everyone was involved in writing the script and improvising some of the dialogue. I wanted to include the experiences of a younger generation, especially women and non-binary folks, without trying to police them. My hope was that if I could make the film politically, it would bounce back into our own reality; structuring the film itself as a learning process that goes both ways.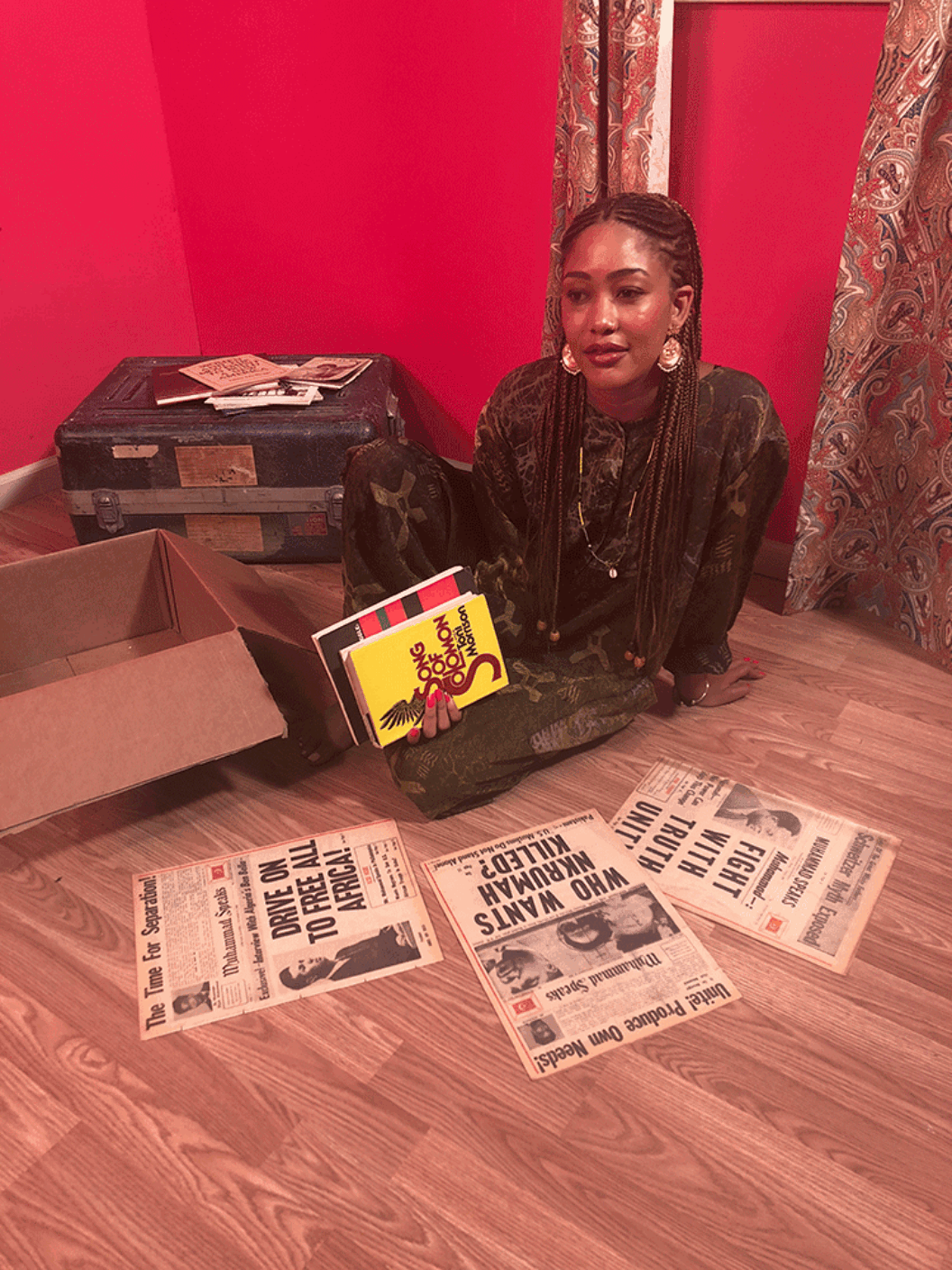 CI This film's form engages radical Black history and actualizes it with the presence of figures from that history. The personal, political, and cultural are fused together in a way that reminds me of the way Blackness is articulated in Britain.
EA Stuart Hall was a massive influence on this film in his probing of what Blackness is and implies. John Akomfrah too. Black British filmmakers have been engaged with pan-Africanism and socialist ideas since the '70s, but those ideas are more marginal here in the United States. I sometimes worry that as African Americans, we don't put enough energy into placing our fight within a global context. Angela Davis talks about this issue a lot. I'm trying to keep that pride, dignity, and articulation of alternative ideas alive in my films. That's where the title of the film comes from!
CI How does your commitment to Black radical collectivity and history relate to the current situation in America?
EA Many of the elders of the previous generation are returning to the ancestors, and with the popularity of Black Lives Matter, more and more people are looking to the past and figuring out what is worth bringing forward into the present and future. The presence of MOVE in the film is very important in this respect. I keep my work investigative; I don't want it to be too refined. I think this approach leaves more room for deeper and more meaningful discussions to happen later.
Godard said it's not enough to make political films; you have to make films politically. In Black cinema, we weren't even getting our political films made. Now we're getting that, but are we better off? Can the dominant structure of filmmaking, the Hollywood three-act structure, lead to political freedom? Perhaps it's not good to force radical forms or life situations into those structures; it dilutes the discourse, weakening what it claims to empower. Unfortunately, overt expressions of anger and sadness are typically the only two emotions that the art world and film industry expects a "serious" Black artist to deal with. But I refuse to foreground art-world or film-industry politics in my art in order to gain acceptance. I made the film politically, embedding MOVE, radical politics, the input of my cast, crew, and my elders into not only the story of the film but the form and structure of the work. The Inheritance is not about the expression of rage or disgust; it's about what happens the morning after, when we go back home after the protest. That's where the work begins.
Ephraim Asili's The Inheritance will screen virtually at Toronto International Film Festival on September 14 & 17, and at New York Film Festival September 18–23.
Chrissie Iles is the Anne and Joel Ehrenkranz Curator at the Whitney Museum of American Art.