Entanglements Across Time and Space: Rachelle Dang Interviewed by Louis Bury
Installations that reframe colonial perspectives.

Discover MFA Programs in Art and Writing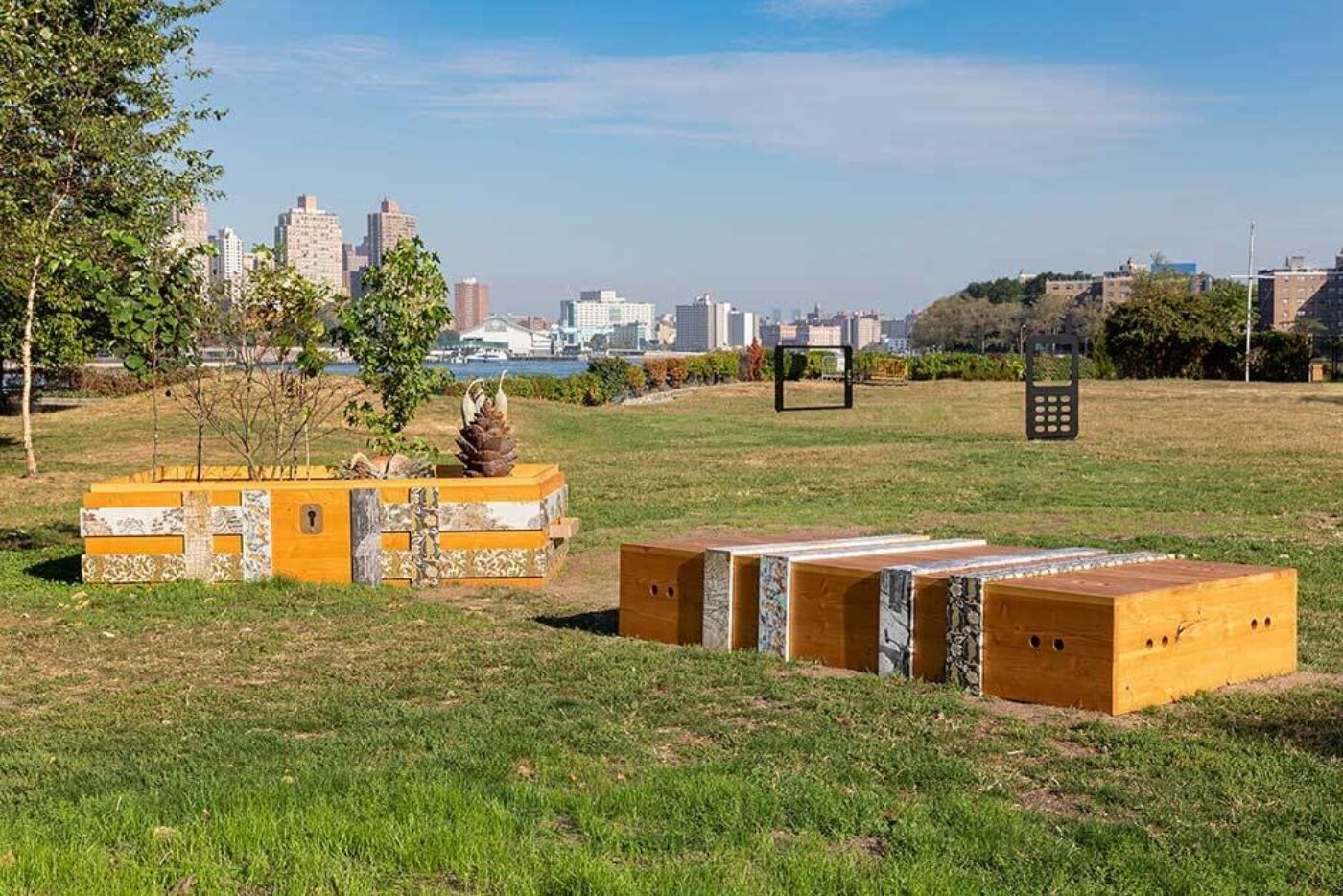 Rachelle Dang's uncanny sculptural reconstructions of eighteenth-century European botanical transport carriers convey gothic menace. The containers' conspicuous color schemes (saturated teal; mottled rust) and unsettling forms (evoking things such as prison cells and crypts) present stark reminders of colonialist devices largely forgotten to history. The containers' floral contents are no less distinctive. Whether strewn about the floor or bundled up like an artificial Christmas tree being put into storage, the installations' flowers, seed pods, and vines appear incongruously rigid, distended, and overripe. It's as if the imaginative distortions in these historical reconstructions are the consequences of a civilization bent on repressing the memory of its plunder.
Dang renders the present-day stakes of this repression more personal—more tangible—through associative allusions to Hawai`i, where she was born, and New York, where she currently lives. Her Seed Box: Trees of New York (2019), for example, juxtaposed a sealed seed box with an open one, along with living trees and oversized sculptural seeds, to hint at the tangled genealogies underlying concepts of native and exotic, human-made and natural. In the face of such histories, Dang's work maintains a sense of tenderness and wonder, even as it remains wary of the ongoing legacy of colonialist amnesia.
—Louis Bury
Louis Bury Can you describe the research process for your work?
Rachelle Dang I'm on the lookout for visual information, usually from the past or from nature. Through internet searches I uncover material in digitized archives, academic journals, popular nonfiction, blog posts, and various websites. I visit museums and botanical gardens, and I browse libraries and bookstores. If something catches my attention, I want to find out all the other stories, histories, and places it's connected to; usually one of these connecting strands leads home, to Hawai`i, where I grew up.
LB How does that research manifest in the artworks themselves?
RD I begin a project with a single image that carries latent narrative, psychological, or poetic associations. But that source material is just a starting point. It gets transformed through the formal decisions (such as scale and shape) and the material manipulations (such as hand sculpting and fabrication) necessary to realize the work.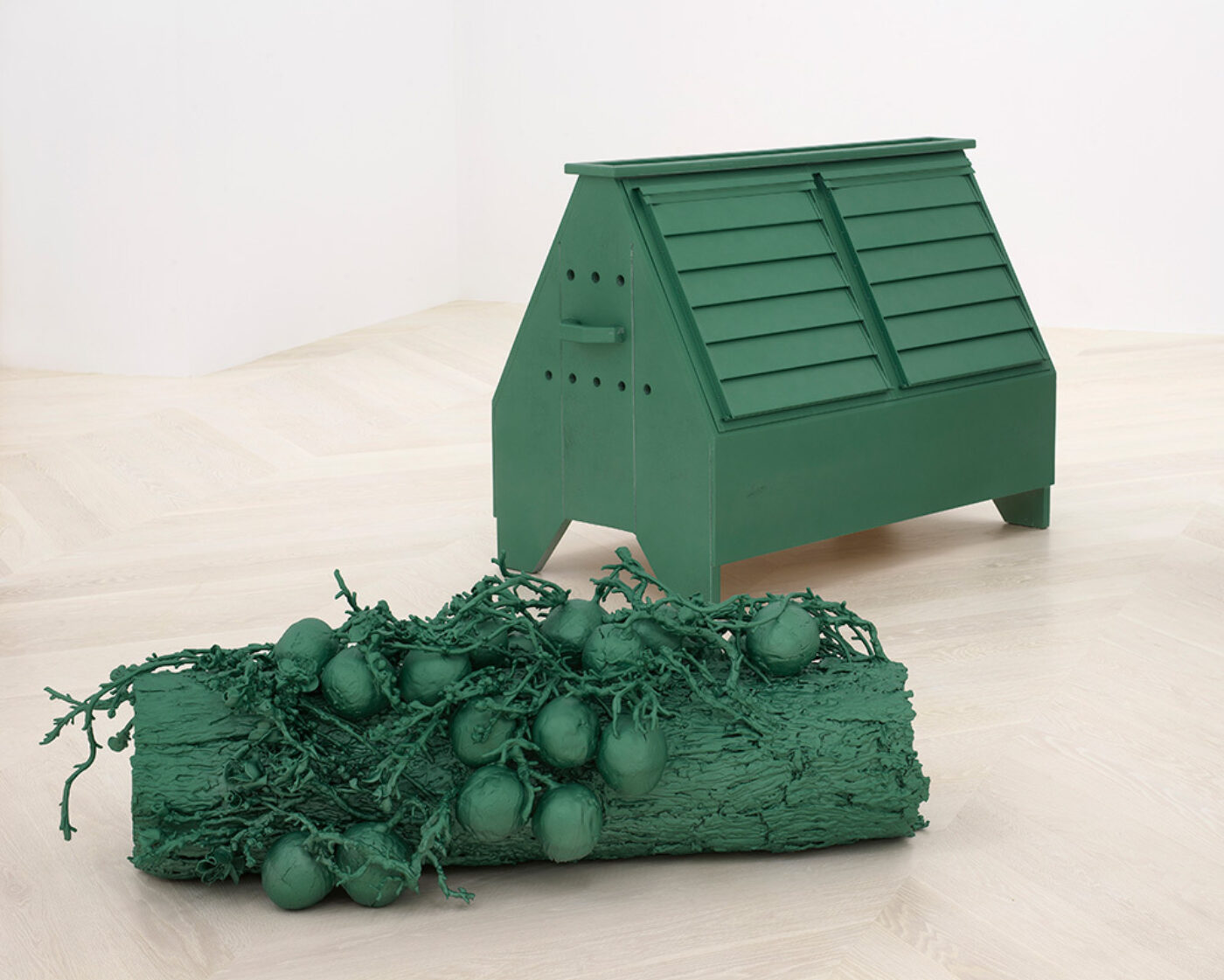 LB What's an example of such a transformation?
RD Two recent works, Couroupita/Corpus (2020) and House on Cannonball Street (2020), took me in a new direction with color. I worked with a paint finisher, and on both occasions the color once applied to my sculptures appeared significantly more saturated than expected. The colors' intensity suggested a dream-like, unsettling strangeness that I hadn't anticipated but contributed to the sculptures' impact.
LB While parts of your sculptures are fabricated, your work is also often comprised of numerous small, labor-intensive, hand-made pieces.
RD The thousands of small gestures—pressing, touching—required for each sculpture give the labor a devotional quality. I saw my parents do a lot of work with their hands, and I was introduced to clay through my mother, who taught art and studied ceramics. I feel connected with clay as a material in its lack of constraints.
LB What sort of constraints does it help you avoid?
RD It creates the conditions to release myself from obsessive self-judgment. When working on an installation or sculpture comprised of hundreds or thousands of parts, I can focus on the task at hand rather than on a paralyzing feeling of watchfulness. Incorporating so many small parts also means that a viewer can't perceive all aspects of the work, which makes it harder for the work to be fully known, even to me.
LB It's striking, too, how those small parts are often strewn about on the floor in your installations.
RD I like the fluidity, ease, and expansiveness of working on the floor, as well as the way the viewer's eye travels across this horizontal plane. Though city dwellers often associate the ground with trash, my upbringing in Hawai`i makes me associate horizontality with land, natural growth, and the ocean.
LB That makes me think of the way your work often contrasts planar, architectural forms with biomorphic, vegetative ones.
RD The planar forms allude to human attempts to control nature, and those forms' simplicity allows for familiar associations: house, cage, trunk, crib, tomb. Many of the structures I've built are based on eighteenth-century schematic drawings of British and French botanical transport carriers. The French drawings can be quite visually appealing; I've found striking watercolor versions that depict the containers in a pastoral setting. In contrast, the British drawings are straightforward, detailed ink drawings. For Southern Oceans (2018) and the work that preceded it, Botanical Cage and Perimeter Wall (2018), I asked a carpenter friend to build two wire and wood containers from a 1774 drawing by the British naturalist John Ellis; the containers were designed to transport living breadfruit trees from Tahiti to Britain.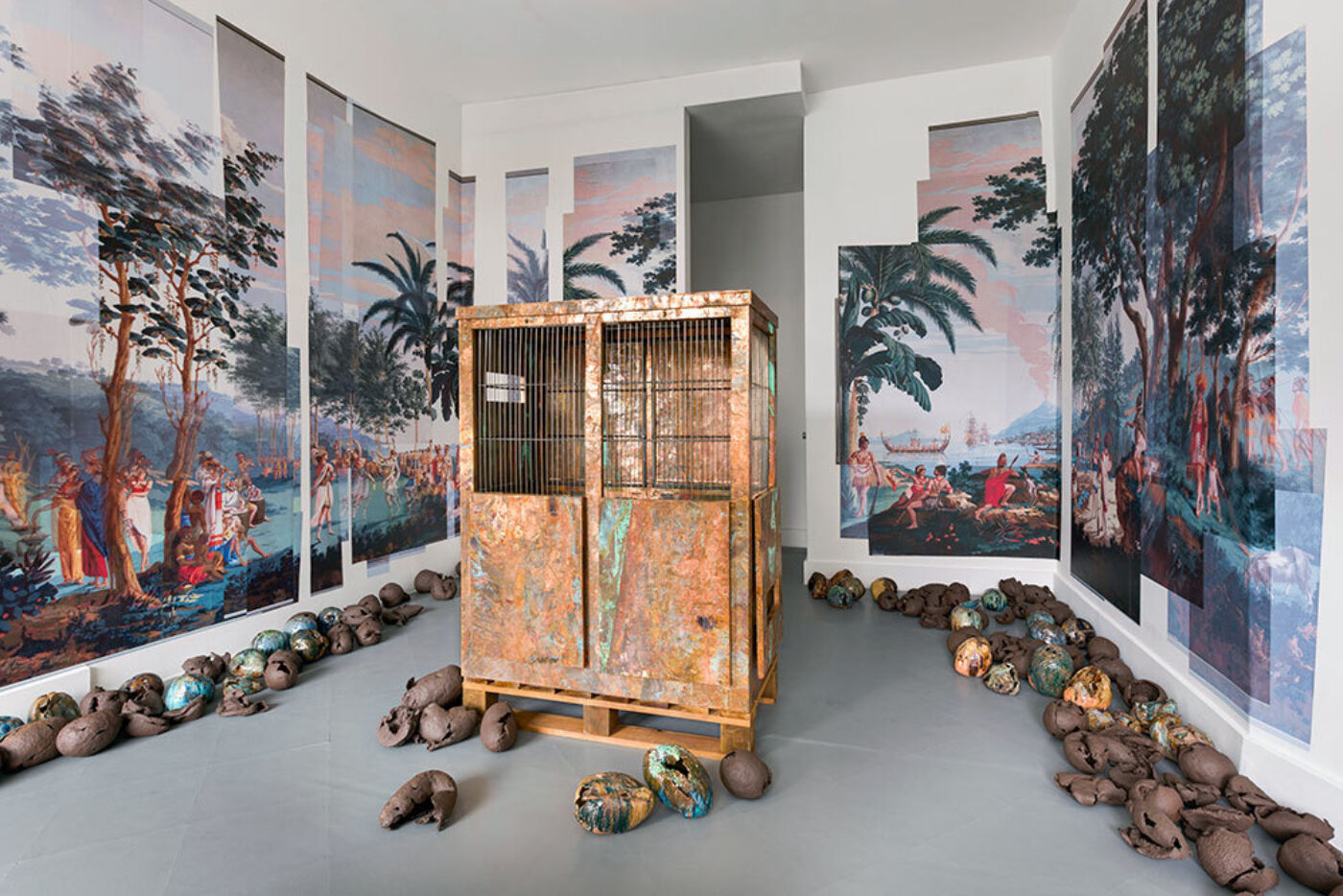 LB How does your use of containers relate to colonialism's ongoing legacies?
RD The containers I reference were designed specifically for British and French expeditions to the Pacific. These scientific and territorial quests in the "Second New World" were underwritten by profits from slavery and colonial trade, and aided by navigational advancements, including calculations of longitude. These voyages are part of a history of extractive missions, propelled by early deforestation and environmental depletion within Europe, and abetted by insatiable greed. Scientific research led to faster ships, more accurate maps, and increased yields and extractive capacities, in tandem with slavery and exploitative labor conditions. In order to understand today's environmental crisis, I find it crucial to examine the ecological legacies of colonialism. The scholarship of Richard Grove and others shows how early Caribbean literature, from the mid-1600s onward, sounded the alarm about changes to rainfall levels, fresh water supplies, and soil erosion as a result of sugar cultivation's destructiveness.
LB In addition to its historical references, your work often references aspects of your upbringing in Hawai`i.
RD I've tried to connect myself broadly within the world, in opposition to the education I received growing up, whose contents and relations were determined by America, the metropole. Considering connections and entanglements across time and space gives me a deeper understanding of myself and my family history.
LB Who or what are important influences on you?
RD When I was a child, one of my mother's paintings of an abstracted figure frightened me terribly. She hung it at the end of the downstairs hallway where there wasn't much light, and I remember being afraid to go near it. I recognize now that it's a great painting. I had such an early artistic start due to her influence and guidance, especially with drawing and clay, although my first memory of doing art outside our home is associated with shame and a feeling of panic that I had done something wrong because my work stood out differently from the rest of the class. To this day, similar feelings recur with every exhibition. I studied with Nari Ward in Hunter College's MFA program, and he enabled me to recognize that the aspects of a work that disturbed, frightened, or embarrassed me, the parts I wanted to push away and abandon, were essential to the work.
LB How do you understand your work in relation to cultural or art historical categories?
RD When I look critically at visual work from the past, particularly art objects associated with colonialism, I consider the artists' involvement, as well as their methods, materials, and context. I try to question techniques of observation and mimesis that are part of art training and have been integral to the development of the natural sciences, including botany and anthropology. Jean-Gabriel Charvet's and Joseph Dufour et Cie's French colonial wallpaper Les Sauvages de la Mer Pacifique (1804–5), which I digitally reconstructed in previous works, was a panoramic spectacle of the Pacific created for European and American homes in the early nineteenth century.
LB It's crazy to think that was once hung as wallpaper.
RD The designers appropriate the scientific language of the period—such as botanical illustrations, topographic coastal drawings, and anthropological studies—to legitimize heavy-handed colonial mythology and its racialized hierarchies. My version of the wallpaper includes glitches, gaps, and mismatched layers built up from the photos I took with my phone when I first encountered the original at the Philadelphia Museum of Art in 2011. I wanted to break down the original and reveal its figures and landscape as constructions, fantasies, fallacies.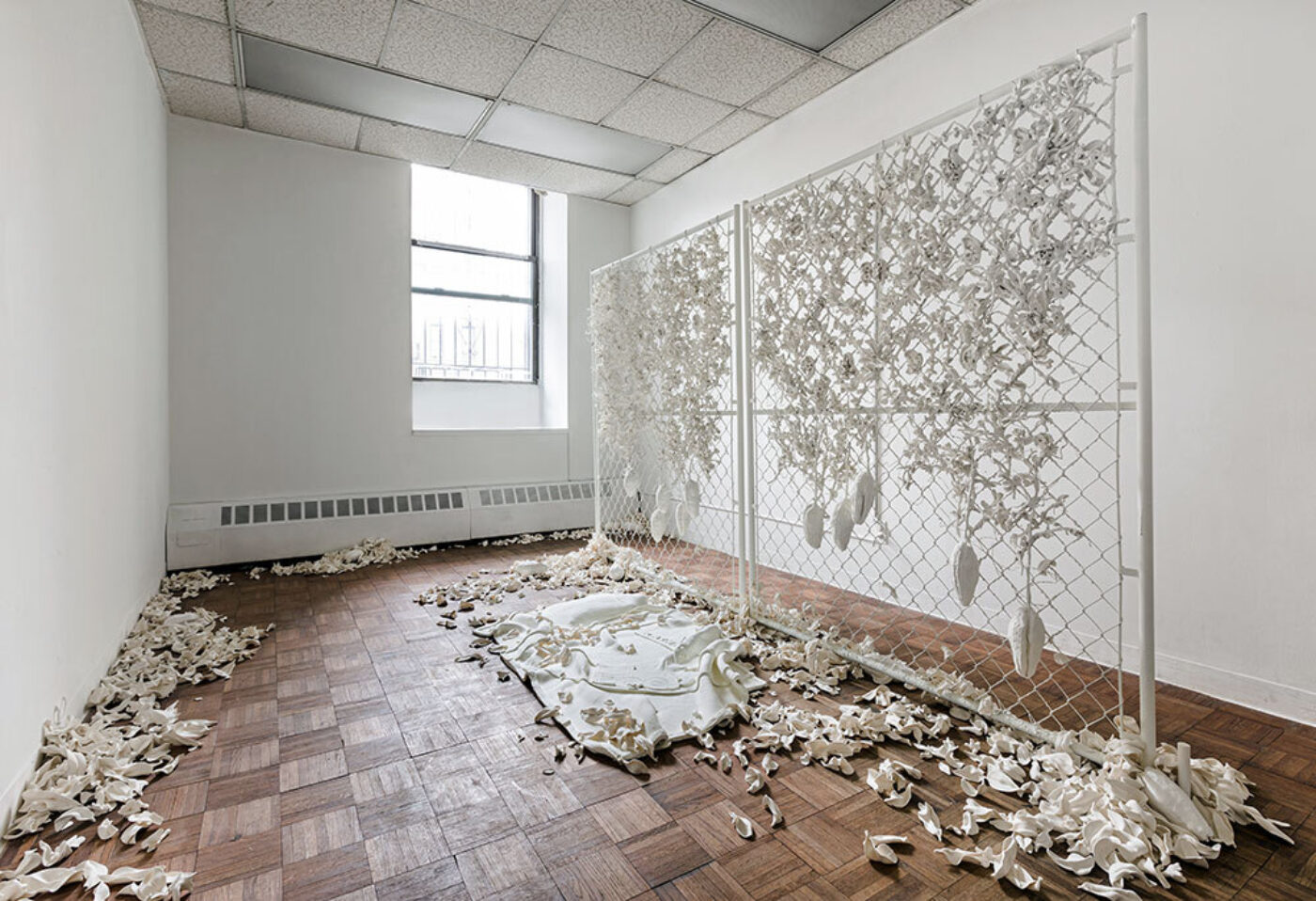 LB What kind of cultural work can art do with respect to the past, present, or future?
RD I don't simply want to use art to assert my own position in relationship to colonialism, but also to enable viewers to deconstruct the past for themselves. When the work activates the viewer's imagination, there's opportunity for their agency to be inspired. The cultivation of an interior life through art is a way to generate joy and purpose apart from a culture of excessive consumption. I feel art demonstrates that a different kind of self-realization is possible, and for me it's an opportunity to have a public voice and contribute to issues that I feel are underexamined.
Rachelle Dang's work can be seen in the group exhibitions Where the Threads Are Worn at Casey Kaplan in New York City until April 24, and Barbarian Days at Fergus McCaffrey in St. Barth until June 1.
Louis Bury is the author of Exercises in Criticism (Dalkey Archive Press, 2015) and is Assistant Professor of English at Hostos Community College, CUNY. He contributes regularly to Hyperallergic, and has published art writing in the Brooklyn Rail and Art in America, as well as creative writing in Boston Review and The Believer.