Discover MFA Programs in Art and Writing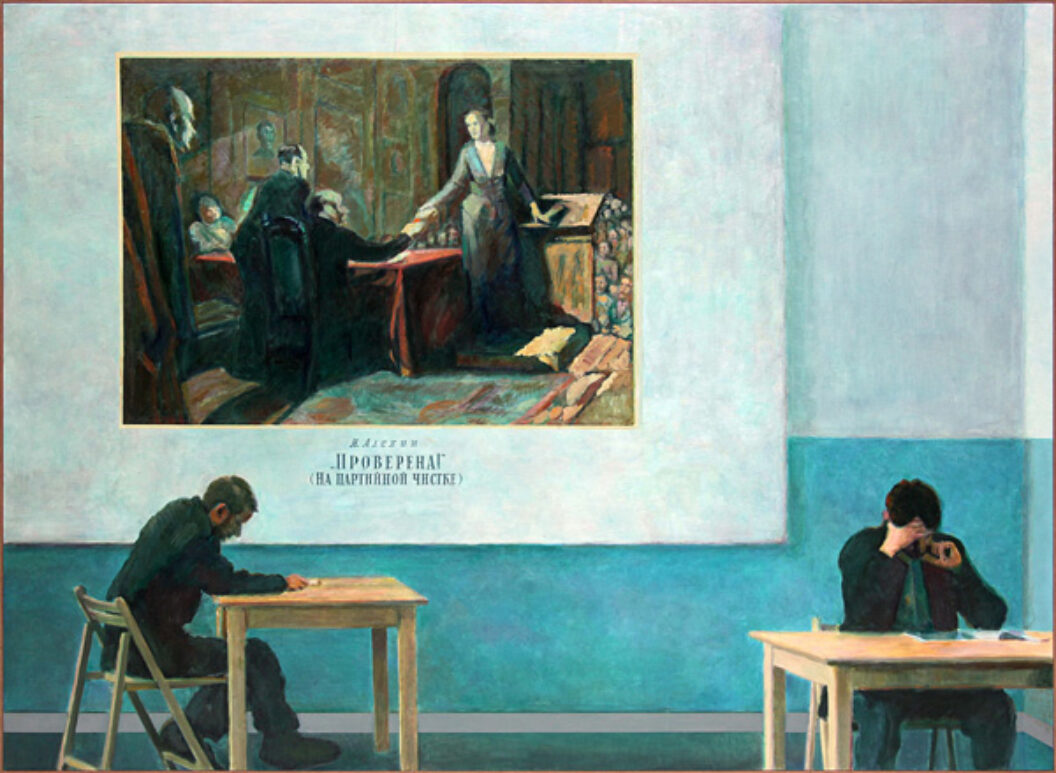 The stairs I climbed to Ilya Kabakov's rooftop Moscow studio in the autumn of 1987, wafted of sounds and scents from the communal apartments at each landing. More than two decades later I followed Ilya and Emilia Kabakov, now partners in life and art, from their longtime home and studio on Long Island to a dizzying new Moscow, for a film about their art. On the occasion of their inaugural exhibition at the Pace Gallery in New York, BOMB invited me to talk with Emilia Kabakov about their work.
Amei WallachAmei Wallach Though you have often shown in New York in other galleries, museums, and public spaces, this is your first exhibition at Pace Gallery. There is one installation, but it's basically an exhibition of paintings. Do you think that this will come as a surprise to New Yorkers who were transfixed by such installations as Incident at the Museumor Water Music, The Bridge, and Palace of Projects?
Emilia Kabakov I don't think it is a surprise to New Yorkers to see paintings. We have presented many exhibitions focused on painting, and a retrospective of Ilya's paintings was presented by the Sprengel Museum Hannover in Germany and the Henie-Onstad Art Centre in Norway in 2012. Ilya has never stopped painting. The majority of our exhibitions, even if they are focused on installations, include at least one painting. Whenever there are more than three paintings it is already considered an installation of sorts whether it is done by the artist, a director, or a curator. In our show at Pace there are seven paintings and one installation, I Catch the Little White Men. Maybe it is a surprise to some, but it is very difficult to surprise New Yorkers.
AW What was the role of painting in those installations?
EK The role of the painting is the same as the role of color, sound, and object. We are trying to create a very specific atmosphere in each installation. We often tell students: you can use everything in an installation, but you need to approach installation the same way you approach painting. The result has to be thought of as painting in multiple dimensions. The viewer needs to be engaged and immersed when he or she enters your installation.
AW At the height of your engagement with the kinds of installations most identified with you—Ilya called these "Total Installation"—he described the role of painting this way: "In Total Installation, what is important is not only the objects, paintings, or drawings, but the proportion of color, the dimensions; all the elements play a role. The combination of the object and the space, that is the important art material of this genre." Of your painting installation The Gates, for which you transformed a painting gallery at the Pushkin Museum, Robert Storr commented that it showed how even an exhibition of paintings was an installation. Has your and Ilya's view of painting altered?
EK No, we still have the same point of view on painting. The role of painting has always been important, be it a separate painting or one used as an element in installation. But if you accept the point of view that installation actually is painting in three dimensional form, you start to see both mediums, painting and installation, differently.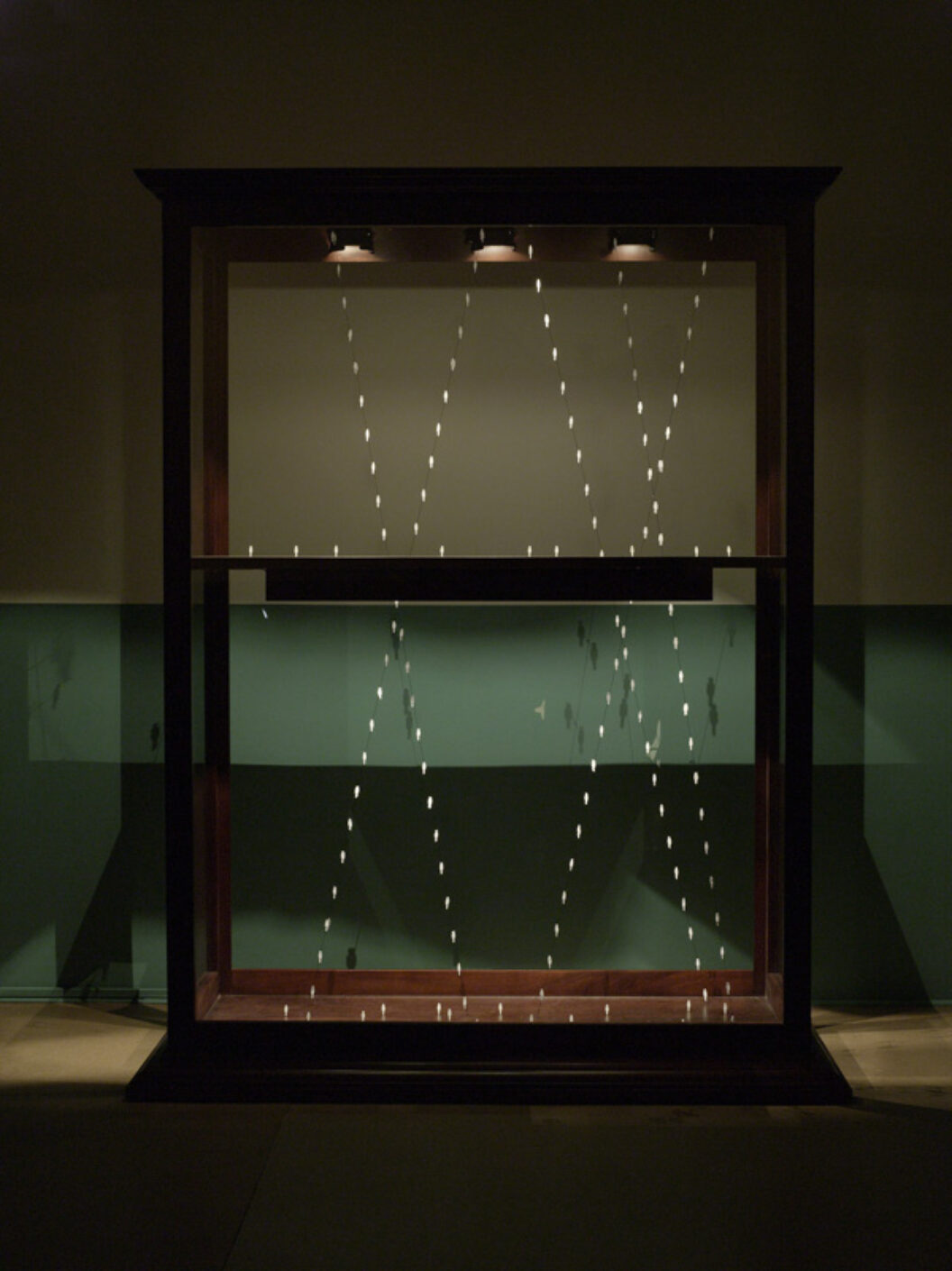 AW Can you explain Ilya's concept of the Great Arc of his paintings from the seventies to 2013, and the five acts it encompasses?
EK Ilya has a way of categorizing his paintings from the 1970s to the present, in what he describes as "The Great Arc." The Great Arc is conceptual and divides work into four "Acts," similar to a theatrical drama based on its degree of illusion and reality. At the beginning of the arc in Act One, you see white paintings with small elements of reality. In Act Two, the elements of reality increase. By Act Three, reality covers the entire surface of the painting. Toward the end in Act Four, darkness, which is not the same as black, begins to seep in; and by the last act darkness covers the entire surface of the painting.
AW Ilya and Emilia Kabakov: Enter Here uses a long letter, a kind of memoir, which Ilya's mother wrote to him about her incredibly difficult life in the Soviet Union, as a way into his history. How do you think his mother's life, and his own Soviet experience, shaped his art?

p(a). EK His mother's life shaped his personality but has nothing to do with his art. It made him more sensitive to people's misfortunes and state of mind. Sensitivity has stayed with him and is part of his nature. The ability to be empathetic and feel what other people feel also stayed with him. But we cannot say his mother's life shaped his life. She was very insecure, and I think a lot of his fears and insecurities come from having watched his mother suffer. But his own life was based on an enormous desire to belong to the world of culture. That is what shaped his mentality and has influenced his art the most. The Soviet experience has also influenced his mentality but only secondary to his longing for culture.
AW In the 2012 painting The Window into My Past at Pace, we see two figures at the kind of tables that commonly appear in your installations. Reproduced on the wall is Ilya's 1981 painting, Tested!. The reproduction is of another reproduction, Ilya's faithful Social Realist rendering, in color, of a small black and white painting that reminded him of a time when his mother came before such a tribunal. Could you explain that 2012 painting?
EK This painting is a triple layered memory. It is based on memories of the past, and is multi-leveled as our memories are multilayered. It is actually a painting of a painting Ilya first created in 1981 that was based on an original work made in 1936 by a Russian artist. You can see layers of three different paintings that come together in this one work. It is difficult to explain a painting, always better to look at it. After all, painting is a visual art.
AW When I met Ilya in his Moscow studio in September 1987, he was about to make his first trip to the West, and his big concern, having been marooned for so many years as an unofficial artist in the middle of Moscow, was how his art would measure against the wider stream of art history. It seems to me that art history is still on his mind, except that now it is the great masters of the past that concern him. He once said to me that you can't be Roger Federer unless you play at Wimbledon. What's his Wimbledon? What does painting have to do with it?
EK He always was and still is trying to play in the big leagues. He means that you can play soccer or tennis with your friends in the backyard, but then you never will be professional. For him, the old masters are the elite and the museum is Wimbledon.
AW Since the eighties, Ilya has been appropriating the sunny images of daily life that were everywhere in the Soviet Union, on postcards, posters, magazines, films. The subversive subtext was always the dreary, scary reality of Soviet life, which skewed the meaning of the hollow uplift. Have those images become part of his painting repertoire, a way to delineate false dreams of any ilk, which he employs to this day? They make their appearance in some of the recent paintings at Pace, particularly in fragments, or as trompe l'oeil collage through which one sees something else.
EK Those images represented everything that was wrong in the Soviet Union. They were selling a dream, a fantasy about life in paradise, when in reality people were living in hell.
The concept behind Ilya's work was the discordance between the text and the image. His paintings are based on an intellectual concept. Ilya first visualizes or dreams a painting and then works to achieve what he has envisioned.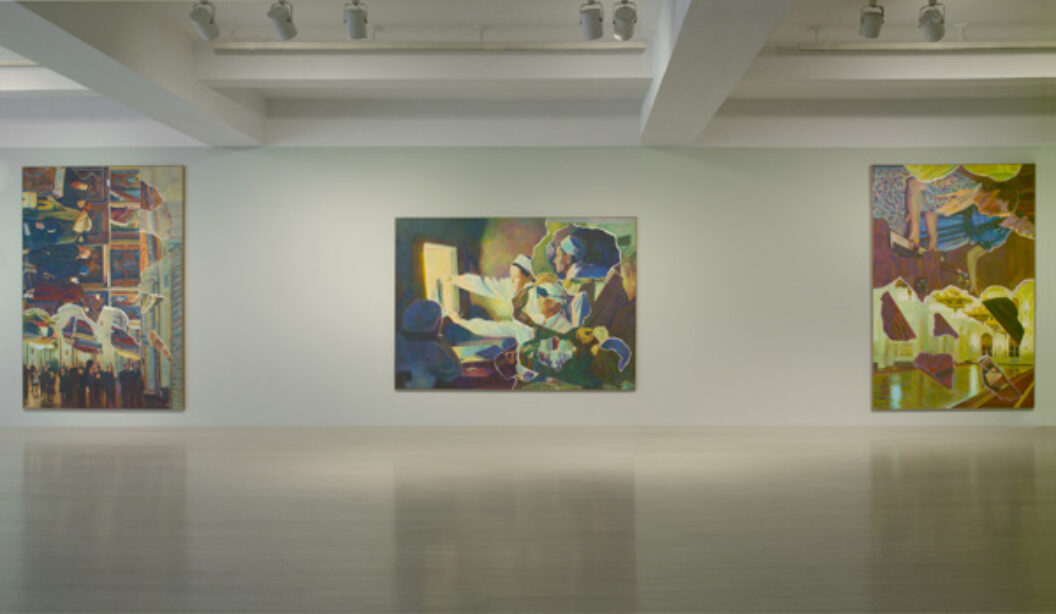 AW Tell us about The Ship of Tolerance, which has been moored off Brooklyn, and circled Manhattan island last month. This is a vast international project. The children who make the paintings that become the sails for the ship, which Ilya designed, are the ones who confront their dreams and situations at the beginning of the process, in the way that Ilya intends a viewer to do at the end, in the presence of the installation or painting. Is The Ship of Tolerance, to a large extent, your vision?
EK The Ship of Tolerance has now been created eight times in various cities around the world from Siwa, Egypt to Havana, Moscow, and most recently New York. Much of our work has to do with the division between fantasy and reality, and in this project the idea of tolerance and everyone coming together in collaboration narrows the margin between what we hope for and what is possible. We do believe that it is possible to change the world by training the future generation to respect cultural diversities, human values, and simply each other.

p(q). AW The film, Ilya and Emilia Kabakov: Enter Here, ends with Ilya saying that he is interested in exploring the border, "between reality and the dream." On the surface, at least, reality was one thing in the Soviet Union, another when he first came to the West, and yet another now as he marks his 80th birthday. And dreams, it would seem, are as various as the people who entertain them. Does anything remain the same?
EK Our need to live in a state between reality and fantasy remains the same, despite the reality and despite the dream.
AW And now you are preparing for a mammoth exhibition at the Grand Palais in Paris in May 2014. You and Ilya will become the latest in an elite constellation of artists to mount a "Monumenta" exhibition there, following Anselm Kiefer, Anish Kapoor and Daniel Buren. What can we expect to see there?
EK We are looking forward to our installation for "Monumenta," which will be our largest to date. We are trying to create a different space where people have to stop running, think, and contemplate their life, the past, the future, and the present. Everything else has to remain a mystery for now. Just come see it in May.
For more on Ilya and Emilia Kabakov visit their website. Ilya & Emilia Kabakov is at the Pace Gallery through January 25, 2014.
Amei Wallach is an acclaimed filmmaker, art critic, journalist and curator. In addition to Ilya & Emilia Kabakov: Enter Here she was co-director and co-producer, with Marion Cajori, of Louise Bourgeois: The Spider, The Mistress and The Tangerine in 2008. She was chief art critic for New York Newsday and on-air arts commentator for the MacNeil/Lehrer Newshour.