Embodying Interior Lives: Dawn Cerny Interviewed by Emily Zimmerman
Sculptures as actors, props, and sets.

Discover MFA Programs in Art and Writing
Dawn Cerny: Les Choses, currently on view at the Seattle Art Museum, draws inspiration from Georges Perec's 1965 novel of the same name about a young Parisian couple who constantly remake themselves in a search for "the good life." Like the couple, the objects in Les Choses are shaped by interior lives that convey material ambition, exhaustion, and precarity. With empathy and slyly humorous critique, Cerny's sculptures pull the viewer and surrounding space into telescoping folds of relationality.
—Emily Zimmerman
Emily Zimmerman In Les Choses Georges Perec describes a couple whose life has been "a sort of endless dance on a tightrope which led nowhere." Could you talk about the relationship of the Perec text to your exhibition?
Dawn Cerny I came across Les Choses thinking it was a different book. Which is always very exciting. This text represents a dollhouse way of looking at a couple who were aspirationally gravitating toward objects as a way of constructing their adult identities. They're constantly in search of the things that might make them who they want to be. Sculpturally, I love this book because there are so many descriptions of objects.
As somebody who loves looking as a form of reading, I was drawn to the way the reader is encouraged to read these characters reading objects, which Perec is describing. There's a sensual quality to this book and to the world that's being constructed. At a certain point you see the couple joining political groups in their desire to have something more. What they want are creature comforts and a life of elegance, but they also want their lives to have substance. I read this book before the pandemic and thought of it during all the upheaval after George Floyd's murder. What does it take for a comfortable person to choose discomfort for the greater good? This story mimics the way that a certain kind of young person struggles with the expectation of how they think their lives should be, and then something happens that causes them to question their assumptions about where freedom or worth reside.
The exhibition deals with my fascination with the ways that objects in homes embody the interior lives of people—psychologically, economically, politically. The objects that I'm making are drilling down and further embodying forms about weariness or aspiration along with the gestural motions of being in a home, how you place things, and where you absentmindedly put things—the contingent tendencies of a home.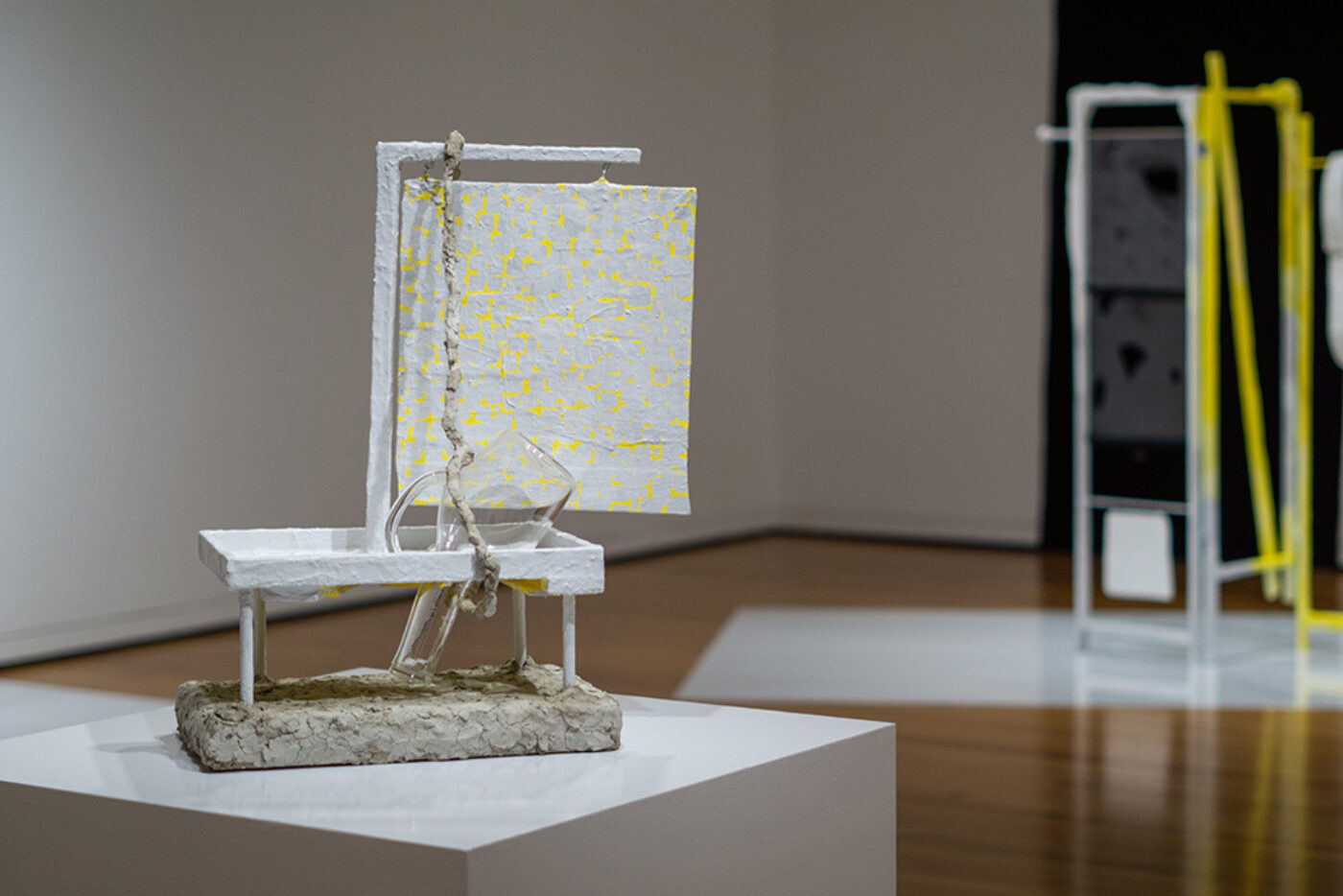 EZ I found the exhibition design for Les Choses deeply striking. Are those spatial relationships based in poetics or politics?
DC How do you poke holes in an institutional space while acknowledging that you are part of the institutional space? For me, this understanding of manipulating space comes from theater. I talk in theatrical terms about these sculptures: as actors, or props, or a set. I do this when I talk about the home as well. For this show I knew that there weren't going to be very many people in the gallery because of the pandemic, so I thought about the viewer as part of the play and really getting to choreograph how they moved around the sculptures. Many of the sculptures are sitting on white vinyl on the ground, and the vinyl becomes the pedestal.
The white cube is not a hospitable place. I often create a kind of fake window, vent, or a "door" to get out of the space or to feel that the work is pushing out of the space, like in a painting. There's this kind of Warner Brothers cartoon idea of painting a hole on the wall as a way to feel like you can get out. But really, you're just going to smash up against it.
EZ Thinking about these objects as actors, I was wondering how you title your pieces?
DCThe titles are evocative short stories. The title often signals a way that I want the work to be looked at. Sometimes they specifically relate to different kinds of people—like the sister or the bachelor. I'm also thinking about a kind of inherited family or a kind of genetic ancestral relationship to the long reach that certain characters have in families. I think that the titles work on leveraging that feeling of something familiar.
The titles also point toward history, like Lake Eden, which was the lake at Black Mountain College. There's a conversation in the exhibition about exodus as a political and generational force. Black Mountain College was a home for artists who had left Europe during World War II for the United States and where they merged into a place of cross-pollination. These objects are always thinking about other histories and other ideas, and the titles are this way to latch it into the sensation of those things.
EZ Is there a reference to the formal language of the Surrealists in the sculptures?
DC There is a reference to the uncanny. When I think about automatic writing, I think about how it creates a net of connection to make sense of something past comprehension, and I can't help but connect Surrealism as a response to World War I and the Spanish Civil War. There's something that I keep coming back to consciously and unconsciously about that time in history that witnessed catastrophic horror and the ways artists used humor, game play, and the grotesque in order to comprehend it or cope.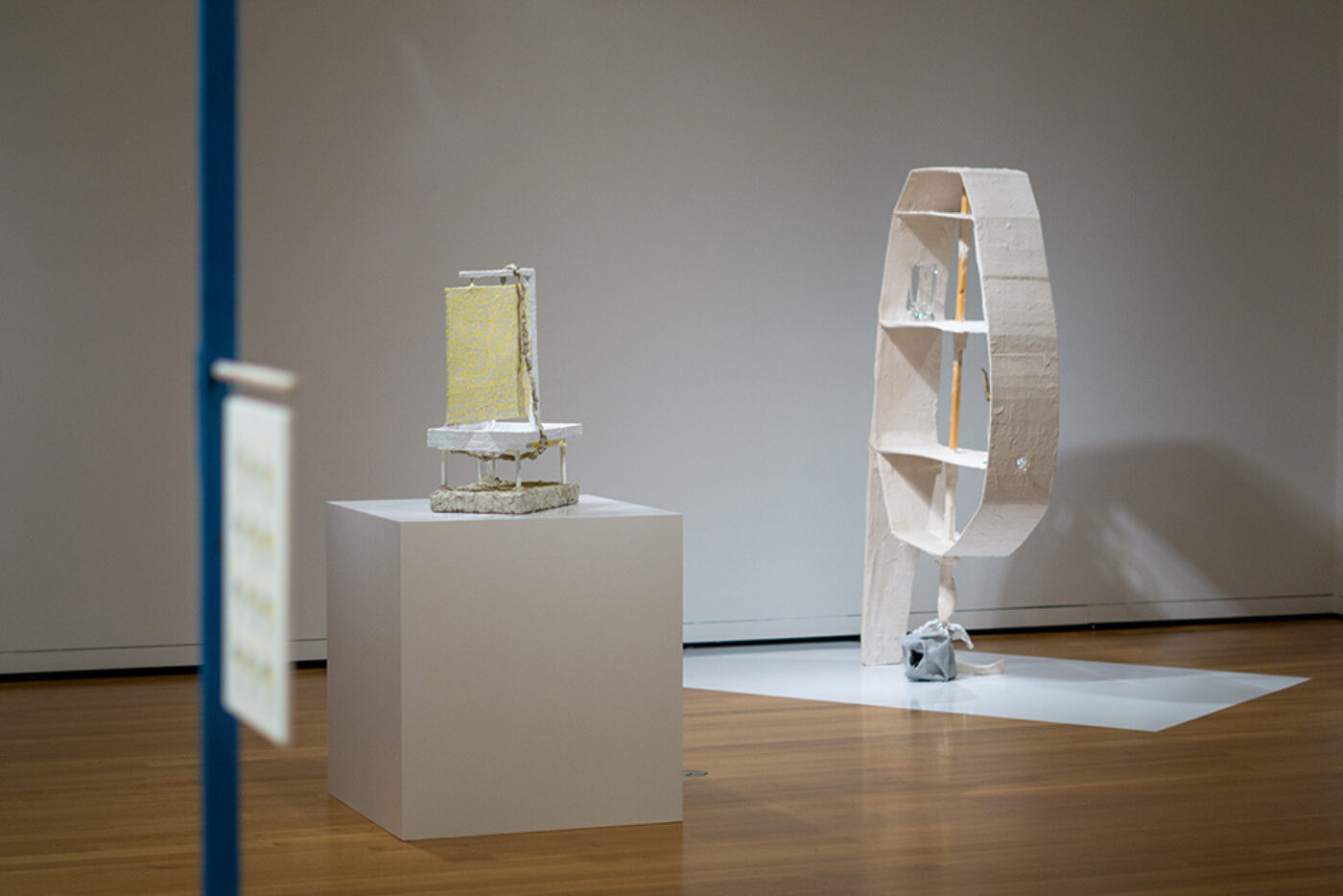 EZ Les Choses feels resonant in processing some of our recent history. I was curious about the mix of materials used. Do they differ from materials you've used in the past?
DCUp until now, the constructions would be made of a certain material, and there'd be found objects that would be staged consciously or unconsciously, ambivalently or really purposefully, on the sculptures themselves. A couple of years ago, I realized that I could author the things that the sculptures were on—that a sculpture could occupy another sculpture. At that time, I was curious about expanding my material vocabulary from handicraft hobbyist to something slightly more expensive. To construct things, I use very fast, provisional materials, mainly because I'm working within my own economy. I'm interested in seeing if my eye and my hand can refine really affordable materials into something valuable just by the effort of my hand and head.
That process has a very specific temperature to it, and I've been interested in other materials that I could use to change the temperature. I was asked in 2019 to do a residency at Pilchuck Glass School and the Museum of Glass. I chose to make drawings of objects I wish I could find at estate sales, and I worked with the gaffers to fabricate a series of coat hooks and vessels in glass. There's a luxurious quality to glass, but it's also a known, mass-produced thing. It can do interesting things to light, and it can be quite invisible. I was interested in using a higher material within the sculptures to see what that would do to them. I think living in the Pacific Northwest, I was just interested in seeing if I could make an argument for glass within the set of things that I'm interested in as a sculptor.
EZ The first piece the viewer encounters in the exhibition is balancing on this tiny glass point. It sets the idea of contingency as a starting point for the exhibition.
DCThe fact that the glass is the thing that's holding the thing up? There's a poetics there for sure.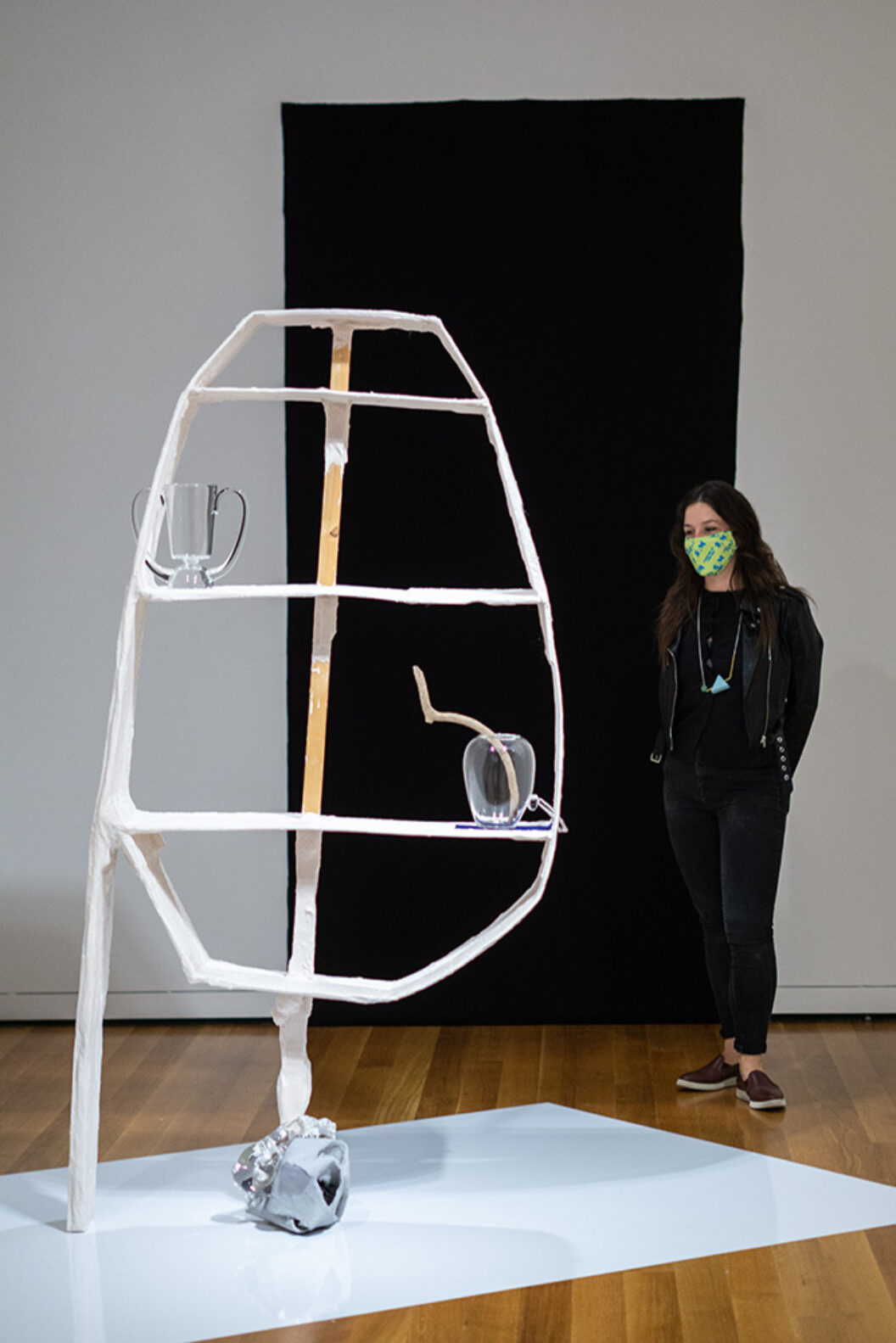 EZ There's action built into the exhibition, not only within the sculptures themselves and in the relationship between them but also moving people through this space.
DCMy understanding of sculpture is putting the human body as a scale in between this idea of sculpture as a cathedral and a coffee cup; this is sculpture understood in relation to the body and its potential for use. I'm thinking about those sculptures that Franz West made as performative pieces. It was the first time that I understood the theatrical or performance potential that a singular expressive object could have when played by the body. This is how I understand the home and the objects of the home, such as garments and jewelry. We're using them, and they're using us, for their meaning and value. I've been wild about the Omega Workshops over the last few years. Roger Fry started a shop where an artist could work a few days a week making pillowcases and lampshades in their individual style, and they would have enough money to make whatever work that they wanted in their studios. It failed after a few years, but I've been fascinated by this idea of artist-made home objects and craftspeople-made home objects and the odd hierarchies that have developed around materials and intentions.
In the Pacific Northwest where the bias is toward a refinement of craft, the surface is supposed to hold the love and the caring, and you're supposed to see it as a well-considered and completely beautiful exterior. And my work asks, "What if it's not? What if it's on the inside?"
Dawn Cerny: Les Choses is on view at the Seattle Art Museum until September 26.
Emily Zimmerman is Director + Curator of the Jacob Lawrence Gallery at the University of Washington, and the founding editor of MONDAY.