Embodied Practice: Christine Howard Sandoval Interviewed by Louis Bury
Art that addresses colonial legacies.

Discover MFA Programs in Art and Writing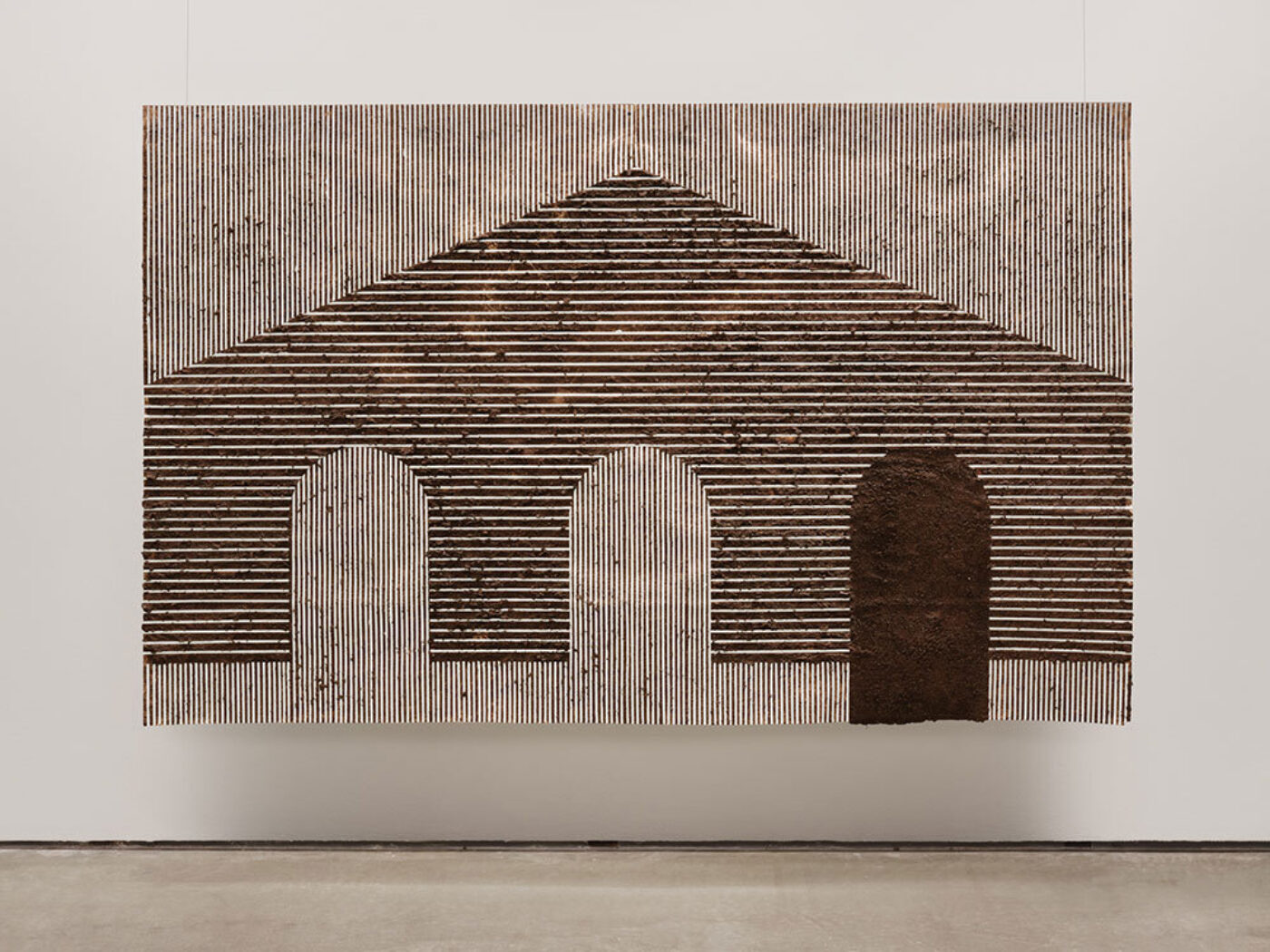 "This landscape is the physical embodiment of memory, the memory of water," explains Christine Howard Sandoval's voice-over for Live Stream (2018) while on-screen her body's shadow follows the path of a desert pipeline. The short film uses a GoPro-style head cam to document the artist's walking performances along the disappeared waterways of the Acequia Madre, in Taos, New Mexico, one of many communally shared and maintained canal-based water democracies practiced in the American Southwest for five hundred years. Live Stream presents a more immediate, less abstracted way to know the culture and its land.
For Sandoval, questions of distance and proximity are not merely aesthetic but also ethical. Through performance, video, and sculpture, she proposes much-needed alternatives to colonialist paradigms of research, cartography, and mimesis. Her most recent project, A wall is a shadow on the land (2020–ongoing), uses the material of adobe to reflect on the insidious, far-reaching legacy of Spanish missionization on her Obispeño Chumash ancestry. In its search for forms that can account for the complexities of personal and imperial history, Sandoval's work models incisive and dexterous ways to depict where North American cultures have come from and where they might be headed.
—Louis Bury
Louis Bury What's your research process?
Christine Howard Sandoval Research for me begins as an embodied practice, through walking. Walking in the same place repeatedly builds a choreography of the body. If the work is site-specific, I start by asking permission from community leaders. I record and transcribe community members' stories and turn those transcripts into voice-over scripts that I re-perform in the first-person present tense in order to provide a sense of closeness or intimacy.
LB That sense of closeness also comes across in the wobbly cinematography that results from your use of head and body cams.
CHS My background in photography, and my concerns about objectification in image making, inform these methods. I'm not interested in the process of looking and capturing, or even the process of when to start or stop recording. As I experimented with attaching cameras to my head, my leg, my arm, or my waist, the results fascinated me. The footage is very disorienting and extremely fish-eyed, like a video game. When projected, it implicates the viewer's body in a destabilizing, and not necessarily pleasant, way.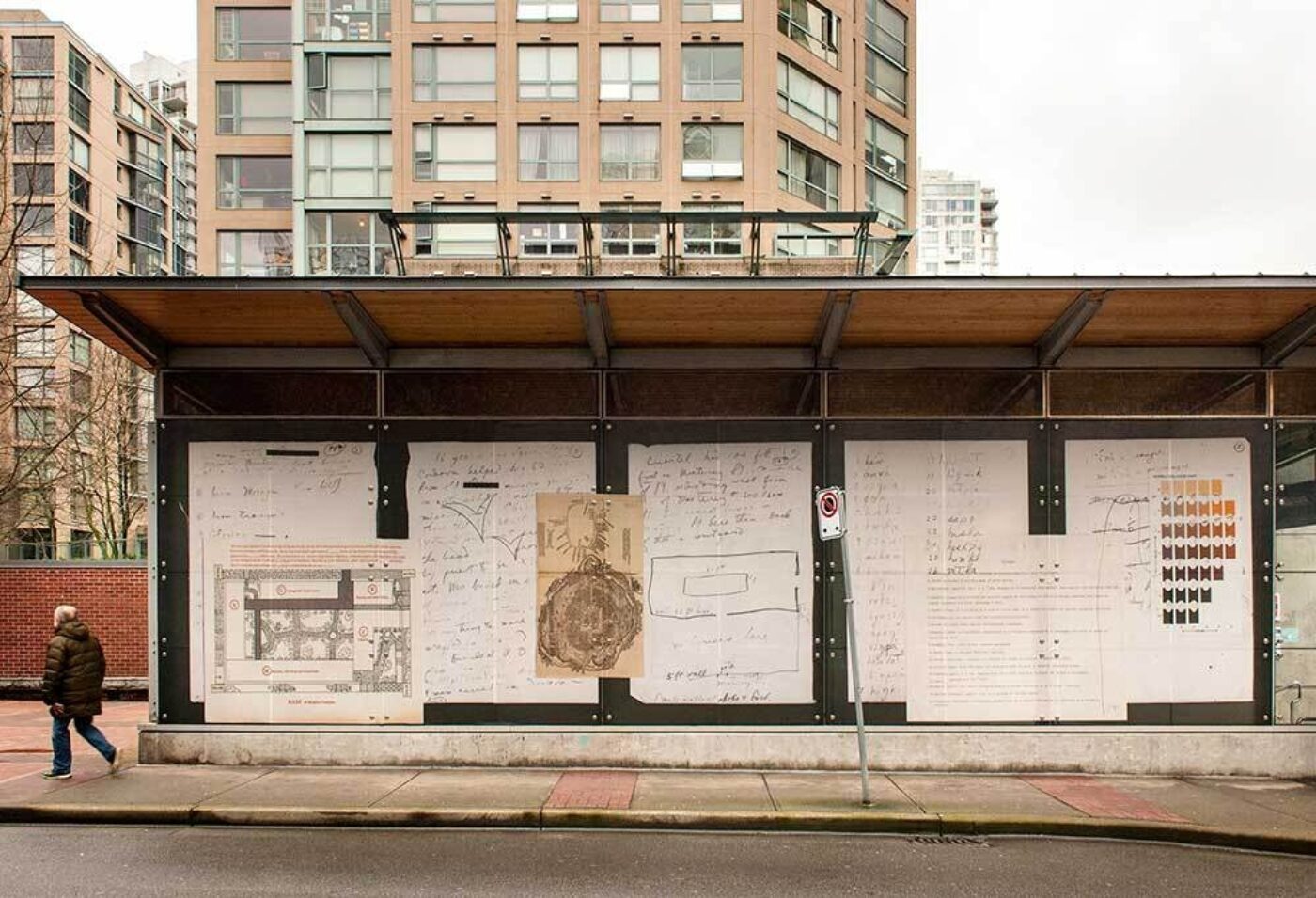 LB In other projects, you incorporate research materials into the artwork itself, such as the collage of archival documents installed at Vancouver's Yaletown-Roundhouse Station as part of A wall is a shadow on the land. Or the copyedited voice-over scripts you've displayed alongside your films.
CHS I really like seeing traces of the editing process. The edited scripts are also visually interesting, like looking at a drawing. What gets removed is sometimes just as interesting as what remains in the final work.
LB How have your methods developed over time? It feels like you try out methods in certain projects, such as 30 Days Being a Civilian Body Camera (2016), then refine or extend those methods in subsequent projects.
CHS Certain projects are entirely about refining practice. 30 Days, in which I wore body cams for a month whenever I went out in New York City, is one of them. It was a way for me to resume working after my son was born when the Black Lives Matter movement was in full force, and also the NoDAPL movement was growing. I was a new mother and holding two jobs, so I used the in-between space of my commute as time for practice. The subway and the sidewalk became my studio.
LB That's ingenious on both a logistical and a conceptual level.
CHS As a Brown woman living in New York City, I wanted to know what it meant for me to be wearing a body camera in public. It was intense; people were either passively offended or would engage me in conversation. Adrian Piper's Catalysis (1970–73) was an influence; I'm impressed by how she creates a philosophy for herself through her work.
LB It feels as though you've recently refined your own working philosophy.
CHS Yes, and an important part of that is my use of adobe, a material I hadn't used until my CHANNEL (2016–19) project.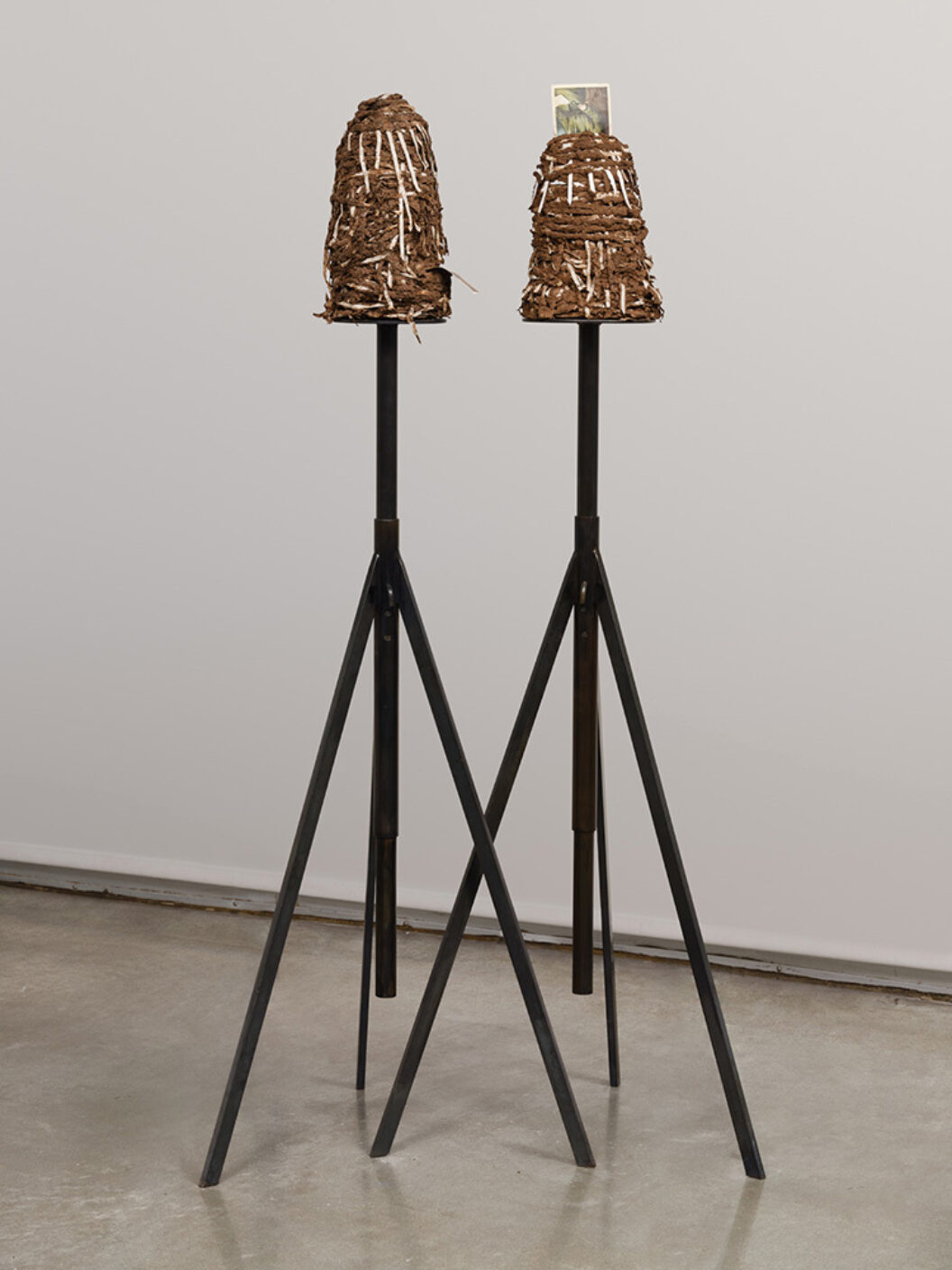 LB What is adobe as a material?
CHS It's an architectural material made from the earth that has a high clay content. It's a very efficient material: the bricks help keep spaces cool in warm weather and warm in cool weather. But it's also a material that needs frequent repair—a manifestation of how people inhabit desert land. And, personally, it is meaningful on both sides of my family. My grandmother on my mother's side was an adobe brick maker in New Mexico. My father's side is Indigenous from California, where Spanish missions were made using Indigenous slave labor. The bricks are material traces of that labor, a kind of archive.
LB Had you made work about your family before?
CHS Not until I returned with my mother to her village in New Mexico as part of my 2016 residency at the Santa Fe Art Institute. My mother hadn't been back there since she was sixteen; it was a traumatic place for her. Us walking together on that land became a bridge for our relationship. Until then, I had been distanced from my family.
LB That's powerful—thank you for sharing. Can you say more about alienation in its personal or artistic manifestations?
CHS Alienation has been a dynamic on both sides of my family for generations. There are different reasons why, but it all stems back to racism and colonization. Both my parents moved away from their homelands and even disconnected from family as a mode of survival. It impacted my sense of belonging and my ability to locate myself in places I considered home. My artistic interests in habitation and identity read to many observers as Eco art because it takes up issues of the land. The term "Eco art" stems from Robert Smithson's term "Land art," which I believe perpetuates colonial approaches to site-specificity.
LB What is it that you distrust about the category of Eco art?
CHS My interest in ecology is based in reclaiming ancestral knowledge. There is a very specific strand within the art world that replicates colonialism through community projects. These are primarily white artists, from privileged backgrounds, who receive big grants to go into communities to which they don't belong and try to imagine ways to solve community problems such as access to water or electricity.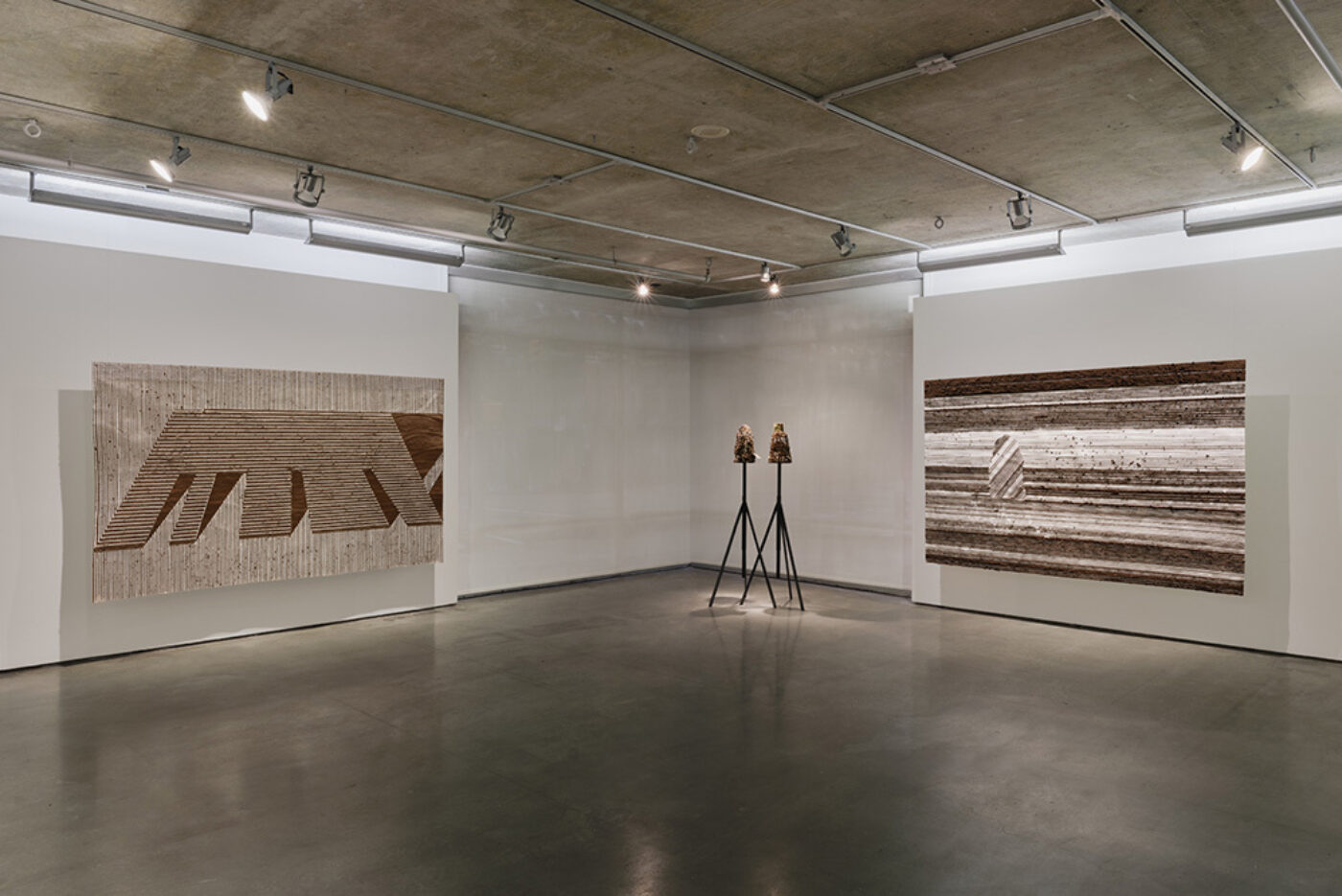 LB I recently interviewed Alicia Grullón, and she made the excellent point that there's an element of choice involved in social practice art, whereas community organizing is a matter of necessity.
CHS I'm interested in how art can give back to Indigenous communities and elevate disregarded voices while not extracting resources. My process began with repairing relationships in my family. My parents were both raised by single parents without resources and made incredible strides in their lives. I'm the first to get a college degree, let alone a master's. As my parents get older, it feels like we need to deal with the traumas they experienced. It's one of the more subversive and unspoken aspects of my recent work.
LB When people talk about intergenerational trauma it can sound abstract: colonialism, the Middle Passage, the Holocaust. But it always has quite specific, often alienating effects.
CHS That's an important part of working with adobe for me; it has become a vehicle to learn and speak about specific stories and historical events that still weigh on myself and my family. Deborah Miranda's book, Bad Indians: A Tribal Memoir (2012), which incorporates archival material, not only gave me permission but also a sense of how to intervene in the imperial project, how to find traces of our mutual culture that can be revitalized.
LB How do these concerns manifest in A wall is a shadow on the land?
CHS The drawings are a series of facades of the San Luis Obispo mission, which is one of the missions where my ancestors were in the 1800s. Mission architecture is an imperial architecture, echoed in the arches and pillars visible in Washington, DC, that we are told to think of as sacred. I was thinking about them as carceral forms, especially now with all that is happening at the Mexico-US border wall and separation of children. The drawings' reduction of form to arches and pillars speaks to the various iterations of imperial architecture that perpetuate the colonial narrative.
LB What do you see as the role of counter-narratives, in art or elsewhere?
CHS Counter-narratives need to work backward and forward simultaneously in order to undo the archive and imagine how we thrive in a future of mass migration and climate change. Indigenous intelligence and reciprocity is central to this, and art has always been the practice for testing the boundaries of what is possible.
Christine Howard Sandoval: A wall is a shadow on the land is on view at the Contemporary Art Gallery in Vancouver until May 2.
Louis Bury is the author of Exercises in Criticism (Dalkey Archive Press, 2015) and is Assistant Professor of English at Hostos Community College, CUNY. He contributes regularly to Hyperallergic, and has published art writing in the Brooklyn Rail and Art in America, as well as creative writing in Boston Review and The Believer.