Eluding the Brand: Kim Gordon Interviewed by Jane Ursula Harris
Photographs and videos of public and private performance.

Discover MFA Programs in Art and Writing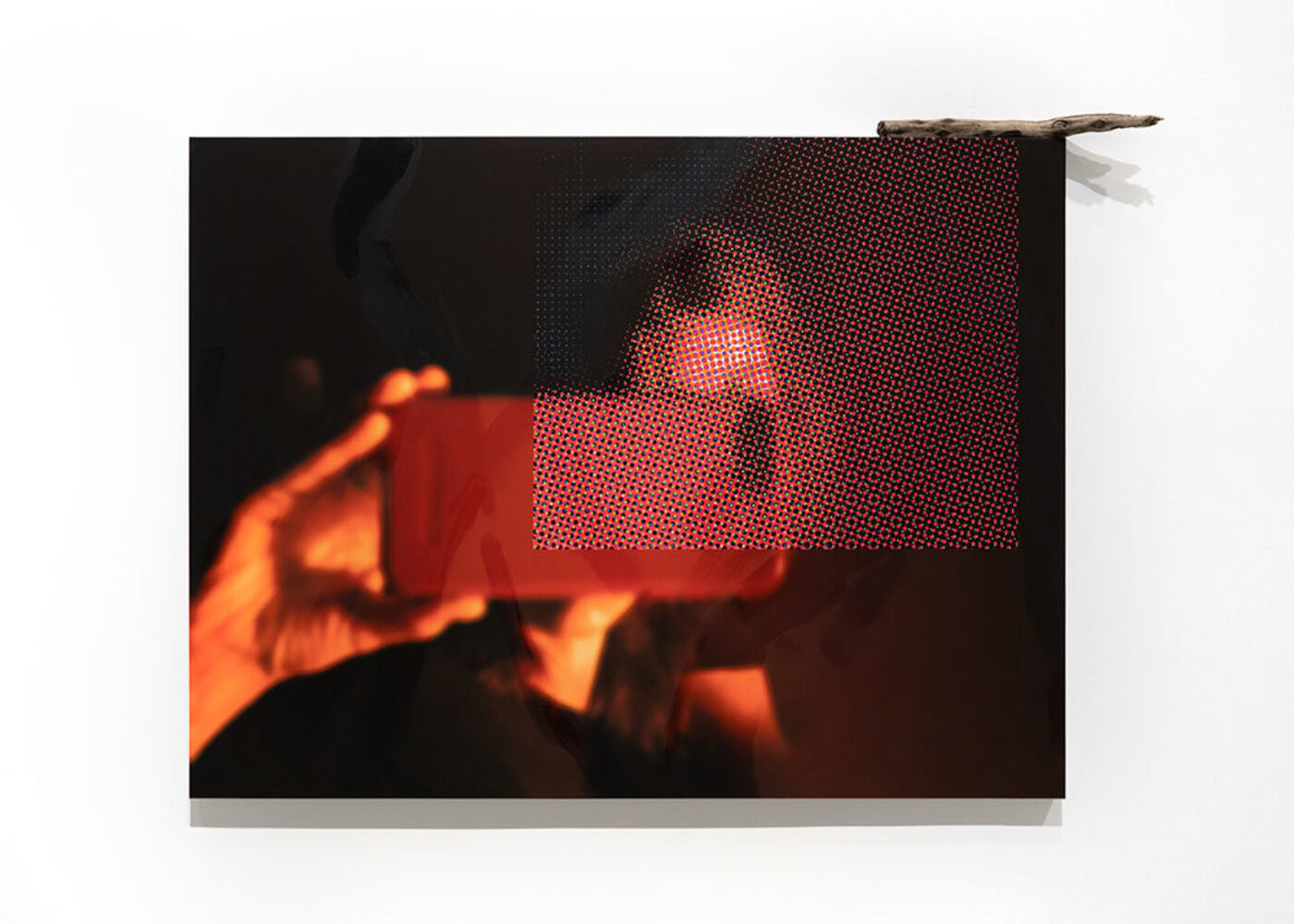 Kim Gordon's second solo exhibition at 303 Gallery, The Bonfire, brings together three provocative bodies of work that ruminate on the ever-sinister rise of surveillance culture and the erosion of privacy in our social media–obsessed age. A corporeal and intimate relationship to these issues is evident in the nuanced details and quiet resistance animating the work. If that sounds contrary to the raw, impassive aesthetic we've come to associate with the post-punk icon, it might be because we've gotten that assessment wrong all along.
The eponymous series of large-scale prints that line the gallery's walls derive from iPhone pics Gordon shot of family and friends at an annual Provincetown gathering. The prints frame a video installation, Los Angeles June 6, 2019, arranged on the floor, with eight monitors stacked like firewood in an echo of the bonfire theme. Three resin stools mimicking driftwood invite viewers to cozy up to the single-channel action where the artist-musician performs alone in the streets of Los Angeles with only a guitar and amp.
Small, ceramic female nudes ladled with slate-colored glaze and hand-molded into various states of languid repose offer the most sensual and material note to the show. Presented on round, highboy cocktail tables—the kind used for banquets and corporate catering—that are covered in black spandex, the figures' contemplative, expressionist forms remain intimate despite their sardonic supports.
Talking to Gordon about her show gave insight into the nature of such works, along with her indelible take on a moment in time that feels like a slow sink into Orwellian hell.
—Jane Ursula Harris
Jane Ursula Harris What inspired you to turn personal photos from an annual gathering of family and friends into a body of work about surveillance?
Kim Gordon I really liked the photos, the lighting, and I thought that bonfires are underappreciated. There have been so many destructive images of fire recently. Since the show was opening in January, it seemed like a good way to start out the year 2020. The lighting at first reminded me of Old Masters. Then I started thinking about how images get co-opted, as in this could be a beer commercial or something. As I thought about it more, I began considering Airbnb and how it promotes and "rents" experiences now as well as places to stay—like the cowboy "camping trip" or a photo shoot at the beach. How they advertise and what looks like an intimate getaway or experience is actually "on display," just as social media and the internet have made a platform where people display themselves and their intimate lives. There is also, of course, the obvious loss of privacy in that we are all being monitored by our laptops and phones, etc.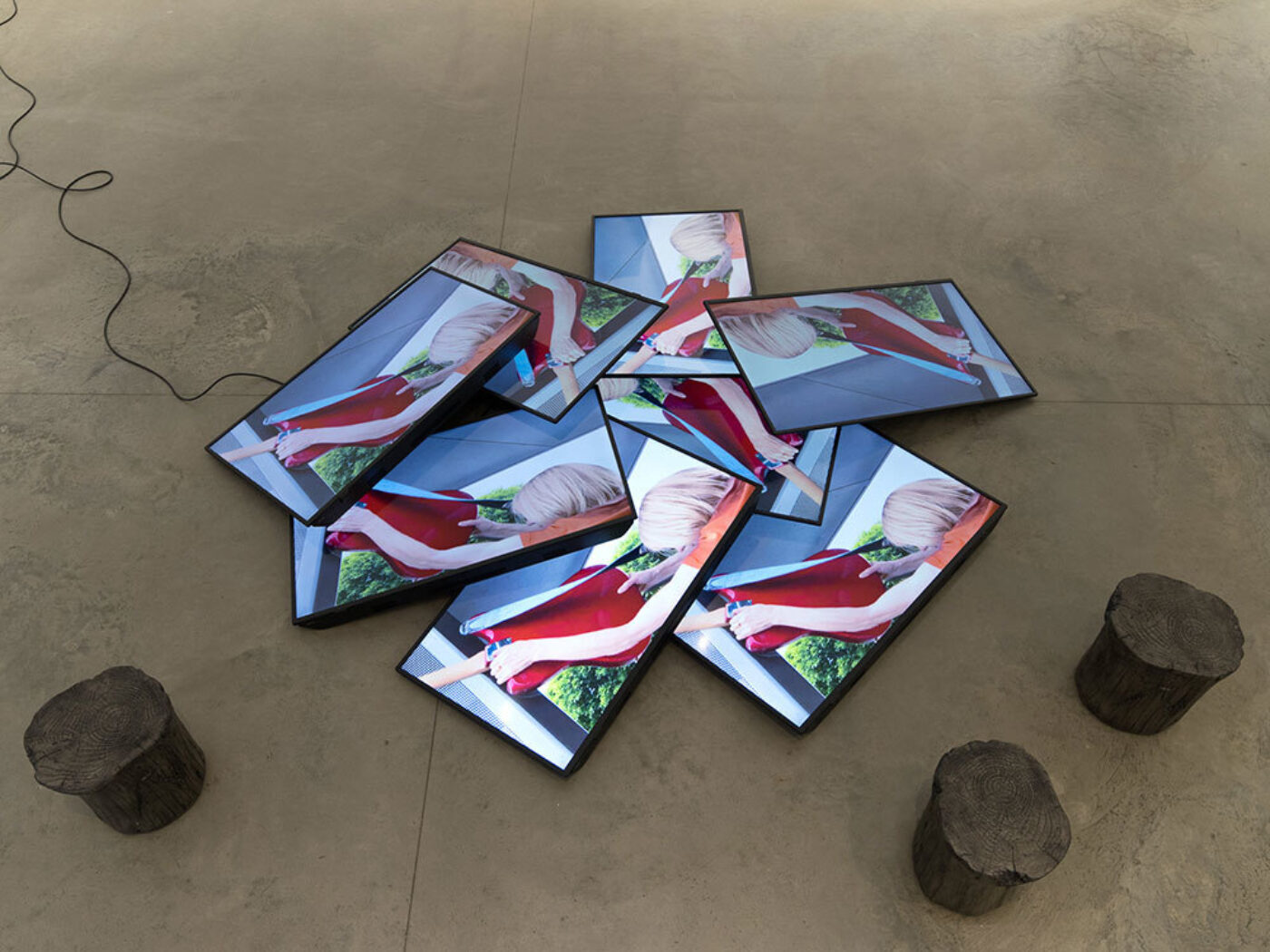 JUH What was it like performing in the streets of LA for the video component of Los Angeles June 6, 2019? It's a city where nobody walks, but it's also your hometown.
KG I felt like an alien or outsider. Most people ignored me except for the security guards.
JUH Was there a sense of homecoming, of marking your territory?
KG I always liked the way that the Dogtown skaters repurposed corporate buildings by using the stairs and rails. So I liked the idea of a building becoming a giant slide for an electric guitar.
JUH There are so many absurdist moments in your video performance, such as when you descend a mall escalator, guitar in hand, or when you play in a traffic triangle while a couple in a car looks on. Were there any moments that stood out?
KG I liked standing by the Target logo in the mall; it became something else for me, and looked quite beautiful. I also liked the waterfall and the stairs. It's always interesting the way landscaping and nature are integrated into a city to make it seem different than what's really going on in a capitalist landscape.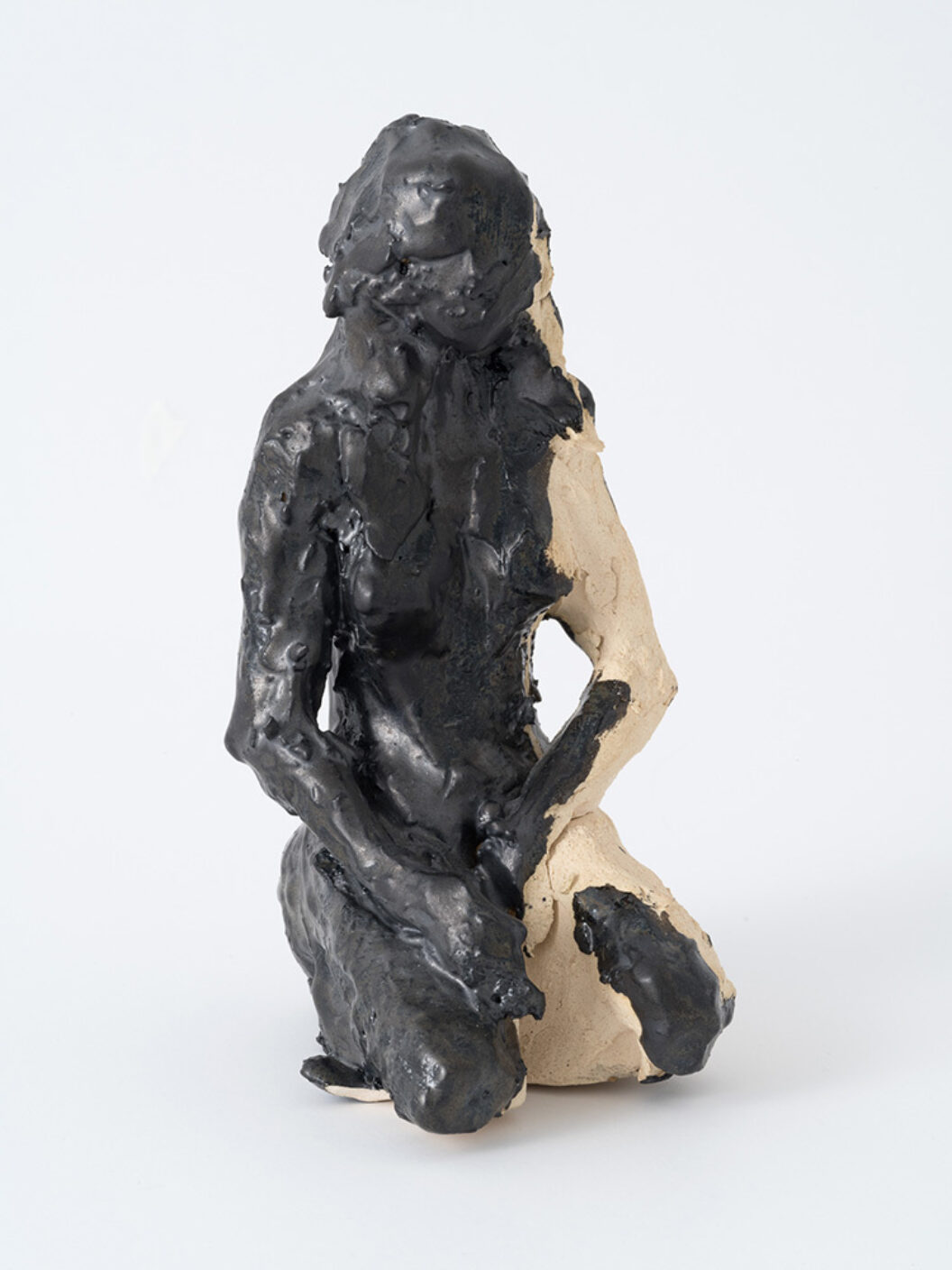 JUH At first glance (or listen), there's a deceptively DIY quality to much of your work. But there's a lot of skillful detail as well—the sculpture's exquisitely modeled feet, for example, and all the layering in the prints. Do you think people's tendency to associate your work with a raw aesthetic makes them overlook the nuance?
KG The aesthetic of it looks raw initially, but it's just a choice. I guess I like work that isn't necessarily about, for example, how well you can play guitar. It's a technique to keep it awkward. I'm always searching for that in visual art. It's probably also that people aren't familiar with all of my work. I like materiality, but then I sort of rebel against it. It's not enough in itself. It always has to have a conceptual edge. For instance, putting the ceramic figures on the event tables makes them look alienated from their context in an art gallery or their immediate surroundings. The female form is such a given; it's as if they're lounging at a cocktail party.
JUH When you showed some of the ceramic figures from the series at the Andy Warhol Museum, the museum called them "erotic sculptures." In the grouping at 303 Gallery, their languid forms feel more reflective, suggesting an interiority. Am I projecting that? How did you think of them?
KG Yes, they are interior. It's maybe something I relate to as a coping mechanism. The female semi-naked and naked body is so normative, but women are real and have real feelings, and we're not always comfortable with putting our sexuality forward. That's a branding of women, evolved and refined over the years, and now we're all supposed to be empowered by our sexuality—but we're not all the same.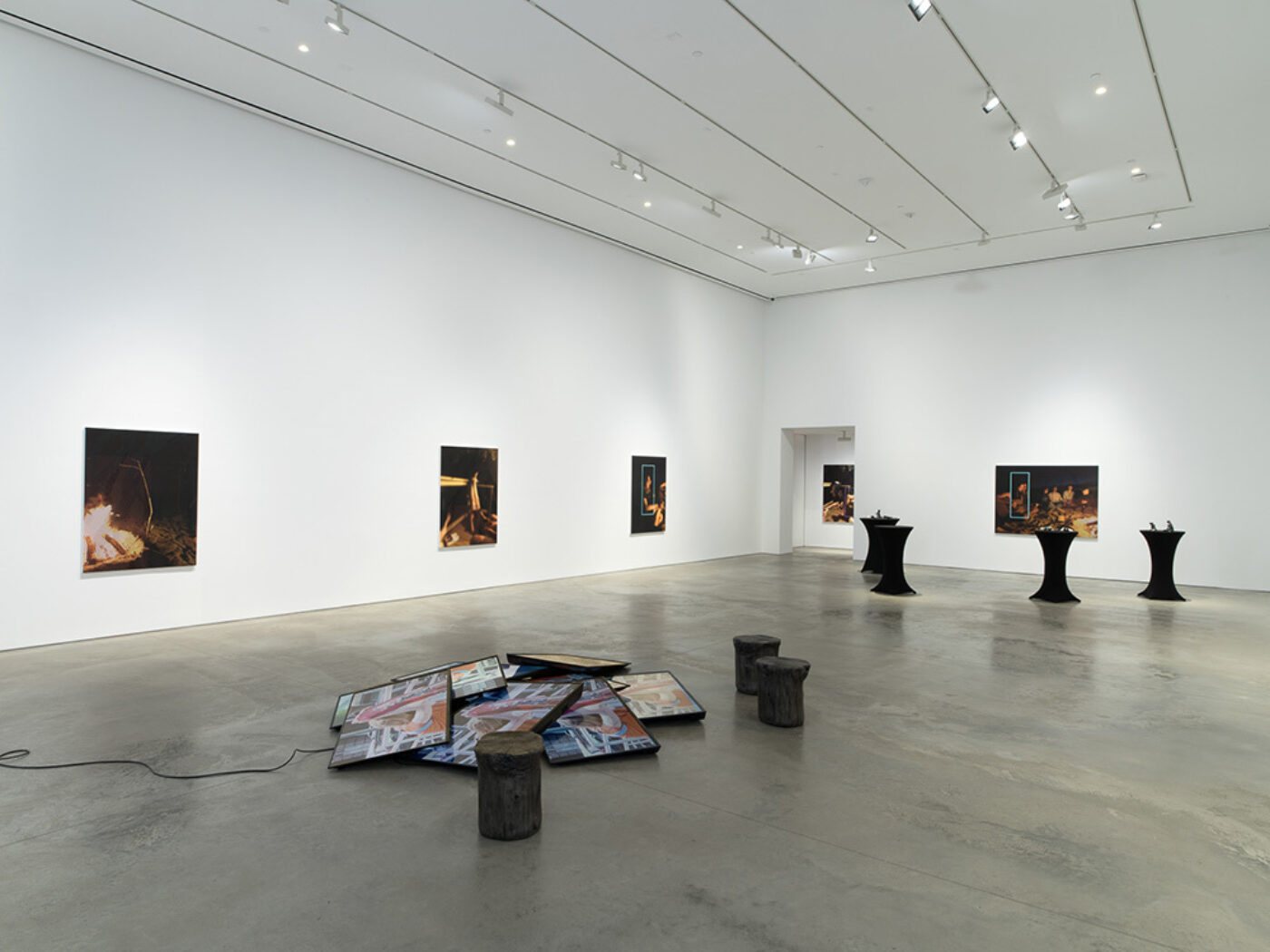 JUH Much of your work seems to underscore yet resist the ways social media—in tandem with marketing—co-opts and brands everything from protest movements and subculture to sexual liberation and intimacy. Is privacy as we know it doomed?
KG Privacy could be a name for a brand, if it isn't already.
Kim Gordon: The Bonfire is on view at 303 Gallery in New York City until February 22.
Jane Ursula Harris is a writer who has contributed to Artforum, Art Journal, Art in America, Bookforum, The Believer, Cultural Politics, Huffington Post, The Paris Review, Time Out New York, Vice/GARAGE, and the Village Voice, among other publications and journals. Her essays are included in catalogues such as Participant Inc.'s NegroGothic: M. Lamar; Hatje Cantz's Examples to Follow: Expeditions in Aesthetics and Sustainability; Phaidon's Vitamin D: New Perspectives in Drawing; Universe-Rizzoli's Curve: The Female Nude Now; and Twin Palms's Anthony Goicolea. Harris is currently an art history faculty member at the School of Visual Arts.