Elliptical Communication: Alexandra Pirici's Co-natural by Rachel Valinsky
Citation, embodiment, movement, and holograms.

Discover MFA Programs in Art and Writing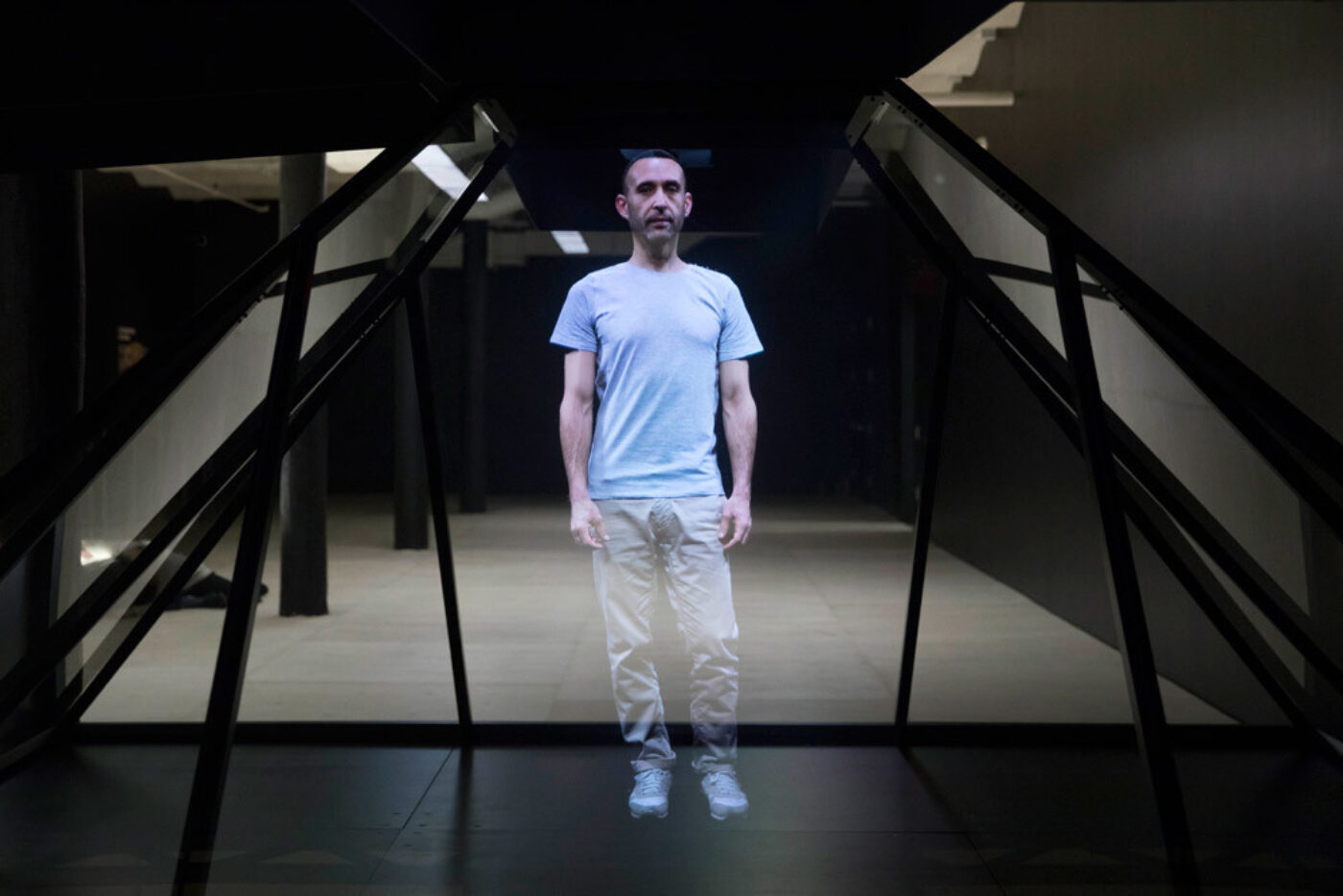 The center of a black, translucent pyramidal structure spotlights a dancer who isn't really there. Performing on an hour-long loop, a hologram of Farid Fairuz moves through a slow and attentive sequence of gestures. The hushed activity of Fairuz's precise series of movements—a combination of measurements of absent objects, sign language, and more indeterminate gestures—has a solemn quality. There is a pervasive feeling of isolation, distance, even separation enhanced by the virtuality of the figure and its encasement within an inaccessible, architectural space. At one point, the connection is lost; the pyramid goes dark. Then the loop begins again.

 Alexandra Pirici's Co-natural at the New Museum stages an uncanny meditation on presence and absence, juxtaposing live performers with this hologram in a day-long piece running for over two months. During each performance, the room's energy and activity builds and disperses: five dancers enter one by one on the hour each hour, producing a critical mass from 3–4 p.m., before each files out, such that by the last hour before closing only one remains. Co-natural requires sustained visits to see this develop and shift, though the mood in the gallery, irrespective of the number of performers present, remains relatively stable: reserved, somewhat formal. 
I found myself at the New Museum mostly when only a small number of dancers were in the room. On my first visit, Paula Gherghe was there alone. Unassumingly, she ambulated around the gallery, singing an aria from Giacomo Puccini's Madame Butterfly, which she followed with a recitation in French of an excerpt from Alain Resnais's 1961 film, Last Year at Marienbad. Deftly switching between languages and registers of speech, Gherghe, like the other performers in Co-natural, employed a variety of textual sources with ease, as though navigating a virtual archive of available references. Resnais's film fit the situation: Alain Robbe-Grillet's Nouveau Roman screenplay is a characteristically ambiguous text, in which dream, past, and present comingle through the abstracting logic of memory, while an unparalleled level of precision is accorded to ornamentation, objects, and other detailing within the setting of a luxurious palace—the setting for an encounter between a woman and a man. Imaginary architectures populate the stark and bare gallery of the New Museum, while the sense of longing, absence, and undecidability pervasive in the film transpires in the performers' utterances.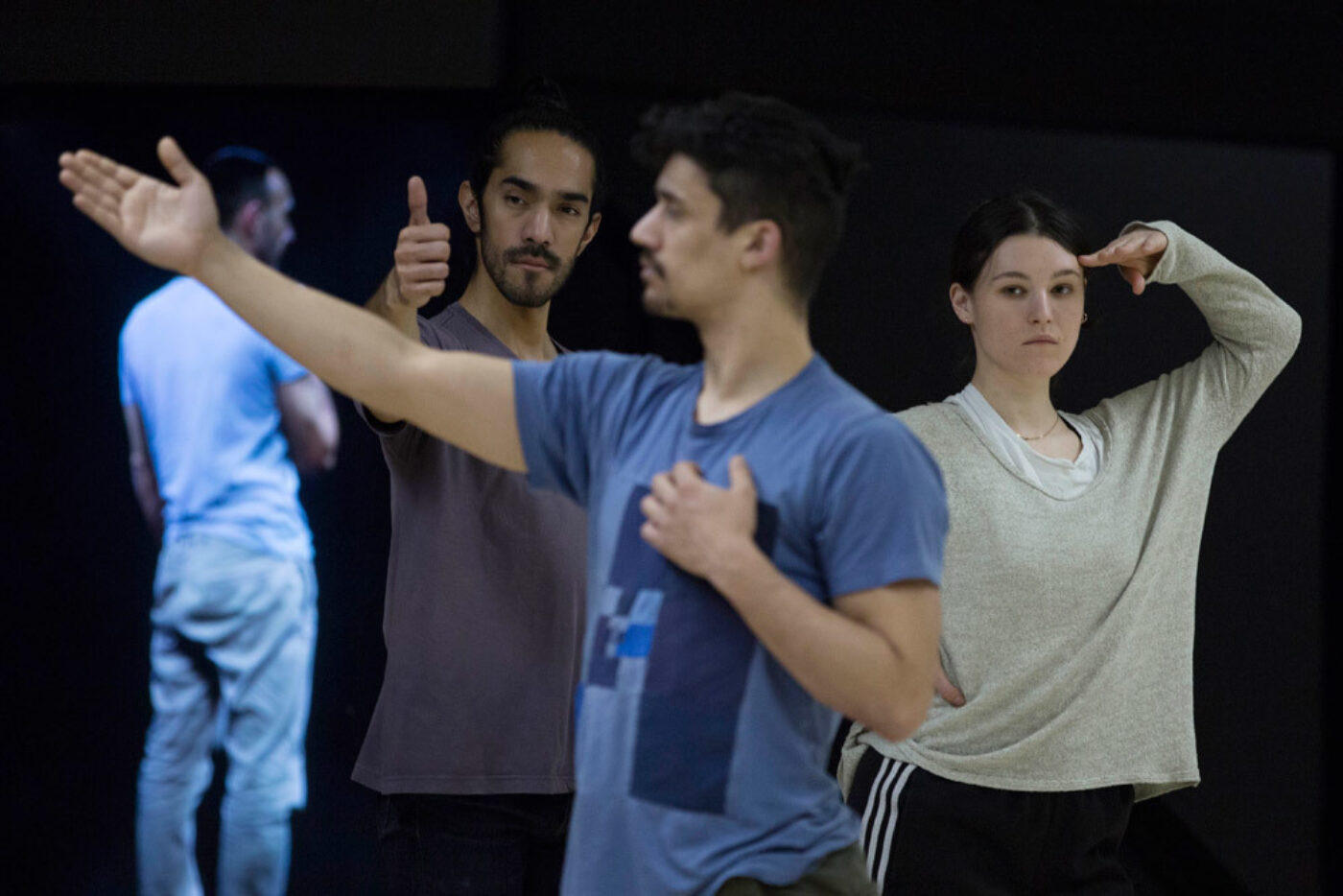 At other times, the evocation of a distant space was countered by an attempt at proximity and intimacy. In a rare moment of direct address, dancer Miguel Angel Guzmán looked straight into my eyes, exclaiming, "I will attempt to communicate and produce meaning." He continued: "I will transmit relations that are lost, forgotten, or hidden." He then sat atop a bright, square lightbox—the only other sculptural object in the room—and inhabited a number of poses that he held for a long time before progressively shifting into others. 
Communication remains elliptical in Pirici's work, which instead foregrounds moments of connection and disconnection. Co-natural does not so much produce a sense of being together as it gathers a repository of gestures, poses, and texts from which viewers may draw common references. Pirici—who is known for performances recreating artworks, historical events, and social and political movements—deals in reenactment and citationality; her performers store these references, encode them in their movements.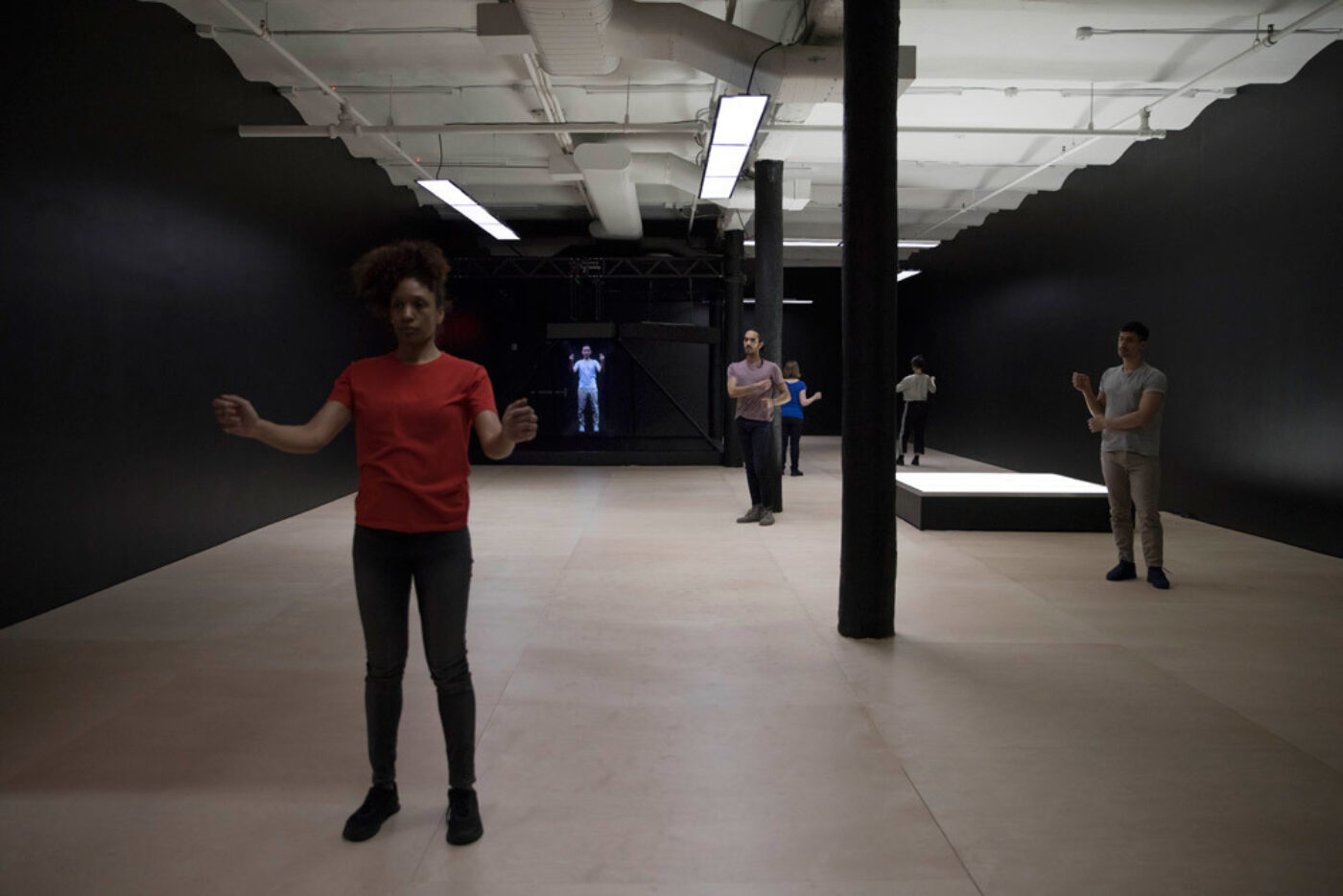 Co-natural accumulates visual, historical, and literary data, giving it renewed form in her dancers' enactments. Nevertheless, these enactments seem tied to a kind of all-over fatigue. Reminiscent of recent long-running dance performances staged in a museum context (and perhaps symptomatic of this curatorial turn), Co-natural evinces a physical exhaustion and remove, expressed both in the slowness of the dancers' controlled movements and their predominantly autonomous relation to the audience. In a scene for three dancers, they flock to the lightbox, attracted to it like the seasonally depressed to a SAD lamp; they run their hands over its smooth surface and press their bodies to it. Individually, rather than collectively, they remain languidly attached to it, unenergetically strewn over its contours in various poses of unmotivated collapse. Co-natural produces the subject as an abstraction, fragmented and dispersed. Through the "reality effect" of the hologram, the opposition between digital and physical body partly breaks down in a continuous undoing of the distinction between subject and object, body and image.
It comes as no surprise, then, that visitors often walk straight to the projected image, bypassing the live bodies in their midst, to whom they only turn their attention in recognition after thorough confirmation of the hologram's virtuality. One woman, finally looking at a performer, pointed and exclaimed, "Well, he's breathing!"
Alexandra Pirici: Co-Natural is on view at the New Museum in New York until April 15.
Rachel Valinsky is a doctoral student in the Department of Art History at The Graduate Center, City University of New York.