Ellena Savage's Blueberries by Arya Roshanian
A collection of essays that are charming, quirky, and at odds with each other.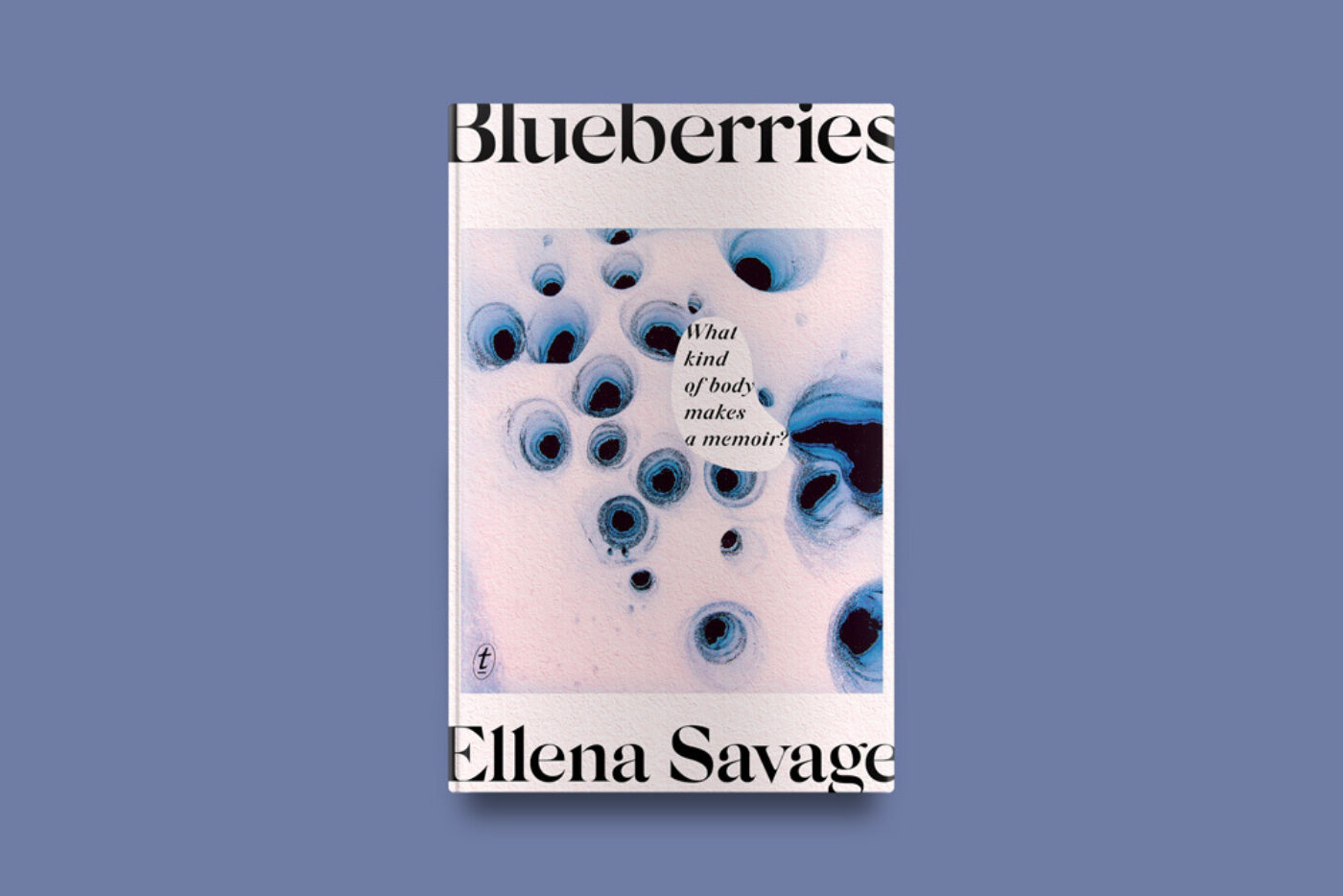 Ellena Savage's Blueberries: Essays Concerning Understanding (Text Publishing Company) explores bodies that travel the world and minds that run in place. Ruminating on her experiences across the globe—from Portugal to Portland—Savage meditates on the dichotomy of mental and physical consciousness, and her responses when the two aren't in sync. Composed in a variety of styles, the only similarities the fifteen essays share are the questions they pose: What does it mean to be a writer? And what does it mean to be?
This intensely cerebral debut collection operates like a set of mismatched china. The essays are charming, quirky, and at odds with each other. But categorizing the collection as "essays" feels inaccurate. The combination of memoir, reportage, poetry, and prose lacks a lateral narrative, and reads more like poetic musings than cohesive, fully-fleshed arguments. Some pages are written in a more academic style, while others are like the pages of a diary. Savage navigates as many forms as the places she travels, though no one style is superior to the other. Together, though, they carry equal importance in Blueberries.
Savage has a proclivity for placing secondary details at the forefront of her stories. Seldom does she focus on the broader thematic conversations, like sexual assault, abortion, teen pregnancy, and bigotry. It's the seemingly unimportant flecks within these larger issues that delineate her perspective, but these asides are important, like how the existence of gender-neutral bathrooms on college campuses acts as a flimsy bandage for the larger conversation around inequity upheld at such institutions. Thus, she views this as spurious. Can one genuinely atone if they're still part of the problem? Savage doesn't think so. She writes: "Hegemony is always at some level coercion, it is trickery, and the problem of this expensive college is not that it is a transphobic institution per se—though there is no doubt that it is—but that it naturalizes an elite class into the logic of its own superiority and the violence of this could only ever be remedied by burning this institution to the ground and who in their right mind would do such a thing."
Given its eclectic nature, Blueberries has no true beginning or end. Essays can be read out of order, multiple times, or not at all. "Yellow City" recounts the effects that trauma has on memories, and vice versa, through formatted diary entries. In the titular essay, "Blueberries," she criticizes elitism in academia while effusively praising the quality of berries in the Pacific Northwest; an implicit assertion that studying in America allegedly means ripe produce year-round in exchange for the hefty tuition. "The Museum of Rape" and "Turning Thirty" both tackle identity and lived experiences—like how society views women of a certain age, particularly those who harbor trauma—through a series of non-linear vignettes that requires diligent attention to decipher. "Allen Ginsburg" is poetry within a poem, a metaphysical experimentation akin to Aristotelianism on what is and can be. "Holidays with Men" tells two stories simultaneously on the same page: on one side is a story once published in a zine, and on the other is her commentary on said story once published in a zine. How do these separate entities relate? They don't. Like an atonal harmony, it makes sense when it all comes together. Fundamentally, these are reflections from a victim who doesn't victimize herself.
Savage's lens is, at times, overwhelmingly privileged. This isn't necessarily a detriment. She is aware of her whiteness, but doesn't make amends for it; she is, after all, an accessory to larger systemic issues. Rather, she contemplates what she thinks it means to be white in the twenty-first century. In "Unwed Teen Mum Mary," she writes: "I don't think that politicians intent on restricting or criminalizing reproductive rights need to read a nuanced anthology on abortion written by mostly white, mostly middle-class women like me so much as they need to be taken out one at a time." The suggestion here is muddled. Perhaps she is insinuating that if legislators aren't swayed to the demands of privileged white women, then marginalized women of color aren't of any use. Or maybe it is better to eliminate the problem—the legislators—than to repair it. Both statements aren't necessarily correct, though not entirely wrong either. But she treads dangerous waters with such enigmatic claims. In doing so, readers not only question Savage's intentions, but also their own. What is the line between discourse and oblivion? Some statements could be read as politically incorrect, but at least they're thought provoking.
These arguments aren't new or revolutionary, nor do they focus on a singular ideal. That doesn't make them any less significant. Savage's experience is ubiquitous, and it's how she imparts her story that gives Blueberries its merit. In "The Literature of Sadness," a poignant blend of the personal and academic, she examines not the ways in which we inhibit the world, but how much space we take up. She has us asking, How do we branch out when the world feels minute? Her musings on love, sadness, and politics are three different strands that she never braids together. She considers the imprisonment inflicted on writers, noting that "…this urge to capture a feeling before it slips away into 'dull speechlessness' demonstrates the violent ordering, the formal enslavement that is writing, and reminds me that writing is the kind of occupation that thrives in cultures that are built upon accumulation." Unlike other assertions, this one is difficult to refute.
Savage is skilled at imparting language to universal feelings that are difficult to articulate. Perhaps at her most astute, she concludes "The Literature of Sadness:" "sadness is, perhaps, the most honest response to living." Considering the year humans have endured, I could only help but agree.
Blueberries is available for purchase here.
Arya Roshanian is an Iranian American writer based in Brooklyn. He is Senior Fiction Co-Editor at Action, Spectacle! and a movies and culture writer for Bustle. His fiction is nominated for the XLVI Pushcart Prize, and his other reporting, essays, and criticism are published in Variety, Guernica, Vox, Catapult, The Rumpus, and elsewhere. He soon begins his MFA in Fiction at Columbia University.