Discover MFA Programs in Art and Writing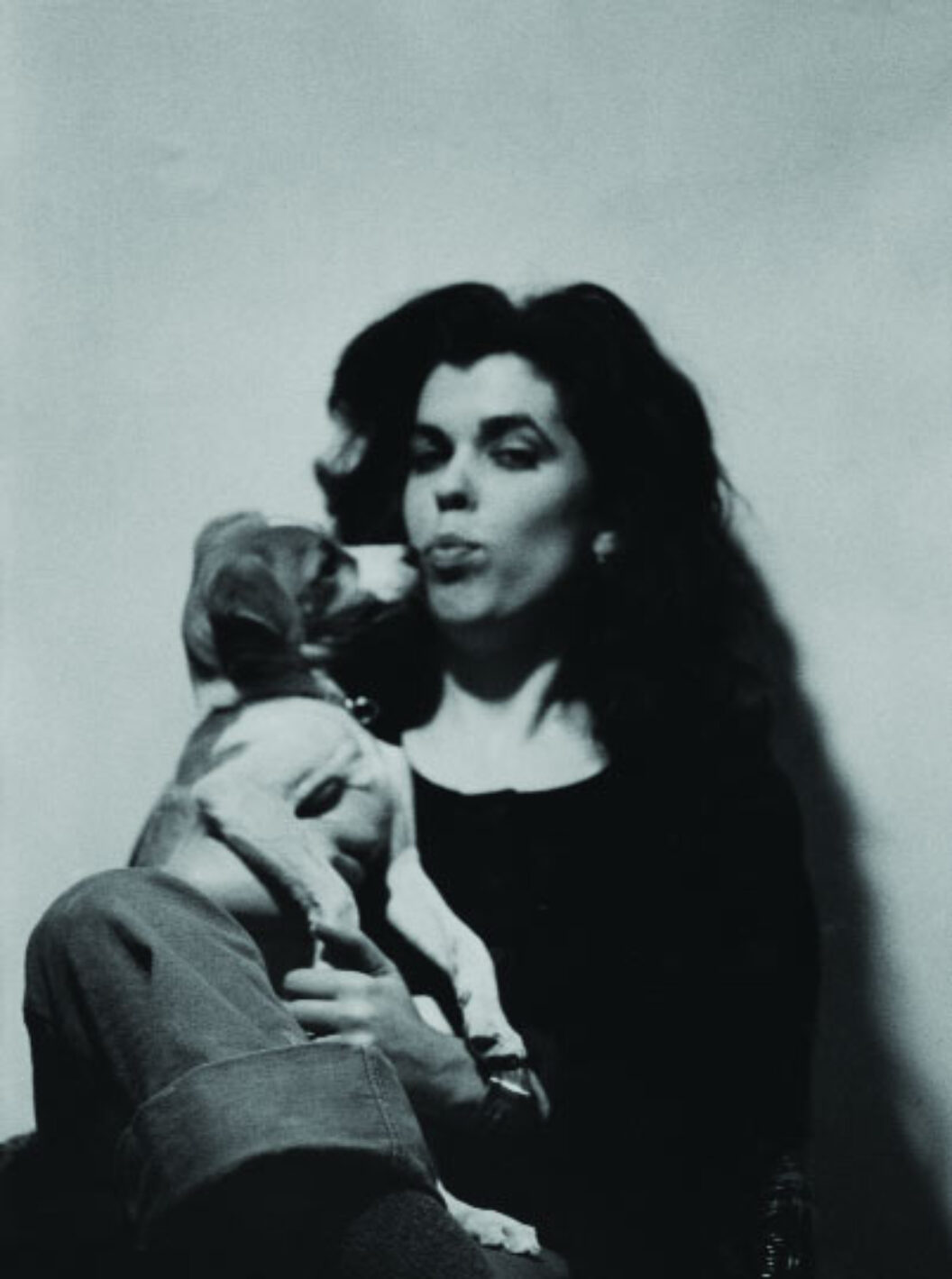 When Ellen Phelan first told me about her plan to work with existing photographs—family-album snapshots of her life from childhood through adulthood, some shot by her father and others by her husband, Joel Shapiro—I was immediately touched and intrigued. Ellen has since reformatted these images and arranged them in a series of conceptual groupings, like a notebook of her existence. There is a time for all of us to want to make a similar sense of our experience. And while Ellen and I discussed the psychological impact of family and memory, our conversation did not stop there, because a conversation with Ellen about her current art, as this project suggests, is also a much longer conversation about her life in art, its past and its future.
From her early figurative sketches through her dream-based fan sculptures, her sumptuous landscapes, and her paintings of dolls—livelier than much human portraiture—Phelan's art evokes the experience of her singular vision: a remembrance of things past so firmly rooted in collective longing that no matter the medium Phelan chooses, this longing becomes tangible and observable. Her recent explorations of photography, a form forbidden in her early training, exist as an important and subliminal element in Phelan's oeuvre. It is a wonderfully cohesive body of images that has unfurled with her personal development. Phelan is an intellectual, and her art exists in reaction to, with, and against her friends' and other artist's works, critical theories, and art history itself. There are no gaps. There are only different tenses. And, more importantly with Ellen, different mediums, which is to say different languages.
In fact, nowhere can her conversation with the past, in art and in life, be seen more clearly than in these photographs. It is the conversation of a woman unafraid to express what she feels, even if that means working against prevailing critical theory.
Interviewing Phelan in her elegant double-height living room on the Upper East Side was very easy. She sat in front of enormous windows, surrounded by Shapiro's sculptures, with her back to a larger-than-life-size portrait of Hiroshi Kawanishi by Alex Katz. She is a humorous, fluent, natural speaker. All I had to do is let her glance quickly through my notes and we were off.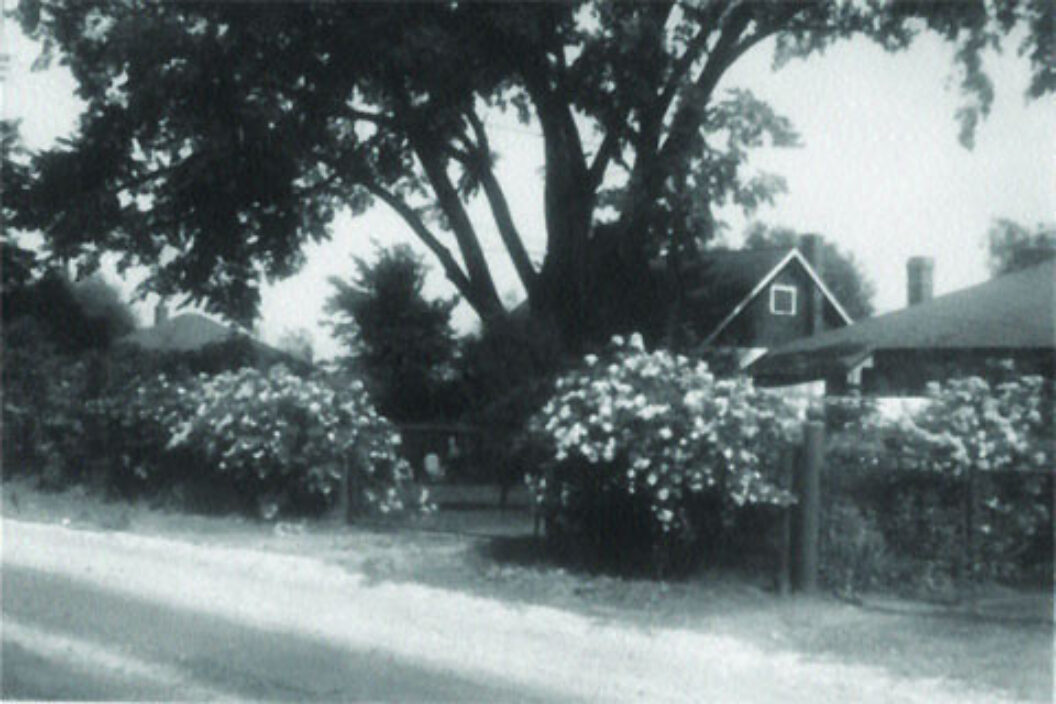 Michèle Gerber Klein This project, this compilation of family photographs, is the sum of a career of thinking and creating. Did it begin when you started making art?
Ellen Phelan I trained traditionally with a lot of figure drawing and painting, which I was good at. I mean, I was like this superstar. Kids like figure painting; they are interested in sex for one thing, but also really seeing people's bodies, and analyzing what they're looking at to make it look right. It's a very meditative activity, having to concentrate so much outside yourself. When I was a student at Wayne State University they didn't even teach photography. If they had I would have taken it.
MGK Photography was not yet considered an art form.
EP It was also forbidden. I mean, I certainly looked at photographs a lot, but it was forbidden to use photography as a source because it's two-dimensional. The thing that's hard is to translate 3D to 2D, not 2D to 2D. And it's perfectly true that most amateur or self-taught artists copy photographs, and that that art looks stiff; it's very careful copying, rigid. Copying is really hard to do well.
MGK Were you also taught not to look at the paper when you were drawing?
EP For contour drawings or gesture drawings of five-minute poses, that kind of thing. Generally, you look back and forth and back and forth. I'm nearsighted in one eye and farsighted in the other, so it worked out very well for me. (laughter) I squint to see values only. Anyway, they were trying to teach us to draw well through observation—it really is a good tool to have—and then translate that into paint. By the mid-'60s, the art magazines were around, and I certainly read them. I finally decided that figurative realism was completely regional and uncool and no longer possible. That was the prevailing attitude in this country until maybe ten years ago. Chicago, San Francisco, London, where figurative painting continued, were all seen as regional backwaters. Anybody who wanted to work figuratively, like Chuck Close or Alex Katz, or Philip Pearlstein, worked out a way to do it that was hip. "Illustrative" was a crowning insult. For a while, the body and its processes became dominant—partly as a result of feminism in art—but now of course illustration and the figure are back big time. By the late '60s, in the waning days of Greenbergian formalism, pioneering Minimalism and early Art and Language, it was ground zero for painting.
I started working in the context of early post-Minimalism. At the time there was this scene in Detroit, a rough, gritty Motor City junk aesthetic. It was also quite macho, lots of guys. I took canvas off the stretcher and began treating it as an object—painting both sides, cutting and folding—which had something to do with Robert Morris's felt pieces. But they were much more feminine, much softer, and had color. In some ways being an artist is a conversation: you're always commenting on somebody else's work. I didn't yet have the vocabulary to say that I was trying to do a feminist version of Minimalism. But I did say to myself things like, Well, I think I could make that one better.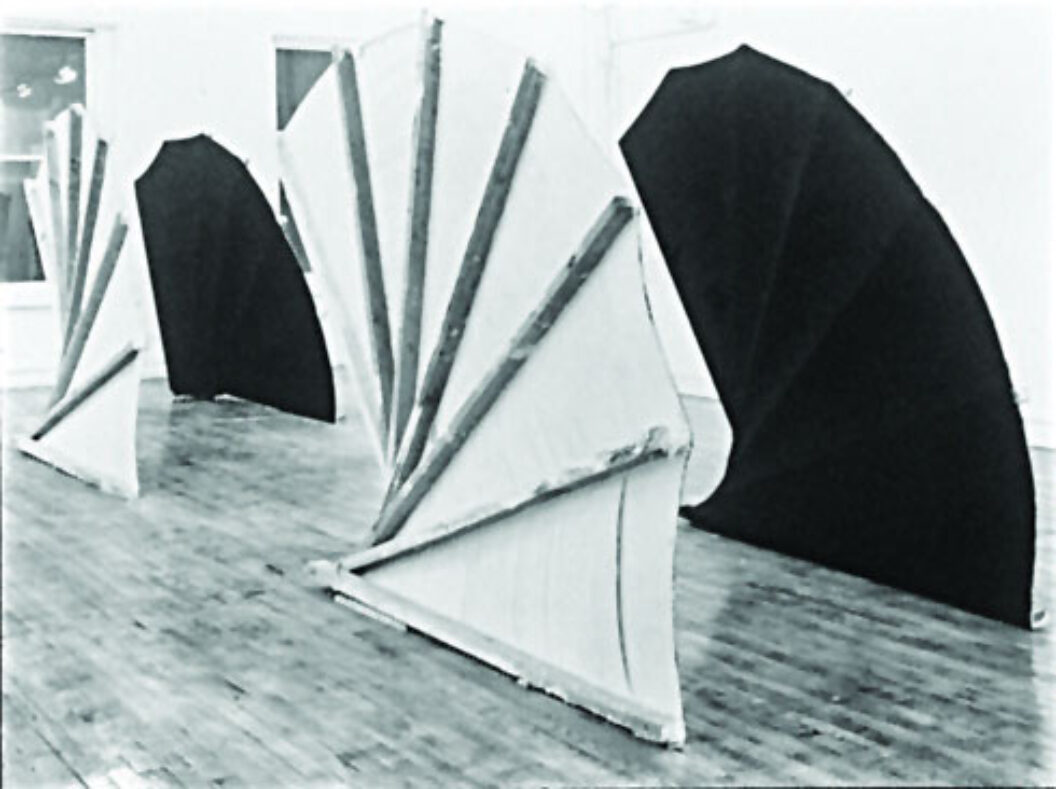 MGK Is that when you made the fans?
EP Yeah, I made the first fans maybe in 1970. I read this [Sergei] Eisenstein essay on Kabuki theater and props and space, which was full of ideas for me. Also George Kubler's Shape of Time. Anyway, the fan image was an image from a dream. So I thought I would make it.
MGK It was an image you dreamed?
EP It was an image I dreamed. So it really felt like it was mine. What interested me when I built the first fan that resembled what I had dreamed was that it was about this very shallow space, a literalization of, say, the shallow space of analytical Cubism. So I was working with these Detroit post-Minimal constructivist ideas for some time, and then in 1973 I moved to New York because Mike Goldberg gave me his loft for the summer, which I will always be grateful for. I knew I had to get out of Detroit and had been trying to for a long time. I was already friends with Jackie Winsor; I'd met Paula [Cooper], I'd met a million people while I was still in Detroit. So I moved here, and I was introduced to Joel [Shapiro, Phelan's husband]—twice, by Jennifer [Bartlett] and then by Elizabeth [Murray].
MGK (laughter) Well, three times and you're out.
EP The art world at that time was very small. It was wide open. At that moment painting and sculpture were very closely aligned. And performance, video, and dance—all kinds of interactions were going on. Also, if you look at early Artforum, Avalanche, and BOMB, the voices of the artists themselves were very present. Mel Bochner, Robert Smithson, Donald Judd, Robert Morris were all writing. Somehow the voice of the artist seems to have been really suppressed, and academic critical theory has become the dominant discourse, or some form of comparative literature, mixed up with pop sociology. All these new "disciplines" that append studies to their titles—women's studies, post-colonial studies, gender studies, material culture studies, film studies. Maybe we're getting away from that now; there's been a collapse. All these things, when they're administered from outside the art world, collapse under their own authoritarian tendencies. You know, artists really don't want to be told what they can and cannot do. By the late '70s I had begun drawing outdoors. I've always liked watercolor; I like the fluidity of it.
MGK You didn't turn to watercolor because you thought you should or because you were part of a movement. Was it totally personal?
EP Oh, I thought that I was giving into my own romantic, retro-regional style. There was this certain way during part of the '70s that drawings didn't exist, because you wanted everything to be a discrete object, you didn't want it to be a study or a souvenir of something. It was on a par with painting or sculpture, so actually sitting there drawing the light on water or the trees in this way was—
MGK Bourgeois.
EP Oh my God! Not cool, not modern European, but old-fashioned. But I certainly enjoyed it, and they looked pretty good. I mean we were up in the Adirondacks, what was I supposed to do? It was beautiful. Most of these were black and white, black gouache on white paper. And they began to affect what I was doing with the more abstract paintings, which were partly about color and light, while the watercolors were about light, not color. And, of course, eventually my oil paintings also got thinner and thinner, more washes and glazes, probably due to working with watercolor so much. Finally, I decided that I would use the actual landscape drawings as the basis for the paintings. I had a group of watercolors that I'd done in Amagansett of this narrow, deep backyard with lots of shrubs and things in it, stacked in recessional space. I was interested in the depth of that. I would just scale up the watercolor by four and projected a slide of it to start the painting.
MGK On the canvas?
EP On the canvas. I got over the monochromatic problem. I said, Well, it doesn't have to be just black and white, it could be painted brown and pink or purple and yellow. Those were the first straightforward depictive paintings that I showed. That was in 1989. I'm still very interested in landscapes; I still paint them.
MGK You showed me some that you just did, and we had that discussion about whether they're romantic.
EP Well, I am romantic: I'm interested in the fragility of life, the quickness of experience. I'm also interested in the Gestalt, in a kind of painting that is abstract and representational at the same time but that you "get" all at once.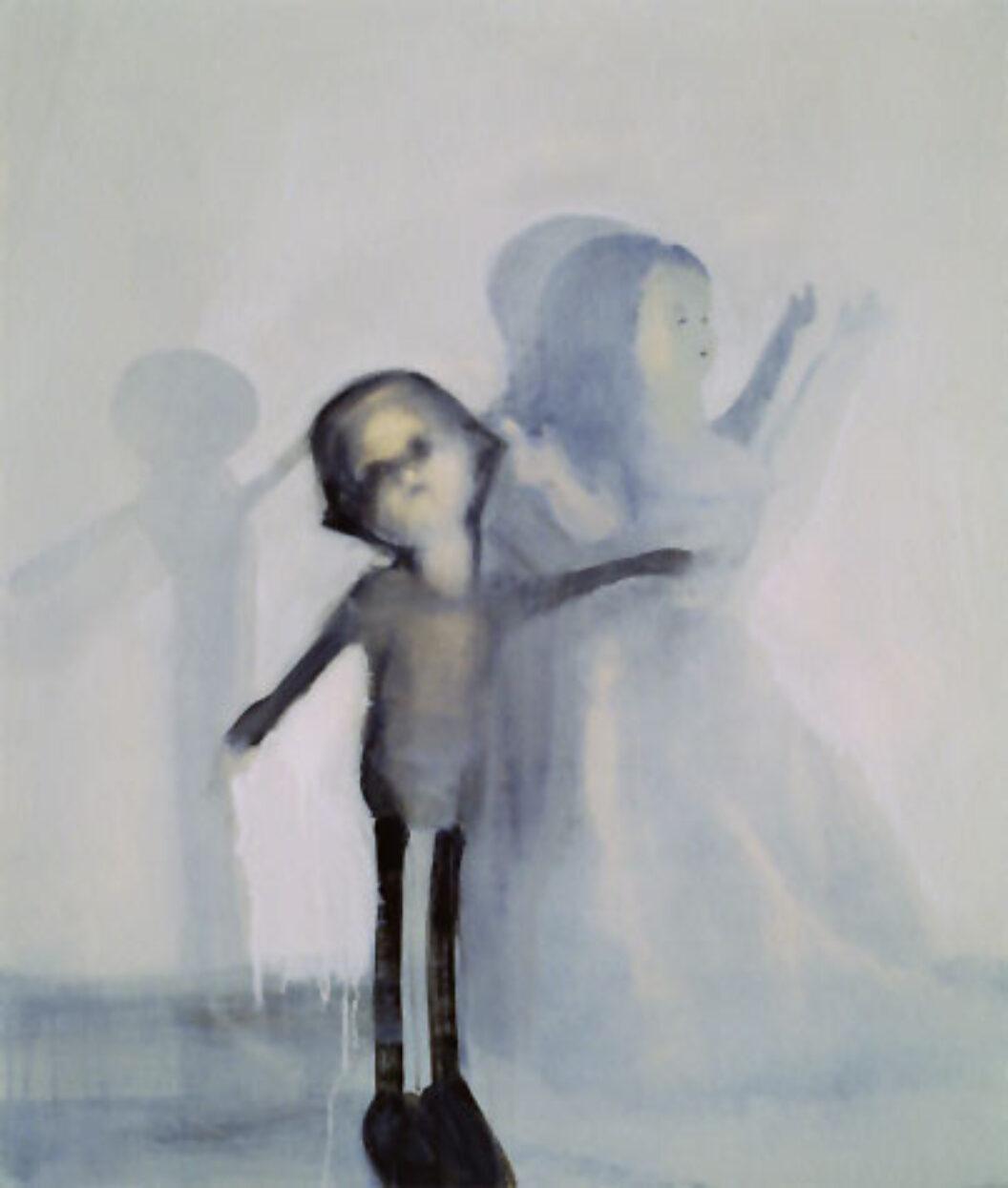 MGK Your paintings have intricate moods: the mood of landscape, or the mood of one of your flower paintings. The subject contains emotions. It is very experiential.
EP I wonder. I don't know. I'm just trying to make it look like my inner vision of it. It's like, how much description, how much detail do you need to have to convey that essence of something? I'm always trying not to be too fussy. But what it means is a lot of painting in and a lot of painting out. I'll paint the image in and then I'll veil it or layer it. But in the mid-'80s, since I enjoyed the drawing part so much, I began casting about for things to draw when I wasn't standing outside. What were you going to do in the winter? So I did some still lifes, vases of flowers, and stuff with black wash—actually this was still in the late '70s. When I first met Joel, Ivy [his daughter, now Phelan's stepdaughter] was three years old. I had my dolls in the attic at my mother's house, and I thought she might like to play with them, so I brought them to New York for her. And I did some little doll watercolors for girlfriends when they had babies or were pregnant. I used to give them as gifts. Actually when I was 41, I had an ectopic pregnancy. I don't know if I told you that.
MGK No.
EP And then I really started doing these dolls. I got very into the dolls. It was pretty clear: motherhood was over and out.
MGK Girls call dolls their babies. "I'm going to hold your baby doll." But these are children of your imagination.
EP Yep, I was just fascinated with them and fascinated with being able to paint figuratively. In a funny way these were my answer to the prohibition against figuration. I was sort of ahead of the curve, actually, with that stuff.
MGK But you could not paint real people?
EP Oh no, that was still forbidden.
MGK Why was that forbidden?
EP In my brain it was, No, no, no. So this was a substitute for a real person. A doll is a cross between a figure and a still life. What's so interesting about figure drawing or painting with models is that they move; they can't hold their position perfectly for that long a time, and so you are constantly adapting. I got very involved at one point with painting clouds. Well, I mean, that's insanity. They move so dramatically, cancel themselves out, so it's holding onto these little fleeting bits.
MGK But when you view your doll paintings, seeing their expressions, you get a fleeting thought of the dramas that they're going through. They have faces that look as though they've just burst into a grin; it's as if they're moving through time, as if they just stopped that second.
EP Well, the dolls were always still-life setups that I made. I began to collect a lot of dolls because I wanted various stories. One classic story is the beautiful princess, how we girls learn to identify with what is considered beautiful in our society. Many dolls are "me and my mother," the little doll and the big doll, and women in front of mirrors playing roles.
MGK Which is also what playing with dolls is all about.
EP Finding male dolls that don't have a uniform on or aren't identified by their professions in some way is very difficult. Unlike the beautiful princess dolls, which just have to look beautiful. And another sub-genre is black dolls, which is very complicated and layered. Also drunkards, a strange category. I had so many dolls by this point; I was collecting here and there at thrift and junk stores, flea markets and so on. Sometimes I would just move them around and I'd see some conjunction, a joke or a one-liner, and I'd just paint that. But they can be quite deep. It's relationships between men and women. And it got to be my whole life story, in a funny way. The other point I wanted to make is that if you take a photograph of a doll, as much as you blur it or manipulate it, the doll still looks like an object. But making the watercolors, I could change them, I could alter them so they could become much more ambiguous.
MGK The human drama.
EP Yeah. But then in making paintings of them, I'd project a slide of the watercolor. I found that in making the oil paintings, I needed to simplify them from the watercolors. I needed less information. I also had to learn to paint smaller because my natural gesture is a lot bigger. So by then I had begun to figure out that I was interested in genres, in reinhabiting or rehabilitating repudiated genres: essentially, people, places, things, landscape, the figure, still life. The house in the country, my garden, flowers—I actually began to do flower still lifes. I thought, now there's a really out-of-it—
MGK Genre.
EP (laughter) You end up doing vanitas pictures. With those I always worked with photographs as a source. The forms of flowers are really hard, and they wiggle around and move, tulips especially. So the photograph became the source rather than observational watercolors. Of course, they're my own photos and very composed. But they're also about interior domestic spaces: light in a room, on a table. And that brings us up to the present.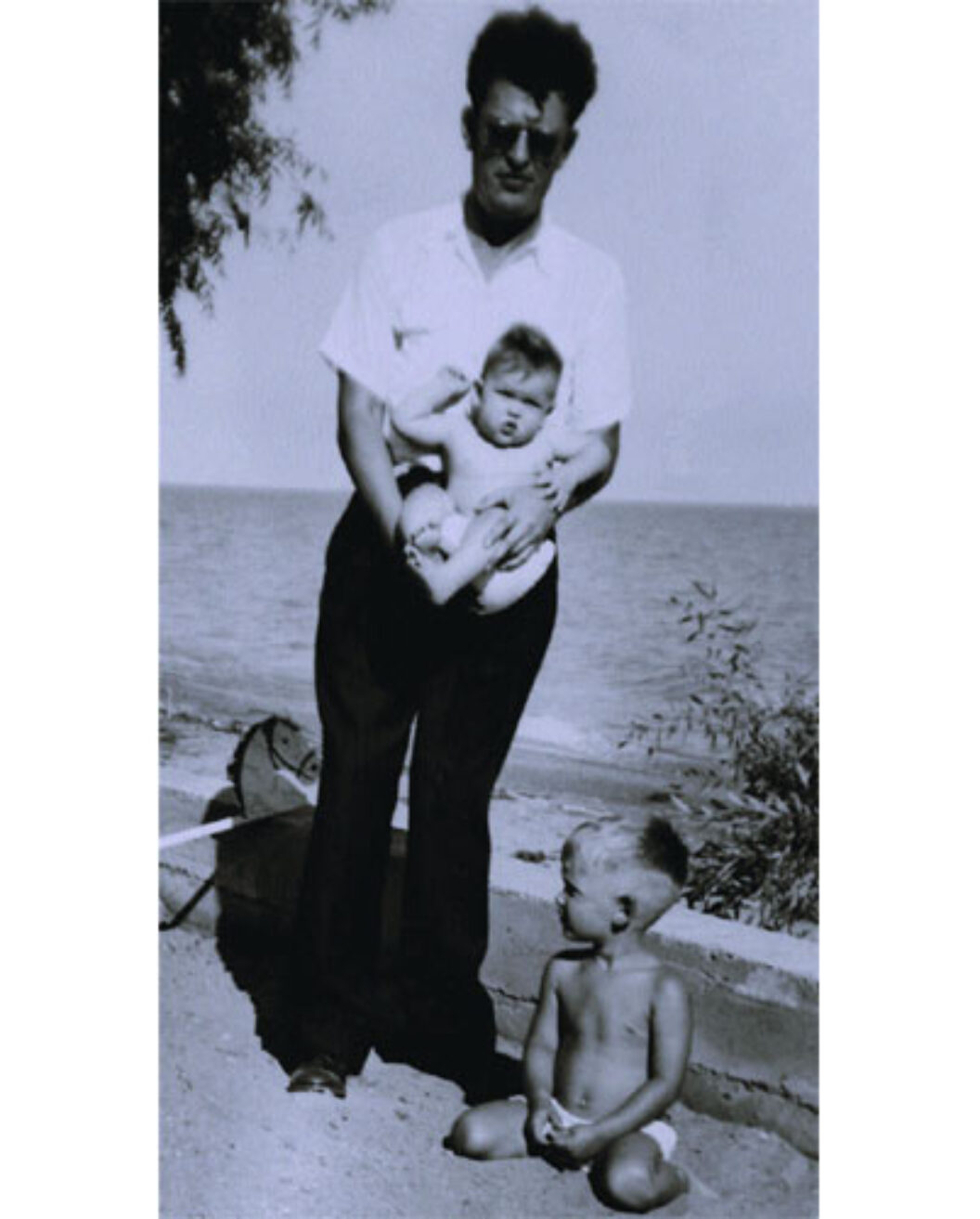 MGK So then we get to these photographs that you have collected from your family?
EP Portraits.
MGK These are portraits of real people.
EP Now I'm confronting figurative painting, and my own past, head on. I think getting to be 60—
MGK Do you feel 60?
EP No! Yes!
MGK Not that 60 is a particular way of acting. So tell me what the recent group of photographs are, and about the installation.
EP I started thinking about this two years ago. Straight portraiture seemed like a logical next step. The first watercolors I made were family photographs of my immediate family, of Joel and of Ivy as a little girl. If you decide to deal with figuration you're right smack dab in the middle of the history of Western painting. What is a figurative painting going to look like? Is it going to look like Vermeer, Degas, John Currin? No. Where do you situate yourself in that great big huge arena? I'm still struggling to find out. I wanted to work from photographs; I didn't want people to sit for me. When I was very young I used to make everybody sit: parents, grandparents, girlfriends. I was also thinking a little of Mary Cassatt and Berthe Morisot, this history of women painting children. And also women's self-portraiture doesn't quite exist the way men's self-portraiture exists.
MGK It doesn't really exist at all.
EP I was horrified once at Harvard—I was giving this lecture on self-portraits, and I ran over to the Fogg, grabbed a bunch of slides of paintings in their collection, and I'm showing them to the class and it's all guys, it's all men.
MGK So women really didn't paint themselves very much.
EP Well, Frida Kahlo did. But you know, it's in costume and fantasy jungles, with Diego [Rivera] as a baby and growing out of her head.
MGK But this doesn't come until later.
EP Well, even Elisabeth Vigée-Lebrun painted herself in various and multiple costumes. So with James Ensor maybe you have a skeleton looking in the mirror next to him or you have a tuxedoed Max Beckmann, but women may have a more fluid sense of self or multiple personas. A lot of our lives were reinventing and presenting ourselves—a seduction, like the Contesse Castiglione.
MGK She's on stilts to make herself look bigger.
EP And the dresses! Queen of hearts. Pretty interesting. And then Cindy Sherman. I always think in a way that all work is autobiographical and self-portraiture. I always say structure is metaphor. So this is all part of the piece. I started with these more contemporary pictures last year, but this summer I was recovering from an operation. I had gotten better computer equipment, so I also started dealing with a massive amount of old family photographs that I'd saved and then got more after my mother died. I took the most interesting pictures and began scanning them. Some of them are really deteriorated and crummy, but I was able to see them more clearly once they were scanned, and many seemed incredibly dense and full of meaning.
MGK Did wanting to do this have something to do with getting better after being ill?
EP It had to do with how I was being formed by what was around me, and what my parents really looked like, and their relationship to one another—what I saw adults doing. What I was curious about lit up like a path that I was tracing with these images. I'd stumbled onto this mother lode of potent stuff. A lot of it is because my father was a very good photographer. And I loved my dad a great deal.
MGK So a lot of these are his photographs?
EP A lot of them are his photographs. It's been very emotional for me to connect with his vision.
MGK How he saw you, how he made you?
EP And how he saw my mom: there's so much love. But there also this "I" that's slightly unusual. I see him looking at light, light in a room, light falling, and I'm wondering, Is this heritable? I mean, that's what I look at. I grew up looking at these pictures. It was one of the things you would do with Mom. She had a drawer full of photographs and she'd pull them all out.
MGK It would somehow be like showing you a story, one that includes you.
EP But looking at them as an adult—they're incredibly elegiac. I mean, it's all so past. There are oddly few pictures of me as a teenager or as a young woman. I think I avoided the camera like crazy because I thought I was unattractive. I'm interested in the few photographs I have that I took when I was younger. But I'm tracing my development, and I don't know whether to include old boyfriends or how much information anybody can figure out with all these images. So basically Dad's photos switch over to Joel's, who also photographed me quite a bit. So there's the Dad-to-Joel trajectory, and maybe that's a little easier to read clearly as a narrative. Of course then, well, Joel and I were young. We were both artists, and photography is a form of seduction. But that's past too, so most of these photographs that Joel took of me were courtship related.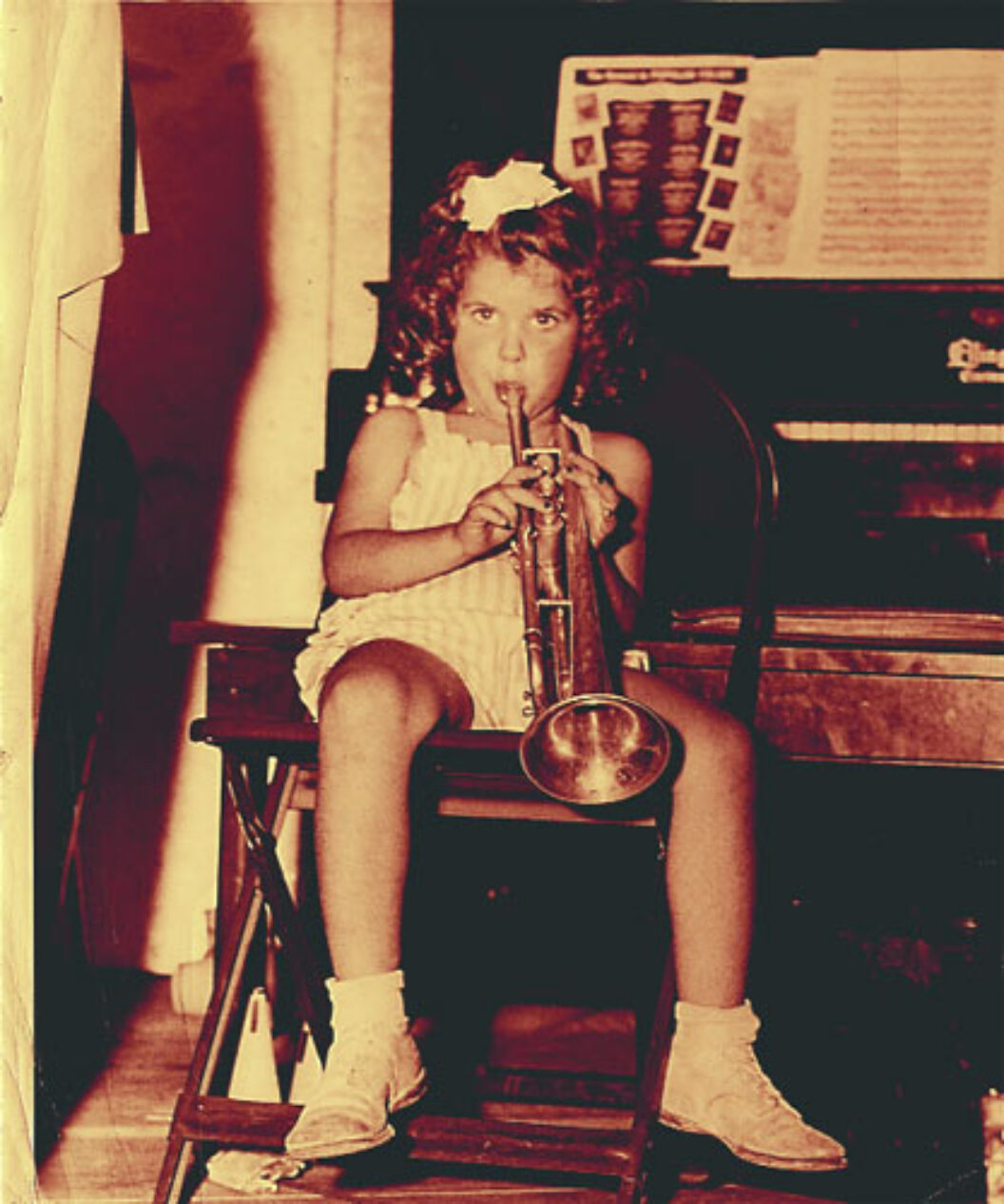 MGK Talk more about how photography is a form of seduction.
EP Well, you're looking at someone pretty—
MGK Intensely.
EP Right. And do they look back? Do they pose? Can you get an image that's unposed? What level of intimacy is involved in that? Joel liked to take pictures of me naked in the bathtub. Mildly erotic, but there can also be a juxtaposition with the baby in the bathtub or Ellen the bare-chested little girl. With this photographic project I've been consciously toying with what the structure can be, how there can be a narrative, what could be teased out of purely visual material. Do I need text? It's pretty much Mom's and Dad's stories, how they grew up. And then it's me and my brother as kids, and me trying to become a grown-up… .
MGK There are pictures of your mother. You look like your mother.
EP Oh, yes.
MGK There's that thing that happens when you as an adult decide how much you do and don't want to be your mother. How scary it would be to become your mother.
EP Well, my mother wanted me to be her mother. That was the conflict, really. Toward the end of her life she would send me Mother's Day cards. She lost her mother at age two and grew up in foster care.
MGK Really?
EP Yeah. Very hard. Doing this project, and seeing pictures of my mother as such an unhappy child has given me more compassion.
MGK The empathy that you could never have when you were growing up, because you were so busy trying to separate yourself.
EP Well, my mother was really hard on me. She was very, very critical of me; whatever I did, it wasn't right. And I embarrassed her, because she didn't like the way I looked, yet I worshipped and adored her. And I realized, I'm totally like my mother. I mean, thank God, I had my father. And in some ways my brother is even more like my mother. In terms of their affect and hysterical volubility, and just weirdness. But my Dad was ten years older than my mother, and he was an extremely kind and compassionate and supportive person. But my mother was very creative and imaginative and had a tremendous fashion sense and design flair; she was a glamorous woman and she was a gardener. When I was nine or 10, my father was in a bad car accident and had to be in the hospital for over a year. My mother was an RN, but she became a school nurse so that her hours would be the same as us kids'. She ended up being the director of a big county public health agency. She was president of the National Public Health Association and president of the National Nursing Sorority. Both my parents were very intelligent. But it was "Mom," executive administrator nurse, that I saw myself as when I was up at Harvard. She always thought that work was service to others and what I did as an artist was play and self-indulgent.
MGK I think artists are the most generous people in the world.
EP I tend to agree, except when they're self-obsessed, narcissistic jerks on a personal level. Maybe the devotion to work is essentially a generous impulse. But I certainly had this heavy trip laid on me. And I do think of myself as this lazy, indolent person who does nothing. Maybe after I was 55 I began to think, Now wait a minute, I seem to have accomplished quite a bit for somebody who doesn't do anything. (laughter)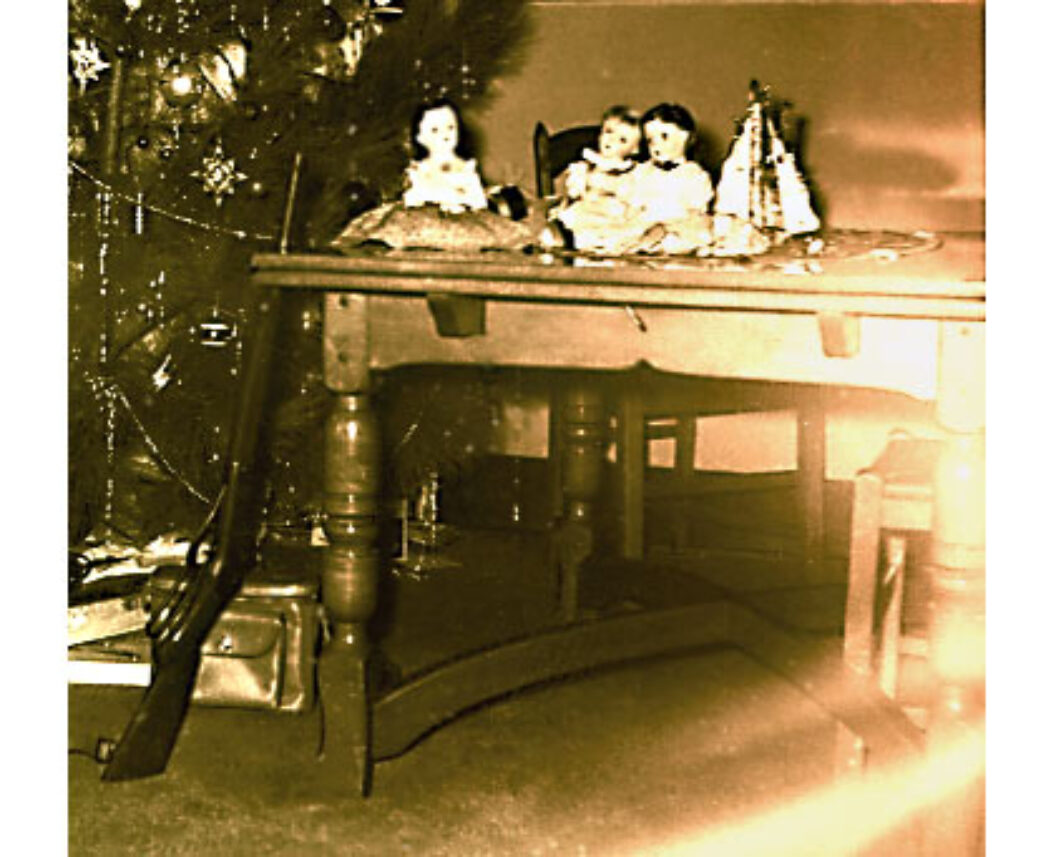 MGK But when you put the photographs back together, or however you are going to do it, as an installation really, it does have this notebook quality of a diary. You're commenting on their commentary, and the history of American social customs. It has the hairdos, the way people held themselves, which is different from the way they hold themselves now; the roles have changed.
EP Well, it's my story and it's personal and it's intimate, but it's everybody's story. I don't want it to be too linear or chronological. It's kind of like the inside of my brain. These are my memories, this is what I know, and what I think about. Memory is very disjunctive, like snapshots.
MGK There's also the doll collecting… .
EP Definitely.
MGK There is that parallel, that progression.
EP Now I'm working on a painting show that will be portraits, and I'm thinking that maybe I will try to separate the two bodies of work so that the family history, family romance, isn't duplicated at all in the painting show. It'll depend on how many good paintings I can come up with. But the issue in the family romance autobiography is really ownership and authorship of work that isn't my own and shaping a coherent narrative. Of course, some of the images are quite manipulated and others are pretty straight, but for most of them, there's cropping, there's colorizing, there's heightening of values and contrasts and various things. And again, using so many pictures, of the past, the more recent past, of myself as a grown-up, as a wife, as an artist, the idea of self-portraits and roles. One of the things about the dolls is that they never existed in any kind of real space in the watercolors. It's always this floaty background, and when I set them up or posed them it was just in front of drapery or something like that. And of course what I'm interested in, in painting, is the capacity for illusionism. I mean, that's what it's good at. Why did we even have to think that painting's essential feature was flatness? That's ridiculous. I'm very interested in not an architectural place, but instead a kind of interior with a limited or bounded depth. And how to situate figures realistically in that kind of context and have it read convincingly.
MGK So that the context tells the story.
EP Well, or not. Even if it is just a compositional device, a visual delineation or marker of depth, or of some kind of portrayal of what we see as real things. That's what I'm drawn to, because there's that complex interaction between the figure and its surroundings—spatial complexity, which is what interests me most in painting; foreshortening, what's where, how it stacks up and is unified as an image.
MGK And you're painting from photographs.
EP Yeah, I'm painting from photographs.
MGK You're doing what was forbidden. You've crossed the barrier.
EP I have absolutely crossed the barrier. But I'm a little hesitant to show the photographs alongside the paintings. That's why I don't know if I'm going to include any paintings that are based on the family photographs in the next painting show. Maybe it's good to show the degree of transformation, of agreement or divergence. I'm not sure. Oh, well, I'd like it to be a book at some point, I think.
MGK Well, it's like a notebook to begin with.
EP You know, I have tons and tons of sketchbooks. When I was young I used to do these line drawings of wherever I was and who was sitting there at the table at the time, or on the bus or at the party. I think I liked it because you could be present and involved but you didn't have to talk to anybody. That was when you weren't supposed to look at the page, that was this little criterion. It's just coordinating line and hand. And they're so interesting, Michèle. Because they are totally diaries. They're visual diaries. Who my friends were, where I was. The restaurant. The cafeteria. The bedroom. I have stacks of these things. But, you know it is a sort of mania, to have to record all this stuff constantly.
MGK And make sense of it.
EP Who can make sense of it? My God, isn't it bad enough just to live it? (laughter) I remember some artist saying, Why should anybody paint realistically? We're surrounded by reality! Who wants more? Enough reality! But it's fun. It's fun!
Originally published in
Featuring interviews with Olafur Eliasson, Ellen Phelan, Percival Everett, Francisco Goldman and Esther Allen, Ben Katchor and Alexaner Theroux, Jorgen Leth and Ann Mette Lundtofte, Michael Bell, and Mauricio Kagel.