Discover MFA Programs in Art and Writing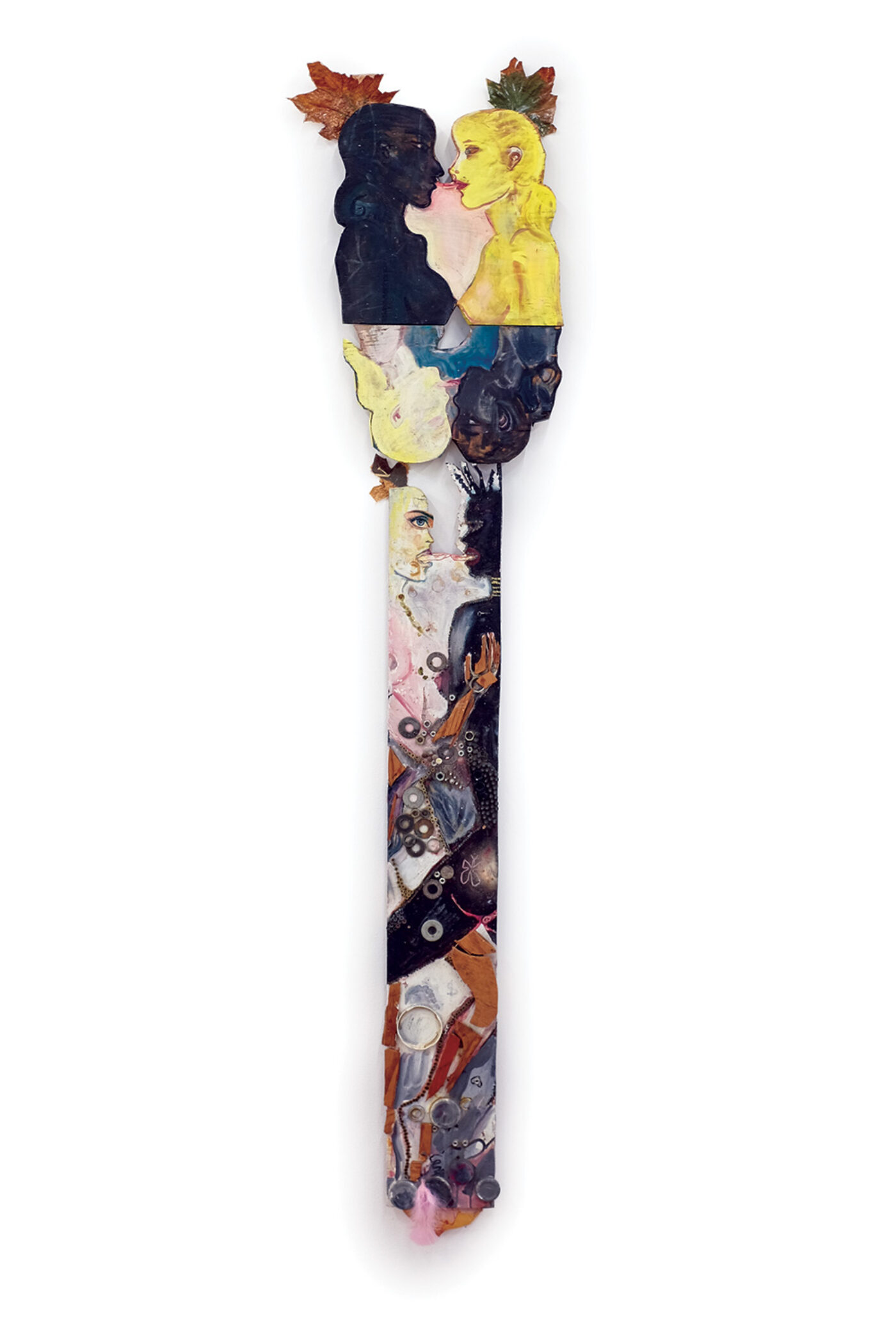 Ellen Cantor (1961–2013) was a prolific artist with an ardent vision that was personal, communal, and political. In the years before her untimely death, she had produced a complex body of work spanning painting, sculpture, drawing, and especially film and video. Her work—an open expression of her own sexuality—faced censorship battles in both the UK and Switzerland in the 1990s.
A recent multivenue overview of her work included the exhibition Lovely Girls Emotions at Participant Inc, featuring sculptures and paintings that date back to the early '80s (some of which have never been shown). It's a fascinating trove of emergent creativity. A group of carved wooden sculptures—encrusted with crushed Budweiser cans, colored feathers, cat-collar bells, collaged magazines, and even makeup—were gathered together like totems, or East Village street fetishes. The sculptures are painted with female figures, some with their arms raised, others framing their genitals with their hands, claiming ownership and rights to sexual freedom, to desire, to their right to want. On the surrounding walls, Cantor's early possibly dream-inspired paintings added an enigmatic, oblique narrative.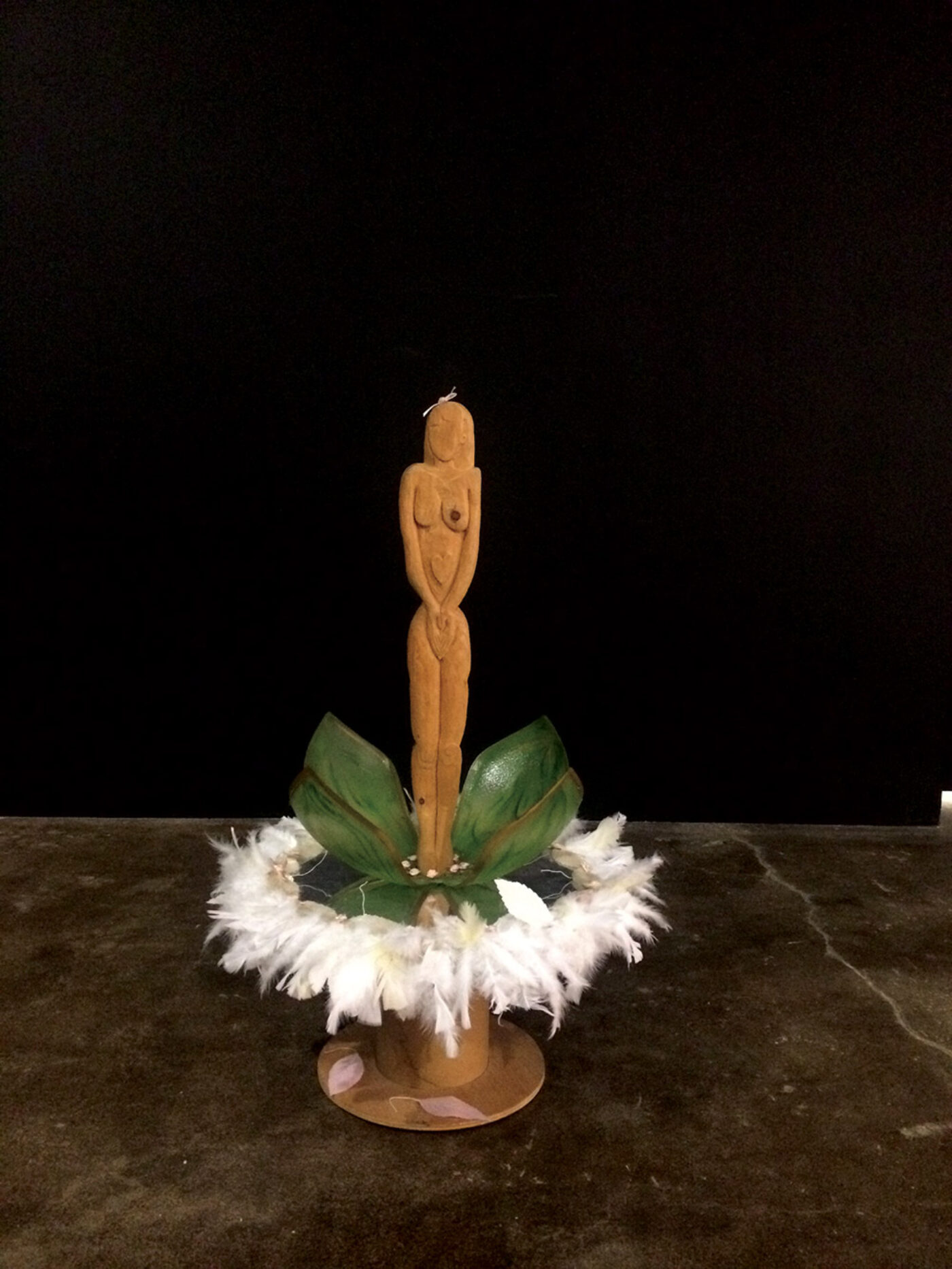 I first met Ellen around 1992. I was running Trial BALLOON—a women-only project space—out of my Soho loft when Ellen was putting together the landmark group exhibition Coming to Power: 25 Years of Sexually X-Plicit Art by Women (restaged last fall by Pati Hertling and Julie Tolentino at Maccarone). Back then, feminist concerns in the visual arts were moving out of the realm of academic theory and back onto the street. An energetic lesbian subculture was taking shape, with the wildly inventive artist Nicole Eisenman at the helm. Dykes were everywhere at last, working it out at the Clit Club and in the margins of the mainstream. Sexuality was central.
Into this scene walked Ellen, slightly otherworldly, with a shy if not submissive gaze and so soft-spoken that you had to lean in to hear her. Ellen wasn't "cool," she was something else entirely. We became friends, and I included her work in a show I curated, titled Part FANTASY: The sexual imagination of seven lesbian artists explored through the medium of drawing. Strictly speaking, she wasn't a lesbian, but I thought, Fuck categories, her drawings are so intense, the line childlike, yet the content raw and urgent. In one, a kneeling girl performs frenzied cunnilingus on another as they both undress, the excitement registering in the lightly sketched objects scattered in the room around them, including a tiny pair of unicycles on the wall above. A palpable sensuality and emotional intensity runs though Cantor's entire oeuvre while certain motifs—among them Pinocchio, Bambi, unicorns, galleons, and indeed unicycles—recur with autobiographical resonance. Snow White was one of Cantor's childhood heroines.
This yearning in Cantor's early drawings, paintings, and sculptures provides an insight into her sophisticated later film and video works and collages. The multichannel video installation Be My Baby (1999), recently on view at Foxy Production, is particularly moving. In Cantor's words: "I was concerned with how to transcend tragic experience and heal painful memory. By imagining a 'gravityless' world—an astronaut floating in space for the first time, a couple laughing doing front flips down a hill, another astronaut doing somersaults in his space ship—I tried to externalize inner metaphors for innocence and freedom from constrained confusion." Tragic experience is represented here by footage that Cantor borrowed from Cassavetes's movie Faces (1968), where the character Richard Forst (John Marley) repeatedly slaps his wife, Maria (Lynn Carlin). In successive close-ups, the psychological claustrophobia of a marriage parallels the physical claustrophobia of the astronaut's suit and the emotional claustrophobia of obsessive fantasy, but nevertheless, paradoxically, astronauts and the imagination operate within a boundless space. In Cantor's video collage, romance and hope meet with the hard reality of drug-like obsessive love—while The Ronettes sing "Be My Baby." Cantor reminds us that wishes aren't always granted—there are abuse and disappointment—but grief can be transcended and desire can be transmuted into art.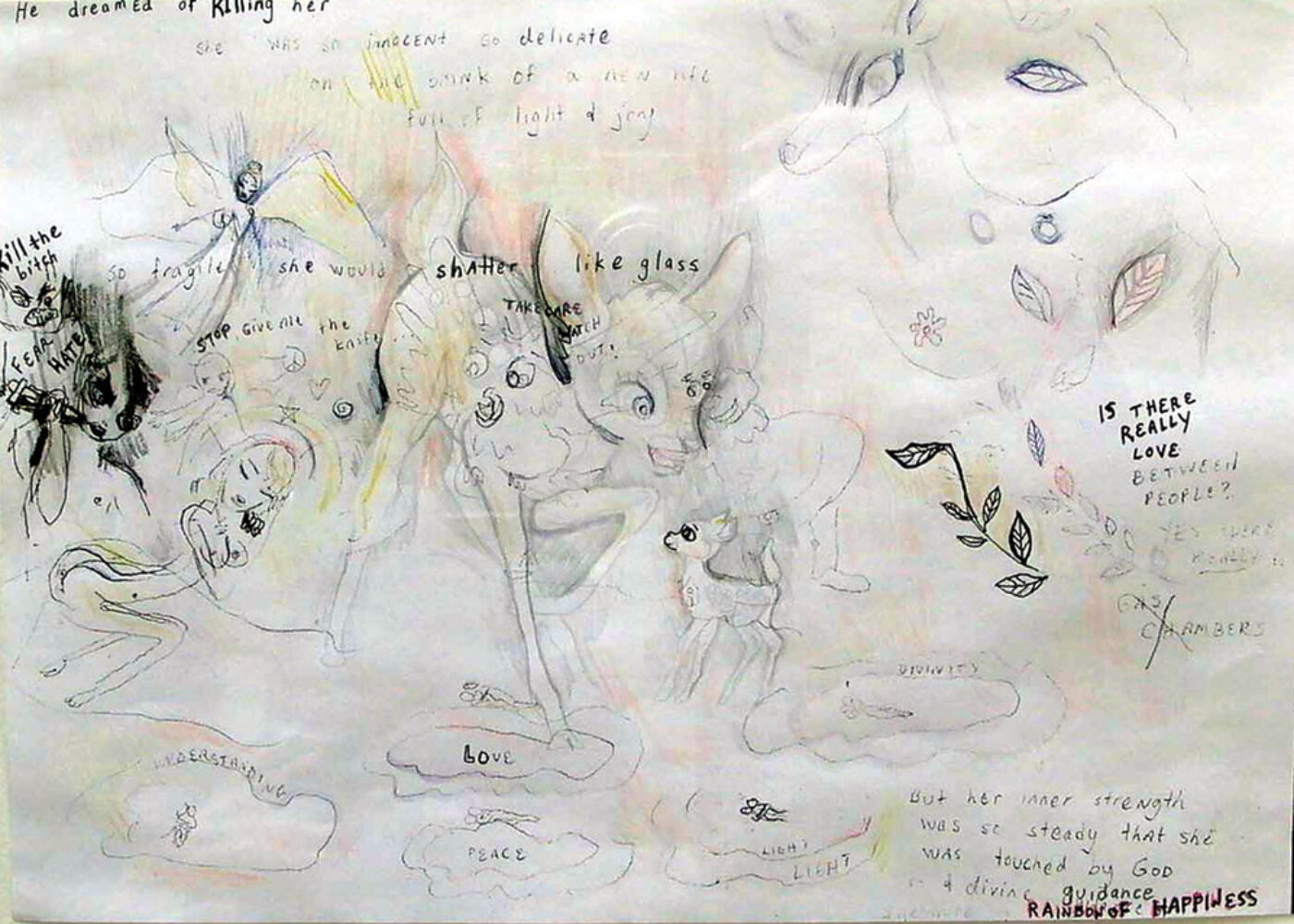 The comprehensive survey Are You Ready for Love at 80WSE Gallery traces Cantor's exploration of passion and pain in serial drawings and wall-sized murals and includes storyboards for her full-length movie Pinochet Porn. Cantor used to perform her drawings in a sense—like a child searching for a narrative and assembling it from seemingly disparate components, while secret connections and meanings built up into an emotional cosmos. Her soft pencil line was persistent yet tender (like her), even when the content was hardcore. Many drawings feature aggressive, weaponized-looking hard-ons, sometimes disembodied but always powered by carefully drawn pulsing veins. A Darger-esque darkness is at play amid the Disney innocence—for Ellen, drawing was a survival strategy and a profound expression of magical thinking—and thus her passion can be as disconcerting as the content of her art. With her heart as her guide, she wrought a delicate poetry from both brutal and sentimental subject matter, and did so with an authentic voice and a disarming sincerity rarely encountered in contemporary art.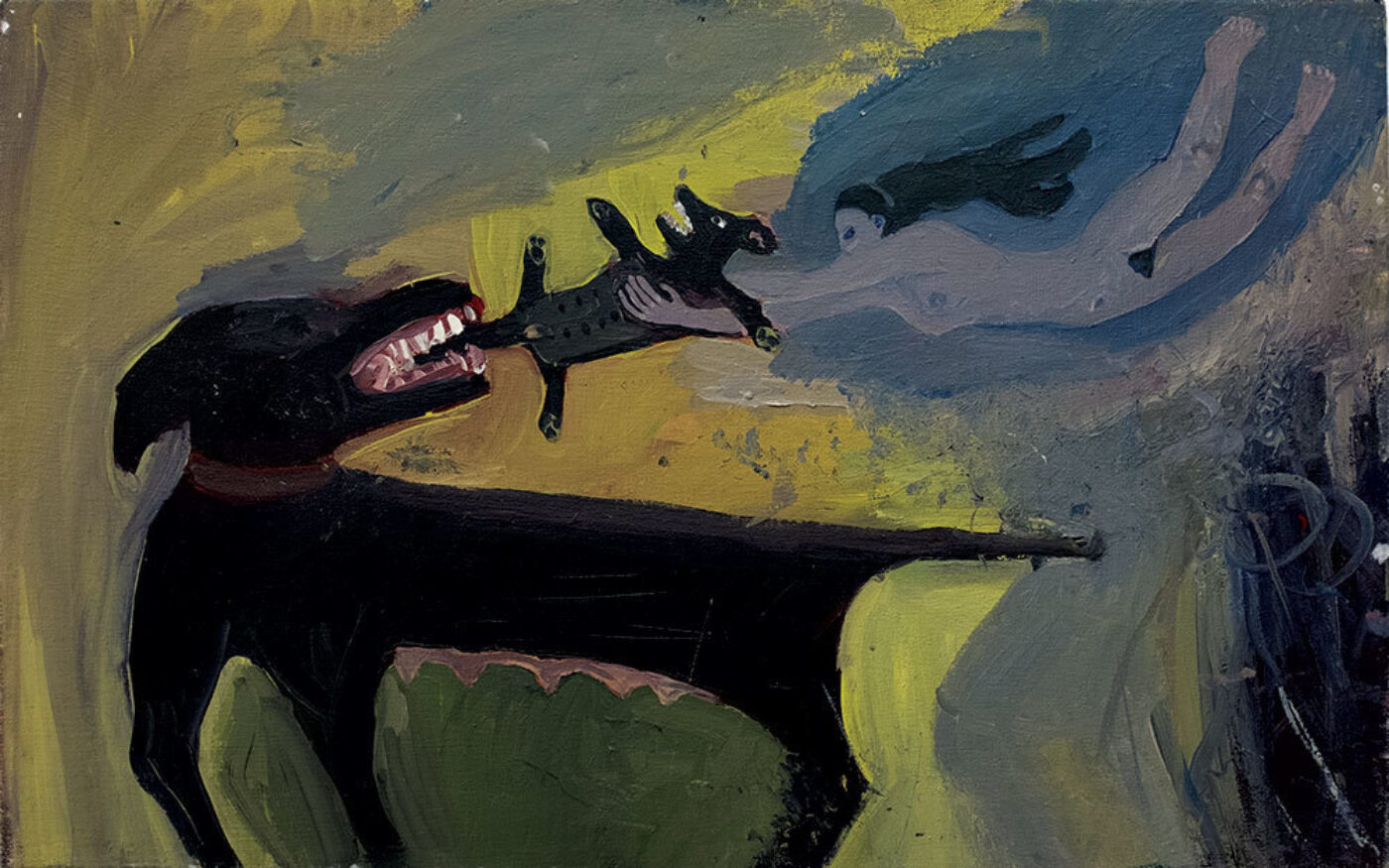 Nicola Tyson is a British-born artist based in Hudson Valley, New York. Primarily known as a painter, she has also worked with photography, film, sculpture, performance, and the written word.
Originally published in
Featuring interviews with Lynda Benglis, Roe Ethridge, Becca Blackwell, Antonio Campos, Robert Greene, Angie Keefer, Liz Magic Laser, Laura Kurgan, China Miéville, Michael Palmer, and Rosmarie Waldrop.