Edward Carey's Alva & Irva: The Twins who Saved a City by Patrick McGrath
Edward Carey's whimsical and affecting novel Alva & Irva is the story of twins who create a tiny city only to have it racked by an earthquake.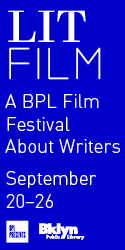 Now comes a new novel from Edward Carey, author of Observatory Mansions, one of the strangest and most original works of fiction of recent years. Alva & Irva conveys, at first, a faint whiff of Borges in its treatment of maps and models and their relation to the real world. Edward Carey has not merely invented a city, he has invented a pair of twins who re-create that city in miniature. The novel tells the story of the extraordinary fate of this tiny city, as well as the story of the twins and various other residents of the place. The early chapters have the rather kitschy whimsicality of a guidebook for tourists, but with the coming of an earthquake the playfulness evaporates and larger themes emerge, and a book that starts out as light and weird becomes a beautifully affecting—and eminently topical—exploration of urban destruction, the persistence of hope, and the human need to memorialize. In the process it turns into a much broader and deeper book: a triumph of pure vigorous imagination, a sad tale of obsession, and a grimly plausible portrait of a city overwhelmed by catastrophe.
Alva & Irva was published in March 2003 by Harcourt Books.
Originally published in
Featuring interviews with Paul Pfeiffer, Pat Steir, Tom Sachs, Marie Ponsot, Steven Millhauser, Meshell Ndegeocelo, David Greenspan, and Neil Labute.