Inaugurating Deitch's return to SoHo, Head proved to be little more than sexual provocation.

Discover MFA Programs in Art and Writing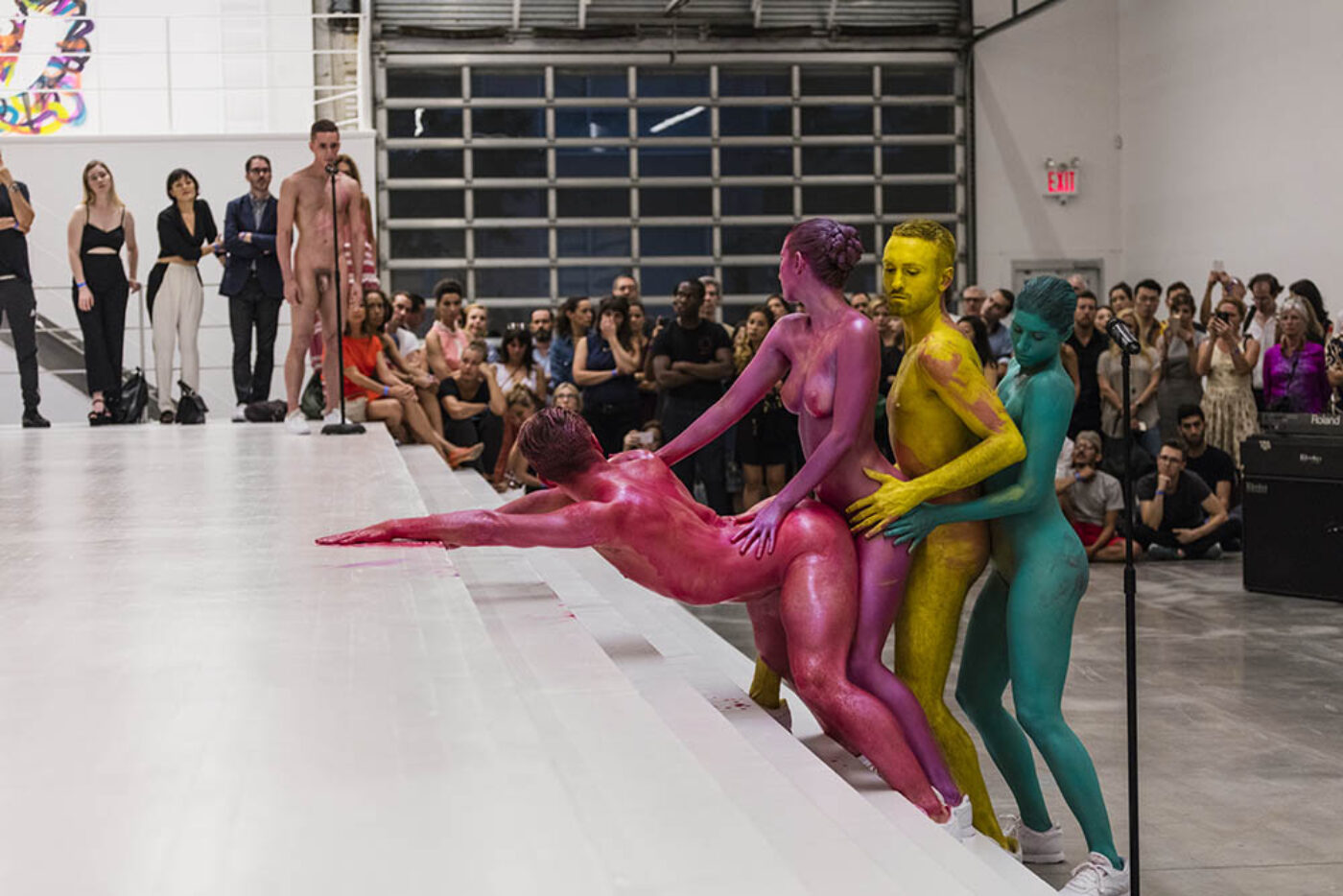 It would be disingenuous of me not to admit that I was initially attracted to Eddie Peake's work because I was attracted to men, and men—naked, muscled, and sometimes aroused—feature prominently in everything Peake does, whether it's painting, performance, or the landing image on his homepage (which currently is a close-up of his big old boner bathed in red light). The fact that he's straight has irked many, some of whom have confronted him and other artists, namely Jordan Wolfson, for exploiting the complexities of lived, queer experience, reducing it to an easy stereotype for personal artistic gain, as if trying to hedge against their own heteronormativity by window dressing it with something "alternative" and "sexy." Moreover, these artists also turn themselves into sex objects (Peake in his photographs, Wolfson in films like Raspberry Poser), directly soliciting the gay male gaze in a weird twist on old-school, painterly machismo. For a lot of queer people, there's all sorts of wrong happening here.
Head did nothing to assuage these concerns, putting forward a generic spectacle of fluid sexuality that seemed to lack any grasp of the subject, or even any critical inquiry of it that artists like Carlos Motta—who happened to also be in attendance—do so expertly. Head began with Peake's performers—three men and two women—slowly pacing in the space behind a black demarcation line around the gallery's perimeter. Wearing nothing but sneakers and each covered in yellow, green, or red body paint—something of a Peake hallmark, and Kembra Pfahler's too, I suppose—the performers would stop at points and gaze at spectators before continuing on. Three men wearing black hoodies, the musicians plus Peake, silently sat in chairs or perched on gigantic floor speakers. When they began playing a kind of clubby soundtrack (quite good actually) the performers danced in unison like a drill team.
Most of the choreography consisted of repeated sequences, the humorous highlight of which was undoubtedly a kind of awkward hip thrusting—sometimes accompanied by a woman screaming, "Suck my fucking clit, bitch!" This was performed standing up or, even more awkwardly, on the floor spread-eagle, as if humping it, ass to the audience. I got an eyeful, and it's a miracle everyone's testicles made it out unscathed. Fists pumping the floor, the dancers seemed to be channeling a kind of generalized sexual frustration, though it was more laughably over-the-top than anything else.
In one of Head's extended scenes, a male dancer bent over Deitch's staircase, grinding against it, until another male dancer moved in behind him, simulating anal sex. Eventually all the performers joined in, forming an embarrassing simulated orgy. It's not the orgy part that was offensive, but rather how much of a stylized caricature of sex the whole thing was, and in a way that seemed so redundant or rather uninteresting. What's the point? Sex is a complicated, nuanced thing, and since at least the 1970s, artists have been tackling it as a metaphor for the art market (Andrea Fraser's sexual "transaction" with a collector for Untitled); as a way to reverse gender objectification (Carolee Schneemann's beautiful Fuses); as a queering of pornography (AK Burns and AL Steiner's epic, and very graphic, Community Action Center); and as an allegory of American intervention in South American politics (Ellen Cantor's Pinochet Porn), among many other examples. Head's contribution, in contrast, seemed simply to provide a provocative bon-bon for New York Fashion Week—one that showed sex for sex's sake rather than addressing its larger meanings and implications. All style and no substance, Head proved to be an embarrassing, though perhaps unsurprising, way for Deitch to re-launch his brand.
David Everitt Howe is BOMB Daily's art editor.