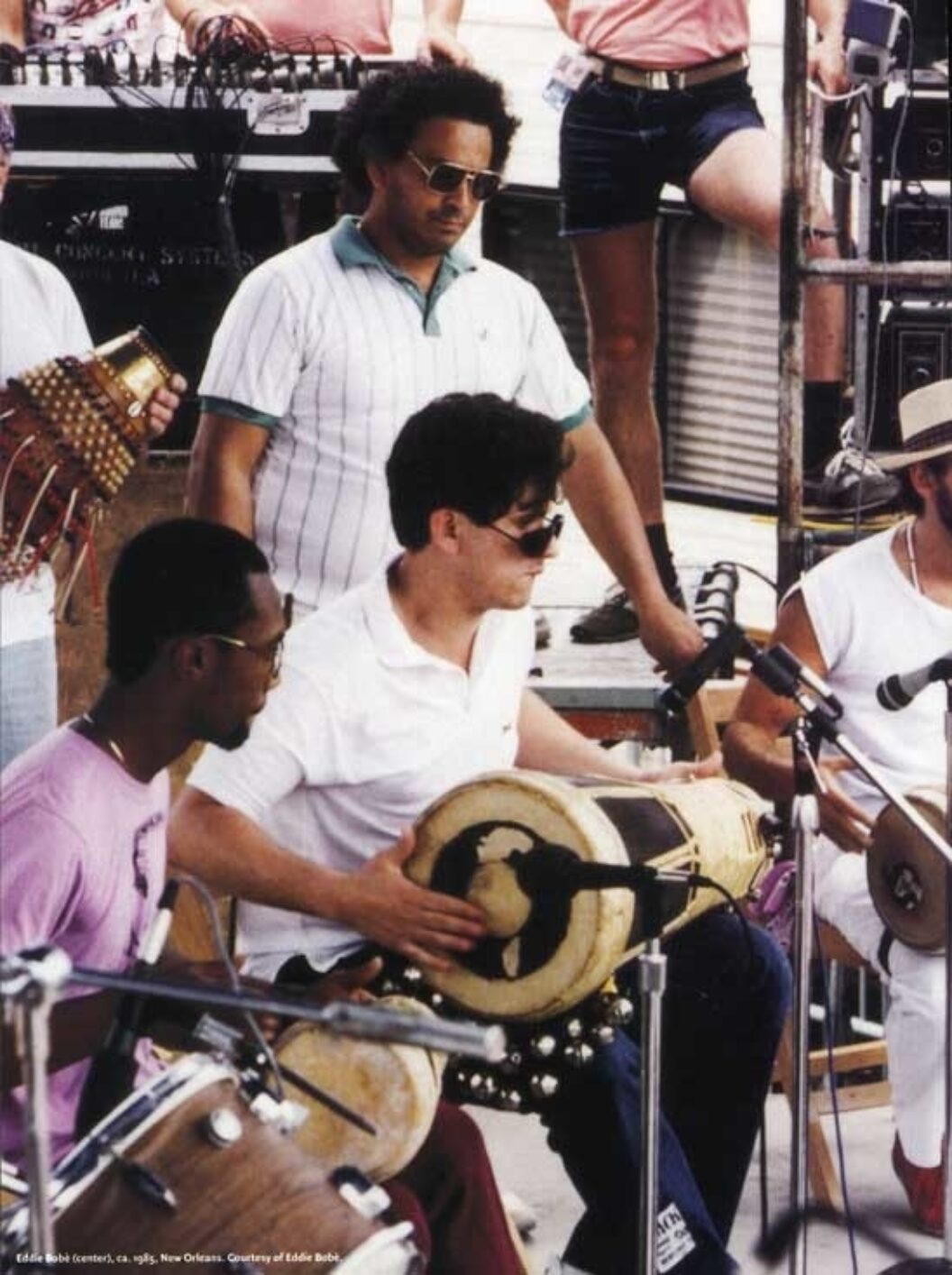 Eddie Bobè is a master percussionist, vocalist composer and arranger. His expertise extends across the full spectrum of Afro-Caribbean music and traditions. As a percussionist, Eddie links these traditions to their African heritage. He is an expert on conga drums ( tumbadoras ),batá drums, timbales, bongos, guitar, tres and drumset. His broad historical knowledge of Afro-Caribbean musical heritage allows him to transcend the cultural traditions of any specific island and to grasp the wider patterns of the Caribbean. He is one of only a few specialists in the music and traditions of the Caribbean as a whole.
Highly respected in the drumming community, he has played with master drummers Orlando "Puntilla" Rios and Julito Collazo, as well as with a wide variety of Latin and jazz musicians and groups, including Paquito D'Rivera, Chico O'Farrill, Medeski Martin & Wood, Chucho Valdés, Gato Barbieri and Marc Ribot. He has recorded with Steve Berrios and has also worked with jazz artists such as Jaco Pastorius and Julius Hempfield.
In his debut album, Central Park Rumba (Piranha), Eddie has captured the serious history of drumming that exists here in New York. The genesis of the album was the desire to keep the rumba's flame lit and burning. It's a celebration of the African ancestral drum spirit in the Americas that can be found here on the stoops and roofs and in the parks from the Bronx to the Lower East Side.
Eddie has been a faculty member at the Drummers Collective in New York since 1978. He has also taught at such diverse venues as the Jazzmobile, New York University; the New School, Juilliard, and the highly esteemed, hundred-year-old Third Street Music School Settlement, an arts education center for public-school children.
I first met Eddie in 1988 when he was a guest performer at a drum clinic that the great conguero Frankie Malabe and I were doing together. With myself on drumset and Frankie and Eddie playing percussion, our trio shared the bill that day with funk innovator David Garibaldi. Frankie recognized the depth of Eddie's talent and was in awe of his ability to grasp and retain so many styles so completely. Frankie taught Eddie to play tumbadoras in his early teens. However, his connection to Eddie went much deeper. Frankie genuinely felt as though Eddie represented an extension of his own musical approach.
From the day I met Eddie, I felt like we were brothers. Eddie and I would jam for hours, work out drum pieces and solos, listen to music, play gigs and clinics and hang out. He is a deeply respectful man whose knowledge and ability are truly unique. His process is steeped in an understanding of the significance and symbolism behind the traditional Afro-Caribbean rhythms. Without this comprehension, the rhythms are simply dormant.
Frank Marino Could you speak about your relationship with Frankie Malabe and some of what you learned from him?
Eddie Bobè Frankie came from a lineage of drummers like Mongo Santamaria, "Patato" Candido, Tata Güines, Chonguito Vincente—not to be confused with Changuito—and the first person who laid Frankie's hands on the drums, his teacher, Ray Armando. Frankie represented a conglomeration of these people. He was able to stylize his influences because of his mind and his rhythmic perception. He had a fantastic sense of time and was very experimental. When I met Frankie, I had a knowledge of time and percussion instruments, such as güiro, bells and shakers, and I played bongos very well. People don't generally realize how complex and evolved bongos are. The function of the bongos demonstrates your improvisational abilities and sabor, soul.
What I grasped from Frankie was the profound aspect of how he put things together. When I broke that barrier where illumination set in, with regard to my musical understanding, and developed my own style, Frankie asked me to teach him. He was open-minded enough to learn from anyone. As time went on, it became a reciprocal learning experience.
Frankie is a timeless icon of drumming because of the figures he played and the way he set things up musically. To this day, I haven't seen any drummers who have those characteristics in their playing. Unfortunately, the drumming community never became aware of the full range of his diversity. Most people in the Latin community thought of him only as a mambero, a mambo conga drummer. But his concept transcended any era or player. He was like Elvin Jones, "Philly Joe" Jones, and Ed Blackwell (who were Frankie's favorite drummers), because he was a stylist. It was his sound, feeling, and musicality that made him unique.
He used to sit at night with his hand across the kitchen sink, gazing at the stream of water coming out of the faucet, and I knew that this was how he connected with the infinite. Perhaps it was just an external medium for him to trigger his deeper creative self. There is no such thing as an idea coming from a vacuum. One's orientation of ideas comes from somewhere; ideas have sources other than themselves. When Frankie was a child, he would sit under the tracks of the elevated trains and listen to the sound of the trains going by. In this way, he would conceive of rhythms and actually materialize them in his playing. He was a very powerful drummer, in terms of dynamics. He had a great deal of finesse, which contrasts with the animalistic approach of many contemporary drummers. This is also my orientation, as far as dynamics are concerned. It is never my aim to nail the drum shells into the ground.
Frankie saw me as an alter ego. He would challenge me, saying that he would put me up against any drummer.
FM Frankie wanted you to be more involved with his book, Afro-Cuban Rhythms for Drumset. Why did you choose not to?
EB Frankie wanted me to work on the book as a consultant and record some of the examples on the accompanying CD. However, because I have a deeply personal relationship with the drums and the music, I chose not to go any further. I felt that what they were doing was so far away from what Frankie was about. The book didn't capture his essence, so I didn't want to deal with it.
Ironically, one day I was walking in Central Park, and I found a copy of the book lying on a bench. There was no one else around, except me … and the book. Out of all the books in the world, why that one? That's really strange stuff. It really meant something to me. If it weren't for this occurrence, I would never have gotten a copy of the book for myself.
FM Would you speak about your musical background as a child?
EB I have many memories of my early musical life. When I was very young, my mom and sisters would take out the pots and pans and put on a mini-percussion concert every night to get me to open my mouth to eat. My dad played percussion, made percussion instruments, and owned a record shop. We lived in Brooklyn, in Williamsburg. One of my family members, Miguel Angel Bobè, was a great accordionist who played with Ramito, who was one of the major exponents of Jíbaro music in the Puerto Rican folk tradition. My neighbor gave me my first bongo, clave, and maraca set. I used to play güiro rhythms on my spiral notebook at school. Basically, I thought every American kid played drums and that it was synonymous with growing up.
I learned my first bell pattern from my best friend Ivan's older brother, who used to rehearse with a band at their house. And the neighbor across the street, who was an undercover cop, showed me some patterns on the conga drums and pointed out different drummers for me to check out. He took me to see Mongo Santamaria's band when Steve Berrios was playing drums with them. I was a teenager, and that was the first time I met Steve.
FM Could you explain your spiritual connection to music?
EB The way I see it is that I have been granted a loaned talent, the blessing of drumming knowledge. I am responsible for these gifts and their destination. That is why this virtue holds a profound personal meaning of love and power and, at times, steers my life's course.
Music is one of man's innate archetypes. When it travels and is diffused, music and its expression become colored by their cultural surroundings. Melody, harmony, and rhythm have different nuances throughout the world.
We are animals that have the ability to think in the abstract. We create rules and regulations that we abide by and this is what is called tradition. This is what colors our cultural and, consequently, our musical surroundings.
FM You have very powerful chops, and you use them tastefully. Would you further explain your concept regarding dynamics?
EB We must first consider that hand drums were developed in an organic surrounding. They were never meant to compete in an amplified or electronic situation. Hand drums are complex instruments with many subtle techniques. The best drummers play dynamically, constantly changing the shape, position, molding, and pressure of their hands, like any other fine instrumentalist.
It is said that your left hand is the house, and your right hand is the guest. You need the resulting composite of both hands in order to be complete. The percussion instrument itself is an orphan prince, but it seems like some people take it hostage, rather than adopt it.
Too many drummers and other instrumentalists get into their strongman act and forget about finesse, sensitivity, and class when they play. I'd rather play softly and have a subtle command than play loudly and have no ideas.
FM Would you briefly discuss the concept of clave?
EB People tend to put the cart before the horse by dissecting and theorizing the clave concept first. What they don't understand is that you absorb the music first. Then the clave's meaning becomes apparent. The clave is an African means of estimation and calculation. It is the key or center to which all phrases gravitate. Each of the attack points of the clave and the spaces in between are starting points for melodic and rhythmic phrases, which ride and interlock with the clave's rhythmic contour.
Afro-Caribbean drummers are not slaves to intellectualism. The music is played on an intuitive level. Instead of bars of music, the clave is the reference of space and distance measurement. The clave concept inherently encompasses all rhythmic theory.
It's just a known entity. Some drummers, along with other instrumentalists and arrangers, have absorbed the music through an osmosis process, and they've learned on that level. This learning is one dimension.
The other dimension is living the concept. Master drummers live the concept. Once those two sticks are struck together, time and pulse manifest themselves, and musical order is established.
FM You are very selective about who you play with. Could you discuss some of your recent musical associates?
EB I am limited in what context to play in by the musician's range of understanding, by what their conception of the so-called hand drummer's role is and by what the music itself should be. My scope is open and expansive, and I make a point to play with other musicians who are not restrictive. I don't want to be tied down to traditional binds. I make sure of the ingredients that make up my style.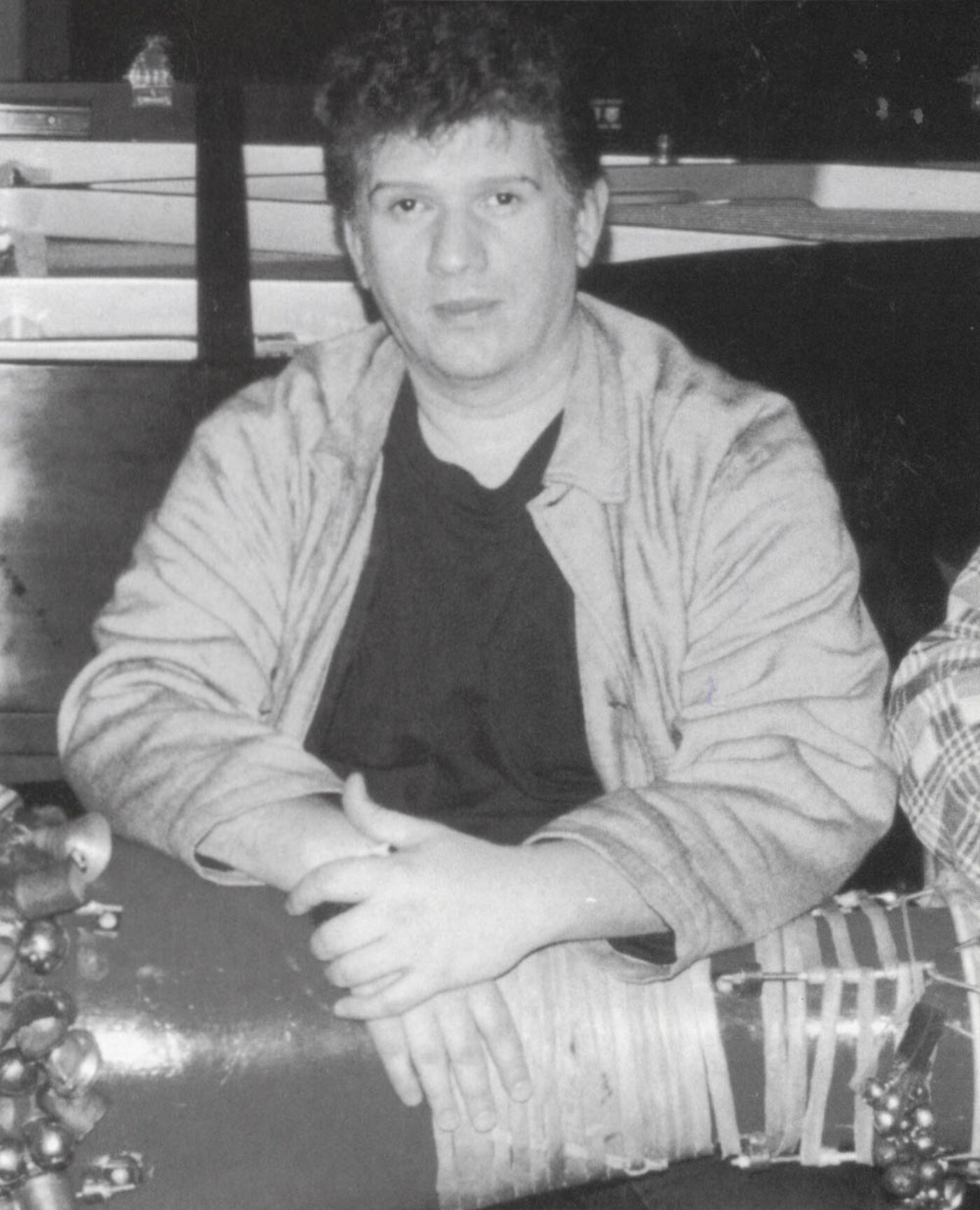 Most percussionists are paralyzed in terms of being literal percussionists. They study traditional forms but perhaps because of their lack of creativity or some other factor they don't see beyond the horizon. It's important to strive past the literal interpretation after you have a thorough foundation. There is no "one way." I blend tradition with my own personal sense of music. The bottom line is, if the music is happening, that's where your musical sense comes in.
I respect the people I work with. Steve Berrios is a very creative drummer, and one of those special drummers like Frankie. He has impeccable time. Steve reigns behind the beat like a king. That's where his space is. He has incredible feeling for different forms of Afro-Caribbean drumming and music in general. He is in a class beyond other drummers, who represent forms that, today, are relics. He is another creative genius.
I feel extremely blessed to have my cultural drumming heroes, such as Steve, master drummer Julito Collazo, and master drummer Orlando "Puntilla" Rios, take me under their wing. That's the highest approval that I can be granted. They are family to me.
Julito Collazo is a scholar who performed with Pablo Roche, the grandmaster of Cuban folklore. If it weren't for Julito, the Cuban drumming traditions would be nonexistent in the United States. Along these lines, I would also like to thank Orlando "Puntilla" Rios, who further introduced Cuban folklore tradition to the United States in the 1980s. In addition, I am very grateful to the African American musical community, which has blessed all music as we know it today and paved the way for all musicians.
I have been working with Michele Rosewoman, who is a pianist/percussionist and a genius composer. We have collaborated on different projects. She respects what I do and where I'm coming from.
FM You recently returned from a trip to Cuba. Did anything surprise you about the drummers there?
EB Only their malnourished stick bags. They play at a high caliber with beat-up instruments, which should inspire other musicians, who have an abundance, to realize that music comes from within.
FM Was your playing well received by the drummers in Cuba?
EB It was an interchange of ideas and musical perspectives. I played with the more eclectic drummers and percussionists who are highly evolved in terms of their independence and coordination skills, like Anga and Viscaino, who were members of Irakere and Gonzalo Rubalcaba's group. There was much mutual respect. I was there with saxophonist Steve Coleman, who made a recording with a high caliber Cuban percussion group, AfroCuba de Matanzas, along with his group the Five Elements. All this was being filmed for a documentary. I found a lot of kindred spirits in terms of how they looked at things musically.
FM How do you view the recognition that you've gotten from the drummers here and in Cuba?
EB I appreciate the respect I've gotten, and I don't take it for granted. There are so many percussionists here who are heavy, and they are unknown, and yet the masses have appointed a few entities at the head of the conga society. That is to say, it's often rather arbitrary the way some members of the community are targeted for recognition. People are recognized for a variety of reasons. So much of the fame in the modern drum world is about packaging rather than substance.
Centuries ago, in the ancient cultures of Africa and India, for example, there were master drummers who would never have the praise or recognition of today's drummers. Drumming is without bounds and transcends cultural dogma, superstition, and rule. Commerciality kills the significance of drumming.
People tend to lump Latin percussion all together as one, but there are many forms and styles. The rhythms not only sing their beautiful melodies but also echo the pain and cry from the scars of being torn away from Mother Africa.
FM Your album Central Park Rumba sounds like a live recording. What was the process?
EB My vision was to capture the unique flavor and exciting energy of a live New York City rumba street jam. The CD comprises some of New York's top master drummers, musicians with extraordinary drumming abilities, both Puerto Rican and Cuban musicians, who reside in New York. I wanted to showcase each master drummer's interpretation of the rumba's unique vocabulary per phase. The Cuban masters bring to the music their perspective and orientation. I feel that the drummers born in the US have inherited the rhythms; they are in our consciousness, our blood. We are descendents of the rhythm.
FM Could you give us some background on the mix of Cuban and Nuyorican musicians?
EB Rumba is a marriage or synthesis of two of the world's finest musical art forms, the Spanish flamenco and African ceremonial drumming. Rumba is the heading and under that heading you have three phases of rumba, which are yambú, guaguancó, and columbia. There are two regional styles of each phase in Cuba, Havana, and Matanzas; each style of rumba is distinguished by its own tempo, melodic rhythmic patterns called tumbaos—vocal phrasing and dance. All these elements are in a constant state of change because of their adaptability. Being open to the innovations of participants and evolutionary in process, the rumba has always embraced elements of other types of music, from Cuban ceremonial religious music to modern African American hip-hop and even European classical music.
FM How do you manage to retain all the rhythmic information you need in order to play in the different settings that you do?
EB The weight is sometimes overbearing. I walk around with a nucleus of knowledge, so that I can go in whatever direction. Whenever I need to add information or material, I do so by researching and accessing. In addition, I practice mentally all the time because playing occurs first in the mind; your ideas must manifest themselves in your mind before they manifest themselves in your hands.
FM What is your approach to playing drumset?
EB I don't make any distinction between hand and set drumming. Drumming is drumming. People tend to separate them, but there is one continuous line of thought involved. However, along with other drummers, I am confined by the cultural ties of hand drums and the stereotypes that come along with them.
The hand drums, when they are played in multiples, reflect the concept of the drum set. The congas become an entity where several individual parts are now played by one drummer. In terms of the mechanisms of coordination and getting around the drums, the drumset has a richer tradition, which the modern hand drummer draws from. In a traditional hand drum setting, other players will hold bell patterns, clave, shakers, or other percussion instruments as spices in a musical stew, but the main course is the melody that is set up by the hand drums. The melodies serve as a time foundation along with the other percussion instruments. Each drum has a specific space in terms of the time, and collectively they make up a melody. Each rhythm in an African tradition is recognized, learned and memorized by its melody.
FM Do you regret any choices that you've made?
EB My biggest regret is not playing with Miles Davis. Gil Evans asked me to do so when I was 18 years old.
FM You have paved the way, in my opinion, for a new perspective on this ancient art. Your cultural orthodoxy gives you a unique perspective for creating a new school of percussion thought within the circle of traditional elements. Could you discuss your book concept?
EB I have a book and video titled The Secrets of Percussion that encompasses all of my drumming knowledge and wisdom, my musical beliefs. The Afro-Caribbean drummer doesn't learn rhythm in a laboratory, like a book. However, the material presented will open the door to a total understanding. I'm considered a master's master, but I feel that this is not possible because the rhythms are ancient and encompass far more than my chronological years on earth.
—Frank Marino is a drummer who has worked with a range of artists including Frank Malabe, Lenny White, Michael Urbaniak, Les Paul, Jimi Tenor, Billy Mitchell, and currently Rose Marie Guiraud from the Ivory Coast. He is the author of two books, Time Capsule and Groove Therapy, which both explore odd time signatures. He is a member of the rock band The Screw.
Originally published in
Featuring interviews with Christopher Cozier, Carlos Garaicoa, Maria Elena Gonzalez, Antonio Benitez-Rojo, Zee Edgell, Wilson Harris, Eddie Bobe, Marc Ribot, and Orlando "Maraca" Valle