Ecological Entanglements: Tuomas A. Laitinen Interviewed by Owen Duffy
Artwork that creates complex systems.

Discover MFA Programs in Art and Writing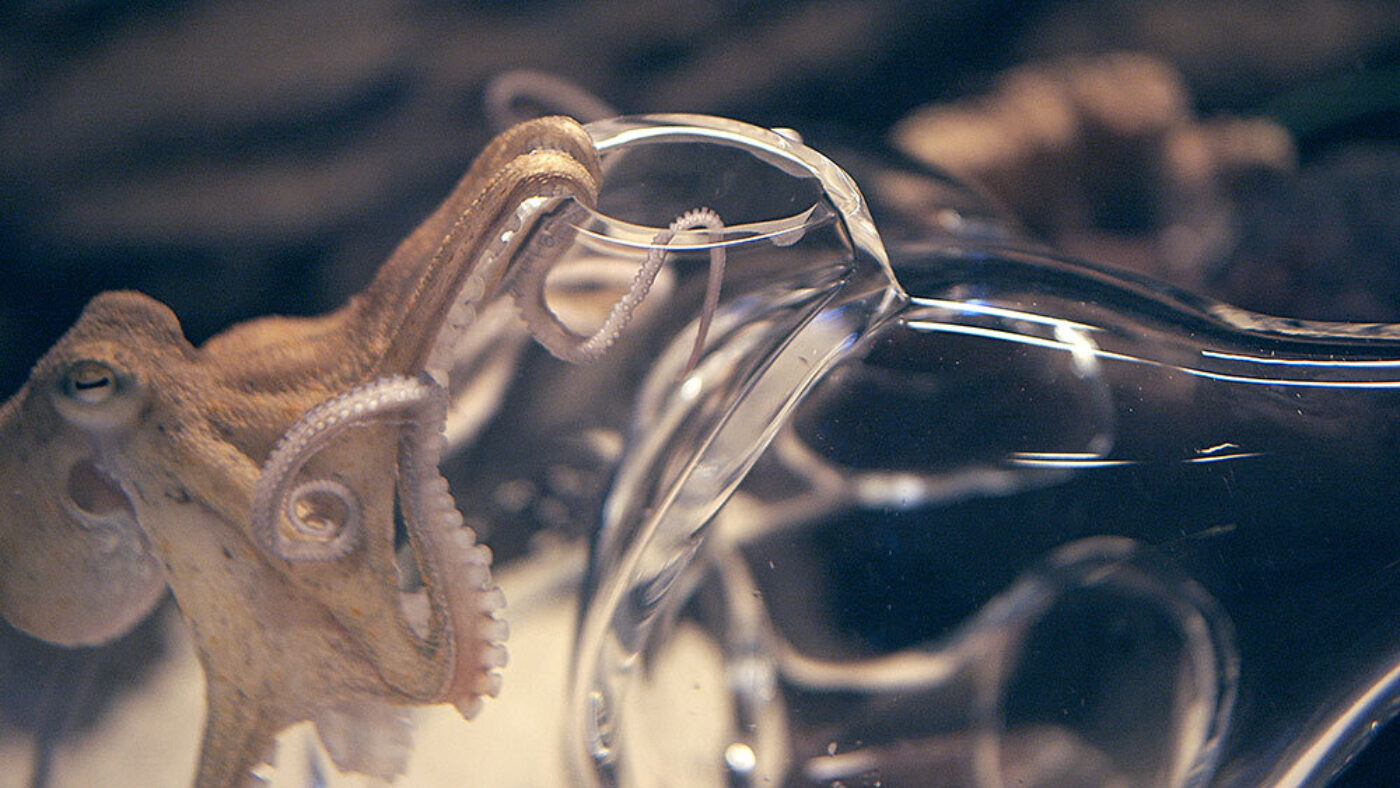 From Jules Verne's giant squid to Donna Haraway's theories on tentacular thinking, cephalopods have long occupied a place in the collective human imagination. Tuomas A. Laitinen, whom I first met in the fall of 2016 when he was an artist-in-residence at the International Studio & Curatorial Program in New York City, has made a series of glass objects for octopi, one of his many artistic explorations that resonate with nonhuman life. Throughout the pandemic, we've maintained a correspondence—he in Helsinki, and I in New York City—about our ongoing entanglements with the epidemic, the remarkable intelligence of an octopus, and how we might rethink our relationship with the nonhuman world.
—Owen Duffy
Owen Duffy First things first: How are you faring in Helsinki during lockdown? And how has the pandemic impacted your preparations for future projects, like the Helsinki Biennial?
Tuomas A. Laitinen It has been a strange time indeed, and in some way this situation with the virus and the quarantine has made me reexamine the work and research I have done for the past few years. There have been many attempts to shed some light on the questions of micro- and macroscale ecological entanglements. So this has been a time of relearning how to live with these complex systems of ecology and how they emerge in all layers of society. As with most big events, the biennale is postponed until next summer, but some aspects of my production are still crawling forward. But of course, there is this looming sense of mutation and change on the horizon.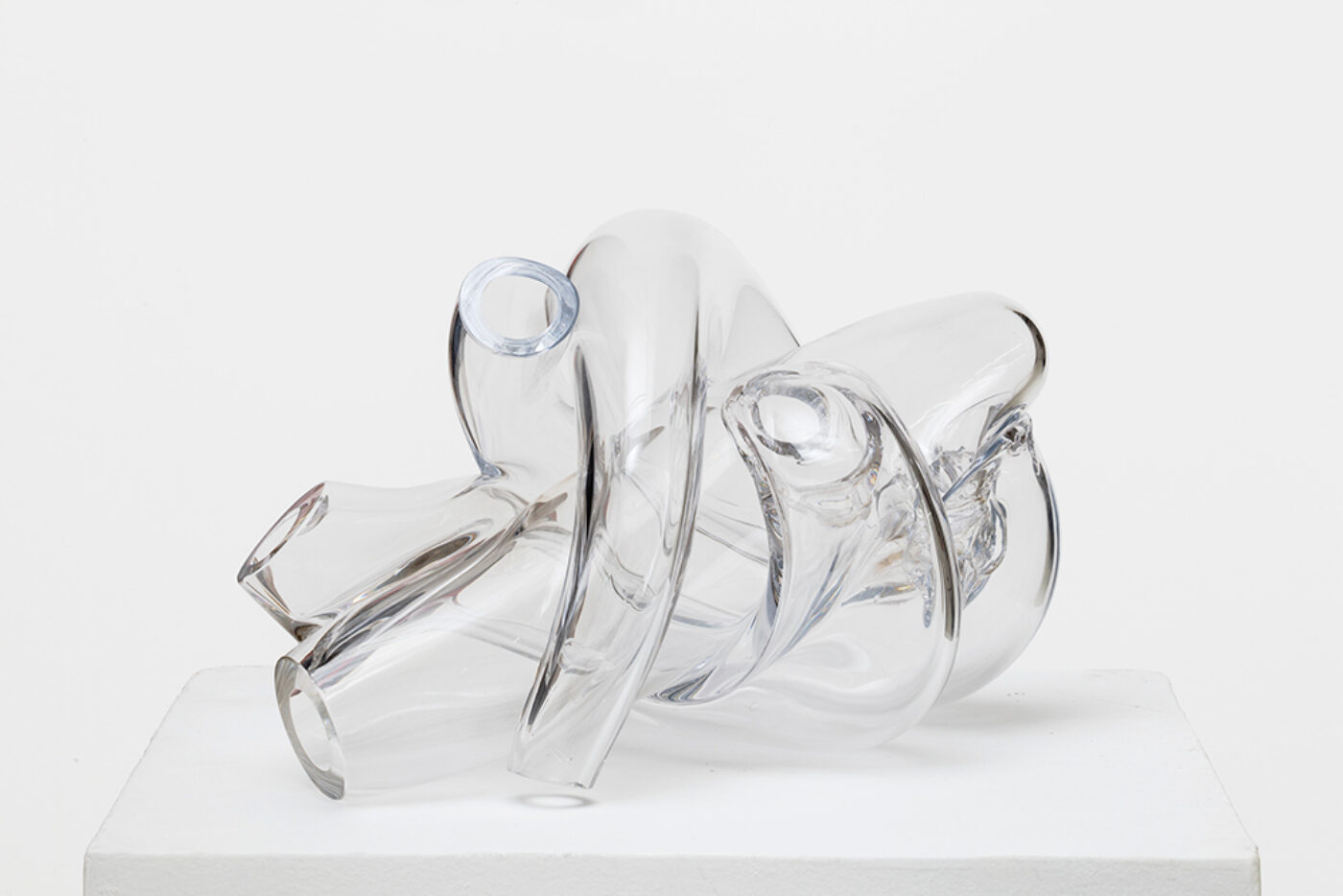 OD There's so much that this moment has reshuffled and rearranged: our ability to travel, where we work, how we experience time. There are a couple of your pieces that I've thought a lot about recently since we first met. Namely, The Game of Biomes (Biomipeli) (2019–20). Can you share a bit about this work and how your view of it has changed since the pandemic? The idea of a self-contained, self-sustaining system seems quite pertinent now, thinking back on my time in quarantine.
TL For me, the idea of a self-sustaining system is more like a narrative tool to think about different ecological scales. We are clearly living a symbiotic life in which the only constant is a flux of interdependency. A lot of my work is about these porous, liminal states where the boundaries between different systems are ambiguous. However, at the studio, I am experimenting with the concept of sustaining life in a glass enclosure with a certain combination of materials. It is a swamp-like forest ecosystem that I sealed in a glass container eighteen months ago. Here, achieving a flourishing equilibrium is a very delicate process.
The Game of Biomes is a permanent public installation in a new comprehensive school in Helsinki, and one part of the work is still an ongoing process. I have donated a portion of my artist fee to the student body, and we have managed to create a system that allows them to have legal agency over the resources. The only rule of the game is that the projects should address climate change, ecology, and social justice. This monetary instrument can be viewed as an incentive that can fuel social action within the school. During this crisis, I have often been thinking about the classics of systems theory, feedback loops, etc. So with this project I hope that the notion of ecology and environmental ethics blends with something that can be imagined by the people that are participating in the school "organism." The work also contains egg-shaped glass objects and a video installation that is made with the aid of a differential growth algorithm, which is basically how some corals grow, for example. These gestures are creating a background ambience and, hopefully, inspiration for the student projects.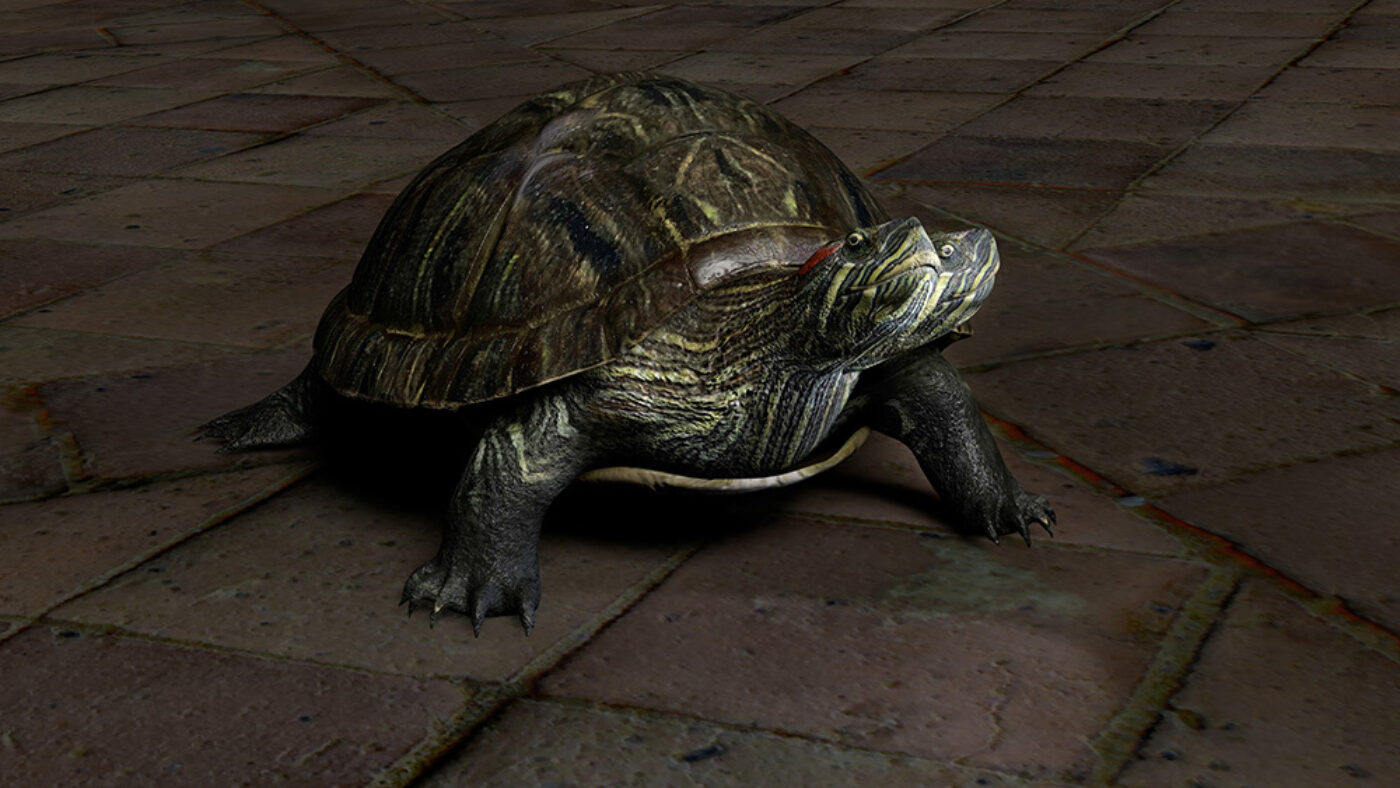 OD What did you aim to achieve by developing this new, unique model for a commission and "public" art project?
TL With this process, I am looking for a new kind of framework to think about a permanent public work that can also contain a sense of the ephemeral. I hope that this incentive can create a tradition within the school and that the "players" could gradually change the rules and the underlying narration of the game. Maybe this period of social isolation will affect the ways in which these projects are imagined. But there is also a possibility for the game to fade away, and perhaps the next generation of students picks it up again. I am hoping that by giving actual resources to young people who are actively thinking about the future of the planet, there is a possibility for real change through sustained action.
OD I believe you have another commission on the horizon, a digital one, in collaboration with Daata Editions and Lighthouse Brighton. Can you share a bit about working on "digital" works of art in general, as well as this commission?
TL This commission is a multipart work that contains a video and a series of augmented reality filters used in social media platforms. In the video and the AR section, proteins, viruses, and other vital microbial partners made and gathered by the body are transmuted into tangible augmentations, masks, and ritual objects. The forms come from the actual crystal structures of the proteins, which is one method to observe the very stuff of life. In the video, these protein chains morph into baroque and symbiotic hallucinations that evoke the environments of both ancient and contemporary worlds. Concerning my own work, I don't really make a distinction between "digital" and "analog" anymore. I like the idea of having a diverse toolkit from which to draw in different situations. In the digital sphere, I often simulate the physical qualities of glass, a material I gravitate to regularly. So here, there is a certain kind of material affiliation that is taken from the physics of glass and transported into other platforms as an algorithm.
This commission was digital before the pandemic, so I did not have to tweak it toward that direction. Both in the new video and the filters, a recipe (seen both as a list and a spell) is a narrative mediator. In recipes and spells, just as in all complex systems, there is a possibility of a result that is much more than its parts. I see it as chemical entanglement turned into a world-building process, to use the science-fiction lingo. It is a work that creates a narrative out of some particular trajectories of scientific knowledge production, alchemy, and symbiotic processes.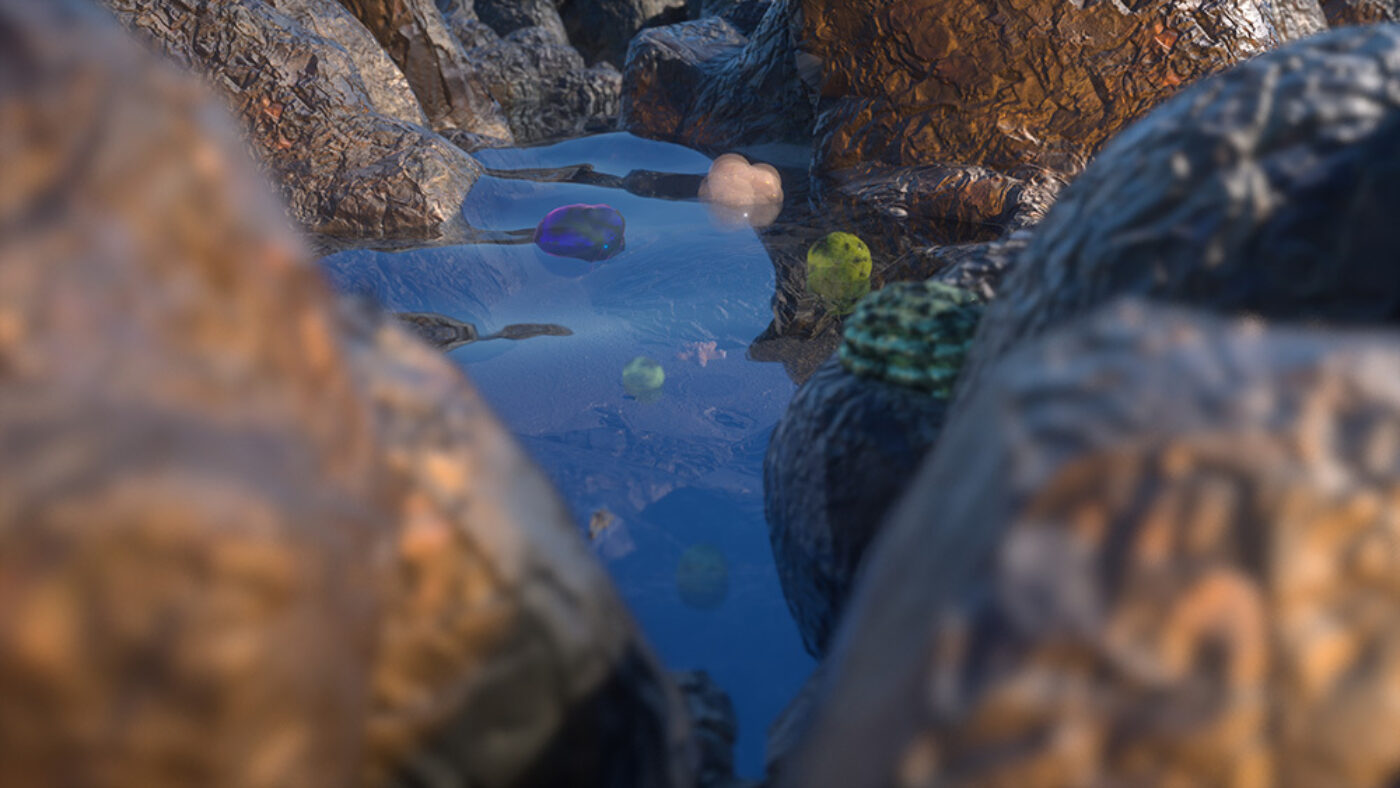 OD The last time you visited New York City, we were riding the subway together, and I remember you sharing a fascinating bit of research related to your projects with cephalopods, namely, that scientists have learned that an octopus's arms can communicate with one another independent of the brain. Imagine if our own extremities could plot against us!
TL Some go so far as to say that they have nine brains: one central one, and then all eight arms have enough neurons to allow "independent" operation. My work and research with cephalopods have been mimicking this kind of decentralized ethos. So in certain ways, some of the models that I've learned are stretching to new work, which is not centered around a particular organism. I found it interesting to use this idea of semi-independent appendages as a more extensive metaphor for how a system for creating a work is developed.
I've made a series of quite complex glass objects for octopuses, and it is interesting to observe how the animals are using the architecture in a wild way. Sometimes, it almost seems that they are using three separate tunnels at the same time, actively probing different possibilities simultaneously. For the observer, this action is amplified by the refraction of the glass, which distorts and further enhances this modular way of moving in the world. These ideas of shapeshifting and metamorphosis through adaptation and neuroplasticity are at the core of this research strand.
Tuomas A. Laitinen's work can be seen in the group exhibition Facing New Challenges: Water at the Heidelberger Kunstverein in Heidelberg, Germany, until January 17.
Owen Duffy is the Director of the Yeh Art Gallery at St. John's University in New York.