Ecofeminism: Faith Wilding Interviewed by Heidi Norton
Investigating the interface between humans, nature, and technology.

Discover MFA Programs in Art and Writing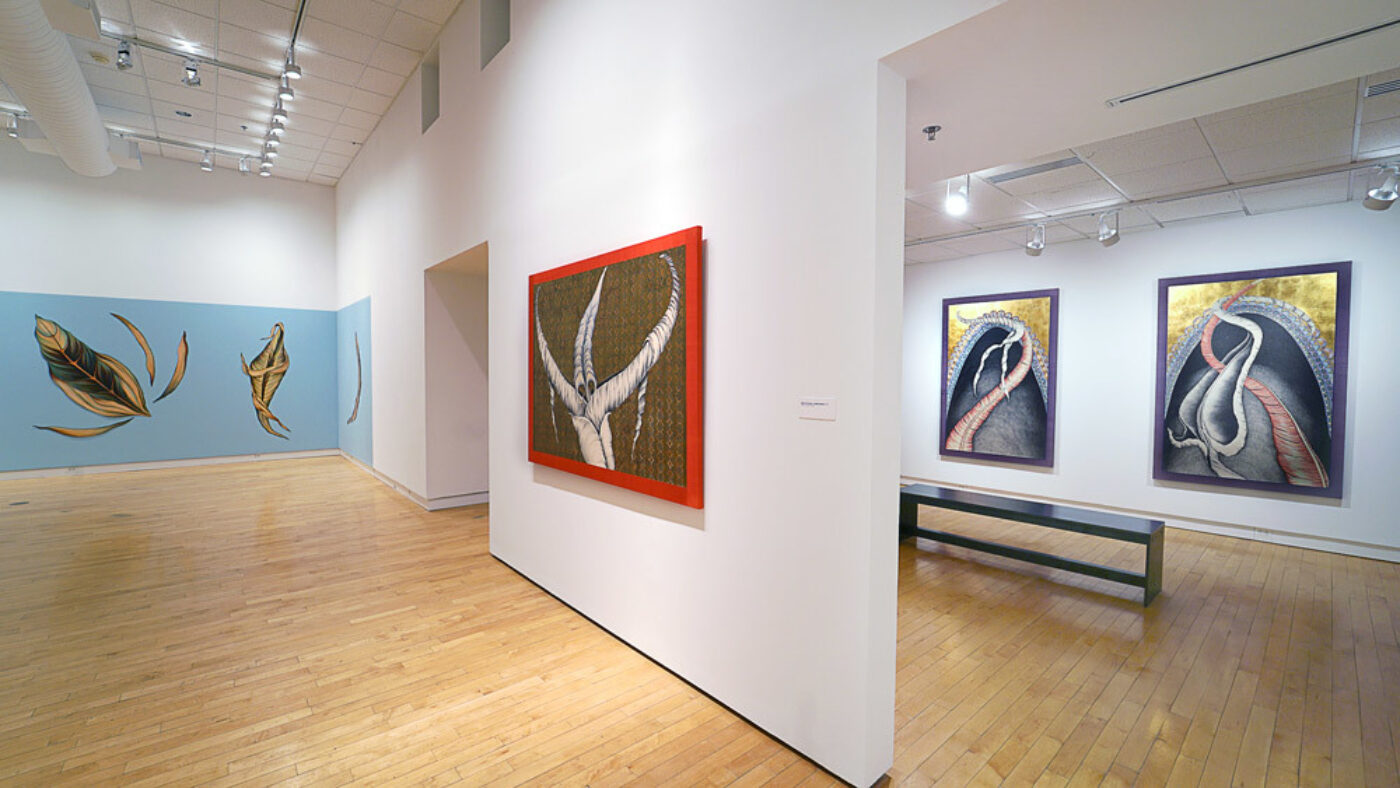 The conversation below took place after I bumped into Faith Wilding at her exhibition Un-Natural Parables at Western Exhibitions in Chicago in December 2017. Her life story, encompassing her career as an artist, is fascinating. Born in 1943 in the Bruderhof Anabaptist Commune in Paraguay, Wilding grew up with a rich relationship to the land. She immigrated to the United States in 1961, where she became an artist, activist, and professor of performance art at the School of the Art Institute of Chicago (SAIC). I, too, grew up living off the land, and it has greatly impacted my own artistic practice. As a graduate student at SAIC, I knew of her participation in the nation's first feminist art programs at Fresno State College and CalArts in the early 1970s. Her work in Womanhouse and her pivotal performance Waiting secured her a place in the canon of art and politics. Now, with the Women's March and #MeToo movement gathering power, along with the environmental crisis we have created, her work seems even more potent. The final iteration of Faith Wilding: Fearful Symmetries, her retrospective, is currently on view at Miller Gallery, Carnegie Mellon University. She is also presently writing her memoirs.
—Heidi Norton
Heidi Norton The works in Un-Natural Parables that struck me most were the luscious oil-on-Masonite paintings that resemble "pods" or pupas from the 1982 Natural Parables series. In a part of your memoir which you've shared with me, you describe these pupas as sites "where new visions of possibility hatch." They are plant forms showing stages of growth in which plant and the human body are united. Plants become breast, scrotum, embryo, torso. They float on the walls—biomorphic, mutant-like, magnified specimens of microbes invisible to the eye. In this way they slow our vision down—we are looking at an "illustration" of something nonhuman. In today's Anthropocene environment they serve to demonstrate a transcendence and a merging of human and nature that yields new thoughts on conservation. 
Faith Wilding I remember making this series in my huge Pasadena studio (formerly Judy Chicago's) in the late '80s. On my daily walks in the neighborhood, I gathered strange pods, seeds, and leaves of many tropical plants similar to the ones I'd grown up with in Paraguay. I made an installation of these objects on my studio wall, and started thinking about how to bring together my ecstatic childhood experiences of wild nature with my research into the connections between women and nature that are often framed in a dualistic way in Western culture opposed to the ecological, in-spirited philosophies of ecofeminism. I wanted to create an alternate female/feminist mythology that did not begin with a male god and female betrayal. Susan Griffin's writings were a huge inspiration.
I believe that the future always already lies in how we act in the present—this becomes particularly clear in ecological developments; that is, we are creating the future in our current heedless actions—William Blake explains this in terms of what prophecy actually is.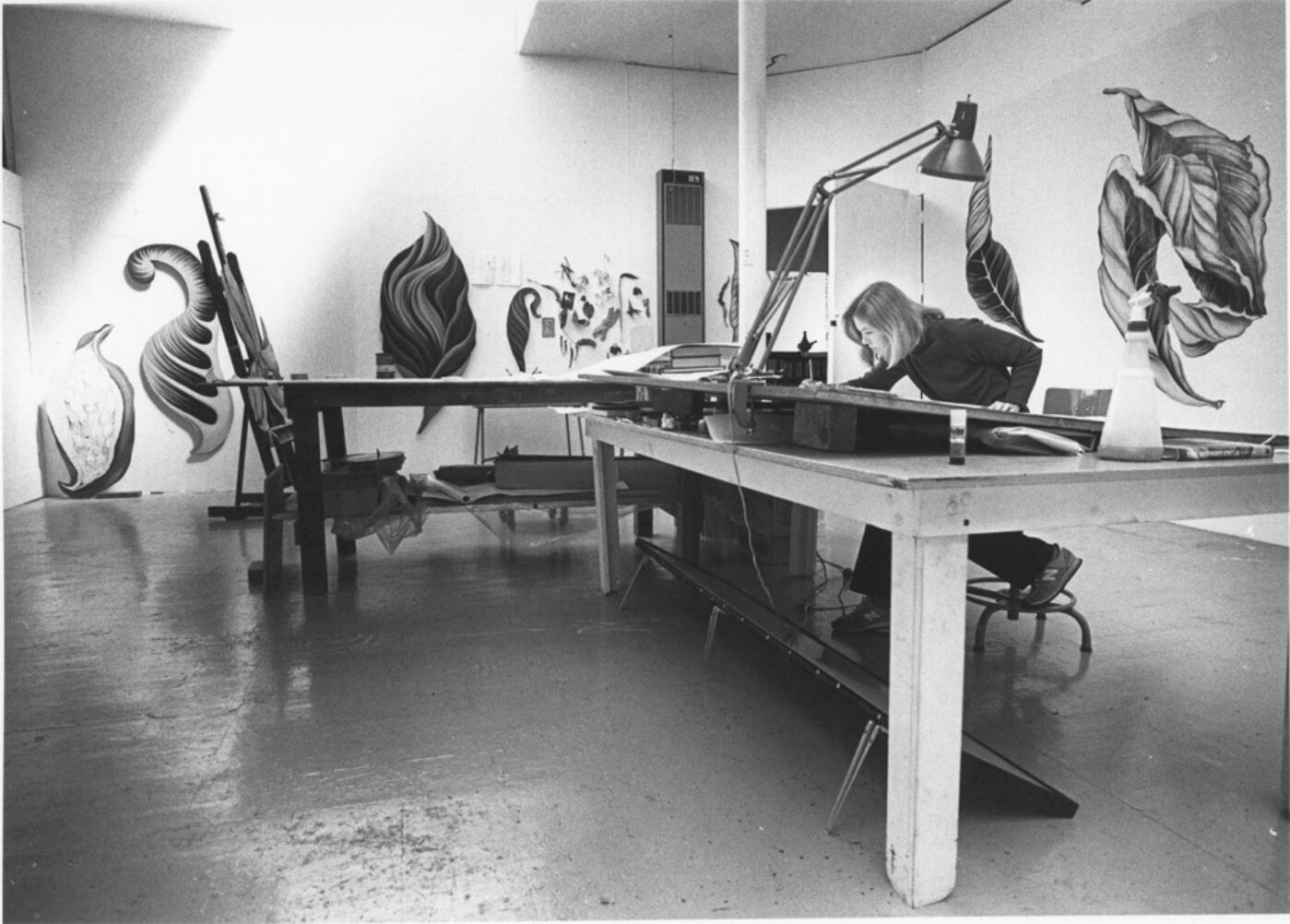 HN Speaking of Blake, I'm interested in the use of mythological symbolism in your work and its relationship to your narrative. Your human experiences, so idiosyncratic, could be easily mythologized. Is this why you are writing a memoir—so you can write or "re-write" it however you please?
FW Far from it! In my memoir I write: "I felt there were strong resonances between becoming a feminist artist/political activist and the experience of growing up in a pacifist commune in Paraguay alongside German, Jewish, and European war refugees driven out of Germany by the Nazis. How could I possibly connect—much less reconcile—the past and the present realities of my life? What could others learn from my experience?" 
HN Have you been able to answer these questions? 
FW I think my life's work—art-making, teaching, writing, feminist organizing, etc.—when taken together, answer the question; although I don't know if reconciliation properly describes this process. Clearly, I absorbed, and ran with, early influences that struck me most deeply—be they of natural beauty, vegetation, literature, music, art, and mystical or imaginative experience. "There are many truths," and I could learn from them all. Myths are stories of how the world came about—both for a people and for each individual. Myths are true to the capacity of the imagination, and that's what I've held onto: My imagination and my sense of possibility. As Blake wrote: "Everything that is possible to be imagined, Exists!" And, as Arundhati Roy warns us: the world is lost when imagination ends.
HN
What does this retrospective achieve in telling your story? How will it function differently from the memoir you are currently writing?
FW
My retrospective, Faith Wilding: Fearful Symmetries, has opened so many new conversations and thoughts and possibilities for me. I'm particularly thrilled to talk to younger generations about how they see my work, because I make it for them—and for the community that is yet to come. The exhibition's curator, Shannon Stratton, and others have recognized how much my art is about "becoming," and they take much pleasure in that. My memoir is most instructive to myself—an opportunity to delve really deeply into thinking about my life in all its dimensions. I continually surprise myself with new realizations and buried memories surfacing. When that stops, I'm done. Reading autobiographies and writing one is an important part of "world-making" for me—as you can see by the amount of writing there is in my visual work. I'm writing my life as "an illuminated Book of Life."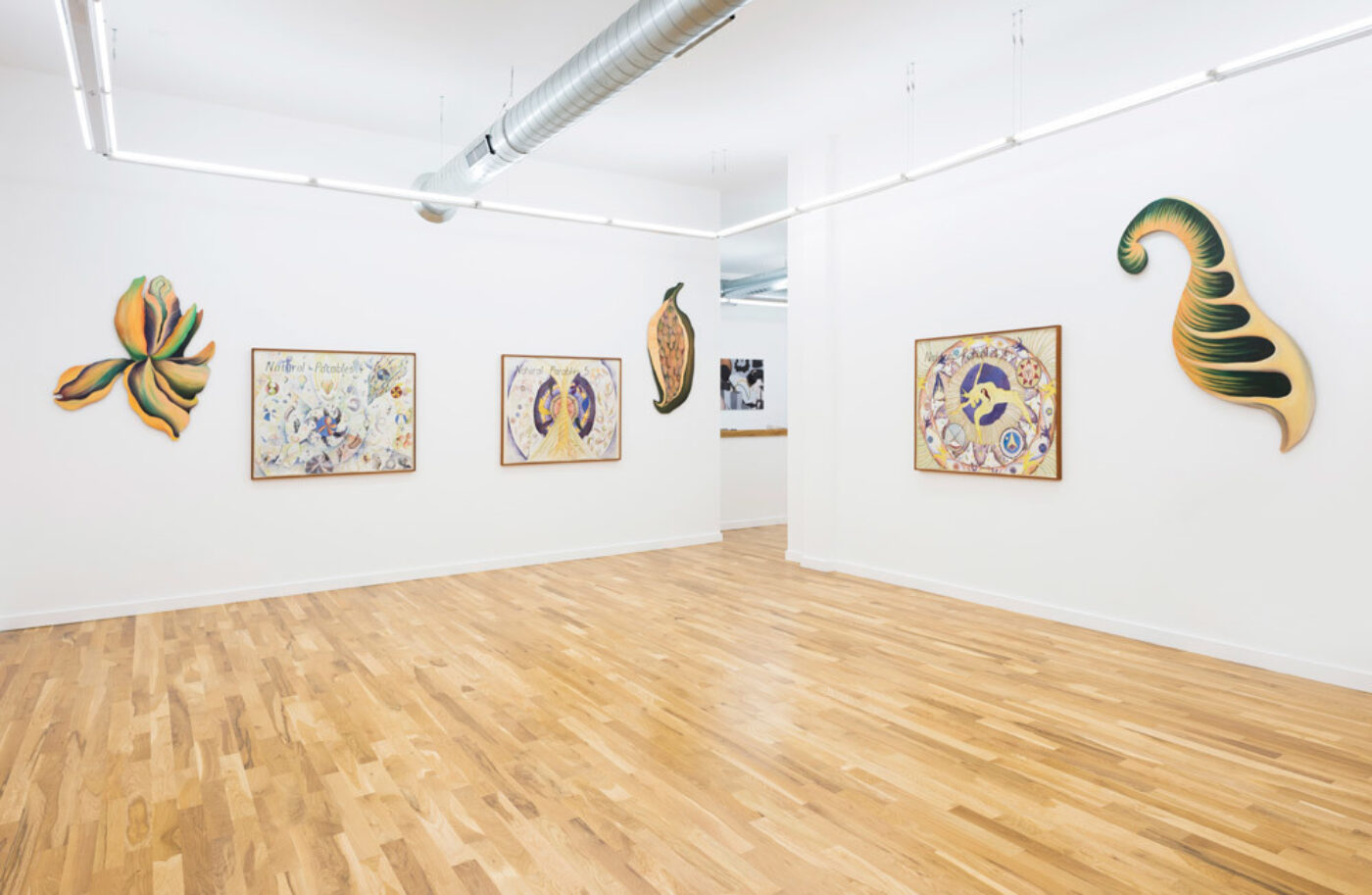 HN Speaking of this "book of life," you mention in your memoir that you observed a strong gender separation on the commune where you grew up. At eighteen, you realized it wasn't going to work for you, leading you to feminism. Do you believe that growing up while communing with nature brought about a specific gendering and finding of yourself as a woman?
FW If you read Silvia Federici's Caliban and the Witch: Women, the Body and Primitive Accumulation (2004), and other writings you'll find a great discussion of how societies have connected women to the land, made women into the "home-land" that nurtures and feeds all beings. Nowadays most countries speak of their "fatherland" and their "mother tongue." So I think in Western culture traditionally the land has been seen as female (Mother Earth) and exploitable, as it gets plowed and seeded much like women do. I had no consciousness of this concept as a child, but we sang many songs about how the land we worked would feed and nurture us.
HN We spoke about the "unearthing" of Natural Parables, works you made thirty some years ago. Now, in a new phase, you've revisited your homeland decades later for your ongoing Paraguay: Republica de la Soya. Your work is so much about transformation and the thresholds between. Will you talk about how you've explored these themes throughout your career? 
FW Käthe Kollwitz, the first artist whose work I loved as a child (and copied), wrote: "Ich will wirken in meiner Zeit!" I, too, want to work in my times, in a present that reaches to the future, and is under-laid by the past. Thus my childhood's deep intellectual and sensual experiences of nature, poetry, art, literature, and community life infuse and ground the work. My ongoing Paraguay series began with research and reading, but then I needed to go there for an embodied experience. It was not about nostalgia or trying to recapture childhood rapture—it was an act of witnessing, of seeing it was not a dream, or a paradise, but a struggling, much exploited country, with an impoverished population who are some of the most hospitable and gentle people I've ever encountered. I learned a lot about Paraguay that I hadn't known when I was living there. My eyes were opened to realities about what post-colonial, capitalist globalization looks and feels like. It is very painful—especially the massive deforestation and plowing under of vast grassland campos to grow genetically modified soy for export as animal feed. My instinct was to make my work about Paraguay both mournful and angry, but also convulsively beautiful if possible. I've used these tactics in much of my other work, for example Battle Dresses (1995–97), Armor Series (1991–94) and Embryoworld (1997–98). This work is connected through its themes of the "cyborg body" (body and machine), the desiring and fertile body, and the "world body" of nature, history, and culture.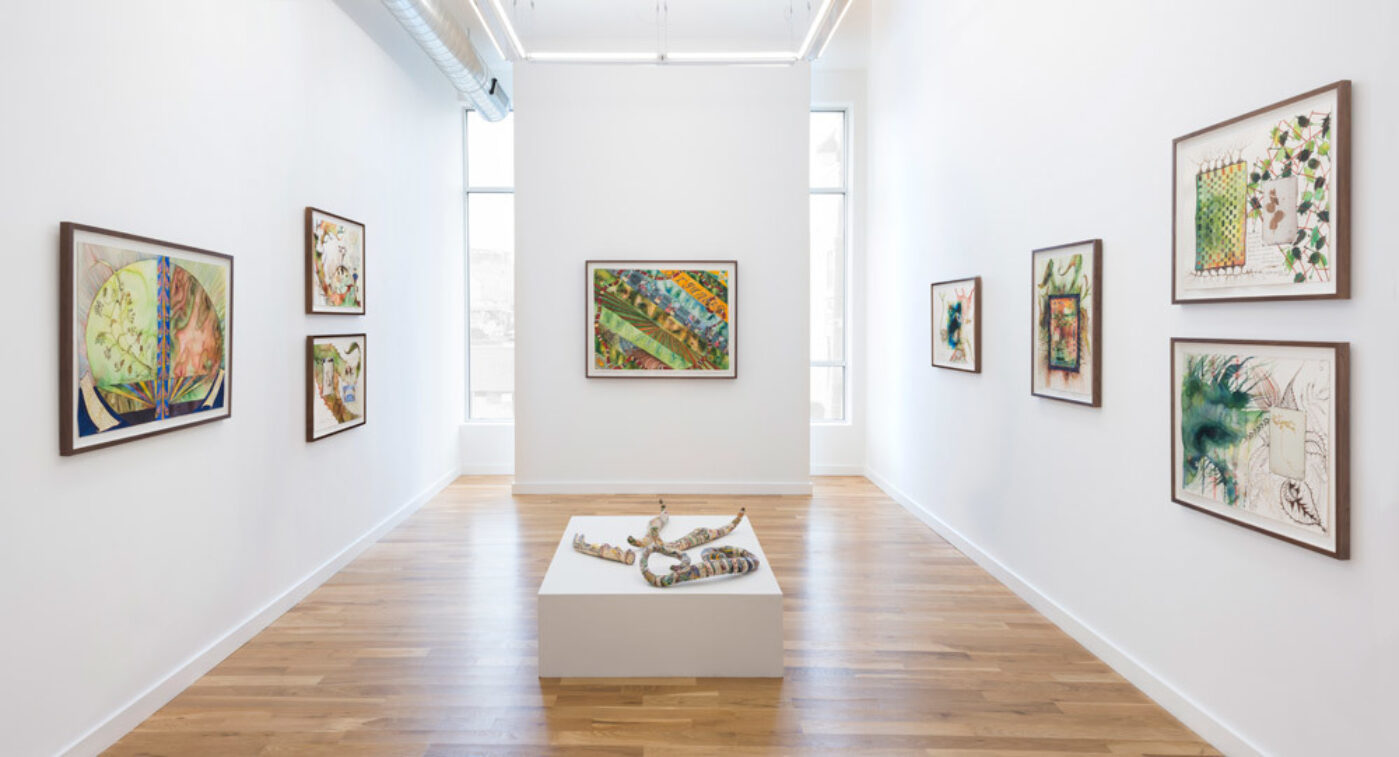 HN How is this related to themes of cyberfeminism and the organization in which you work, subRosa?
FW Cyberfeminism—coined by Donna Haraway—explores how advanced technologies alone cannot solve social/gender inequity; it examines how nature and technological culture must work together in ways that enable justice.
HN In an interview from 2014, you said: "Today, I am very aware of generational gaps. I want to be a mentor and a resource. That's really why we did all that work in the '60s and '70s: so future generations of young women and men wouldn't have to; so we'd have a different world."  What are your thoughts on the #MeToo and #TimesUp movement? Does it have momentum to make a change?
FW Feminism is a philosophy of justice and an everyday socio-political practice. Different cultural and political moments demand and give birth to new tactics and practices, but the desires are basically the same, I think. Due to networked internet and media cultures, change seems to happen more quickly these days; but if you look closely, the issues, desires, and goals are still the same.
 
Faith Wilding: Fearful Symmetries is on view at Miller Gallery, Carnegie Mellon University, in Pittsburgh through February 25.
Heidi Norton is an artist whose 1970's upbringing as a child of New Age homesteaders in West Virginia resulted in a strong connection to the land, plant life, and nature. She received her MFA (2002) from the School of the Art Institute of Chicago and is a professor at the International School of Photography. She has had solo exhibitions at the Museum of Contemporary Art Chicago, Elmhurst Art Museum, and Northeastern Illinois University, among others. Norton's works and writings have been published in Art21, BOMB Magazine, and Journal for Artistic Research.