Discover MFA Programs in Art and Writing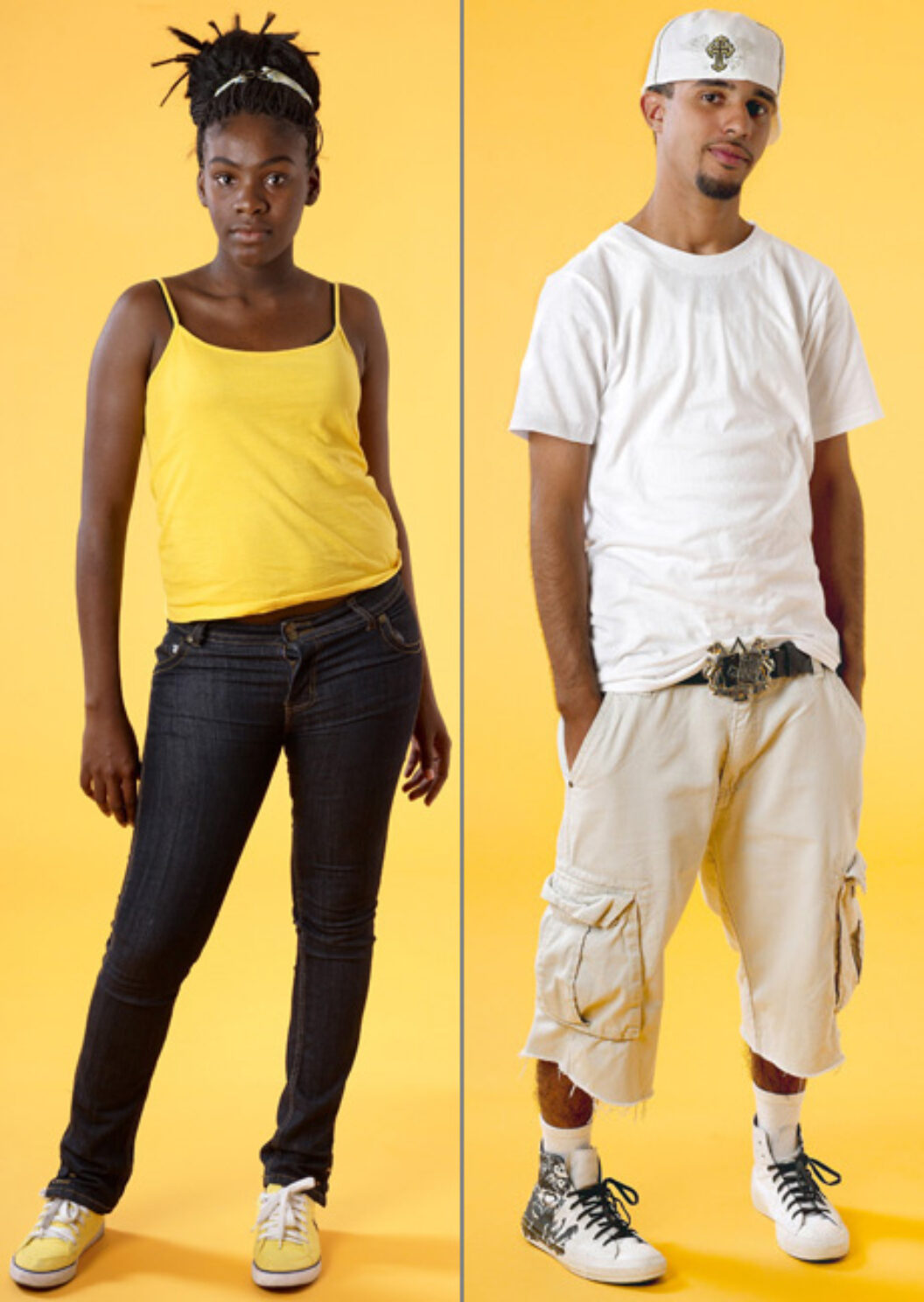 On the occasion of Dread Scott's public art project …Or Does it Explode? in Philadelphia, the artist exchanged emails with BOMB Managing Editor Nick Stillman. Scott's provocative work challenges pedestrians in Philadelphia's bustling Logan Square to consider the fate of local high schoolers will be on view through November.
Nick Stillman Tell me about the significance of Logan Square, the neighborhood where …Or Does it Explode? is installed. Was it assigned or selected, and how does it affect the project's signification?
Dread Scott The neighborhood is significant, but isn't the only place the project could have been installed. I had originally proposed that the project be installed in a neighborhood similar to where the kids in the work live, where it would be seen by people most directly affected by the issues the project explores. Actually, I wanted it in a vacant lot-and there are a lot of those in many Philly neighborhoods. But the Mural Arts Program, who commissioned and coordinated the project, saw what it was getting at even more deeply than I did, and felt that it would be better to have the project seen by a wider spectrum of people and just generally be visible and accessible. They suggested Logan Square, which is basically downtown Philly. Most importantly, the particular location is right in front of a family courthouse. So this project, which looks at the dreams and aspirations of youth living in a society that has no future for them, will be seen by a range of people who intersect with this question on a regular basis: the youth themselves, but also their families—as well as judges, lawyers, and cops. From an experience I had when we were finishing the installation, I know that the families who are being dragged into court have a different view of …Or Does it Explode? than the judges, lawyers, and cops do.
NS It's interesting to hear you say that engaging the opinions and requirements of both the Mural Arts Program and the city opened the project up. I think a lot of artists fear working in public because of the compromises, or they'll only do it when they can just plop down whatever it is they do anyway and forget about it. How much did the kids themselves change what you initially had in mind?
DS I think what enabled this project to be successful was that MAP largely gave me creative freedom and worked with me to enable that vision to be realized. And I listened to them when they raised concerns. When we had differences, it wasn't a question of compromise, but rather working together to figure out what would be best for the project—and them getting me to think through some concerns that doing a project like this requires. There were a few things that would have been different if I could have done absolutely what I wanted, but actually, the piece would not have been as strong.
The kids themselves enriched the project enormously. It would not have been the same piece without their work and ideas. I had a form—12 life-sized portraits in lightboxes on the ground with audio of kids talking about their aspirations—before I met them. But then there was a lot of latitude within the portraits and the audio. The kids developed most of the questions that I asked them in the interviews that were the basis of the audio and answered them with richness and insight, did rough audio edits, chose their clothes for the photo shoot, and helped decide the background color. I learned a lot working with them over eight weeks, and so did they; this all came out in the piece. The biggest change from what I originally envisioned was that I thought they would have more developed ideas on the myriad ways this society is crushing their future. And I didn't know how hopeful many of them would be for their individual dreams. That said, many had horror stories of what this society has done and is doing to them. And many of their dreams are unlikely to be realized, despite their belief in them. But in creating the audio, I had to learn from and capture what they individually said and have the whole of it add up to something more than a collection of individual stories. In all, their insights were quite deep and much richer than what I could have come up with if we hadn't spent time developing trust and me learning as much from them as possible to be able to make a piece that is rooted in individuals, but points to something much bigger.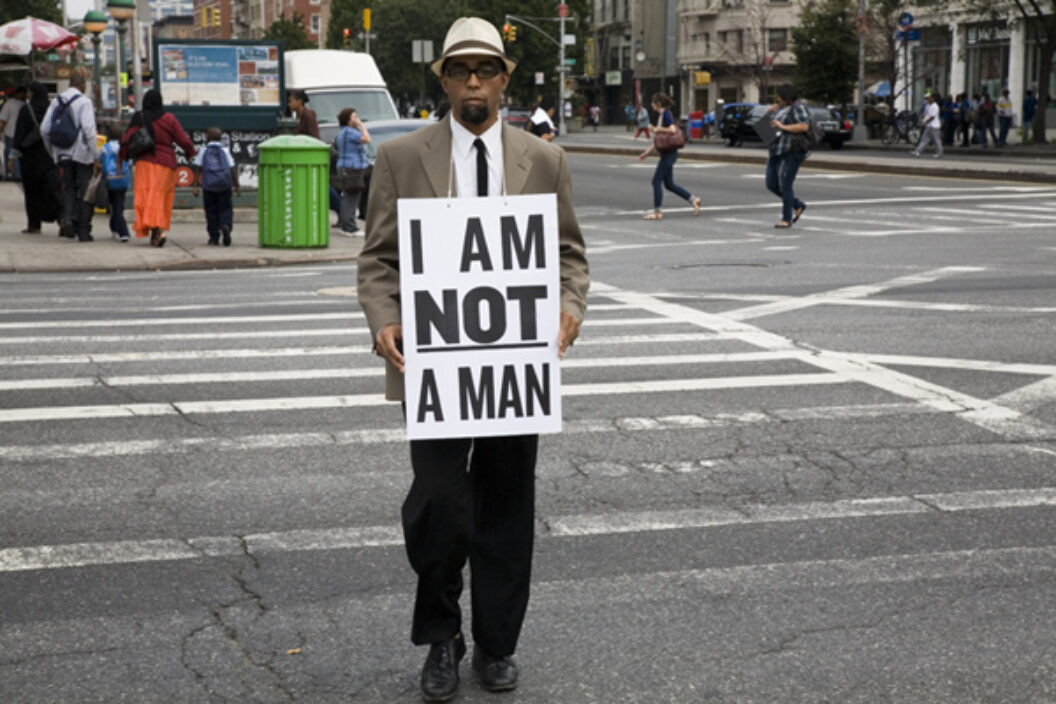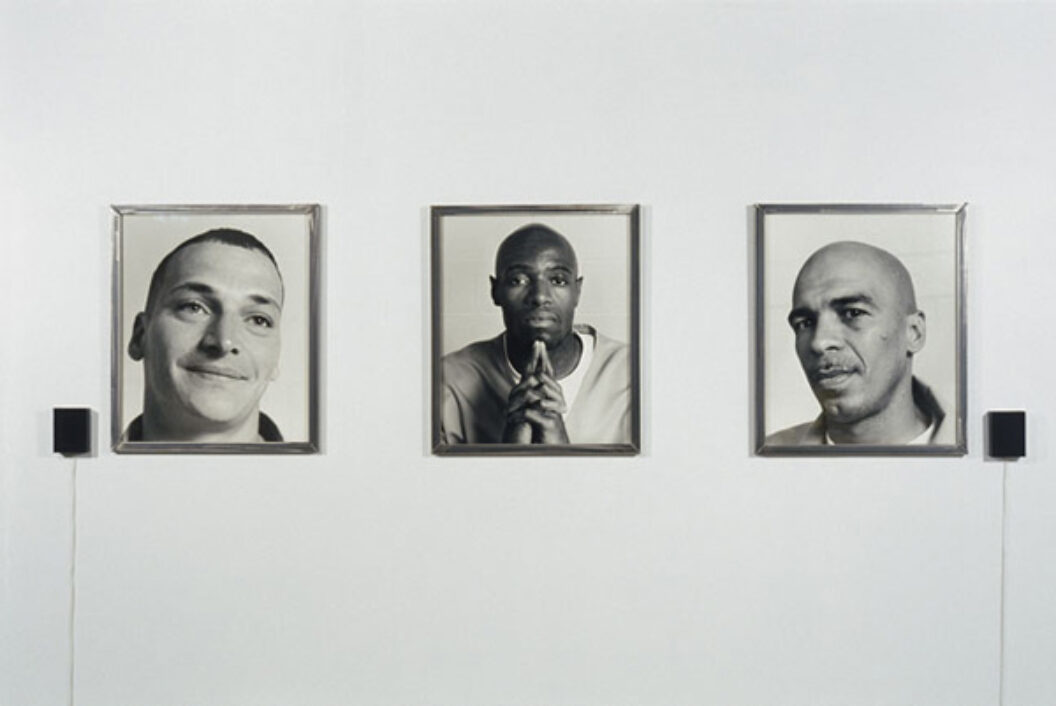 NS The project clearly resonates with Dawoud Bey's collaborative art made with kids, but yours is heavier—I'm referring specifically to the lightboxes-as-coffins. You've carried a sign reading I AM NOT A MAN through Harlem and have made works like Lockdown that deal with societal predeterminations for youth who lack education and socioeconomic power. To what extent did you discuss this previous work with the kids? On one hand, that would seem essential to building trust. On the other, revealing the machinations of the empowered superstructure that I think your work strives to expose is probably terrifying for others. Did you find that to be true and if so, did terror become empowerment?
DS One of the first things I did when I met the kids and we began the project was to show them my past work. Overall, they dug this and we had conversations about this. One thing that surprised me was that they raised questions about whether the project we would do and whether my past work was art. Later, one of the kids said that his friends don't think Andy Warhol was an artist since he didn't paint. This was an opportunity to get into what contemporary art is.
In addition to my work, one of the things I showed them was part of a speech by Bob Avakian, leader of the Revolutionary Communist Party, where he walks through the history of lynching to show racism is systemic to America. Later, he cites a conservative economist who notes that for many youth today, crime is a rational choice. Then he poses, "What kind of system have you got, then, if you can say that for millions and millions of youth in the inner city, crime is the best choice they can make under the system?" Discussing my past work and the ideas I was thinking about for Explode? was essential not only for building trust with the kids, but also for enabling them to really contribute to making it. Many of the kids were moved, and for some it was a little too close to home. It wasn't empowering in a linear way, but these conversations enabled them to look at the suffering this system causes and look at their lives in relation to that. This talk by Avakian and the other things we discussed were all part of the mix that contributed to the process of making a work that has the heaviness and tension of vibrant youth, with much to say, deserving a bright future in coffins. I think Explode? enables viewers to see the dreams and potential that is being crushed by this system—the kids' individual dreams, but also the possibility of a whole generation fully contributing to humanity. But those who have been written off have their own plans. In his audio segment, Danny says, "Don't ever give up. Everyone my age needs to keep going. We are the future. We will change the world. You think everybody that got you down is going to live forever? You're going to live past them."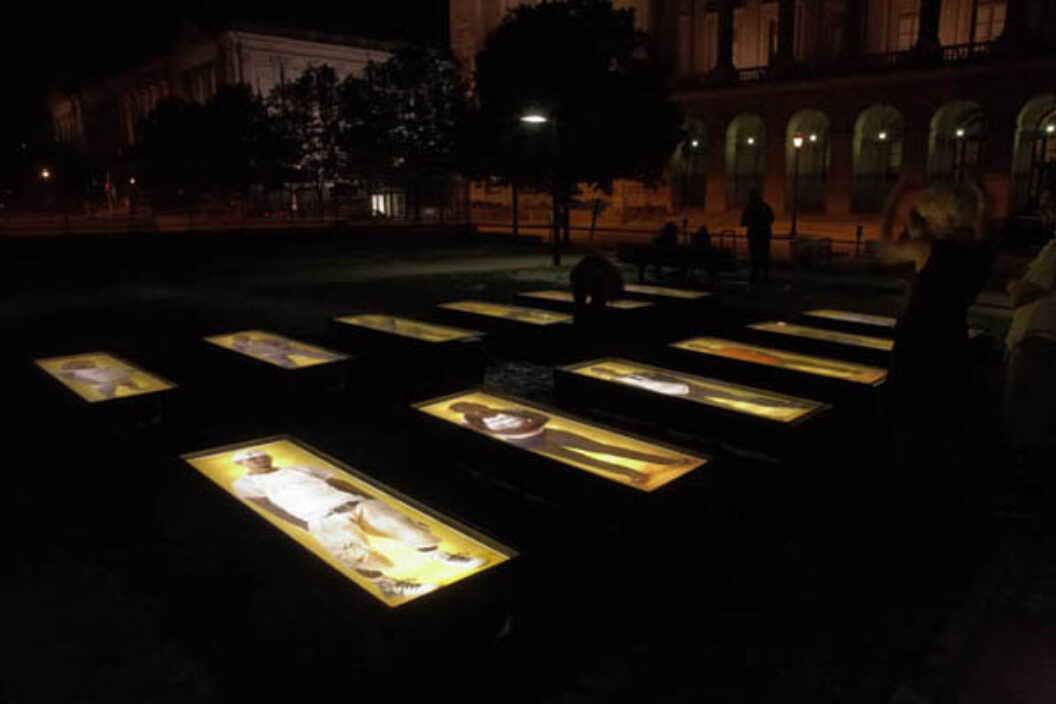 NS Yours was a dialogue about consciousness. I'm curious to hear about the responses to the project—particularly the negative ones, which often tend to be most passionate. After all, your project snaps into focus a local structure of haves and have-nots. Like you alluded to, some of the people working in the Logan Square area depend on that structure for their livelihood and comfort, and your project might have spurred some internal dialogues as well as actual ones. Has that tension caused friction and has it been productive friction?
DS I definitely want people to think when they see my work. And I'm very curious to know what people think. But since it's an outdoor piece, I largely don't know. Everything I've heard has been very positive.
This work does focus on a very sharp divide in this society and depicts people this system has written off. And it is unusual for a public project in that it doesn't depict them in an idealized way—book in hand, reaching for the stars, or becoming a doctor or lawyer. The piece is quite beautiful, but it should make viewers a bit uncomfortable. I hope that people who see the work see that this system has no future for youth, particularly poor Black and Latino youth, and yet these kids have dreams and things to say about this society and about making a future for themselves. Where do people stand in relation to this?
Earlier I said that when we were finishing up installation I got feedback about the work. There was a fire drill at the court and all sorts of people came to see what we were doing. One of the judges came and spoke with me about the work and after looking and talking, she wanted to invite her colleagues at the court to the dedication of the project. She felt the work was important. She didn't want to see kids in real coffins and I think she was drawn to the fact that they were doing something positive. I was glad that she liked it, but her take was a little different than a woman I spoke with later whose son was on trial. After looking and listening she said, "This really shows how they do us. You ought to make sure that all these judges see this. And you ought to make sure kids see this before they end up here." She was agitated and the work really resonated with her. She saw all the crime and destruction youth were caught up in but wasn't blaming the youth for it, and she felt that the work gave people a lot to think about.