In 1993, Alexander Floresnky, founder of the infamous Russian underground art group Mitki, nearly turned down the opportunity to illustrate the collected works of the great Russian humorist Sergei Dovlatov—thankfully, he did not.

Discover MFA Programs in Art and Writing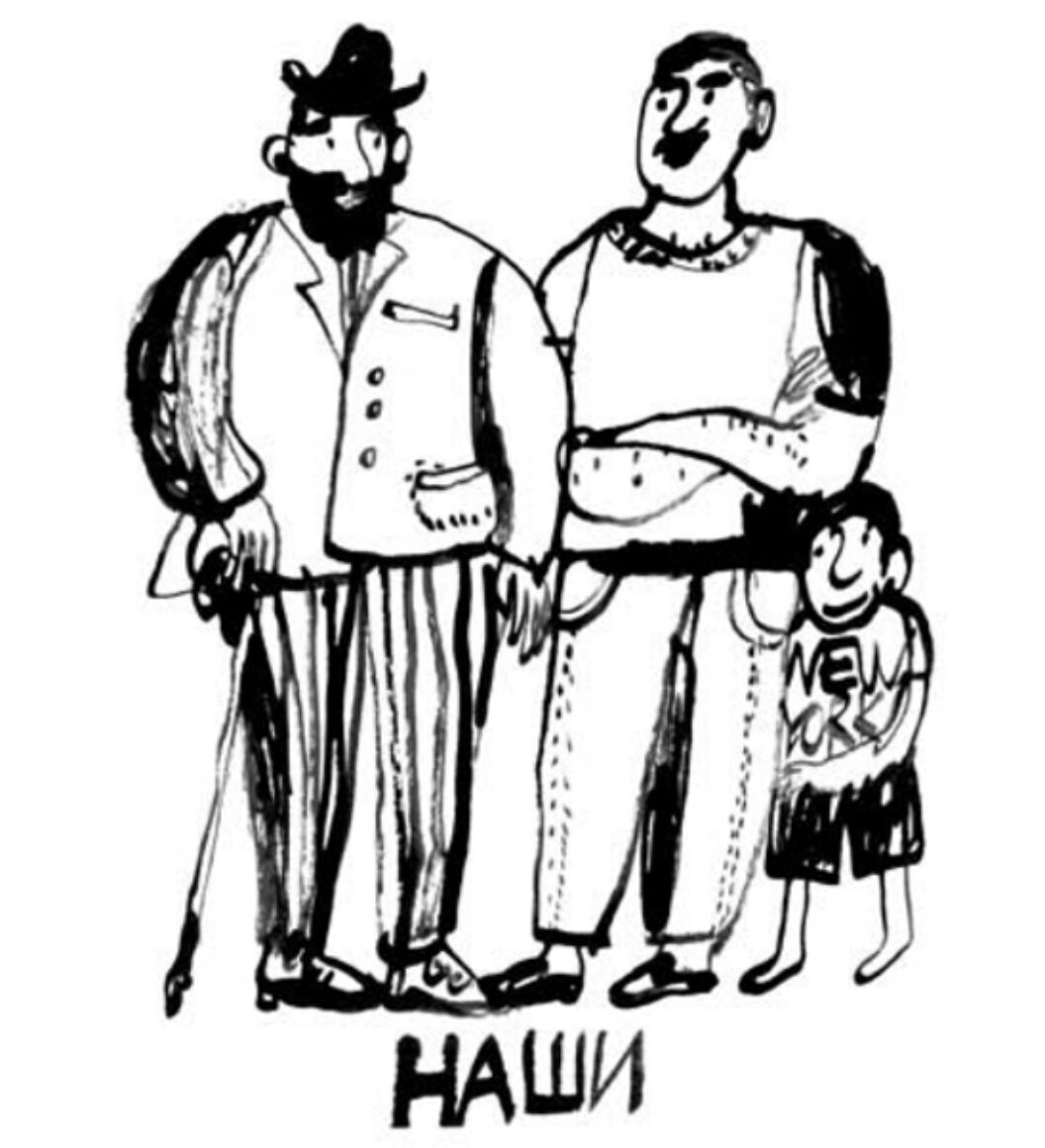 Of the Soviet writers who emigrated to the United States between the late 1970s and end of the 1980s, the Russian humorist and novelist Sergei Dovlatov probably had the most significant influence on the American reading public outside of émigré communities. Significantly, while several of his books have been translated into English, eight of his stories appeared in The New Yorker. Indeed, poet Joseph Brodsky, who won the Nobel Prize for literature in 1987, called it about right when he said that Dovlatov's popularity in the United States was "natural" and predicted that one day he would be just as popular in Russia.
Dovlatov, who was born in the Soviet Republic of Bashkiria in 1941, studied at Leningrad State University, served in the Soviet army as a prison camp guard, and worked as a journalist for newspapers in Leningrad and Tallinn. He began writing fiction in the early 1970s, but failed to get anything published in the Soviet Union—his first collection of short stories was suppressed by the KGB. In 1979, after being expelled from the Union of Soviet Journalists (for publishing stories abroad) and conscripted into military service, Dovlatov left Russia for the United States.
In New York, his career took a turn for the better. He founded the popular Russian-language newspaper Novy Amerikanets (The New American) and hosted a program on Radio Liberty/Radio Free Europe. He also started publishing his writing. Among his best-known works are The Zone, a novella about his experiences as a camp guard, and The Compromise, a collection of his Soviet newspaper articles accompanied by the uncensored "real stories" behind them. For a while, according to Dovlatov, "sales were lukewarm. Back home there was no freedom, but there were readers. Here there was freedom enough, but readers were missing." But by the mid-'80s though, Dovlatov had achieved considerable recognition in America.
Indeed, in a letter to the Russian writer dating from the '80s, novelist Kurt Vonnegut expressed his own loving frustration with Dovlatov's success in America: "Dear Sergey Dovlatov! I love you too, but you have broken my heart. I was born in this country and fearlessly served it during the war, but I still haven't managed to sell a single story of mine to The New Yorkerjournal. And now you come, and—bang!—your story is published at once … "
But his fan base wouldn't remain limited to Americans. Dovlatov died—too early at 49 years old—from heart failure in 1990, but the following year, with the disintegration of the Soviet Union, his books started appearing in Russia and became runaway hits. Soon enough, he would become one of the best-loved Russian authors of recent decades. Ironically, at the same time his books began to go out print in the States.
Dovlatov, whom novelist David Bezmozgis called a "Russian David Sedaris," wrote direct but surprising, often sadly hilarious stories that drew heavily upon his own day-to-day experiences to portray the differences between life in Russia and life in the United States. One doesn't know whether to laugh or to cry when reading a Dovlatov story, his terse sentences packing a surprising punch. As Brodsky put it, "The decisive thing is his tone, which every member of a democratic society can recognize: the individual who won't let himself be cast in the role of a victim, who is not obsessed with what makes him different."
Dovlatov's vivid depictions of the challenges to adapt to a new milieu inspired artist Alexander Florensky, who was commissioned to illustrate a Russian-language, three-volume collection of the writer's novels in 1993, to pay homage to the writer's move to New York and his dedication to free thought and creative expression. The result, now on display at New York's Frants Gallery in SoHo as Drawings to Dovlatov, demonstrates Florensky's and Dovlatov's shared wit and their deep connection to the generation of Russian artists at the forefront of political and cultural upheaval during the late '80s and early '90s.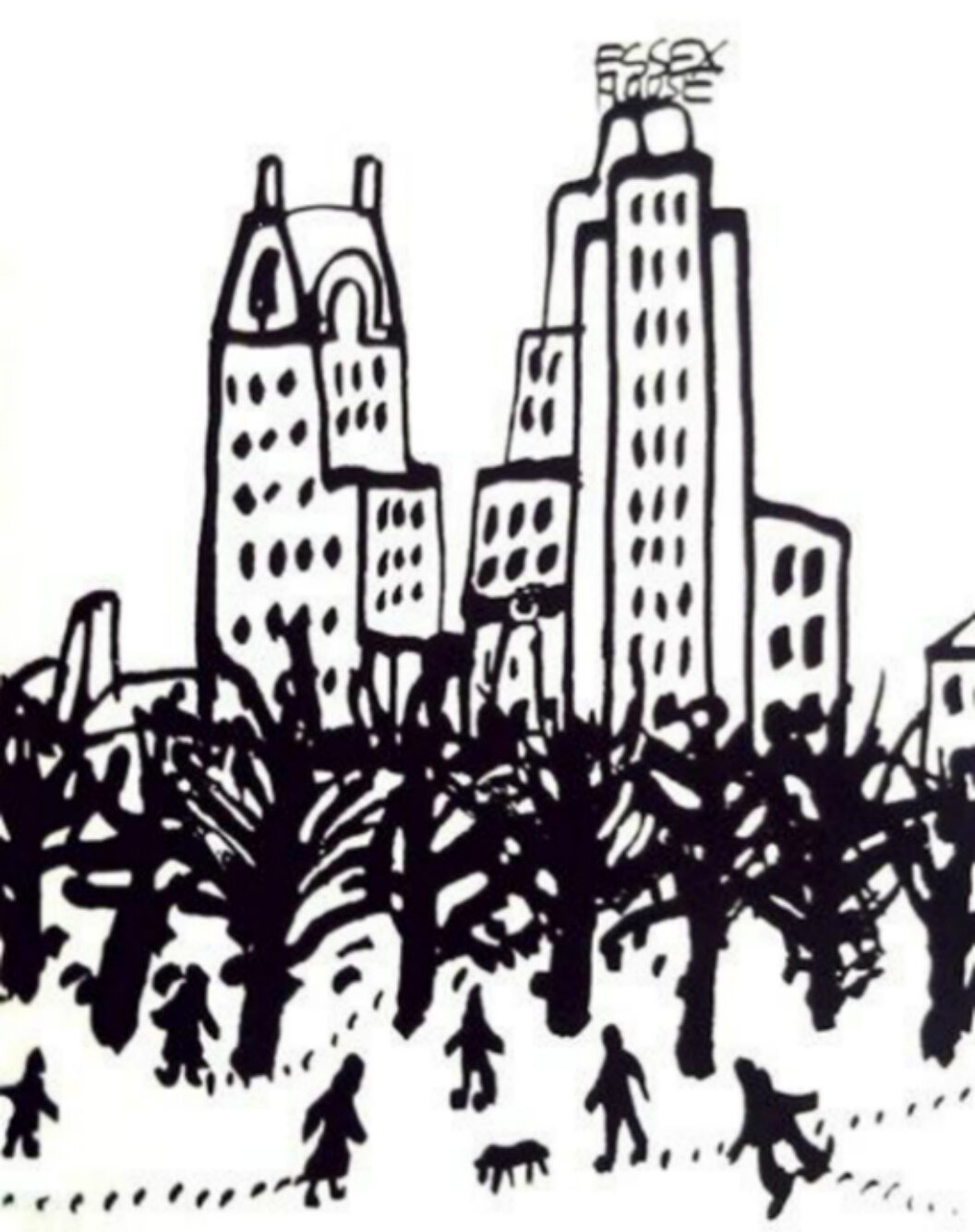 Florensky, a founding member of Mitki, the St. Petersburg-based underground art collective infamous for challenging the Soviet establishment during the years leading to Perestroika, was the natural choice to illustrate Dovlatov's oeuvre. He began his career in the early 1980s as a painter and book illustrator, generally working on traditional subjects such as landscapes and still lifes. In the early 1990s, however, he turned to conceptual art, and began, with his wife Olga Florenskaya, producing installations and objects.
Not unlike Dovlatov's stories, common to the work of Mitki members are a marked clarity of language and the portrayal of the "regular guy" or common man. Their works, often about the frustrations and absurdity of Soviet urban life, speak directly to city dwellers in particular. From the Revolutionary period, the satirical stories of Mikhail Zoshchenko come to mind, as well as the hilarious stories of Ilf and Petrov from the '30s.
As evidenced by the black and white ink drawings of Drawings for Dovlatov, Florensky's transition to conceptualism was guided by his traditional background in pictorial art, creating a portfolio of drawings entitled "The Russian Album," in which he re-presented Russian masterpieces such as "The Solitary Guitarist," "Old Parents at Their Son's Grave," and "Arrival of a Governess at a Merchant's." At that time Dovlatov was Florensky's "favorite writer," but when the publisher asked him to illustrate the massive collection, he initially turned down the job. Fortunately, he thought it over.
"Later when I analyzed that situation," Florensky said in a recent email that reads something like a Dovlatov story itself, "I found it similar to a situation like this: Imagine yourself at the subway watching a beautiful woman opposite you. You are thinking, oh, what a beautiful woman, probably the best woman I ever met. Now imagine, suddenly this woman tells you, 'OK, I want to become your wife!' What is your normal reaction? For me the normal reaction is to say 'NO.' It is impossible to do it like that, you have to know each other first, meet a lot of times, and so on … So I said 'NO' to the publisher. But the publisher was a clever guy and pressed me until I finally said 'YES.'"
The exhibition at Frants Gallery opened on April 20 with a reception and readings by Lara Vapnyar and Barry Yourgrau and included photography by Nina Alovert, Leonid Lubianitsky, Mark Sherman and Natasha Sharymov. It ran until May 6.
Kevin Kinsella is a writer and translator (from Russian) living in Brooklyn. His latest book, a translation of Sasha Chernyi's Poems from Children's Island, is now available through Lightful Press.