Discover MFA Programs in Art and Writing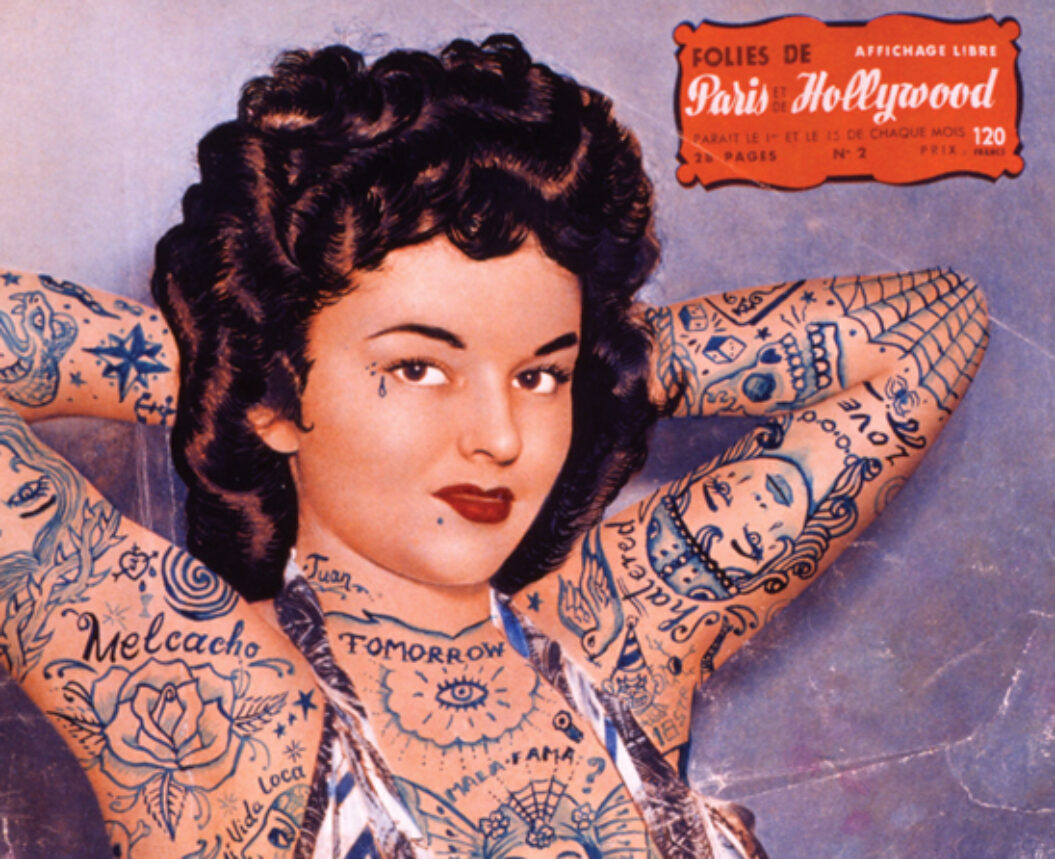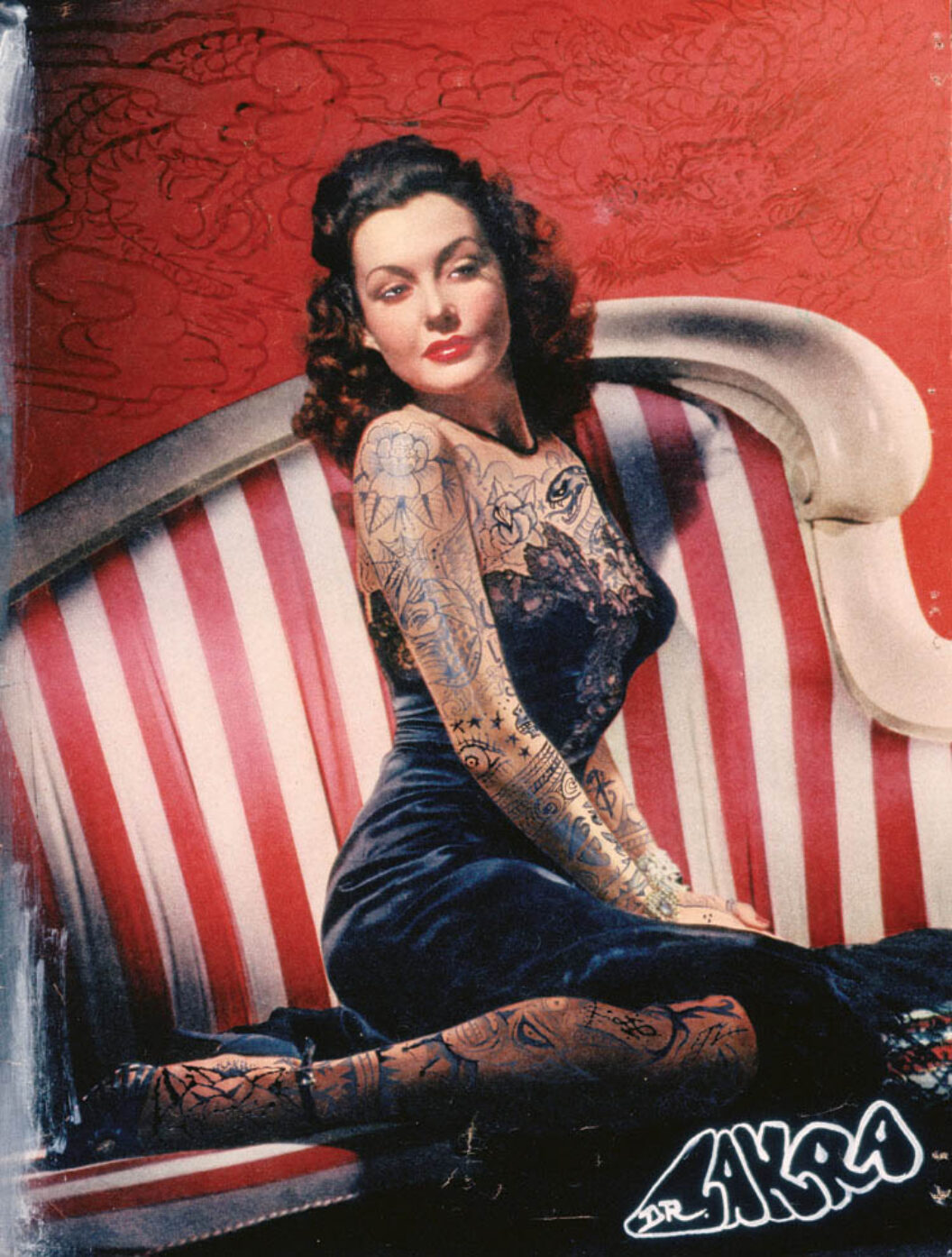 Dr. Lakra is a tattoo artist by trade. He also draws with a ballpoint pen on pictures of wrestlers and pinup girls from the pages of vintage magazines, covering their skin with ink tattoos and adding details to the backgrounds: devils, crosses and the hovering spirits of witches and wrestlers. A lot of the images—the roses, serpents, Virgin Marys, the gang insignia—are comforting to me. I'm from San Antonio, Texas, and I dropped out of high school in tenth grade and had my first ass-wuppin' from a Victorian Courts Chicano gang at a ZZ Top concert in 1981. I almost understand the imagery in Dr. Lakra's work, but since I don't speak Spanish and I'm a white boy, it's still somewhat foreign to me. When you grow up on my side of the border, these images are like wallpaper, but their meaning is not necessarily transparent.
So, the following is a list of Things I remember when looking at Dr. Lakra's works on paper, and why I would want a tattoo from him.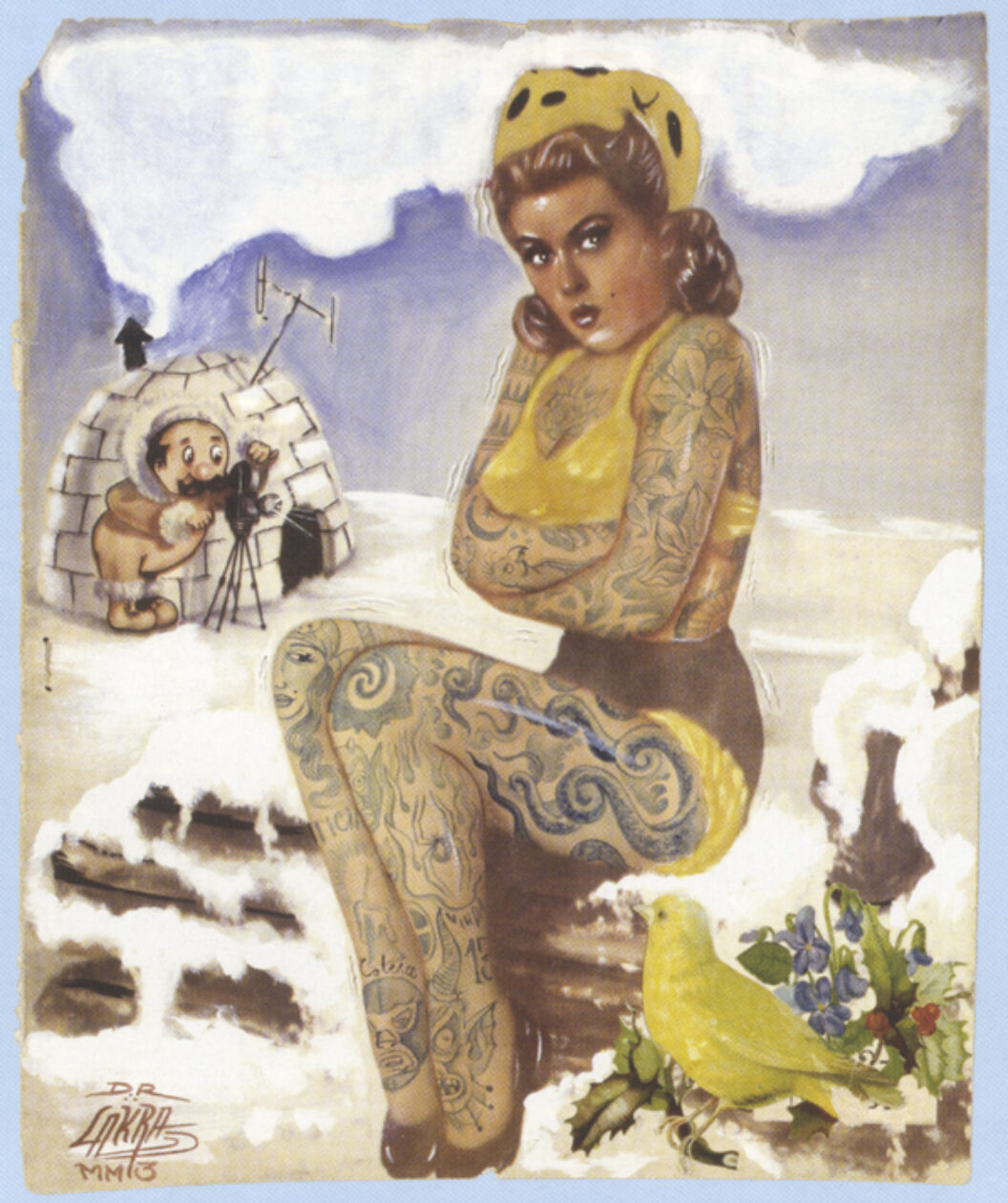 Vatos (Low-rider dudes from the West Side of San Antonio)
A lot of these dudes would be sporting Lakra's imagery on their tattoos—black widows, an elbow of spiderwebs, an undereye teardrop (which meant they killed someone). While this isn't necessarily Mexican imagery in and of itself, when applied with a single needle in the tattoo gun, with heavy shading and little or no color, the vernacular changes. The bodies of Lakra's women are scribbled with local, cultural references—images of women with bandanas that are probably some dude's girlfriend; keyholes with the words Shattered Dreams written above, which probably means a life cut short by doing time; shackles around the wrists; and over many of them, Mi Vida Loca, the motto of life on the left side of the law.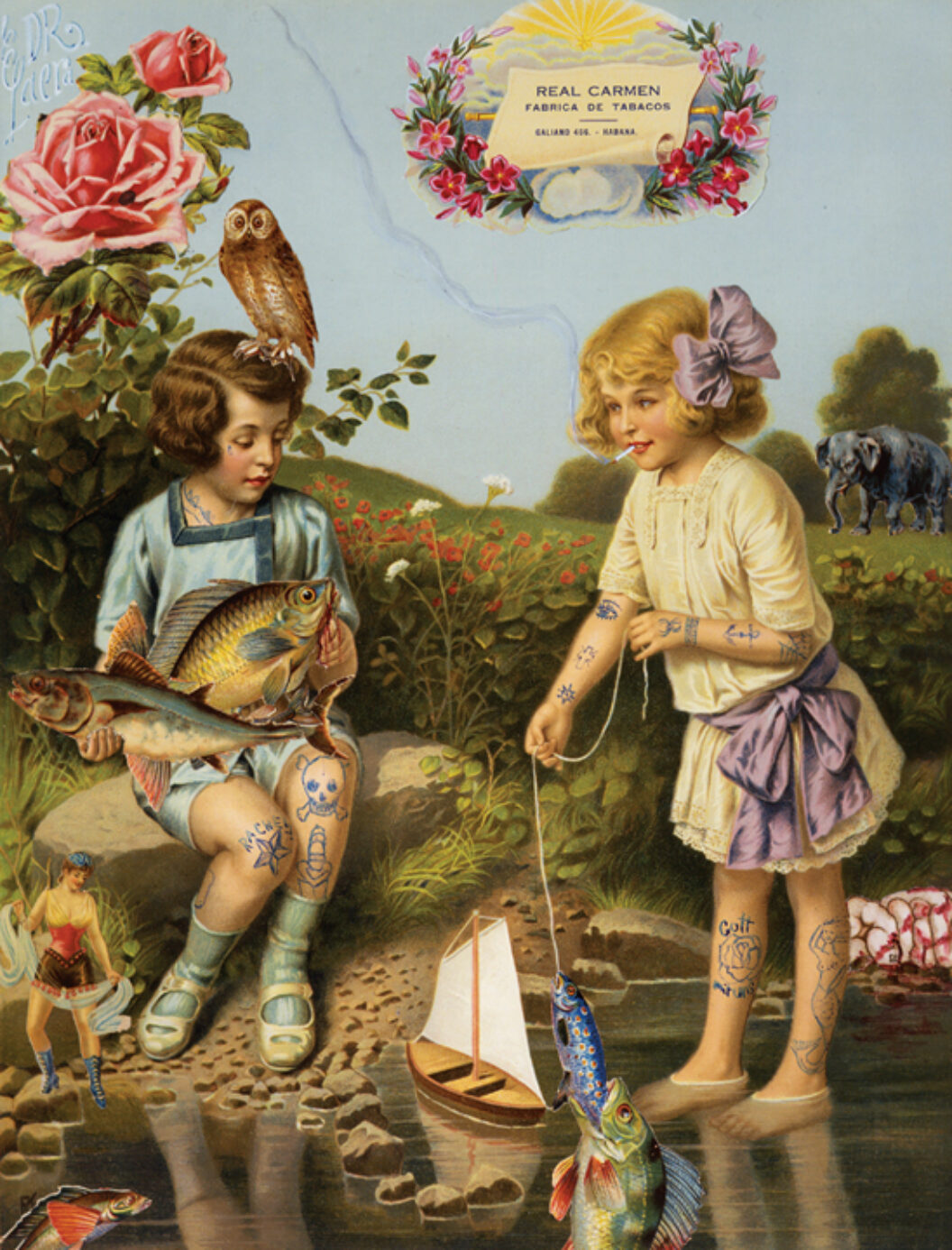 Boystown
When we were old enough to drive, but not old enough to drink in Texas, we'd take the two-hour drive to the border, park the car on the other side, go to the Mercado, have a few beers, then hail a taxi and head to Boystown. The taxi always went the short way to get there and the long, expensive way to get home. There were a lot of hookers that looked like they could have come out of a Lakra drawing (but with shittier tattoos). The real Boystown women try hard to look like "Patty Marti," "Liza Deliz" and "Betty Gonzalez," but their bodies were voluptuous in the wrong places, and until the sixth drink you could still see the thick layer of pancake makeup.
Mil Mascaras
When I was growing up, black kids, white kids and Mexican kids all sat down to watch wrestling on Friday nights on Galavisión. It was in Spanish, but the black and white kids watched anyway. Mil Mascaras was a masked wrestler. He was like a superhero for all of us, and he dressed like one, with red shiny capes, tights with rhinestones and black patent leather boots. He was as flashy as Liberace. He wasn't a real pounder. He was known for his acrobatic moves. Mexican wrestling was about agility and acrobatics, not fake punches. In Mexican lucha libre, Mil Mascaras was the ultimate. The big bodies of the luchadores provide Lakra with plenty of space to give them tattoos of the women they get as prizes.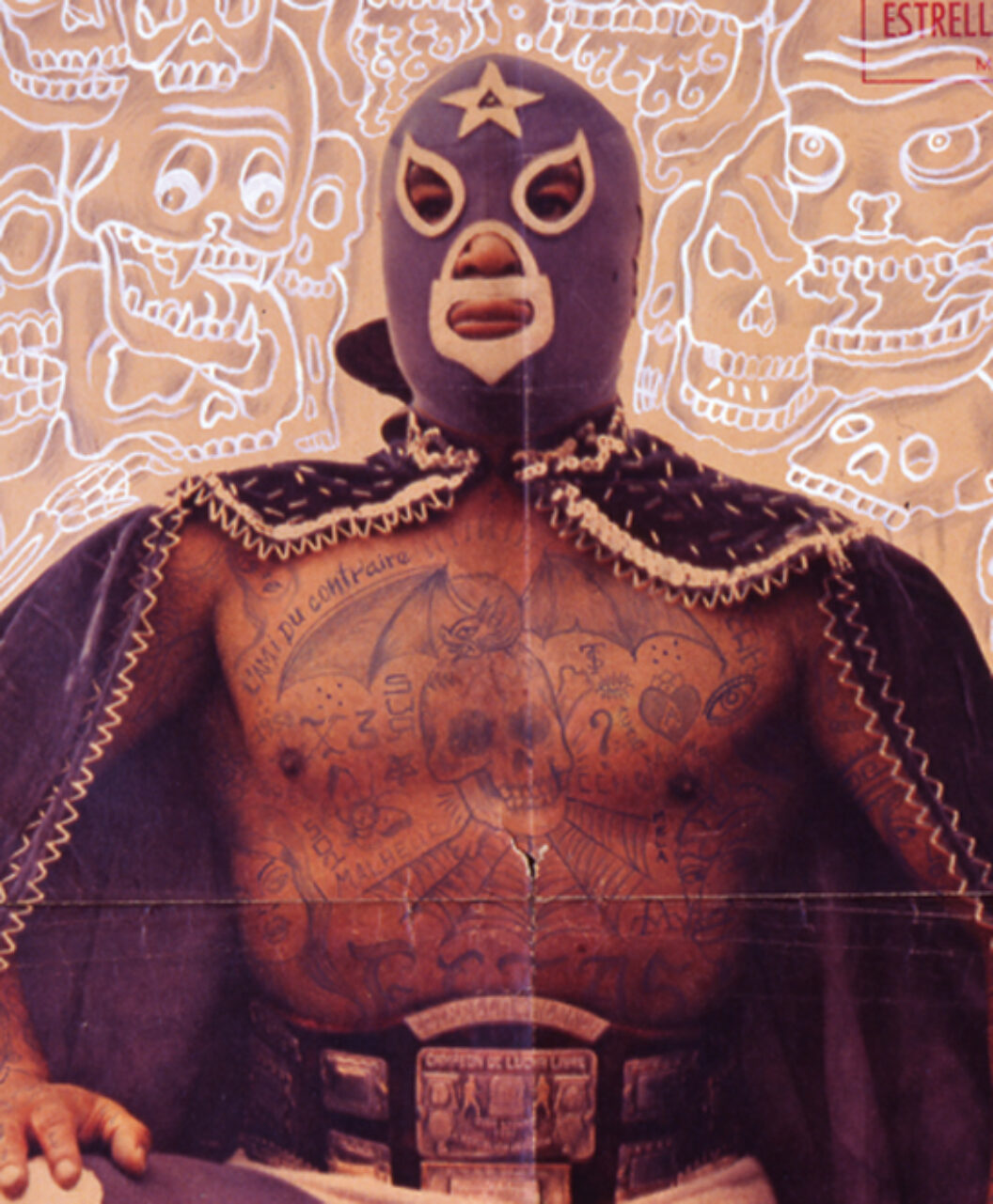 Prison tattoos
There's an art form that I was introduced to my first year at community college in San Antonio. The woman teaching the class was getting her PhD on prison art made by Chicanos on white handkerchiefs using only ballpoint pen. These works had a tremendous amount of detail and shading techniques, and a lot of the same icons that Lakra uses: barbed wire, snakes (never dragons), names of girlfriends in banners and roses.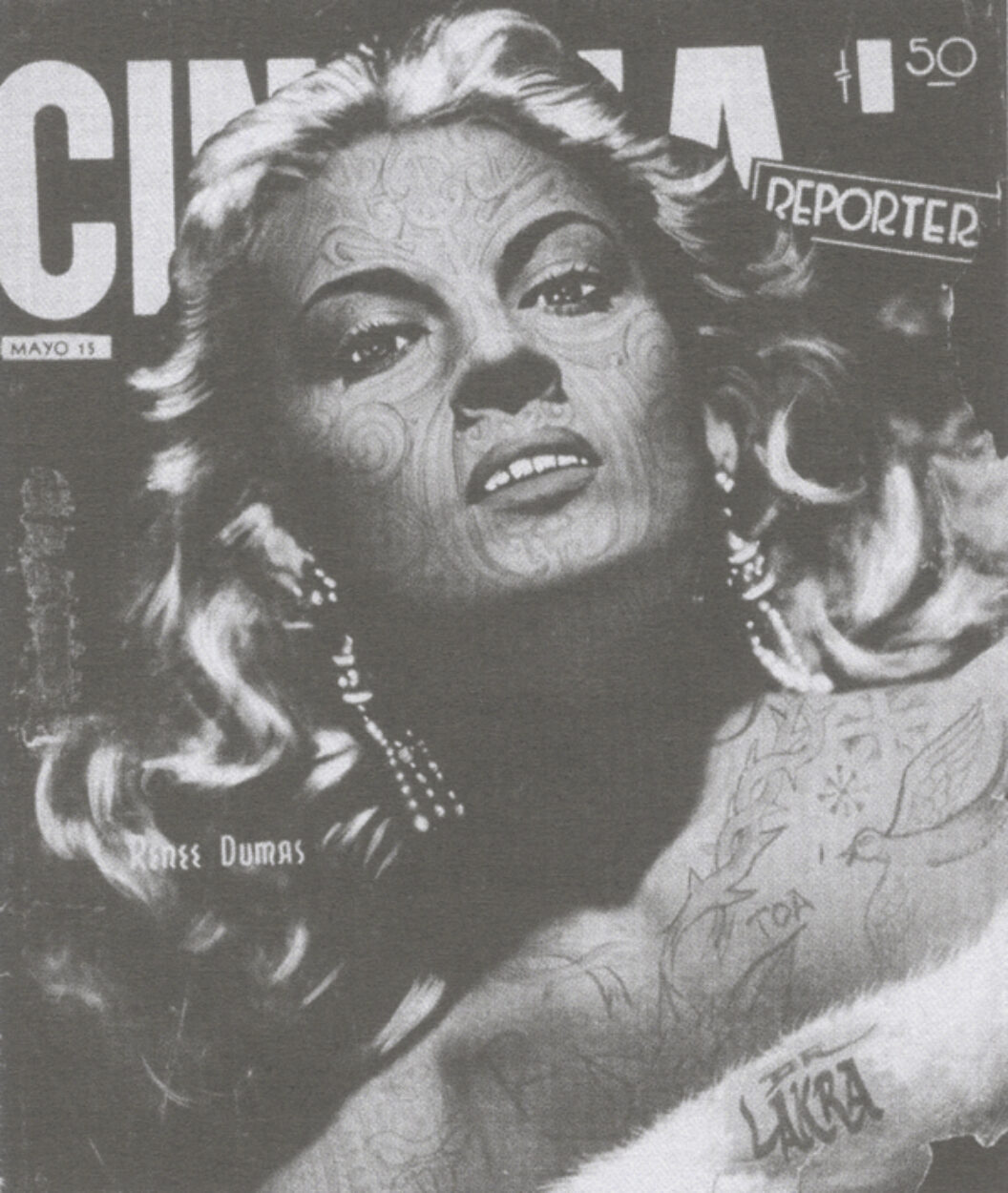 Aztec warriors
A lot of graffiti in my school was Aztec imagery—Mexican gods scrawled on kids' notebooks and folders and carved into desks. The Aztecs were like what Dr. Funkenstein and Bootsy were for the black kids or Superman for the white kids. The Mexican kids were down with the Aztecs, their warriors before Catholicism hit their land. Aztec imagery is pretty two-dimensional and looks like a mix between our stereotypes of American Indians, Keith Haring–esque cartoon-like patterns and idealized superheroes. They were bad-ass good guys.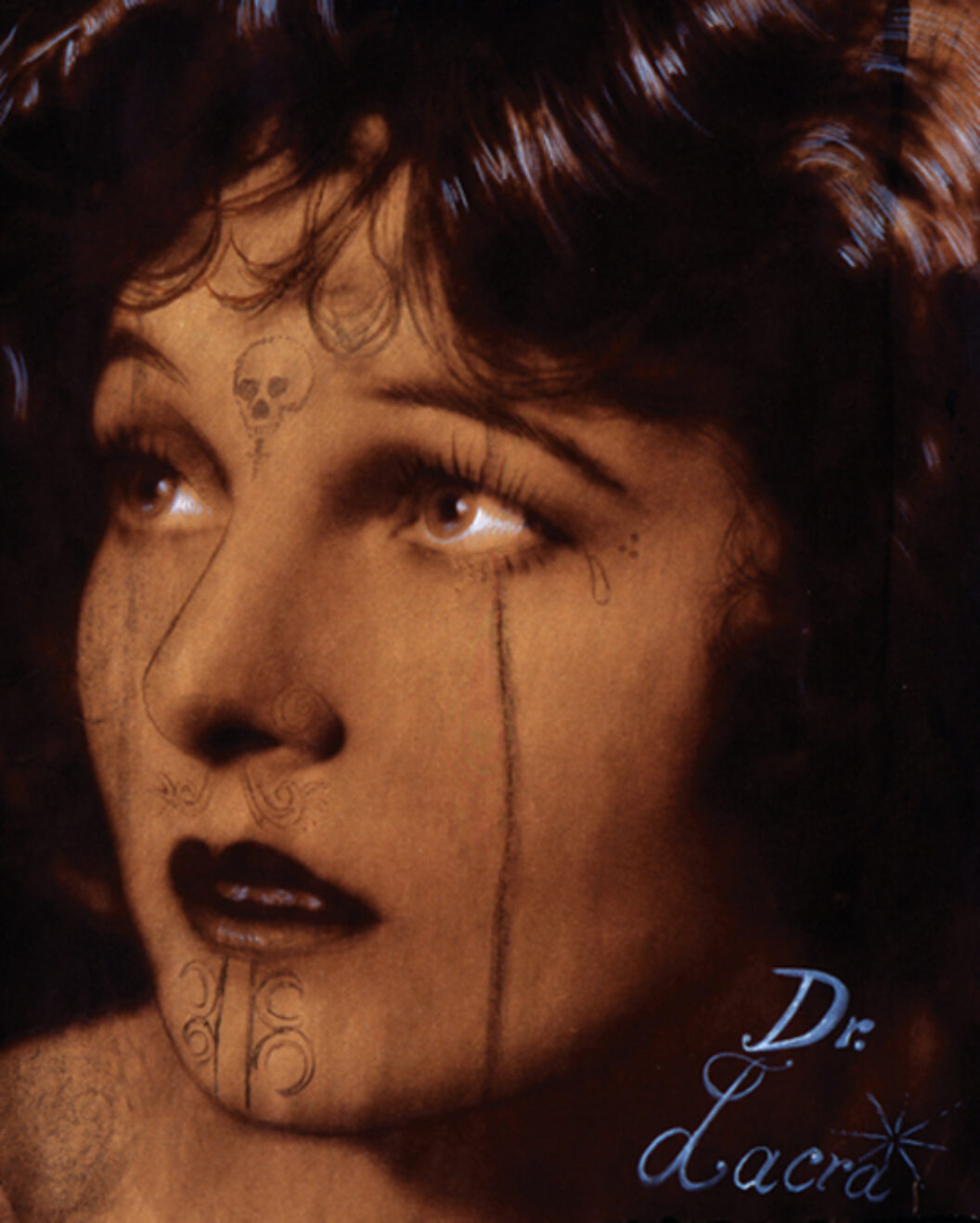 Lakra and I grew up on opposite sides of an imaginary, but real line. Which leads me to the tattoo I'd want from him, which appears in one of his drawings—a line, just under the neck, cutting across my clavicle as though my throat were cut, with a single word underneath: tomorrow.
Erik Parker is an artist living in New York.
Originally published in
Featuring interviews with Plastilina Mosh, Andy Palacio and Christopher Cozier, Pedro Reyes, Francisco Goldman, Pablo Vargas Lugo and Ruben Gallo, Carlos Brillembourg, Julieta Campos, Jose Castillo, Julieta Campos, Daniel Sada, Jose Luis Rivas, and Beto Gomez.