New Readings, New Meanings: Frida Orupabo Interviewed by Jareh Das
Working with collage to undo the gendered and racist gaze.

Discover MFA Programs in Art and Writing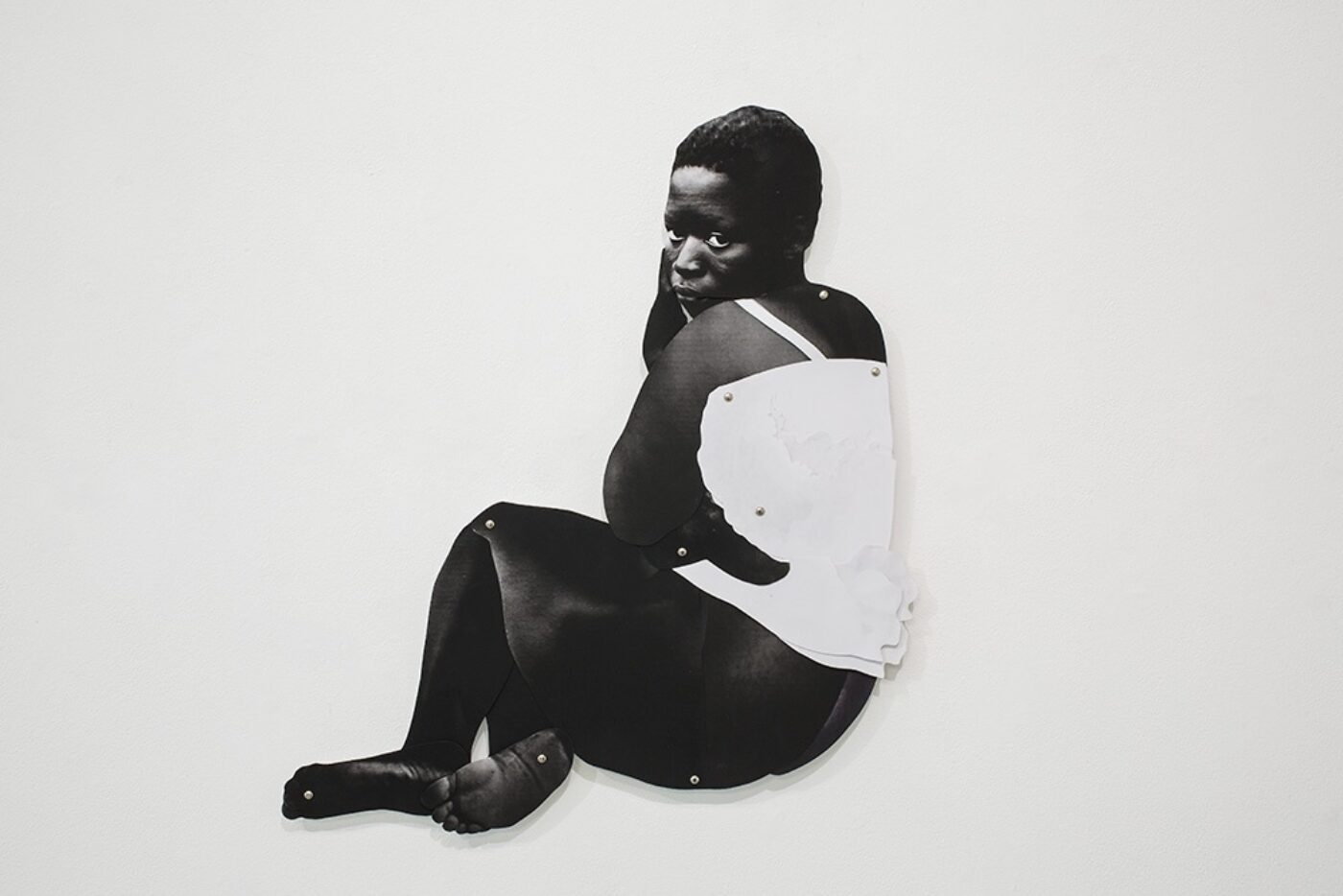 Fragmented bodies culled from an extensive archive of found black-and-white images populate artist Frida Orupabo's compelling Instagram feed. This stream of over two thousand stills, texts, sounds, and video loops doubles as an archival resource and point of departure for some of her paper collages of varied scales. Born in Norway and of dual Norwegian and Nigerian heritage, Orupabo is a trained sociologist who mines images from the media and her personal life to address race, gender, sexuality, violence, representation, and identity in a practice engaged with representing ways of seeing black bodies.
Orupabo's black bodies are cut-up collages put back together to confront the viewer's gaze, and they allude to the concept of "double-consciousness" put forward by W. E. B. Du Bois in 1903 in The Souls of Black Folk: "It is a peculiar sensation, this double-consciousness, this sense of always looking at one's self through the eyes of others, of measuring one's soul by the tape of a world that looks on in amused contempt and pity." Pain and suffering rendered by photography since its inception in the 1830s have long contributed to constructing false identities of black people. This is particularly the case with representations of black women who are often rendered as fleshy, passive subjects; these representations are also coupled with an unhealthy obsession that repeatedly and wrongly sexualizes their bodies. Photography, colonialism, and racism have contributed to condescending and incorrect representations of black bodies. Orupabo's art counteracts this with images centered on reclaiming the gaze of black subjects and reversing the narrative of victimhood.
—Jareh Das
Jareh DasYour collages address "woman" as a racial as well as a gender category that has been historically constructed on the exploitation, destruction, and hyper-sexualization of black women's bodies. Do you agree?
Frida OrupaboThrough the distortion and manipulation of images, my work tries to say something about different social constructions—race, gender, sexuality, beauty, class. I aim to explore their interconnectedness as well as to look at white fantasies about blackness, specifically the black female body. I am concerned with the damage and consequences of being determined from the outside, but I also look into the possibility of resistance—how we challenge and re-create. I am trying to make works that speak to the reality I know. I aim for complexities—to show women in pain, women that are vulnerable, women that exhibit strength and wrath, confusion and clarity—and I try to speak of the interaction and clash between past and present, between self-representation and imposed representation.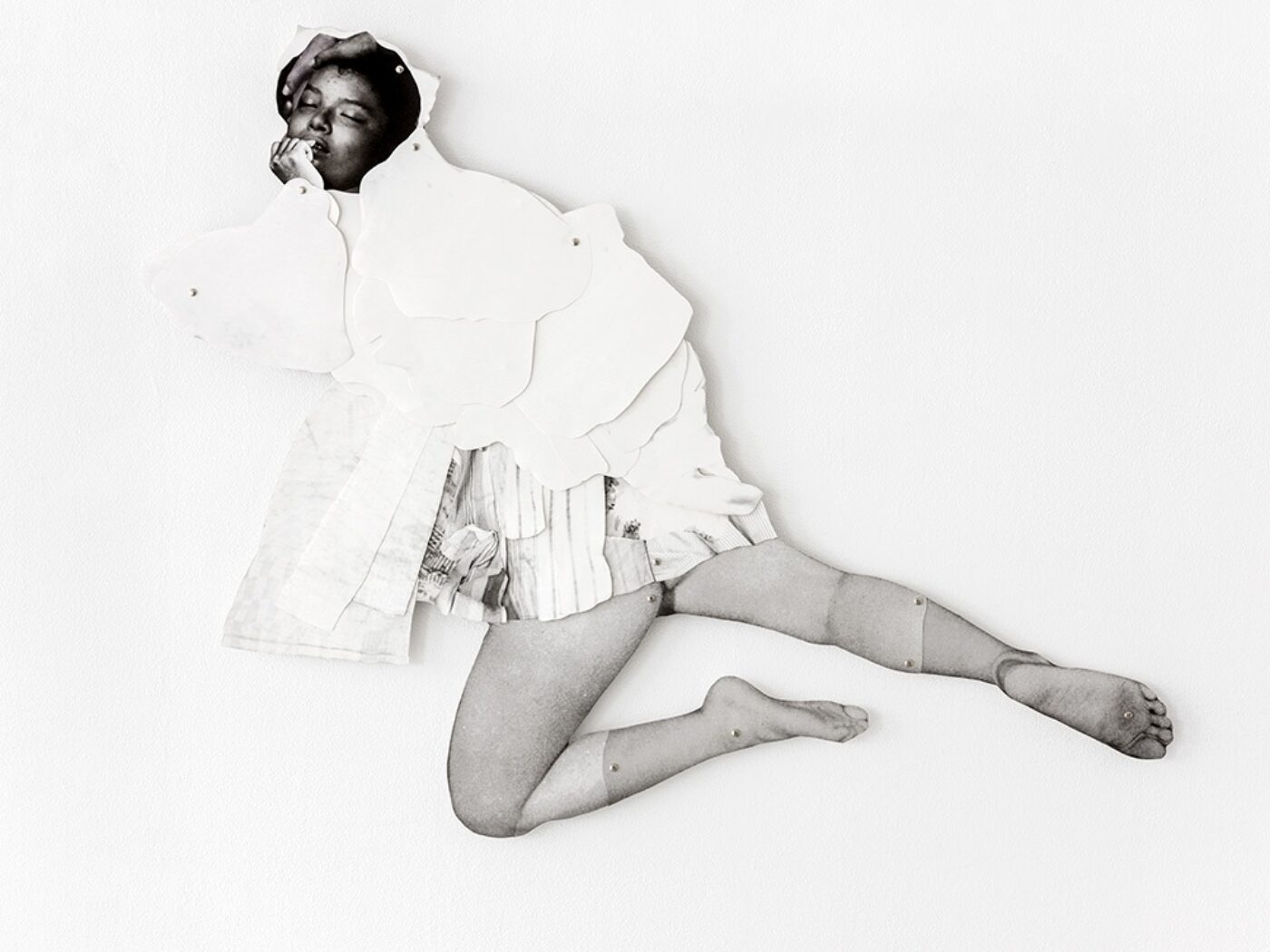 JD How have your images reclaimed black bodies from a colonial history that has both perpetrated violence against them and used stereotypes to mark them as outside a gendered norm?
FOI often think about this question in relation to the use of colonial archives in my works, and, indeed, it's a delicate matter. I do, however, trust myself, my eye, and my feelings to be able to show the complexities and to reveal stereotypes. I do this to disrupt the dichotomies and to shed light on everything we are, by which I mean our multiple identities. I want to break with the construction of "mythological characters" as Kathleen Collins puts it. The position or twisting of the body along with the gaze are also very important. My works often show women looking straight at the viewer. They are seen, but they also see, thus forcing a dialogue with the onlooker and taking up space. These figures are not to be forgotten or to be walked past without a form of engagement. My collages should not evoke comfort.
JD Why has it been important both to not title and to blur gender boundaries in your works?
FOThe reasons for not titling works are a combination of me not being good at it and the fear that in giving them titles I may reduce or limit them. I also rarely have a title in my head once I finish a collage. Disrupting how we are taught to think about gender and gender relations plays an important part in my practice alongside other subject matter. Often, the bodies have a combination of both male and female body parts in order to further a thinking around gender categories, to question and create new meanings and narratives, and to desexualize the body.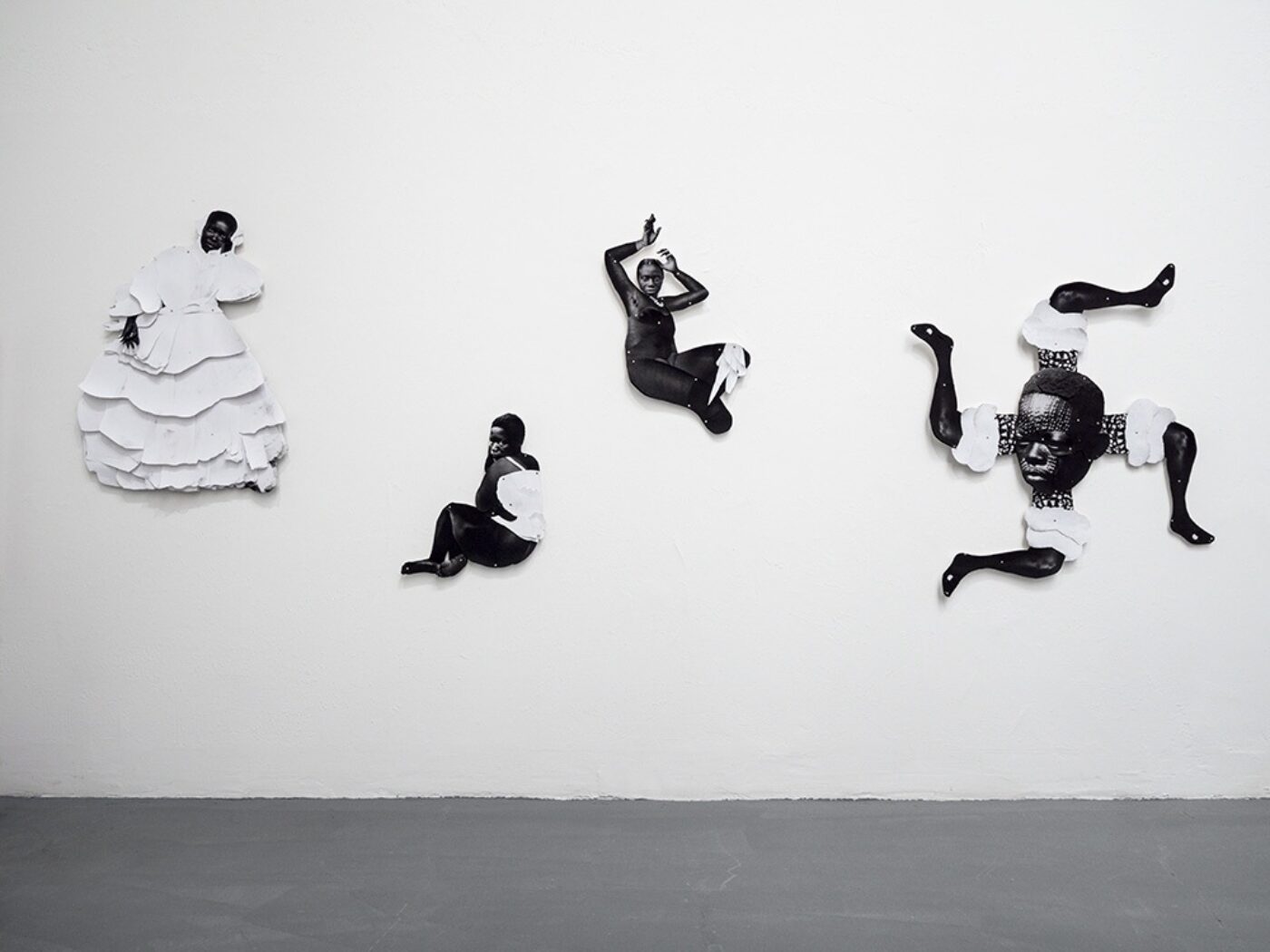 JDHow might fracturing original images from your archive of images posit new readings of black bodies?
FOBy fracturing, decomposing, adding, and subtracting, i.e., by fragmenting the body, I seek to create new meanings and readings. You take away the things you don't like, and you keep what speaks to you, what speaks to strength and power. You manipulate the image to fit your reality and your mind.
JDThe Shirley Card refers to the index of a fair-skinned woman who served as the generalized skin standard for color film toning in the 1940s and 1950s, and it played an important role in society's misrepresentation of darker skin tones that continues into the present. How might your images contribute to teaching the camera to see skin?
FOI don't know if my works specifically can teach the camera to "see" skin. What I do know is that color and facial features, as well as bodies, are given different meanings and value. The closer to white (European-Anglicized), the higher the value that is given. Images are powerful—they shape, distort, liberate. For me personally, seeing images and films depicting nonwhite people served as a life saver. I believe that visuals, whether film, photos, or art, can help one see and understand a whole lot more if these representations in this manner are done right.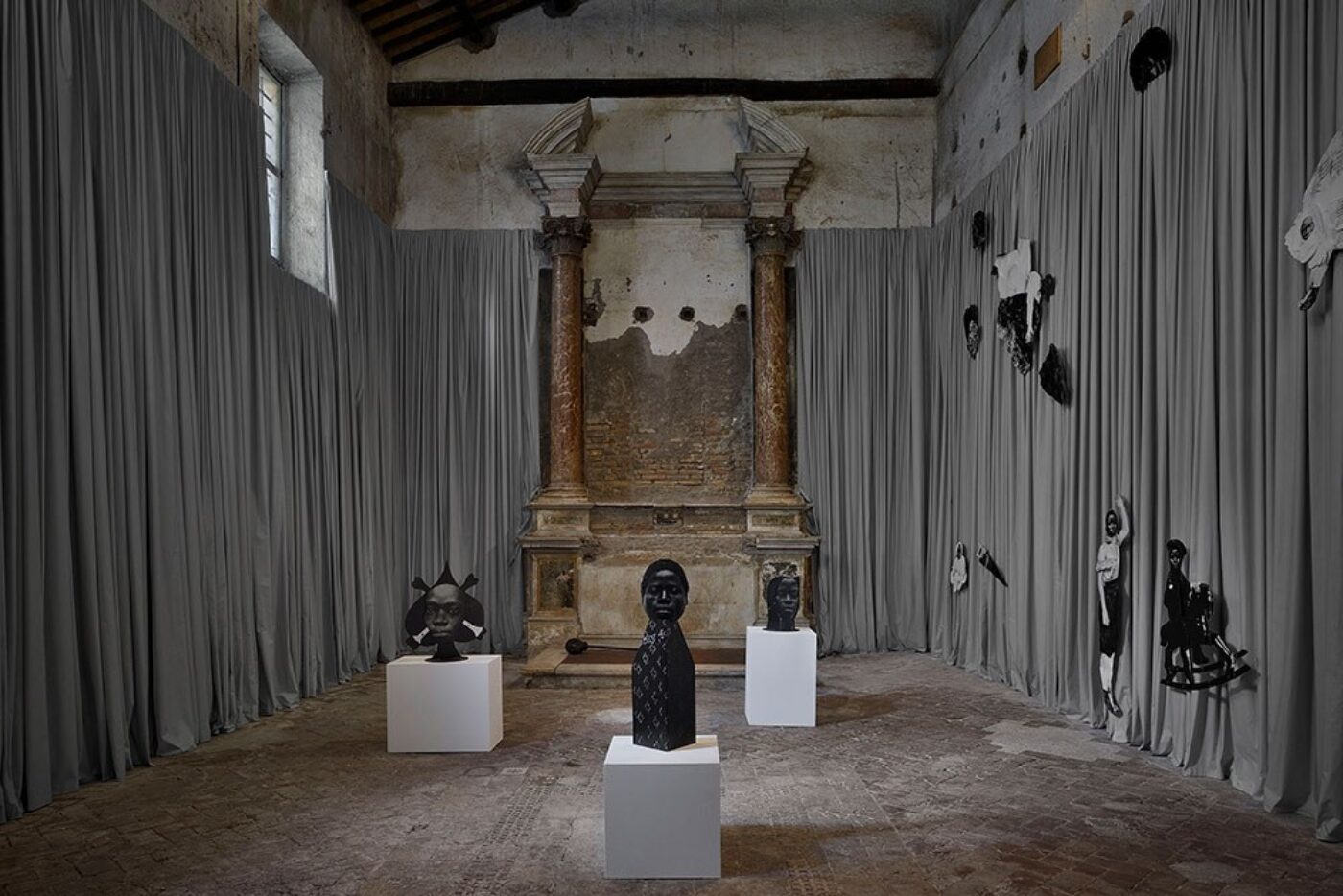 JD How does the social work you do intersect with your art practice?
FOThis is a very difficult question to answer because I have never sat down to think about these intersections or draw the connection. It is obvious that the social work interferes with my art practice and vice versa as is the case with everything else I do and experience. My interests are things that are very close to me and deeply felt—race, gender, sexuality, culture, class. When working with people, you encounter all of these things on different levels and in different ways. They go hand in hand.
Frida Orupabo: 12 self portraits is on view at Sant'Andrea de Scaphis in Rome until July 11; Orupabo's work is also on view in the group exhibition HERE AND NOW at Museum Ludwig: Dynamic Spaces at Museum Ludwig in Cologne, Germany, until August 20.
Jareh Das is a curator, writer, and researcher based in Nigeria and the UK. She holds a PhD in Curating Art and Science from Royal Holloway, University of London, for her thesis, "Bearing Witness: On Pain in Performance Art" (2018).