Discover MFA Programs in Art and Writing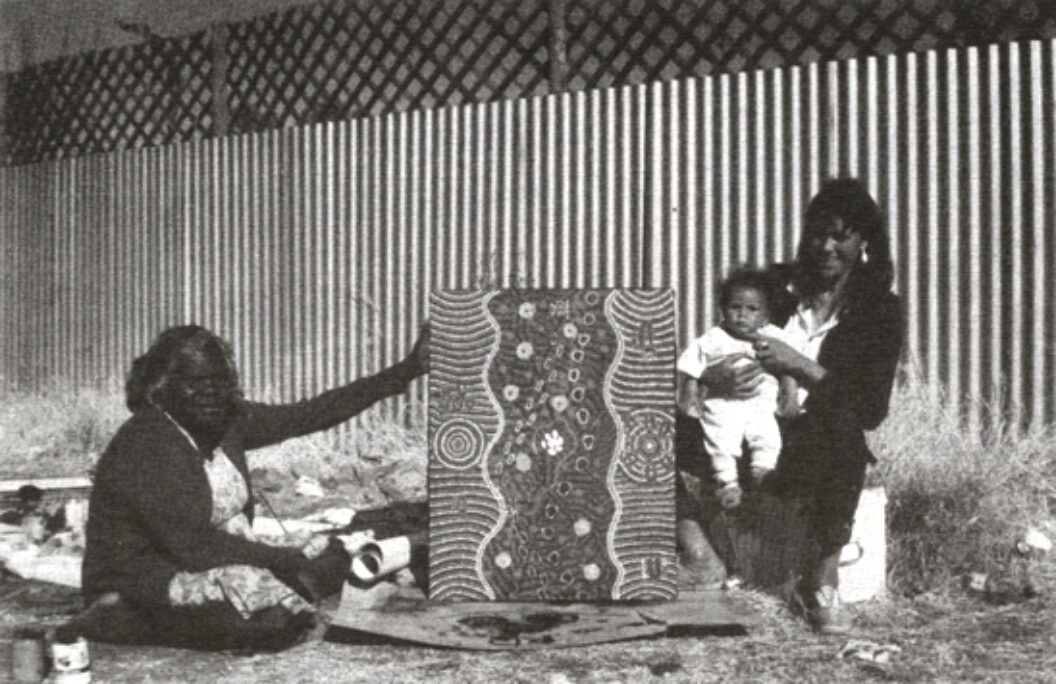 Dot Dot painting of Central Australia is based on legendary stories told during ceremonial gatherings about human and animal totemic spirits. Land and nature are linked through ancestral beings. The Dreaming has magical and religious significance in the culture.
Dorothea Phillips is the Arts Development officer for the Institute for Aboriginal Development in Alice Springs. She works with the artists, providing supplies, visiting their camps, and organizing exhibitions.
Mary Agnes Smith Tell me about Telegraph Station.
Dorothea Phillips This is the sacred site of the rainbow serpent. The water hole down there is where he comes out. No children are supposed to swim there. They say it will take their spirits. When they were little, my aunts and uncles were brought here from the bush to attend school and lived in what they called the bungalow—the horse stable. Old Namatjira use to sit here and paint, and all the kids used to sit around and watch him, and get his old watercolor tubes.
MAS We passed Billy Stockman's camp on the way here. Can you tell me something about the camps?
DP There's an Aboriginal council, Tangantyerre, on the outskirts of town. They're set up in language groups. You got the Kayetj mob just down here. You got the Warlpiri mob and the Pintupi: all your different language groups are like family groups. The camps were set up basically to keep the people from living their traditional ways down in the creeks. They thought it was not a nice way for the tourists to see the Aboriginal people living today.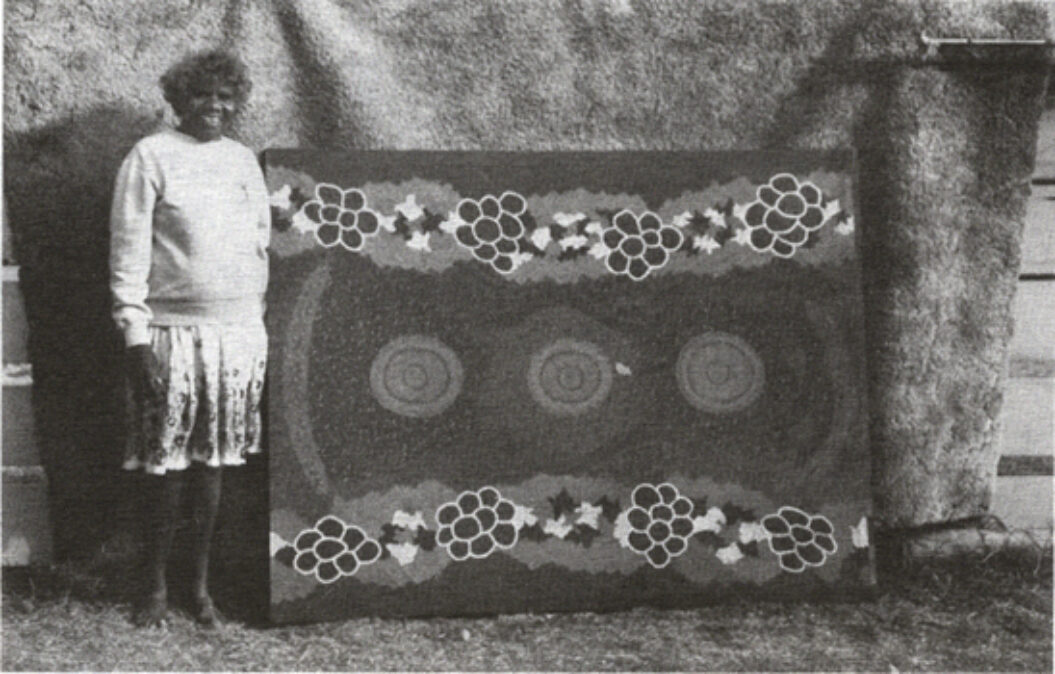 MAS When we drove by Clifford Possum's camp today we stopped and talked to a man. Can you explain the kangaroo story he was telling?
DP Oh, they must have been out shooting in Clifford's new pickup. It's good eating. They took it out to Trucking Yard which is another town camp. It was pension day yesterday so it was a big day. They would have been drinking and having a big feast of kangaroo meat. This is a good time, a feast and no worries.
MAS Everyone applies for the pension check?
DP Black or white, they get it. They call it your "sit down money." Sit down and do nothing. A famous painter like Clifford Possum or Billy Stockman, they don't get it because they make a lot of money from painting. In between paintings, as you know, they are broke most of the time. So they have to paint to survive.
MAS When they do a painting where do they sell it?
DP The guys who are well known have galleries in town that buy off them regularly. It's a big flash affair. The old boys are pretty cunning. They know what their prices are and can't be fooled. They make sure they get their money's worth.
MAS This dealer told me that he went to different areas and bought from art advisors. Can you tell me who they are?
DP The art advisor is usually a European who controls the Aboriginal affairs out bush like Yuendumu, Mount Ellen … all those places where they have a lot of artists sitting, doing art. The art advisors are usually honest, however, some sell a lot of paintings; put it in their checking account and race off. That's why my job was created. I work on a wage—not on the profits of the paintings.
MAS Tell me about what you do.
DP I work at a place called the Institute of Aboriginal Development as the Arts Development Officer. I am also working on my paintings.
MAS I see you have painted your tennis shoes.
DP Yes, I thought, why not?
MAS Tell me something about yourself. Where did you come from?
DP I was born in Alice Springs, in the hospital. I was one of 13 children. In those days, it was the law that all half-castes were taken away from their mothers and put into White society. I was one of those. I grew up with White people, thinking I was White in Newcastle, near Sydney, an industrial city.
MAS How did you find out you were Aboriginal?
DP I always knew I was the odd one in the family. Little things like I was never allowed to go out in the sun because I might turn brown. You see, little things started adding up. I ran away to Queensland when I was about 15, and when I was there I got arrested for loitering. That's the thing, they used to do to round up all the Aborigine people. The people I was living with in Queensland used to tell me, "You are an Aboriginal girl," and I would say, "Black and blue, nothing. I have a White mother and a White father." But these things were on my mind. Then a cousin of mine asked me to be a bridesmaid at his wedding, which was peculiar because he had four sisters. I hitchhiked all the way from Cairns all the way around Australia, down to Queensland, Victoria, across western Australia, to Perth to find him. I don't know how many thousands of miles. I must have been young and stupid 'cause I did it all on my own with just a dog. So, I found my cousin who was mixed up with some religious mob, and asked him straight up, "Why did you ask me to be a bridesmaid at your wedding?"
And he said, "Because you are my sister."
Well, shock, shock, horror, shock horror! "So where do we come from?"
"Well, all I know is we come from Alice Springs and our mother's name is Ada Baxter …"
I mulled over that for a couple more years. I had a real identity crisis. My friends sat me down in a chair and said, "You are not getting out of that chair 'til you do something about it. We are sick of you moping around." So I wrote a letter to the Aboriginal League in Alice Springs. And I got the big telegram which I still have. "Yes, an Ada Baxter is here in Alice Springs. Contact us and reverse charges." … I went to Alice Springs. There was a mob of family, must have been one thousand people here at the Telegraph Station. Biggest party just over there. Everyone was all drunk. That's all I remember—we had many bottles of champagne—me and my sister, my mother, and just hundreds of people. That party must have gone on for days. It took Mom awhile to come to grips with one of her long lost family coming back. All we could do is get drunk 'cause it was such an emotional thing. The next day was the longest 24 hours of my life. Pretty emotional!
MAS Yes, I can imagine. So, this is your family now? Are you staying here?
DP Well, I couldn't cope with it at first. The culture here is so different from the way I've been brought up. I went away and came back 12 months later for a holiday, and ended up going away again. But I wanted to become a school teacher and I thought, "How can I teach kids if I don't even know who I am? I don't know about myself" So, I decided to return to Alice Springs and find out. I spent five years teaching children here trying to give back some of the education I've been given. When I had the baby I couldn't go on teaching anymore. So I was asked to go for this job.
MAS Tell me what you are trying to do?
DP We are trying to start an Aboriginal Cultural Center. So when the tourists come, they can see Aboriginal people sitting down painting their art, and doing their dances, and be taken around by an Aboriginal person—seeing the bush tucker, eating a bit of Kangaroo meat. And leave it in Aboriginal hands where it should be. European people shouldn't be showing Aboriginal culture.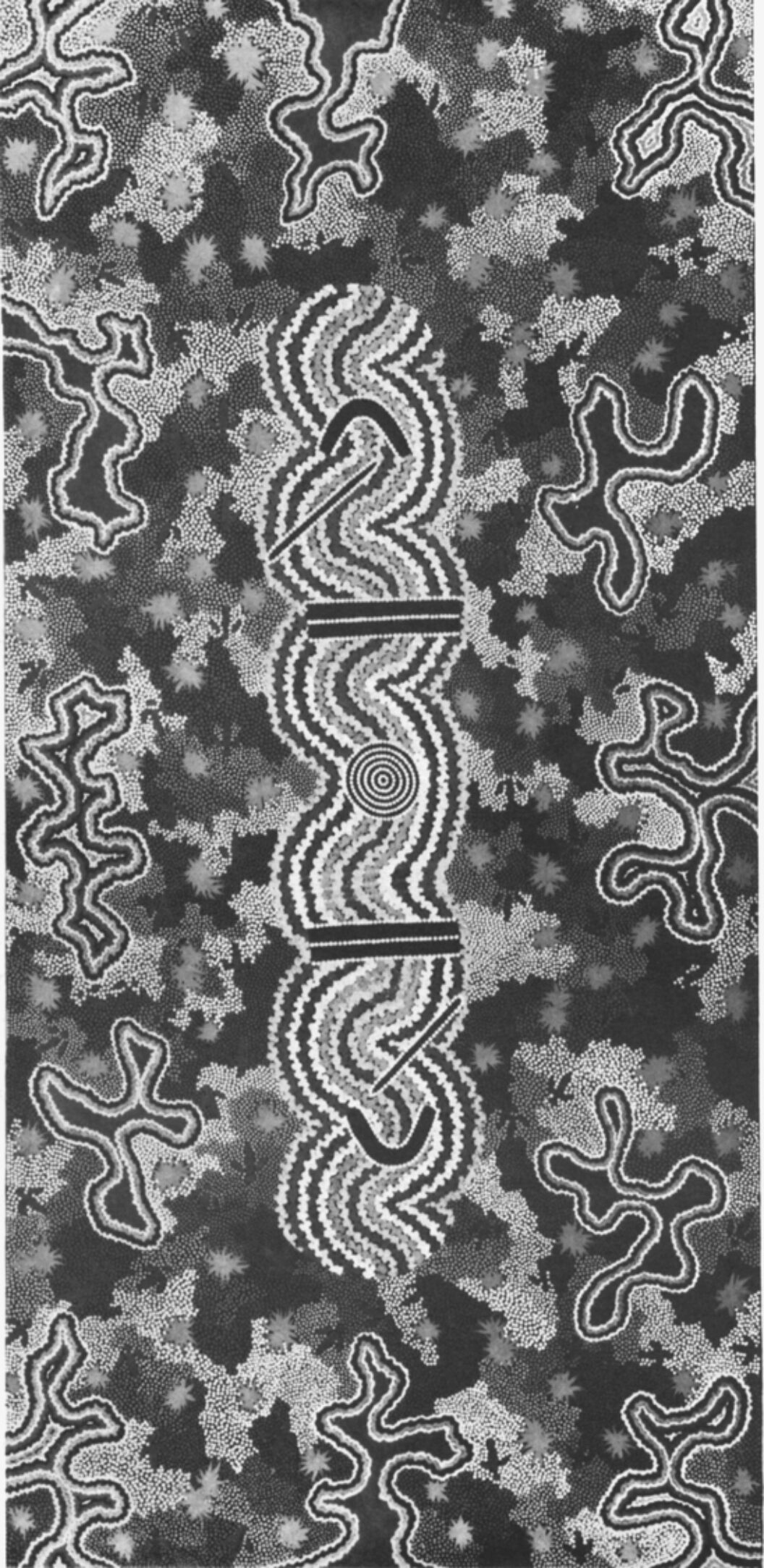 AS When we were out at Clifford Possum's camp, he was celebrating the sale of his painting: he had bought the Toyota, and his daughter Michelle was going by in the new pickup truck. What is your relationship with the people who were there? I noticed that little baby James was passed around, and everyone held him. Are they part of your family?
DP That particular bloke sitting there with his hat on—was his grandfather from his father's side and all those relations are tribal brothers. They've all got the same skin name. That makes them all his grandfathers. In Aboriginal culture you don't have one mother; your mother and all her sisters are your mothers. And all her brothers are your fathers. And all the children of your tribal mothers and fathers are your brothers and sisters. That's how you get such a huge family. That's why when there's a big celebration there are literally hundreds of people.
MAS So the family ties are intricate and to understand the way the artists work, it's important to understand this?
DP A painting isn't one individual's work. No one does that himself. This is how the culture is passed on, through painting: with every painting there's a traditional song, a story, a dance. It's a real family affair. Everybody sits down and sings the song of the dreaming as they are doing the painting. When Clifford sits down, his daughters will be there painting with him. Or they might have their own paintings depending on how they feel, and he'll be telling them the story. For a young person especially in the Alice Springs area, it's a very good thing 'cause there's no work for them here; no one will employ them. The Aboriginal people make up one-third of the population of central Australia. We want to see more jobs for Aborigines, more employment so there will be less drinking. The mob out bush is really strong with the culture.
MAS Describe to me what the mob out bush is.
DP The mob out bush is the Aboriginal people who camp out in the bush communities. They come to Alice Springs for a big grog out or a big drink or to buy tucker, get charged, and then they go back out bush, sit down quietly and paint, be respectful people again.
MAS When they are out bush, how do they live?
DP Most communities have houses these days. Most of them have water. Some of them even have electricity. But basically, they live fairly traditionally within their means. What hasn't been destroyed by the European culture, the stockmen, the cattle ranchers—because of the cattle grazing there is not as much grass for the kangaroo.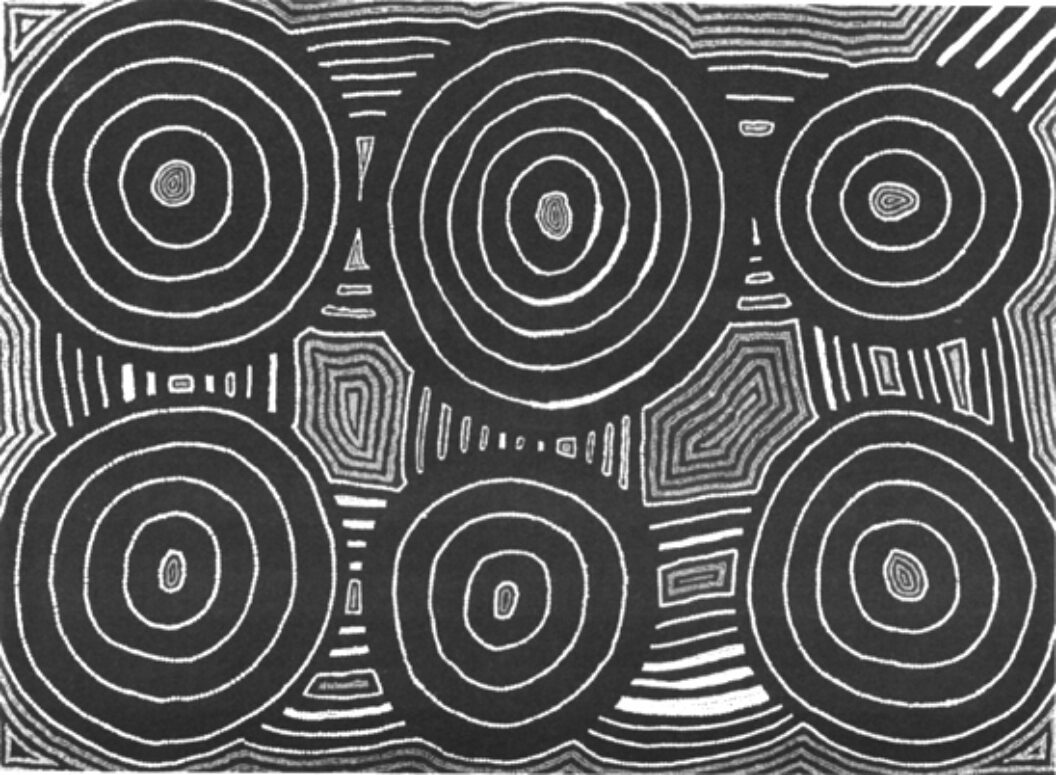 MAS What would you like to see in the future for Aboriginal art? And what are your fears?
DP I'd like to see Aboriginal people taking more control over their own affairs, especially in this one area of arts and crafts. And then they could become proud. And independent.
MAS I read that some of the Aboriginal people want to have European art advisors because they feel they can't negotiate with their own people, since everyone's family and they can't haggle with family.
DP True. Yes, this is true. The best example I could give is Ramingining, excellently run by an Aboriginal, Djon Mundine. He's getting a culture center, a library, a museum, way out in the middle of nowhere! He comes from another part. They're not his family. That's why he's able to do it. You need someone like that or someone like myself who's been away for years and years.
MAS What happens financially? A Clifford Possum painting just sold for $30,000. I know he just got the money, and that's what the party was about.
DP The Coma Shop which is run by Rodney Gooch sold the painting to someone in America.
MAS How much did Clifford get?
DP He would have got a fair bit 'cause he bought himself a big Toyota. And he's been drinking now for a few days with the mob: Charles Creek's rockin'. Clifford's in jail, poor thing. He's got no time or understanding of a driver's license for a start. That's no importance at all to someone like Clifford Possum. What does he need his license for? He knows he can drive.
MAS How long will he be in?
DP I wouldn't know. He might be out today. He had a flash Commodore before this Toyota and he was driving out at Three Mile Camp then. It's just a place, nothing there now or anything. That's one of Clifford's little spots. He goes out there usually to get away from the mob in town, and to stop drinking, and get some serious painting done. Clifford's that popular; his little gang follows him anywhere. And they find him.
MAS What happened to the Commodore?
DP Oh, one of his relations stole it and took it down to South Australia somewhere, and it broke down there, and got smashed up or something. I think some relation must have brought it back. Because Saturday, someone told me it was out at Mt. Levi, some station out that way. Out Yuendume. But he don't worry.
MAS Were the people at Clifford's party painters?
DP Traditionally, everyone's a painter.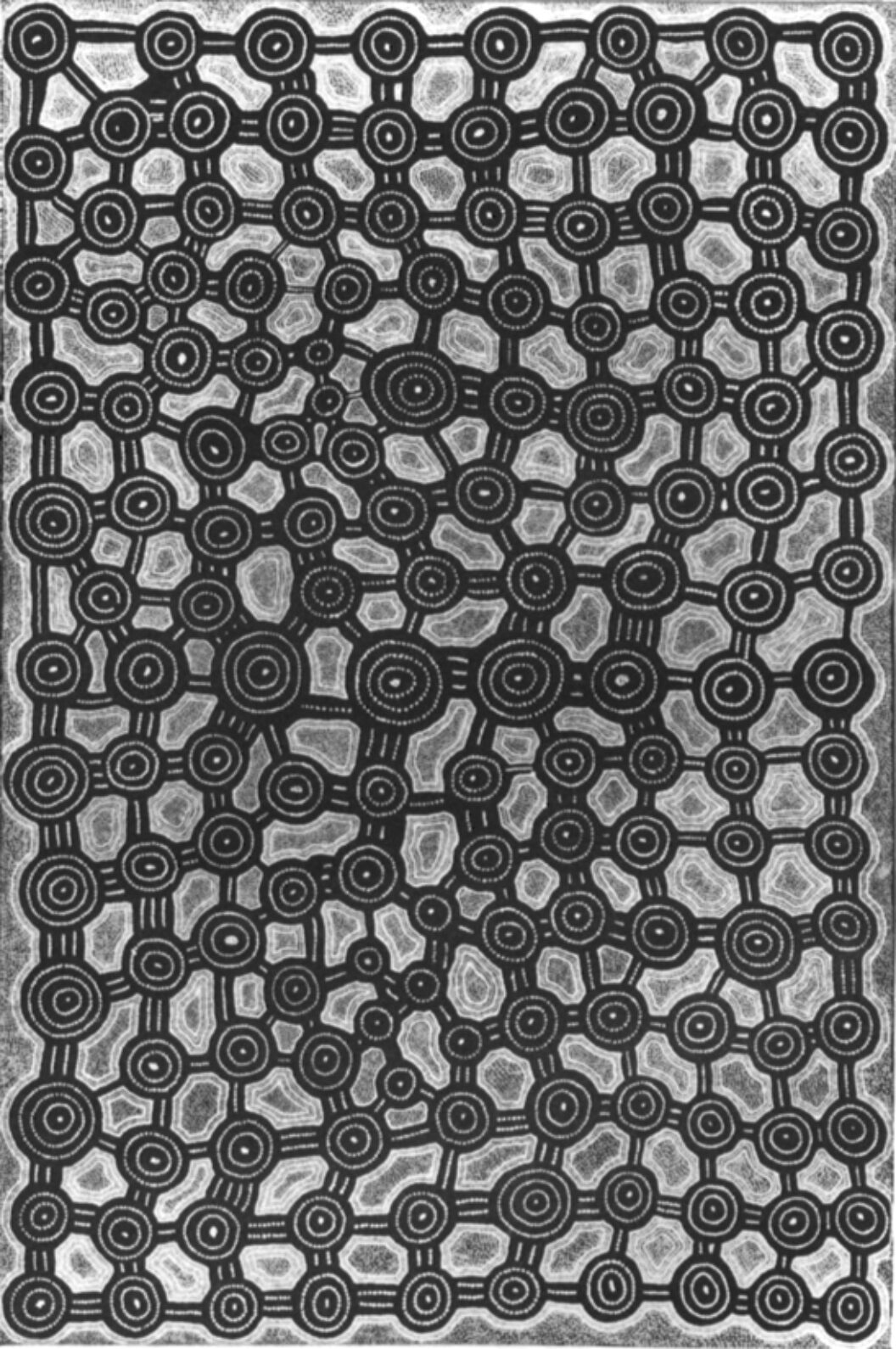 MAS Why haven't we heard more from the artists?
DP They are pretty wary, very shy, especially when someone has done a beautiful painting. You might think they are better than other people and everybody's equal on that level. No one's better than the next person.
We had a meeting the other day with the ladies. Eileen was worrying herself sick about a dreaming. One woman had painted the wrong dreaming. That painting had to be taken off the frame, rolled up, and cast away.
MAS They are very verbal about keeping the dreaming right. But I've noticed that they don't initiate any conversation at all, and their answers to questions are very short.
DP They'll only tell you a certain amount [about the dreaming], that is all you're allowed to know.
MAS Tribal secrets?
DP Yes.
—Mary Agnes Smith is an artist living in New York.
Originally published in
Featuring interviews with Al Pacino, Ian McEwan, Dr. John, Harvey Keitel, Vikram Seth, Dorothea Phillips, Thulani Davis, Victoria Williams, Bella Freud, Jo Shane, Campbell Scott, and Dorothea Tanning.