Documenting Syria: Alaa Hassan Interviewed by Julia Meltzer
"It is the photographer's responsibility to avoid misunderstandings."

Discover MFA Programs in Art and Writing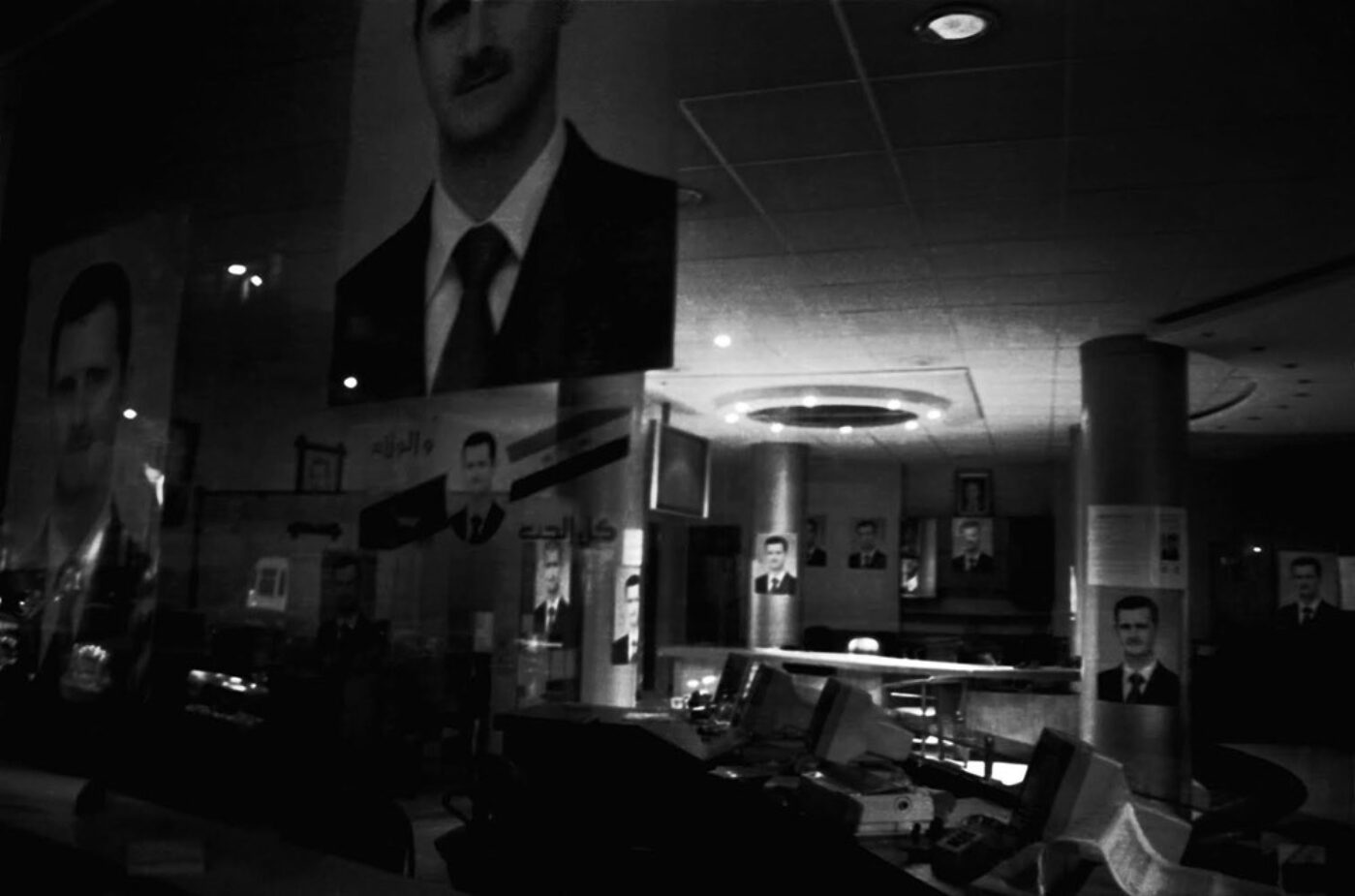 I met Alaa Hassan in New York City where we both spoke on a panel about films that we made about the war in Syria. I learned that we shared many friends from Damascus and also an obsession about an unfinished building called Yalbougha that still stands in the center of the city. I made a film about this building a decade earlier, so I was amazed to see photographs of it in Hassan's recently released book, Cardboard Castle. Since learning about his book, I have been thinking through what it means for a Syrian to photograph this structure as well as the leader of the regime that has ruled his country during his lifetime.
—Julia Meltzer 


Julia Meltzer You grew up in Damascus, a city with a long, deep history that I had the privilege to live in for a short period of time in the last decade. When I first visited Damascus in 2000, I was immediately struck by all of the images of Hafez al-Assad and his son, the new leader, Bashar al-Assad, that were plastered literally everywhere. During this first trip to Damascus, I was walking through the souk with my camera and a Syrian friend who grew up under Hafez al-Assad. I took several photos of the images of Hafez al-Assad that hung in every shop in the marketplace. He said to me, "Please don't do this, you are making fun of us when you do." I remember him saying this so clearly, and it has stuck with me over time. Looking at your book Cardboard Castles, it is a very different thing when one of the citizens who is subject to a dictator and his regime takes these photographs as opposed to when a foreigner does. What do you think about this difference? What does it mean for a Syrian to turn the camera on the ever-present image of a dictator?
Alaa Hassan There are two sides to the argument about whether or not to take pictures of the propaganda produced by the Syrian regime and how to publish them. Some believe that presenting the country as "Assad land" is conforming to a narrative about Syria that the regime promotes actively, which presents Assad as the unchallenged representation of Syria. Others may argue that it is exposing the truth about dictatorship, which is the highest priority.
That said, when taking a picture, one is not just preserving a moment in time. Photography is an action that people always react to; being an observer doesn't cancel your participation in an activity—it just changes your role. Very commonly, photographers mistakenly expect the viewer to understand their intentions. It is the photographer's responsibility to avoid misunderstandings.
For a Syrian, being presented in art as a subject of power is disarming as it takes away our subjectivity. And while it may be important to document that, the oppressor-subject power dynamic must always be considered. Even when true, a subject wouldn't want to be called one.
As for the chapter in Cardboard Castle that includes photographs of propaganda, I didn't address politics with most people that were in the pictures. It is not exactly a normal topic to start talking about with a stranger. If you get in a taxi in Damascus, chances are you're riding with the cops.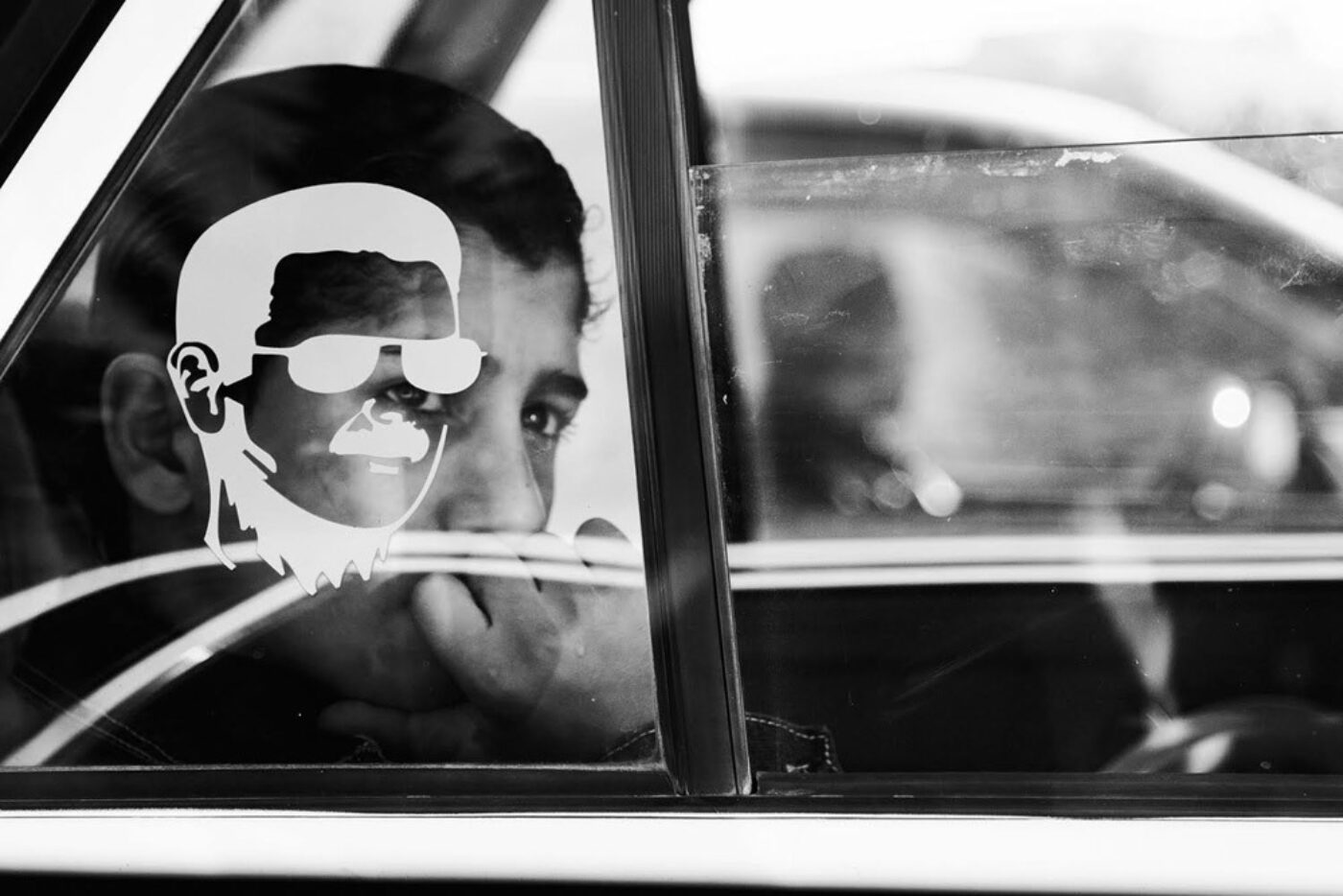 JMGrowing up and living in Damascus, you have seen different waves of images of Bashar. I'm referencing the flood of images that appear when the regime is threatened or when there is an "election." Can you tell me about how these things affected you growing up? Did your parents talk to you about his image or his role as the leader? Or, to the contrary, did your parents tell you not to talk about the regime?
AH Pictures of Hafez al-Assad were a normal part of public space; they would stand out only in a peculiar place like someone's home. Because my father was a political prisoner, I understood the injustice of life under that regime. However, I was a talkative kid. So I, like most Syrians, acquired the social skills needed to survive in a paranoid, informant-infested environment that shows no mercy to dissent. The regime doesn't require love, but obedience. You don't have to praise the president with your loudest voice, even though you're welcome to, but you surely cannot express discontent with a certain level of decision makers. Almost all Syrians I know didn't think it was a good idea to expose any "different" political views to a complete stranger. All of this changed after 2011 of course. JM In your introduction to Cardboard Castles you write, "The construct of a cardboard castle reflects that while the state projected an image of omniscience, omnipotence, and omnipresence, the image was hollow." The "state" in Syria, if you can call it that, does feel empty or hollow, yet it has managed to survive through so much. It feels like it is an omnipotent force as well—would you agree? 
AH In this context, I believe it is necessary to make a distinction between the regime and the state. For a state, survival is not a proper measurement of success, but rather the well-being of its citizens, especially in a country that has Syria's resources, history, and potential. However, a regime can survive in a failing state. Even more, a regime can anchor itself in the weaknesses of a community that it rules, such as sectarian or racial divisions. It is as if the regime took the state hostage and worked hard to erase the differences between the two.
As I see Syria today, I wouldn't call it omnipotent. The state failed since half of the population is displaced, the infrastructure is severely damaged, poverty is at its highest, medical care is scarce, and young people are leaving the country at an unprecedented rate. The pre-war Syria was somewhat functional. Now it is survival-oriented, limiting most citizens to either live under the control of the regime or not be there at all! Many routine functions of the state are being done locally, starting with collecting trash and ending with protecting the borders of a town. Many civil services are now being performed by militants instead of civilians. Many critical decisions are being made by non-Syrians. Syria does not look like a sovereign nation anymore.
JM When I first visited Damascus in 2000, the unfinished building that was located where the historic Yalbougha mosque was located made an immediate impression on me. I wondered how this structure could be in the center of the city, on a very important square, and remain seemingly unfinished for decades. Certainly, this type of unfinished building is not uncommon in developing countries, but this structure is so imposing and so central. I asked the question: Was it going to be a parking lot? A shopping mall? What was it meant to become? You grew up with this unfinished structure in your midst. When did you first notice it and think to photograph it?
AH I can't remember the first time I saw it, but I always loved it. It is such a square structure, so defined yet not useful, takes space but also frees space since it's not being used. It stood next to an old market that is now gone and replaced with a park. Yalbougha is one of those pockets in Damascus that carry an intimate value since we grew up, had experiences and dreams, we changed, the city changed, but this massive unfinished project is still right there, unfinished, a constant reminder of wasted potential. It's quite descriptive of many Syrian generations, too.
The first time I took an artistic interest in this building was through the eyes of visiting friends, namely a Belgian artist friend who took a special interest in the unfinished concrete structures in Damascus, one of which was Yalbougha. It was one of these things that needs a new pair of eyes to recognize, after many years of being accustomed to this building just being there.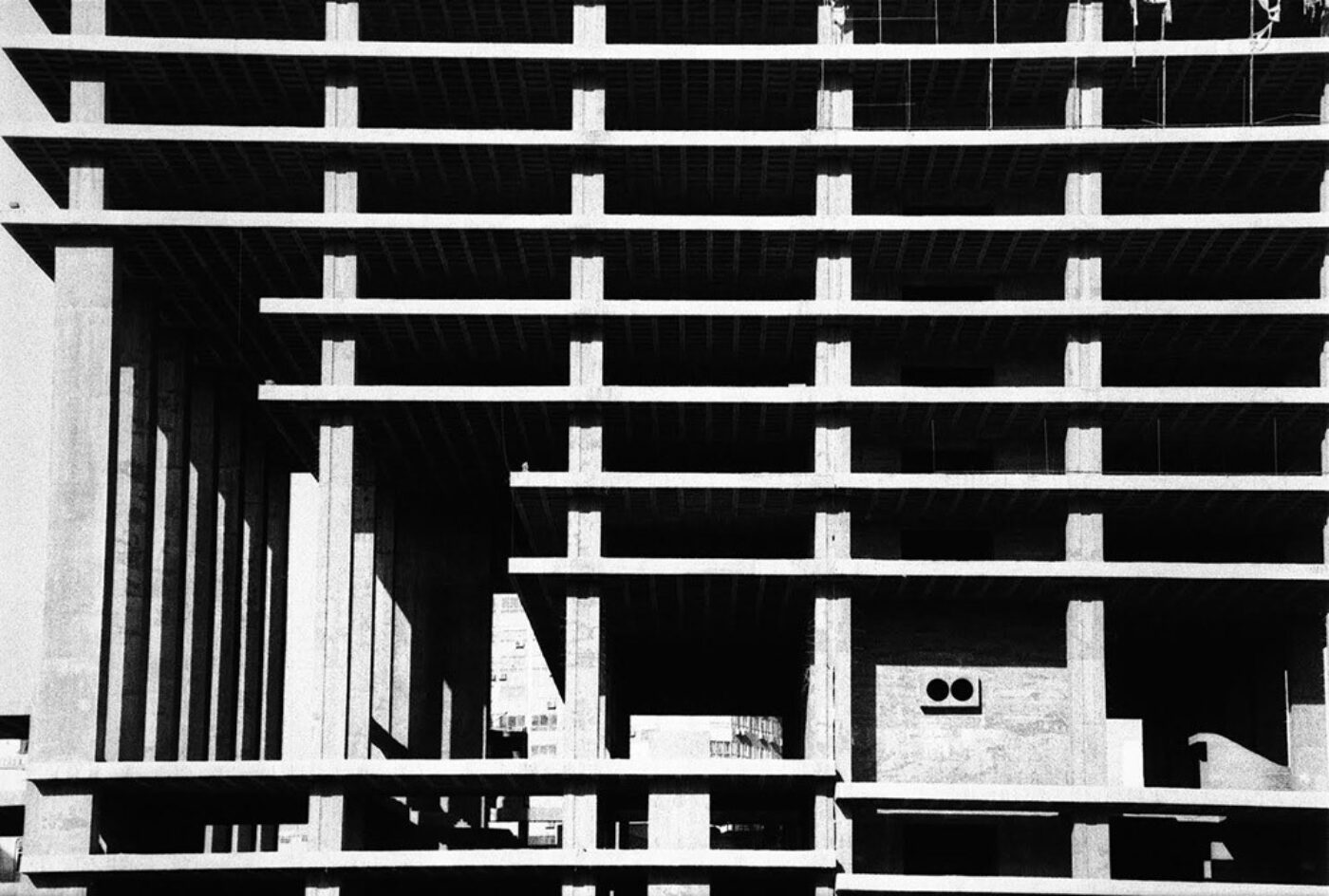 JMOf course it's hard not to see this structure as a metaphor for the regime. Right?
AH Yes, in the book I used Cardboard Castle as a metaphor for the regime, the building, the country, and our perception of reality. It's not really a castle! It's a model for one, an idea that someday we will be "there." But we will never get "there." 
JM What have you learned to see about your homeland through the act of taking photographs?
AH I learned that Syrians are passionate, diverse, and complicated people. I learned that the country was infested with fear and so were our minds. I was welcomed almost everywhere I went. People were desperate for their stories to be told but mostly afraid to tell them. Construction workers were always worried that I would be a journalist even though they were the victims of horrible treatment and illegal employment. They needed a journalist. I learned that people have good instincts regarding respect and dignity, but they were conditioned to live and behave otherwise.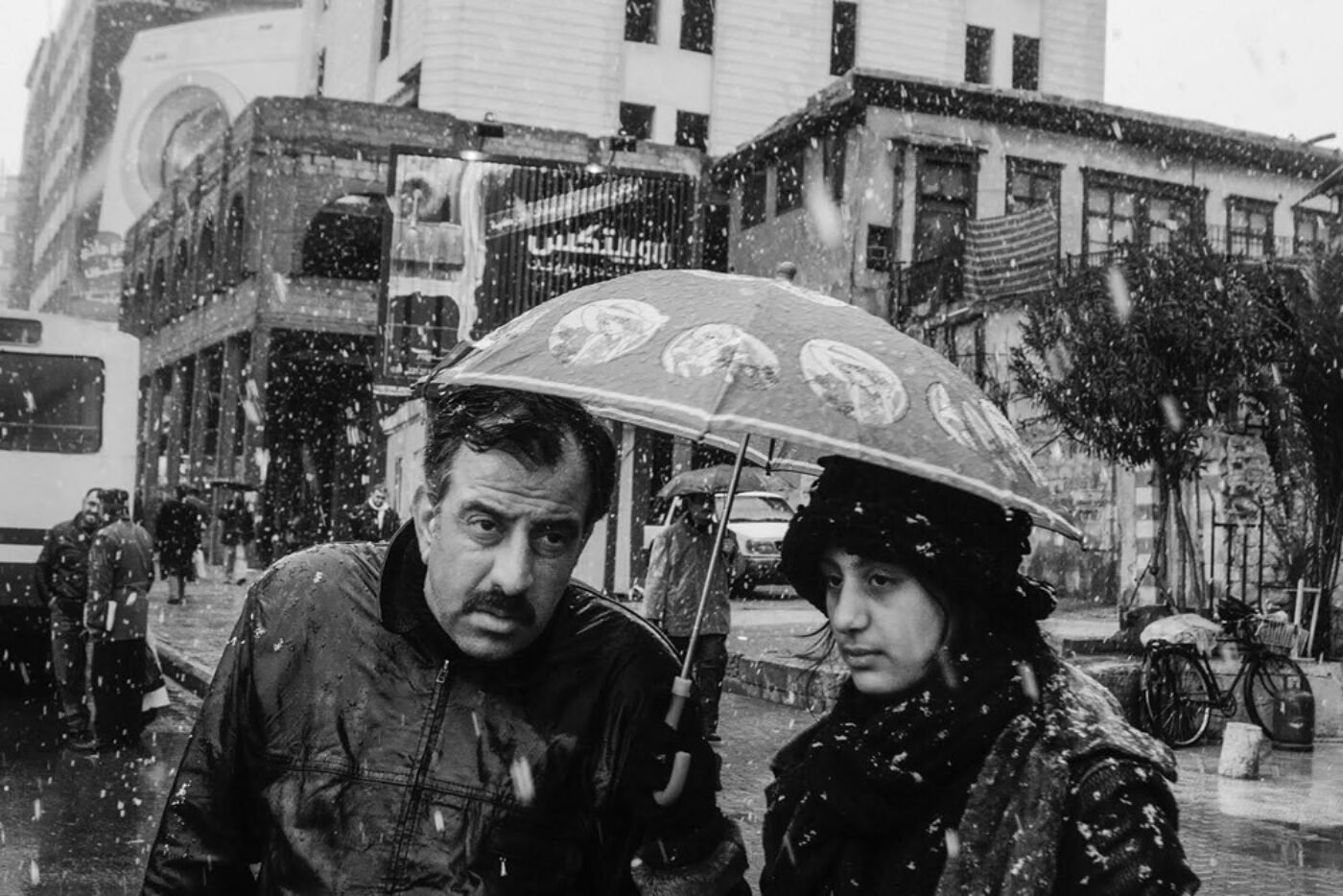 JM What feedback have you received from Syrians who have seen your book? What impression has it made?
AH The experience of the book in Arabic is different than that in English. As Arabic reads right to left, the sequencing of images was reversed. This was a big challenge while making the book. How do we make a book that can be read in both directions and keep its consistency both ways?
Reactions that I got from Syrians were more emotional, understandably. At my show at Photoville, a Syrian woman came to look at the work, but she did not enter the area where my work was showing, as she thought it would be too tormenting. She explained that for five years she has been trying to move past the picture of Assad and the influence of dictatorship on our psyches. She didn't want them back.

Cardboard Castle is now available. 
Julia Meltzer is a filmmaker and director of Clockshop, an arts organization based in Los Angeles. Her most recent film is Dalya's Other Country.