Dissonance and Resonance: Sushma Khadepaun Interviewed by Olivia Ciacci
The filmmaker on visibility, connection, and dialogue.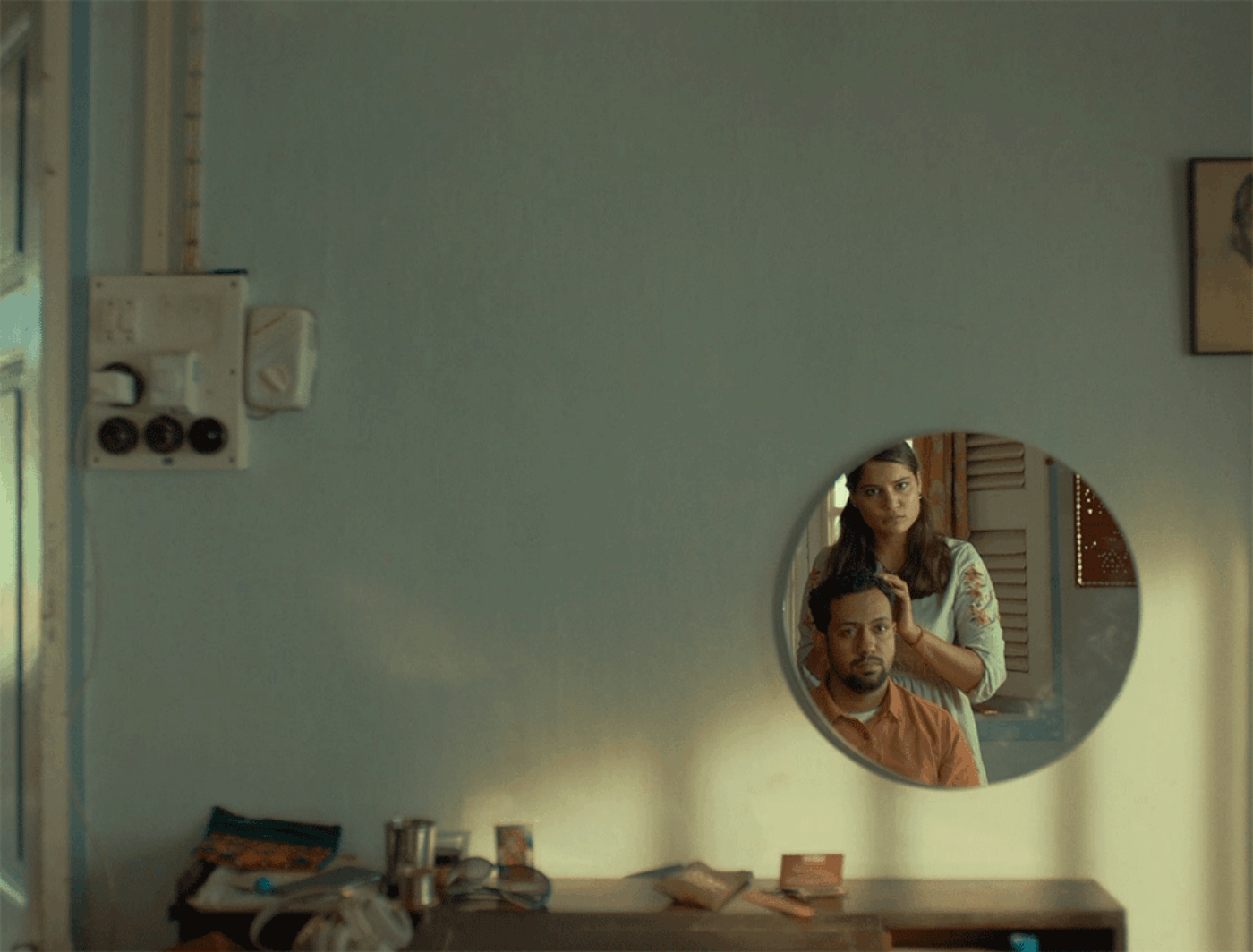 Film writer, director, and editor Sushma Khadepaun recently met with me (virtually) to discuss her recent short work, Anita, which is headed to the Orizzonti Section of the Venice International Film Festival (VIFF) this September. In 2015, Khadepaun and I met as graduate students at the School of the Arts at Columbia University, where she studied film and I studied fiction. Central to this conversation about her film Anita—as with so many of our conversations—were the concepts of visibility and connection between people, communities, and cultures.
Anita is named after its protagonist, a young woman who, with her husband, returns from America to India for a wedding. The characters struggle in bridging the two cultures, but at the crux of the story, embedded in a six-minute single take, is an uncomfortable, universal question: What is happening here? What is Anita experiencing? That question is essentially the question when it comes to how a person can have control over her own body, her own life. Khadepaun's film provokes dialogue; it does not offer easy answers.
—Olivia Ciacci
Olivia Ciacci In getting ready for this interview, we had some back-and-forth about whether or not this is the first film by an Indian woman filmmaker to reach VIFF since Mira Nair went with Monsoon Wedding in 2001. But it turns out that it is, right?
Sushma KhadepaunAnita is a short film, not a feature, but yes: it is the first film by an Indian woman filmmaker to be accepted to Venice since 2001. It's also the first Gujarati film ever to play at Venice. I'm happy that films in various regional languages in India are paving the way for independent cinema. Three Indian films (including Anita) are going to Venice this year, and none of them are in Hindi.
OCWhat was it like making Anita in your first language, Gujarati?
SKGujarati cinema is rather young; it's only since 2012 that Gujarati films have been screening in theaters for a mainstream audience. Despite the fact that Gujaratis are a huge population and make for a large audience all over the world, we have grown up watching movies in Hindi. I am not inclined to make films in just one language, but for me certain stories—especially those about Gujaratis—have to be made in the language.
I've now made two shorts in Gujarati (Foren [2017] and Anita), and it's a very interesting process. Our imagination and therefore our stories are deeply influenced by the images and sounds we have consumed over the years. So, I found myself wondering, How do my people speak on screen?
I know it sounds rather trivial, even silly, but imagine if you grew up speaking English but never watched an English film in thirty-nine years of your life. Would you know what your people sound like in a film? This is why we need to see stories of our people represented with authenticity. It's why we need Brown stories, Black stories, LGBTQ+ stories, and Indigenous stories—so we don't forget these voices.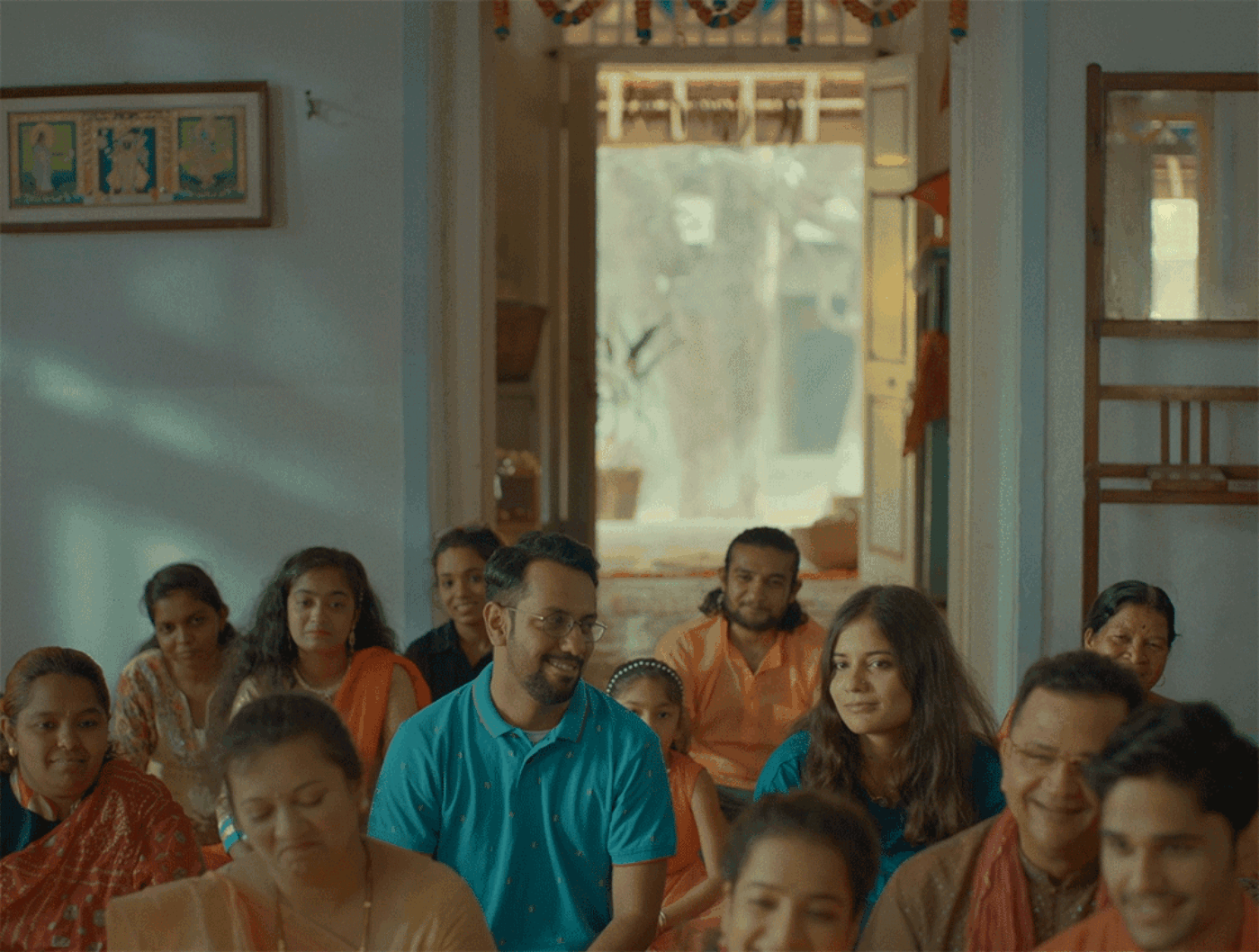 OC How did you decide on the visual approach to Anita? Who are your influences?
SK I find myself drawn to the dissonance between one's feelings and words. Also, for me, stories are very rooted in space or location. In India, you're around people all the time, and everything feels alive—on caffeine, if you will. And on the other hand, it is the land of spirituality and introspection. I try to capture this contrast in my storytelling. The dialogues in my script are often banal, everyday conversations; but the camera is hinting at something else the character is feeling. This was especially crucial for the character of Anita, because she struggles to be heard. I am influenced by filmmakers such as Kelly Reichardt, Lynne Ramsay, Paweł Pawlikowski, and also Satyajit Ray.
OC When I think of Reichardt, I think of stillness; when I think of Bollywood films—which you grew up watching—I think of the opposite.
SK (laughter) Yeah, you're right. I guess I won't be joining the one-million-dollar box office club.
OC What were the challenges of casting an independent film in Gujarati?
SK Casting for an indie, low-budget short film that needs Gujarati-speaking actors who are open to partial nudity on screen—on top of being good performers—seemed like an impossible task. The school of performance they are coming from has a totally different aesthetic—heightened melodrama—while I was looking for understated performances.
The casting process in India is very different, something I learned a lot about. Independent cinema doesn't work with a casting call for which people just show up, especially since I am not an established director living and working in India. I also wanted to shoot the intimate scene in a way that would require some nudity. So I would meet with interested actors over coffee and narrate the story and answer questions about why the scene was important and how I visualized it. But after that, most people dropped, even before auditioning.
OC Your main actress, Aditi Vasudev, had to learn Gujarati for the part, right?
SK Aditi's casting for the role happened a year before we got to shoot the film. In fact, in a bizarre turn of events, I ended up auditioning her on the streets of Paris in April 2018. Aditi's commitment to the role was everything a director could hope for. She not only learned the language for this film but also attended my family gatherings to observe nuances. Because of the rigid visual style of the film, I was aware that a lot of its weight would rest on her performance. So her input and collaboration were crucial. We were looking at a lot of references where we could see a character's internal process reflected on their face, their body language, and gestures. We spent much time on the character's needs and wants, and how she felt around her family. What did coming back home mean to her?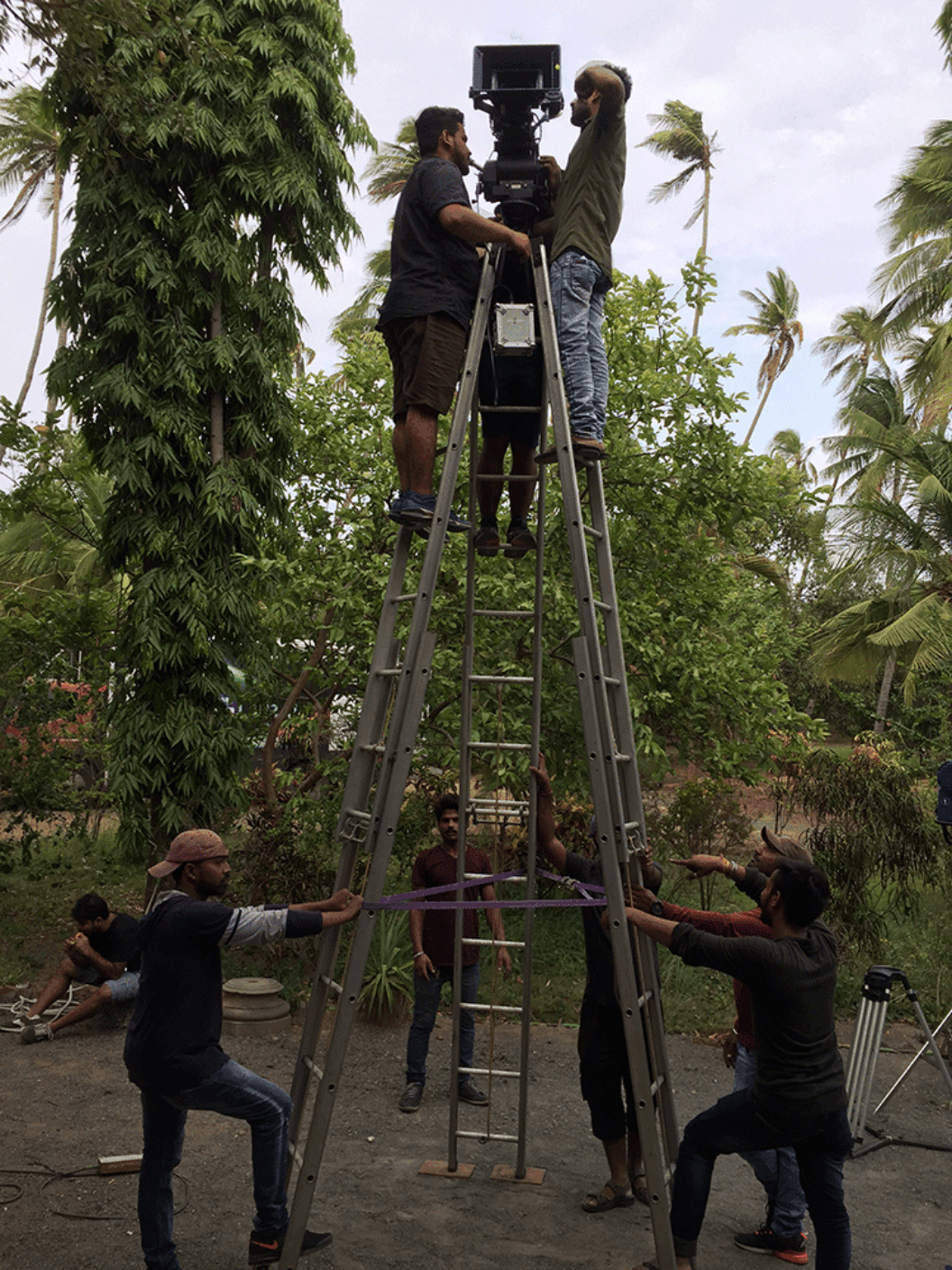 OC What were some of the directorial challenges?
SK Shooting in a location that was the eye of a potential cyclone was one. Ha! All of my cast and fifty percent of the crew were stuck on the train for six hours because of cyclone damage. Luckily, it did not hit the place we were in, but we had to re-plan the first day of the shoot in a way that didn't require a lot of dialogue because of the constant wind and thunder outside. We also could not shoot anything with outside lights or anything like that, so we had a very short first day.
And while, of course, every production will have some force majeure story, it's the factors that are out of my control that influence the decisions in my control. I seriously questioned whether I should risk a six-minute single take, which would take much longer to film and prep, or compromise and use the time to cover more script pages in case the cyclone hits.
OC The risk paid off!
SK I suppose. Shooting that scene was the most challenging yet rewarding process. It was a great learning process for all of us, because it involved choreography, blocking, and tremendous vulnerability from both the actors—Aditi and Mitra Gadhvi. I am so grateful for the trust they put in me to direct this scene and for their commitment to give their absolute best.
OC So what were some of the more human-made challenges of directing Anita?
SK Balancing my training with my surroundings. For example, per my training at Columbia, I would rehearse for three or four days before a four-day shoot; anything more would feel over-rehearsed. But I ended up rehearsing for over two weeks for this scene, because I was working with actors from a completely different background. It takes some time to develop a vocabulary that we all understand and believe in. This becomes the foundation for what will end up on screen eventually.
OC Yes, that single take is incredible. What were you hoping to achieve with that?
SK What I'm exploring is how abuse is often a non-event. The casualness of abuse can lead you to question whether or not what you've endured is abuse, because that's not how we've typically seen it portrayed.
While developing this script, I was often told that if I included abuse, the film would become just about that; whereas I'm navigating ways to portray a family, a community, a couple, a relationship where you see people interacting with warmth, bringing presents, but it is the same community where people get raped—because that's how it is in real life.
The challenge is to find the right tone within seventeen minutes: Can I have something that feels like a celebration but also dig deeper and feel the dissonance that the character is feeling between the celebration going on outside and what she is feeling inside?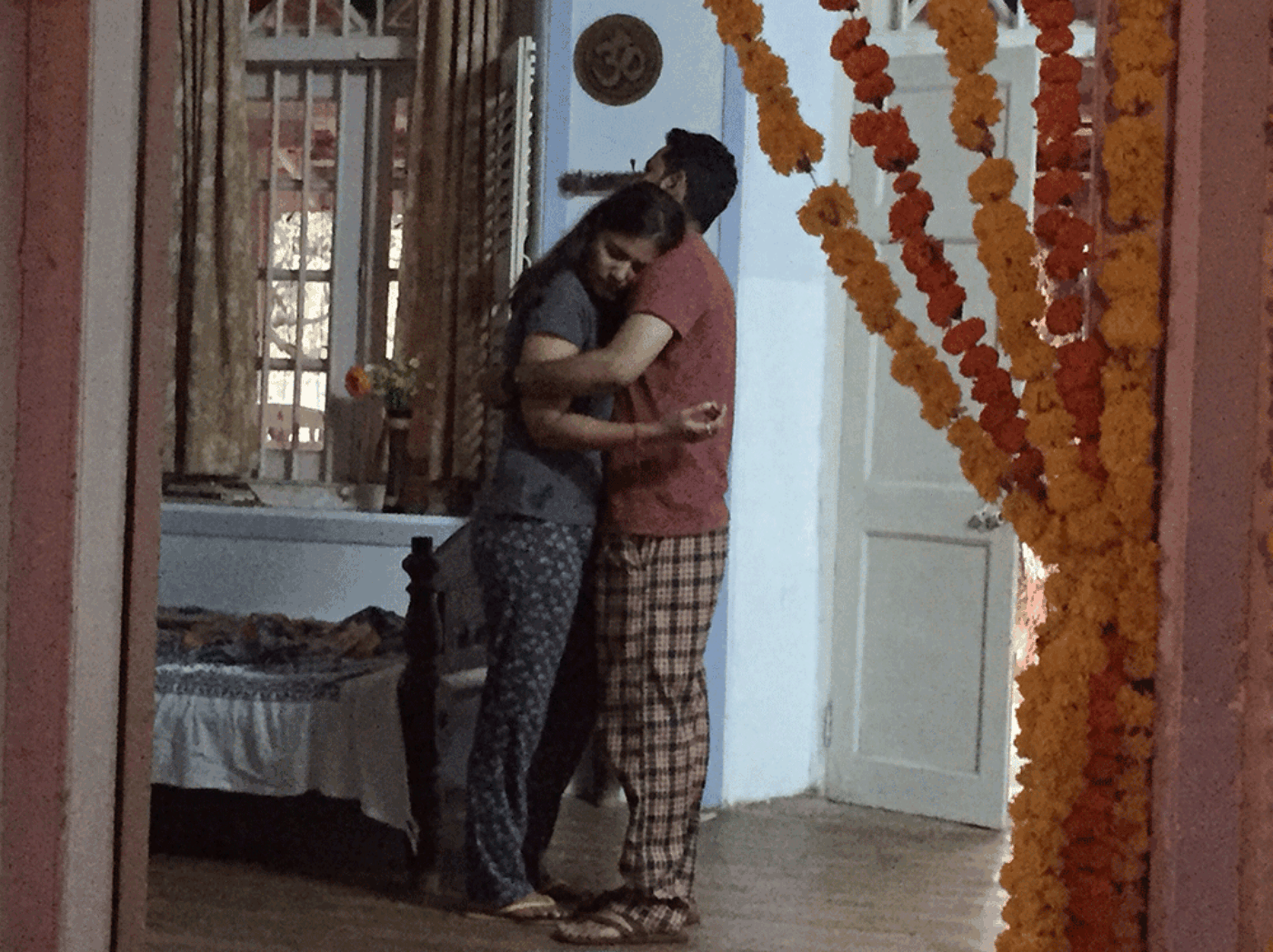 OC The dissonance you mention comes through in several of your films. Do you see a thread through the body of work that you're building?
SK Yes. I think Tanu in Foren and Anita come from the same world. Tanu is a kid wondering about what a foreign land might be, and Anita is somebody who has had the opportunity to live there and now returns home.
OC And does your feature Salt build on Anita's story?
SK Salt does not follow Anita home, but is a combination of the shorts, in a way. It's about a girl who wants to move to the United States to escape her small-town, conservative family, and finds herself in the isolation of suburban Texas.
OC From the frying pan into the fire!
SK Yep! I feel like the stories I like to tell are in a way schizophrenic, because when you grow up in a very gendered family or society, there's a division of space. There's a constant dissonance you feel because of this divide. I write stories about the domestic space and the politics of it, because that's what I know. As a woman I'm expected to occupy that space, but if that's not the life I want, then the only other way of life I know is a very masculine public space. So I write about that space and put a woman at the center of it. The audacity!
(laughter)
OC Aside from trying to figure out if you can get to Venice, where else are you going from here? What projects do you have in the works?
SK I am working on a few projects that are at various stages of development. One is the feature you've already mentioned, Salt, based in the world of Anita with similar characters. Another feature I am writing, Dreambuilders, centers on a woman who runs a motel in Texas and gets involved in multilevel marketing—the story follows her relationship with her mentor. I'm also developing ideas for TV series in the United States and in India.
Olivia Ciacci is an American writer whose work has appeared in McSweeney's Internet Tendency, The Ploughshares Blog, and Electric Literature, among other venues. Her current projects include a satirical novel in which the class system survives the apocalypse and a collection of essays examining the habits of Edith Wharton, Virginia Woolf, and Simone de Beauvoir. She is represented by Jessica Friedman at SLL and Will Watkins at ICM Partners.