Discover MFA Programs in Art and Writing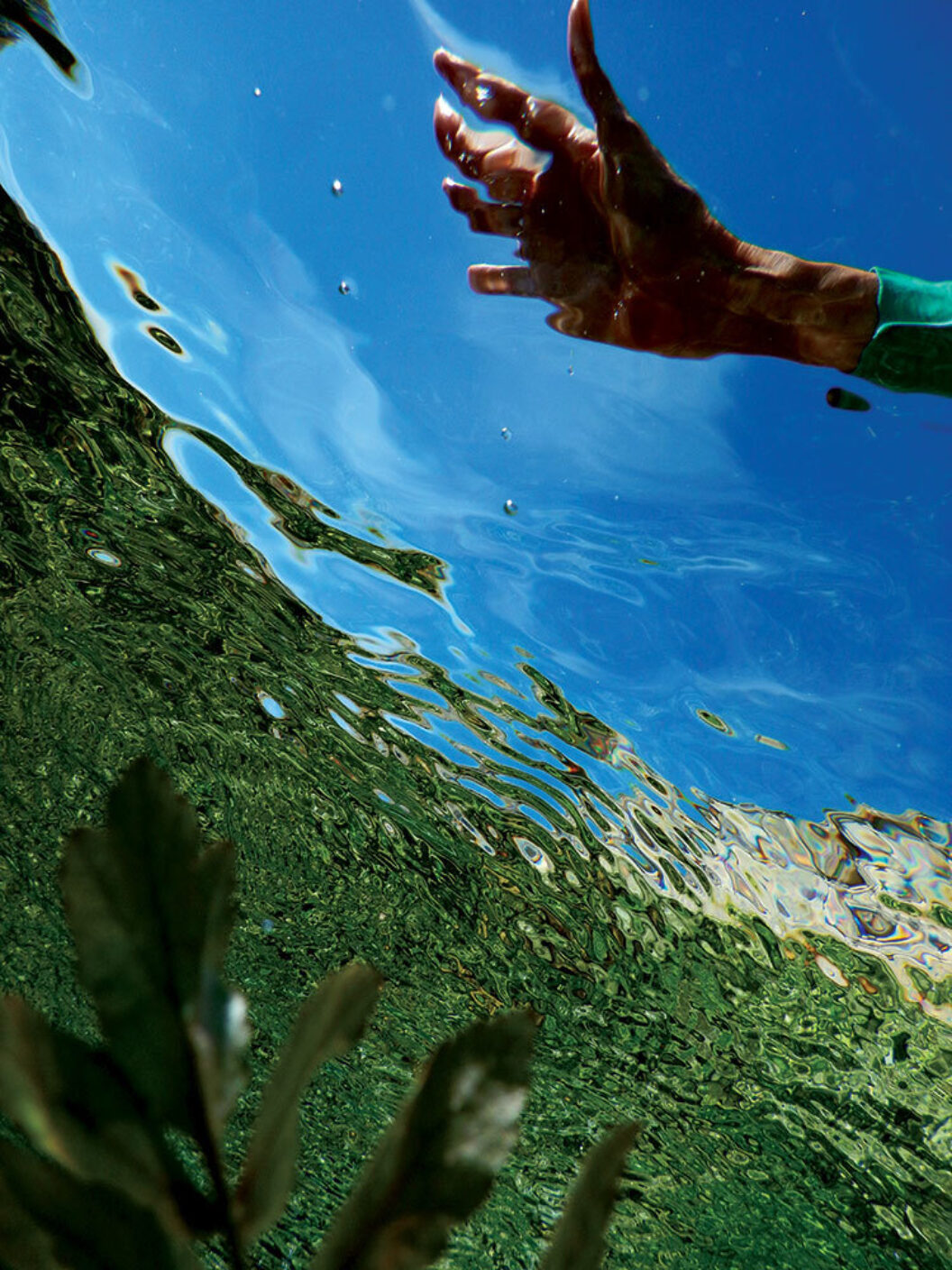 For the past five years, artist Margaret Ross Tolbert has been traveling to southern Turkey to the site of ancient Lycia, an autochthonous culture with roots in the Bronze Age, later Hellenized, and eventually controlled by the Romans. This rocky coastal region of Anatolia, with its vast network of freshwater springs and underwater caves, is rich with water traditions and rituals and provides the setting of some storied myths, such as one about Leto, related in Ovid's Metamorphoses: Lycian peasants bar the exiled mother of Apollo and Artemis from taking a drink of local spring water; she turns them into frogs.
Today the ruins of Lycia—rock-cut cliffside tombs, amphitheaters, bathhouses, poolside monuments—dot a landscape unchanged in thousands of years but now rapidly transforming through industry and agricultural development. In the past few decades, some of the springs have run dry, the water diverted to the country's extensive protected cultivation sector. (Greenhouses cover 7 billion square feet of land in Turkey.) Tolbert's collaborative work Proje Su is an artist's attempt to trace the springs' importance by bridging ancient culture and ritual with modern science. Guided by the path of the wandering Leto—as well as maps made by geologist Timuçin Aygen, cave diver Gökhan Türe, and geohydrologist Can Denizman—Tolbert brings along spelunkers, artists, activists, journalists, photographers, architects, and archeologists to survey the rivers, ruins, and caves of Lycia. One of her collaborators is artist and cartoonist Aidan Koch, who traces Leto's search in drawings that echo visual motifs encountered in their travels. On a research trip this fall, Tolbert and Koch shared some of their sketches and notes.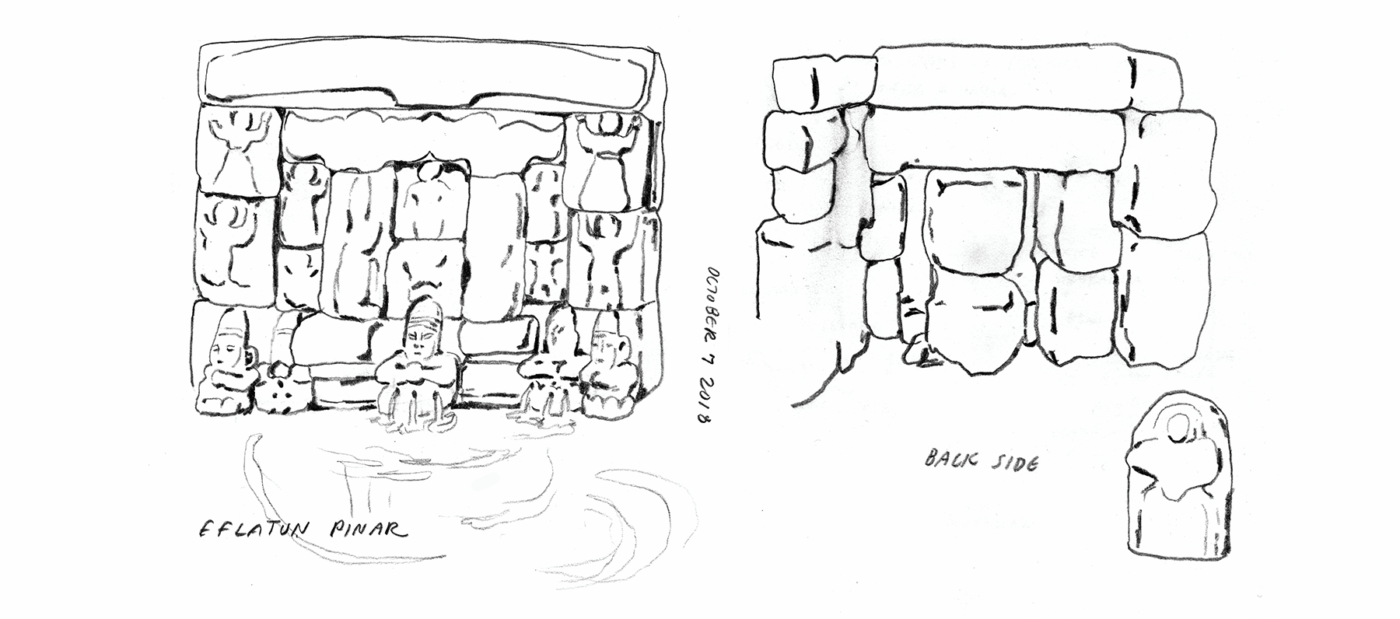 Eflatun pınarı is a 3,500-year-old sculptural monument standing in the middle of vast agricultural fields near Lake Beyşehir, seemingly in the middle of nowhere. Its bulk is fitted over a rocky ledge gushing with spring water that fills a pool below. Oddly, Eflatun pınarı is sometimes called Plato Springs, though it was built in the thirteenth century BCE by the Hittite government to recognize a spring already regarded as a deity. Today locals come to fill bottles with şifalı su (healing water) and wade in the shallows.
Hittites often did this kind of thing in the more obscure parts of the empire to establish their presence around cult centers.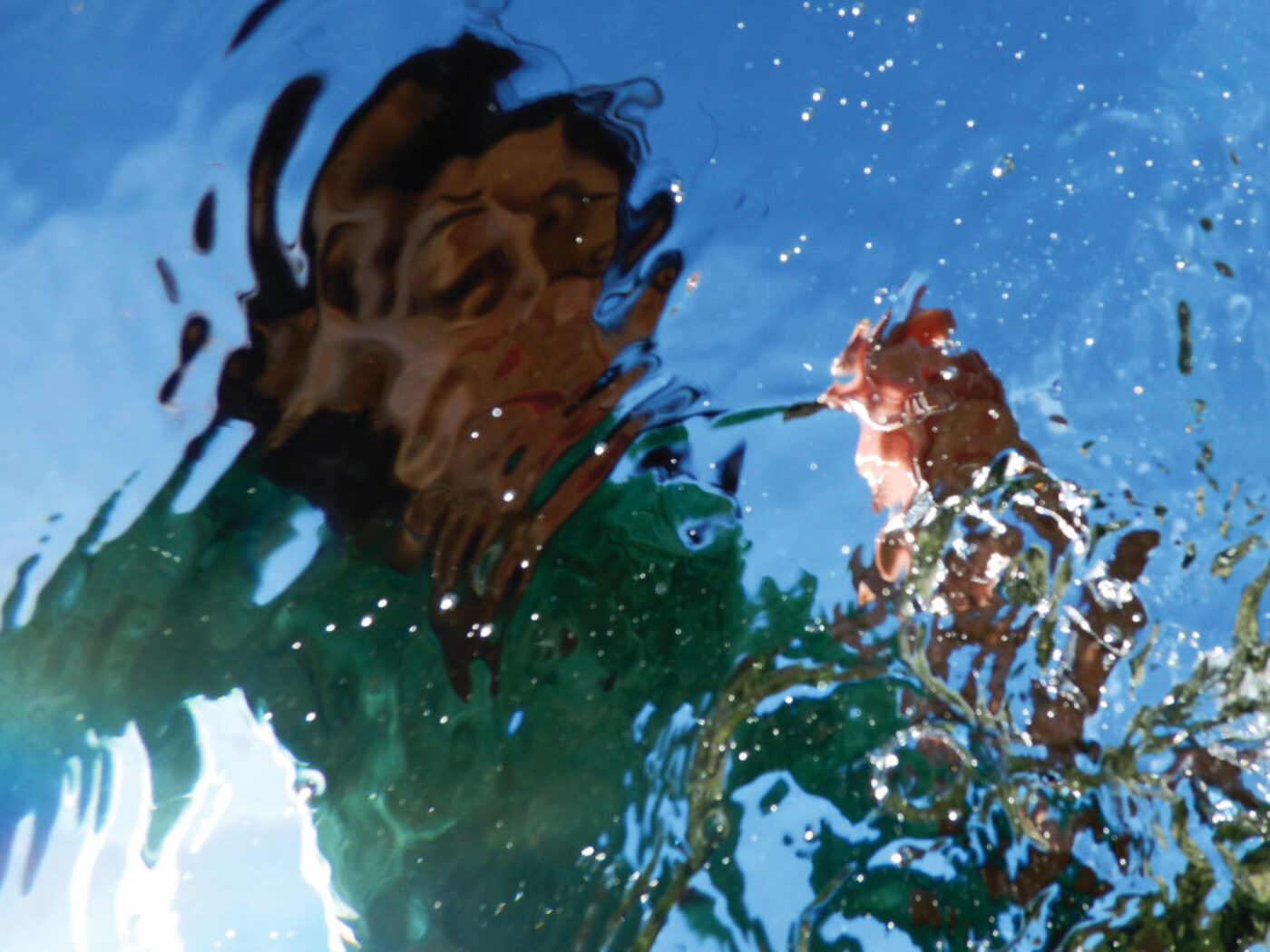 Heard a story in Kumluova about how women used to lift their skirts to the sea to make Poseidon close his eyes, preventing storms. Now they bring food.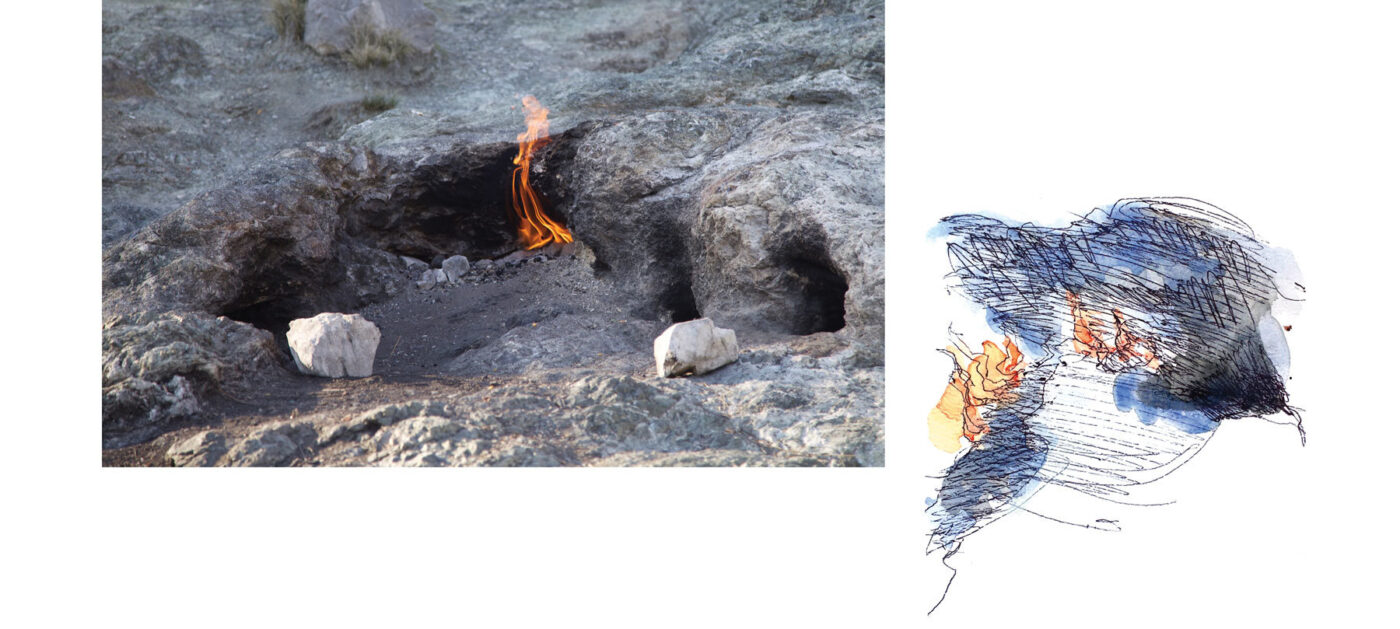 Close by is Yanartaş, also known as Chimaera Mountain, where trapped natural gases create flames coming out of holes along the mountainside.
The Greek myth goes: Bellerophon was sent to combat the fire-breathing part-lion, part-serpent, and part-goat Chimaera. He was not supposed to survive. However, Athena gave him Pegasus's bridle, and when he found the winged horse next to a spring, he slipped it on and they made an unbeatable team for aerial maneuvers, forcing the beast into perpetual captivity deep in a mountain summit. Today, the eyes of the enslaved monster still blaze, fed by methane gas, catalyzed by ruthenium, and modulated by groundwater pressure. We visited them many times. It felt we were keeping them company. Nearby prowled a black cat, glad of companionship.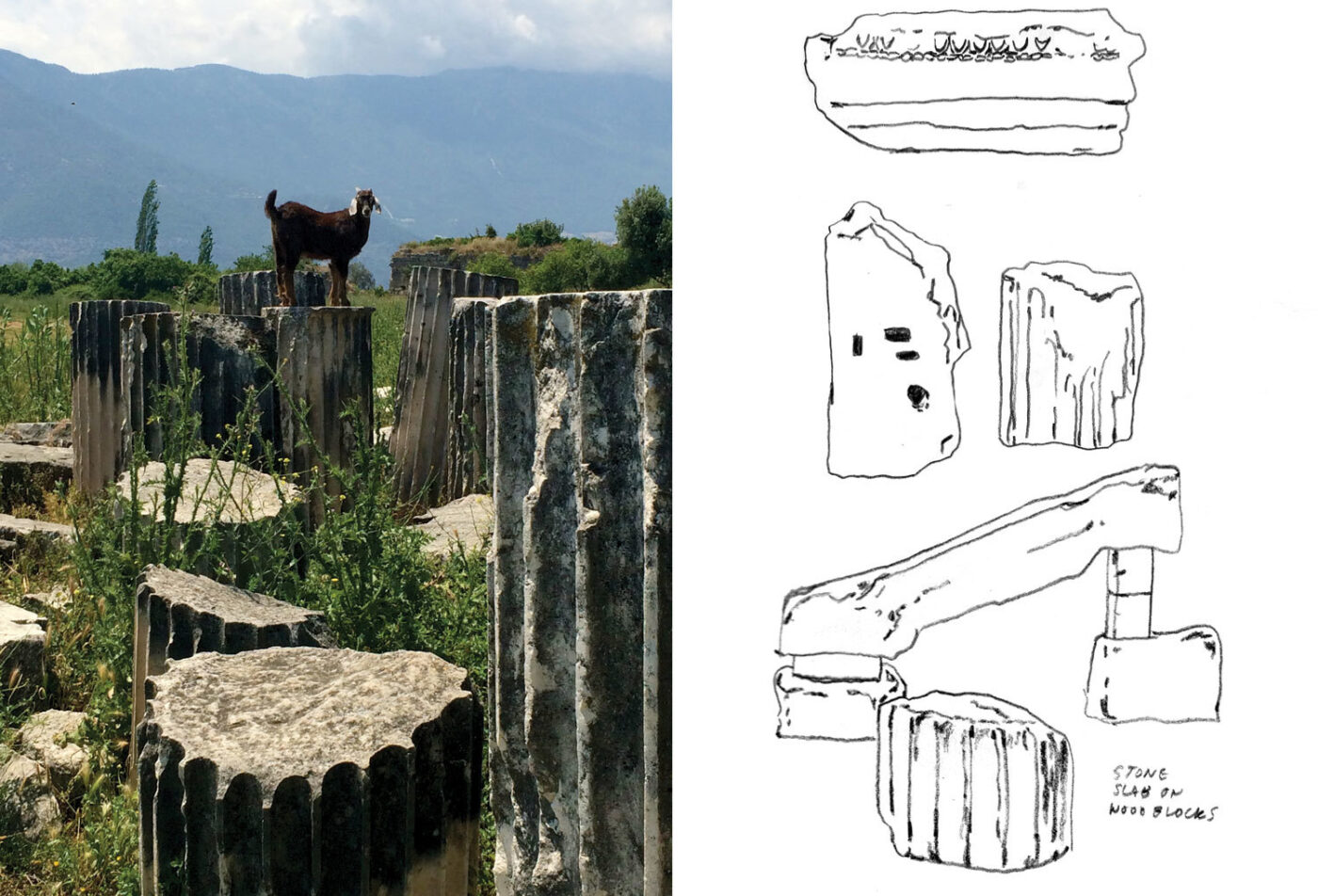 From there we visited Limyra, where the spring's flow is well-preserved, and the water level hasn't significantly gone down through overuse or pumping. The grasses are especially diverse and healthy. It's connected to the higher flow by Elmali (see map).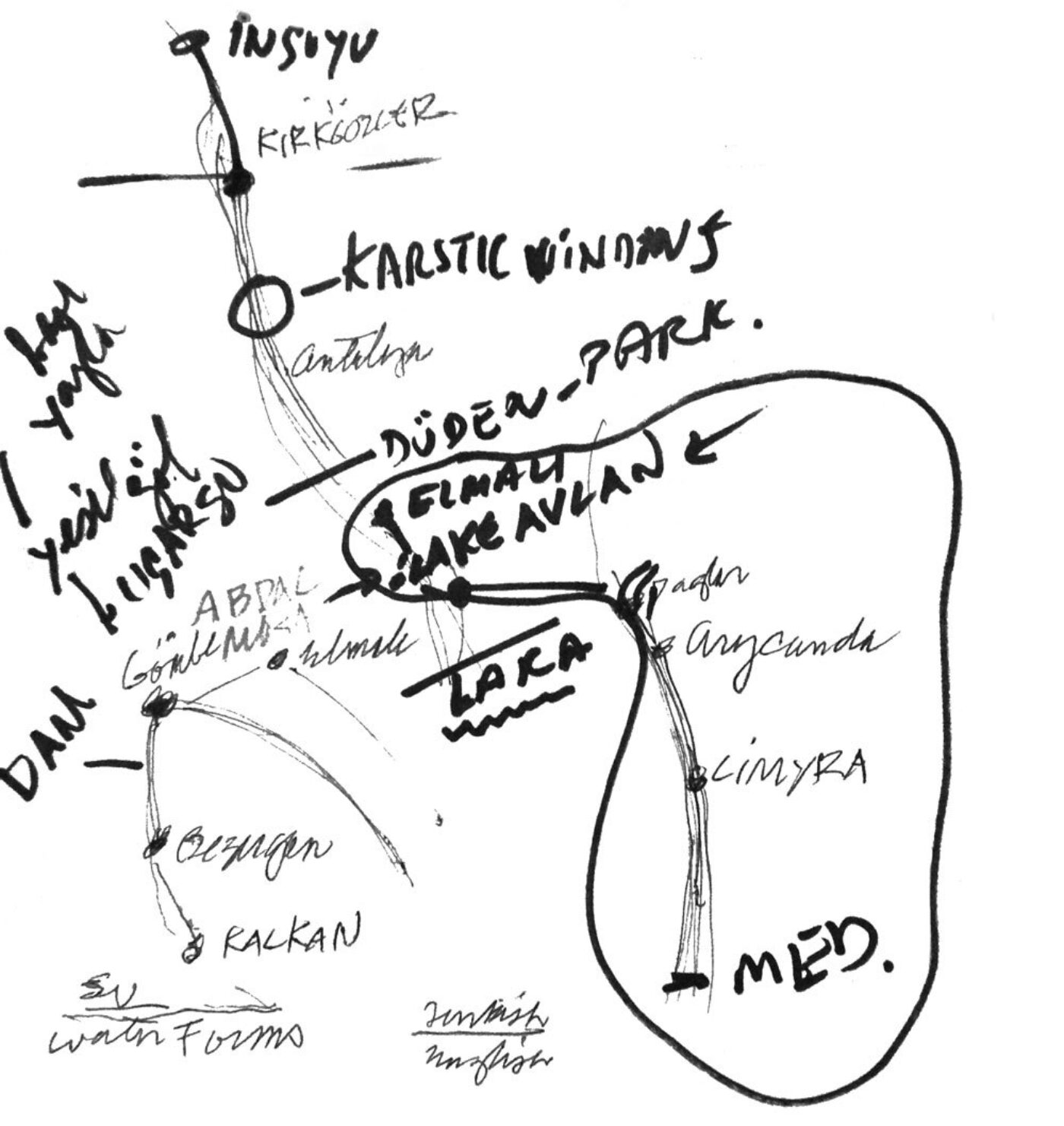 This morning, Arykanda: a massive ancient settlement in the hills. A spring lets out where the road goes up to the city ruins, now a market for selling local farm goods. Many pipes siphon water from the source to various places. This water was the basis for the city, and forms have been built to hold it safely along the cliffsides.
Yusuf Yavuz also joined us starting there for the next couple days. He lives in Antalya and is an independent environmental journalist and activist. The town he grew up in (Darıbükü) became submerged in water a few years ago due to a controversial hydroelectric damming project by the Erdogan administration.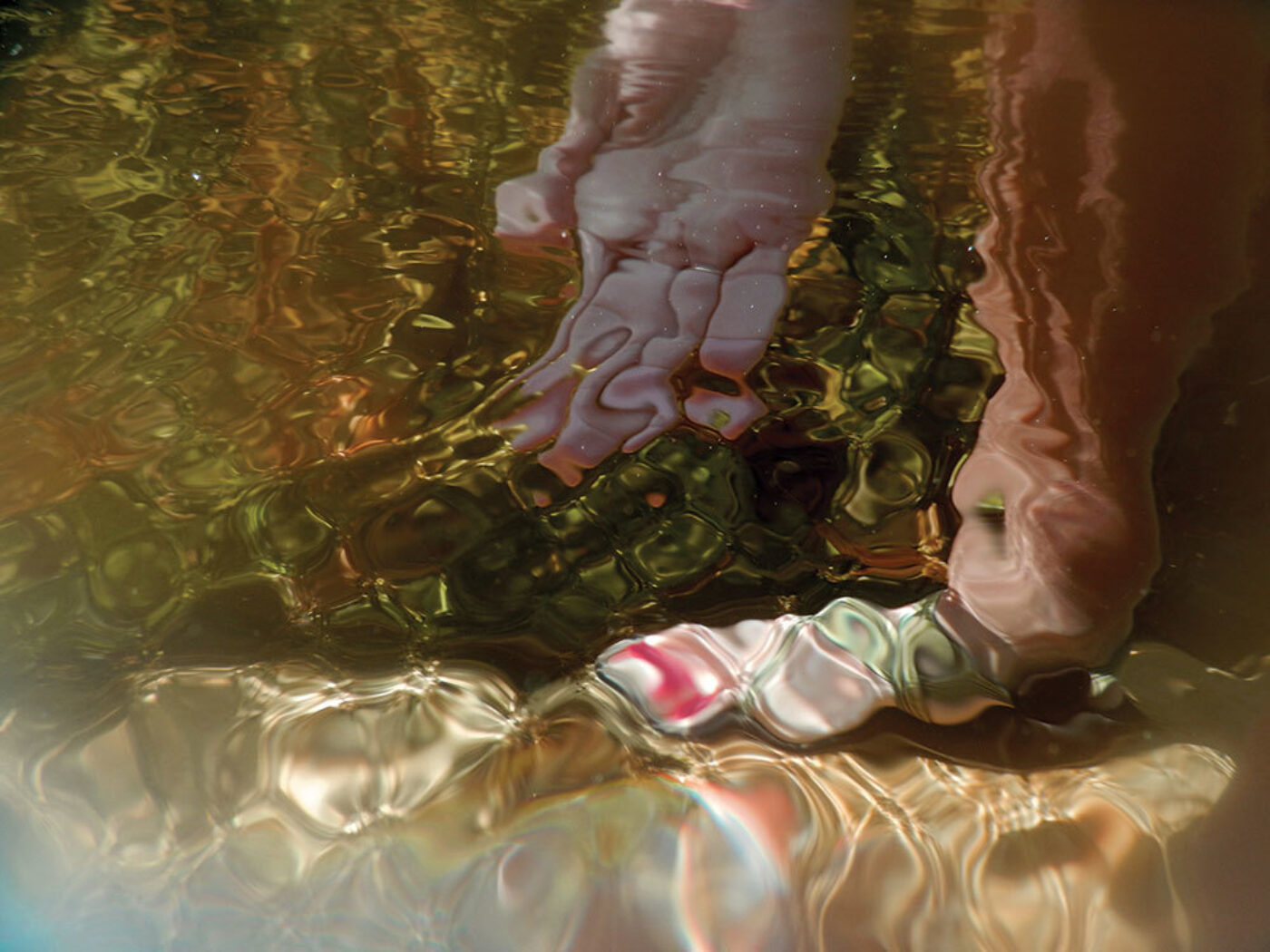 Lake Avlan: a lake drained for farming and a large highway project, but there was a protest and it was restored in the early 2000s. On its way to becoming a true lake again, it sinkholed. It's now a mere speck of water covered by grazing goats.
This "lake" is ringed with steep cedar and juniper forests. Far above the treeline, at the summit of Kızlar Dağı, herds of wild horses gallop across arid slopes.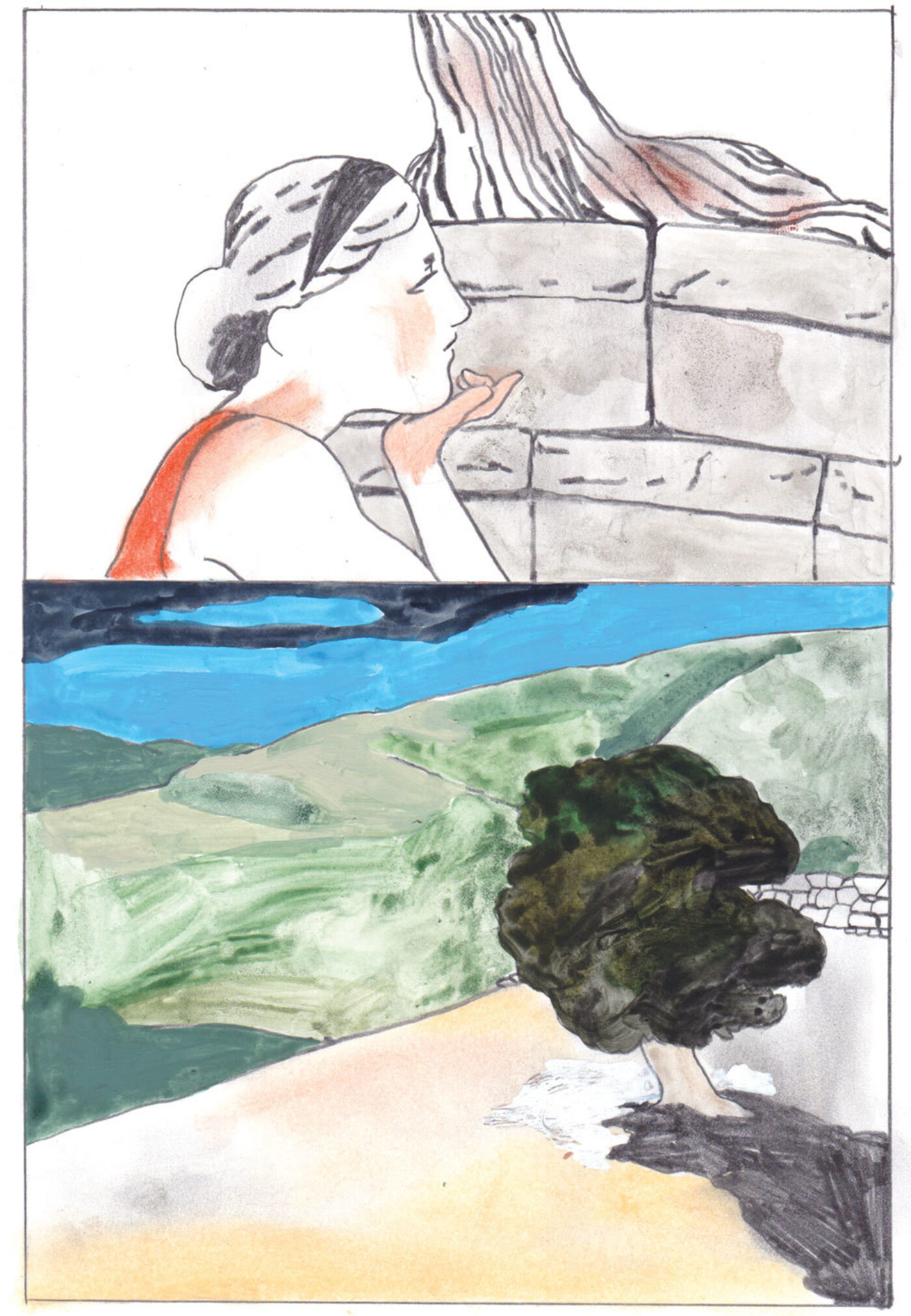 Patara: a huge city down by the water. There's a sacred grove said to be where Leto gave birth to Artemis and Apollo. You can walk from the ruins over to the beach and swim.
After we went to see Cybele, an ancient open-air temple to Dede (grandfather). It's a phallus! People would pray to it on the full moon for rain to come.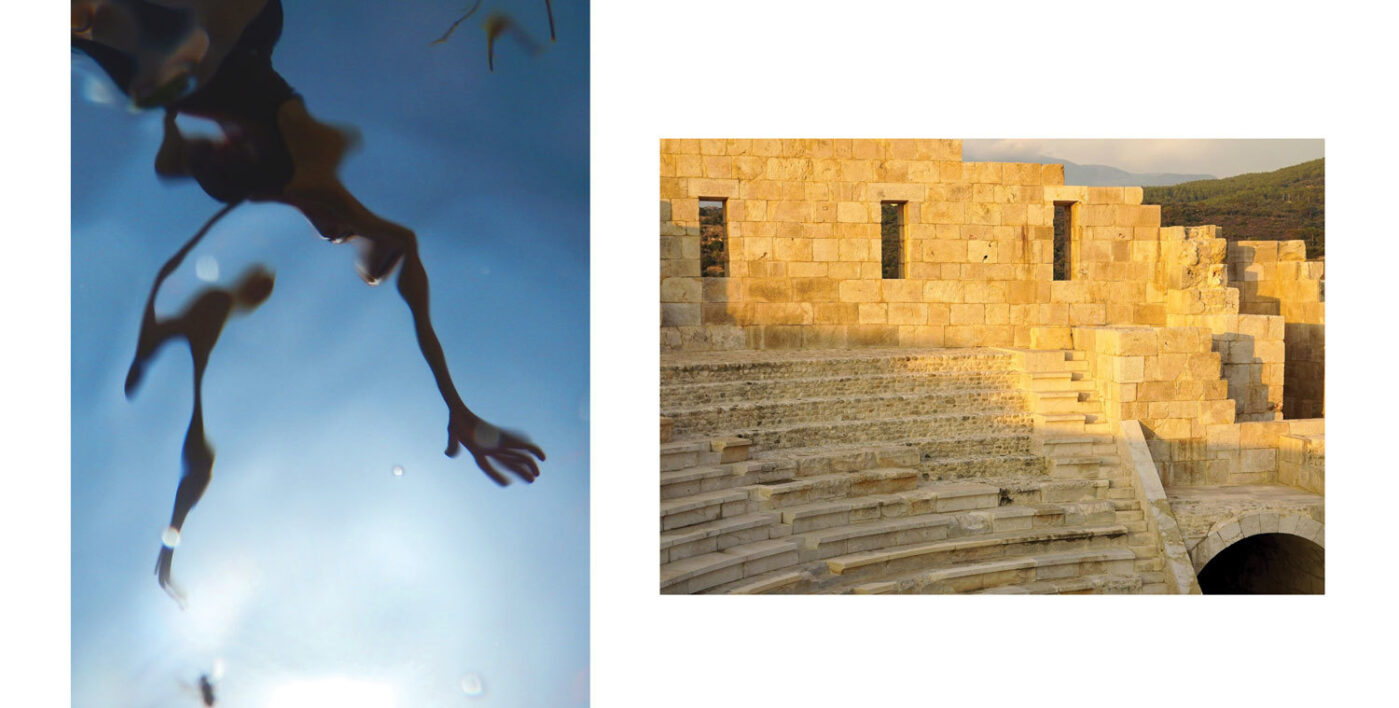 Bezirgan is two towns. We went to the upper one to see the century-old storehouses where villagers keep their grain and supplies in winter, when they move to the lower town. Most villages used to work this way. The Lycian Trail goes through Bezirgan and has a spring tap there. We stopped at a special cafe owned by a man named Dervish; he decorates the trees with furniture and bones for luck.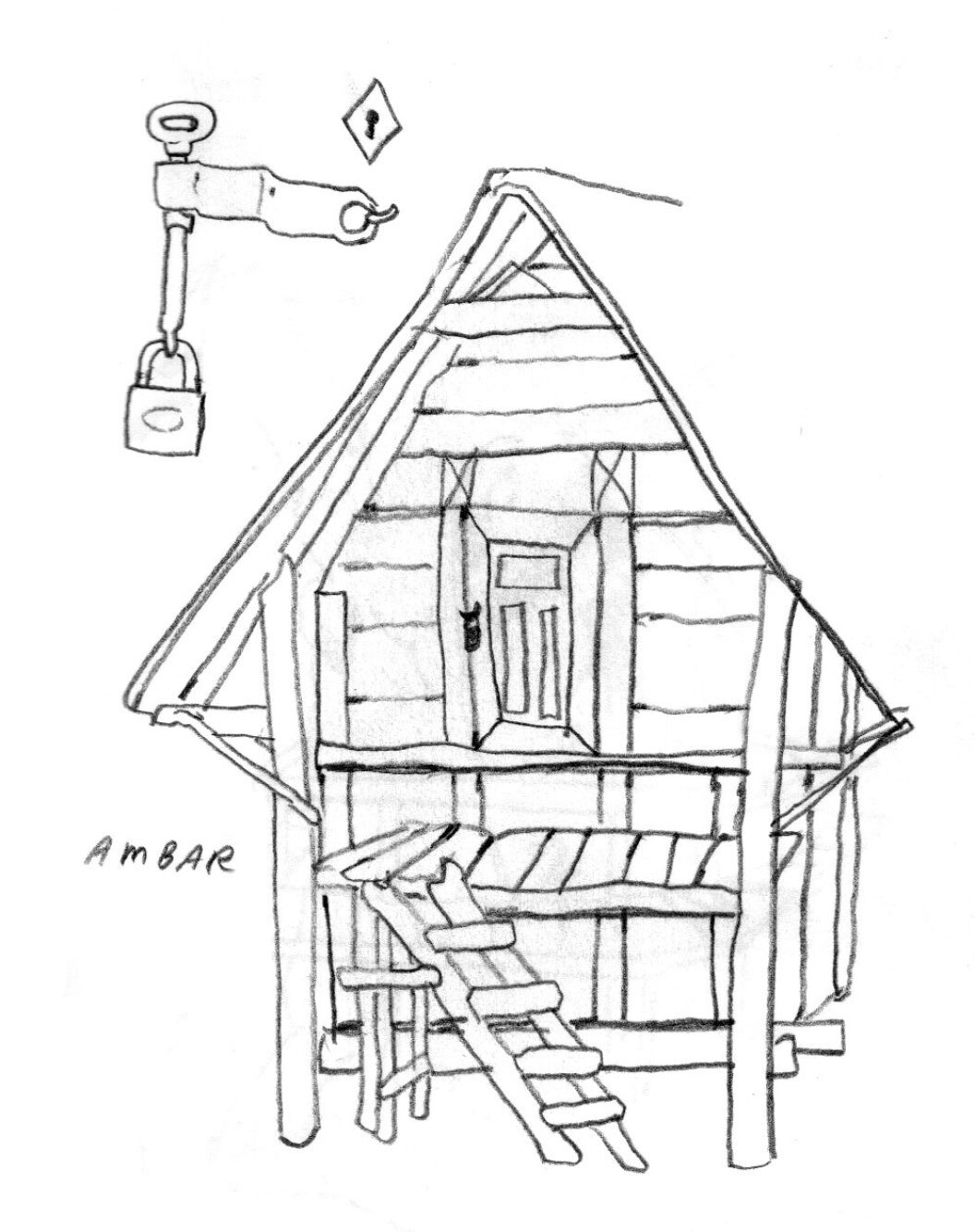 Inpınar: the beginning of another long trail where a hilltop spring starts. There's an ancient doorway that you can walk deep into. The water is sweet, the most delicious we tasted for sure.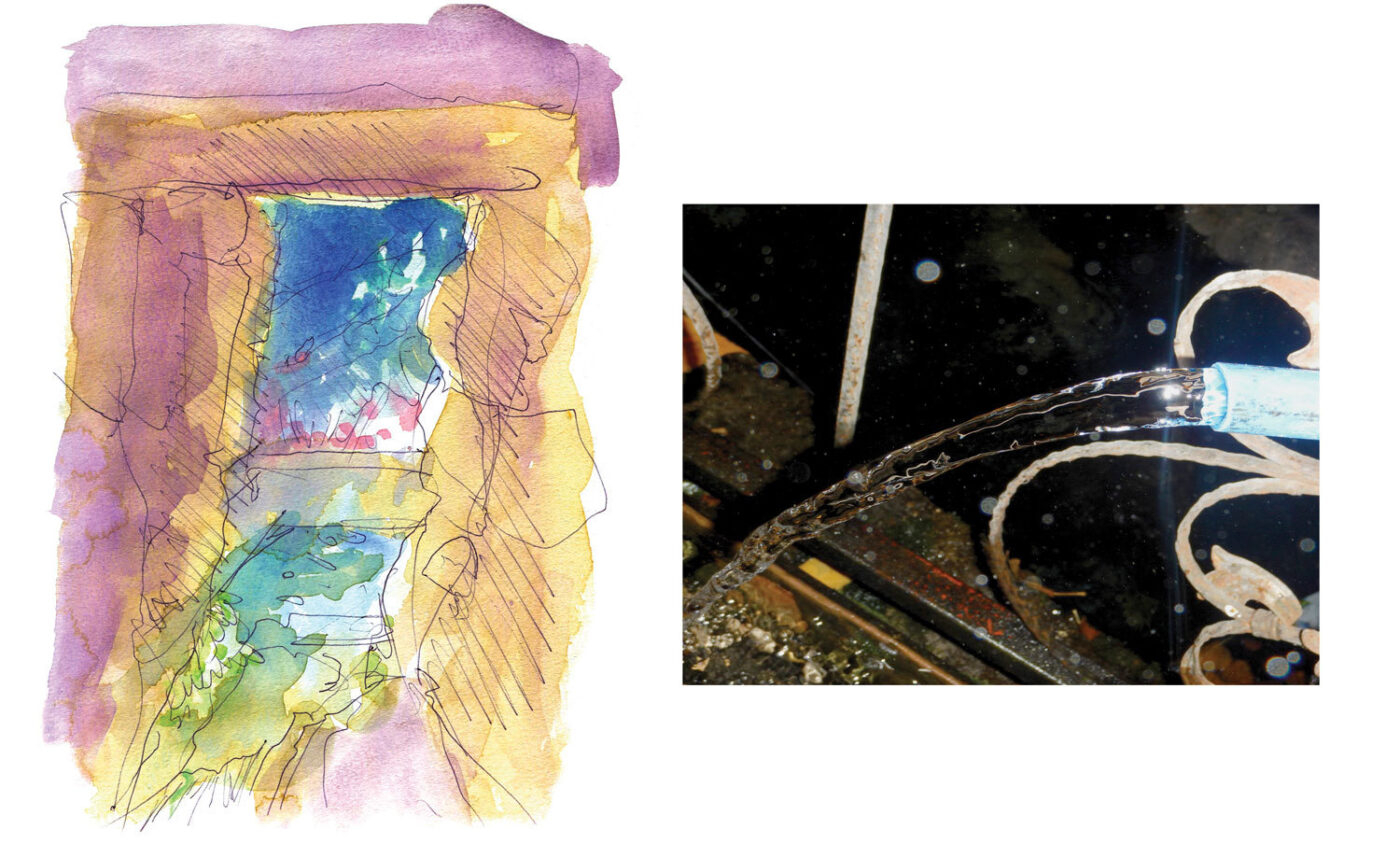 Hidrellez Cave, a place of secret worship for early Christians, an ancient sanctuary down crumbling steps into a giant empty space of striated karst. In one corner at the bottom, pipes disappear down a smaller cave where the spring once flowed. Its water now is far down and saltier, the locals say. On the other side at the bottom, traces of an ancient chapel, painted walls, a small rounded apse…but also evidence of digging and blocks tumbled about in the last few decades. Many relics and artifacts have disappeared.
It provided for almost all of the peninsula's needs in the past, but now it sounds sucked dry.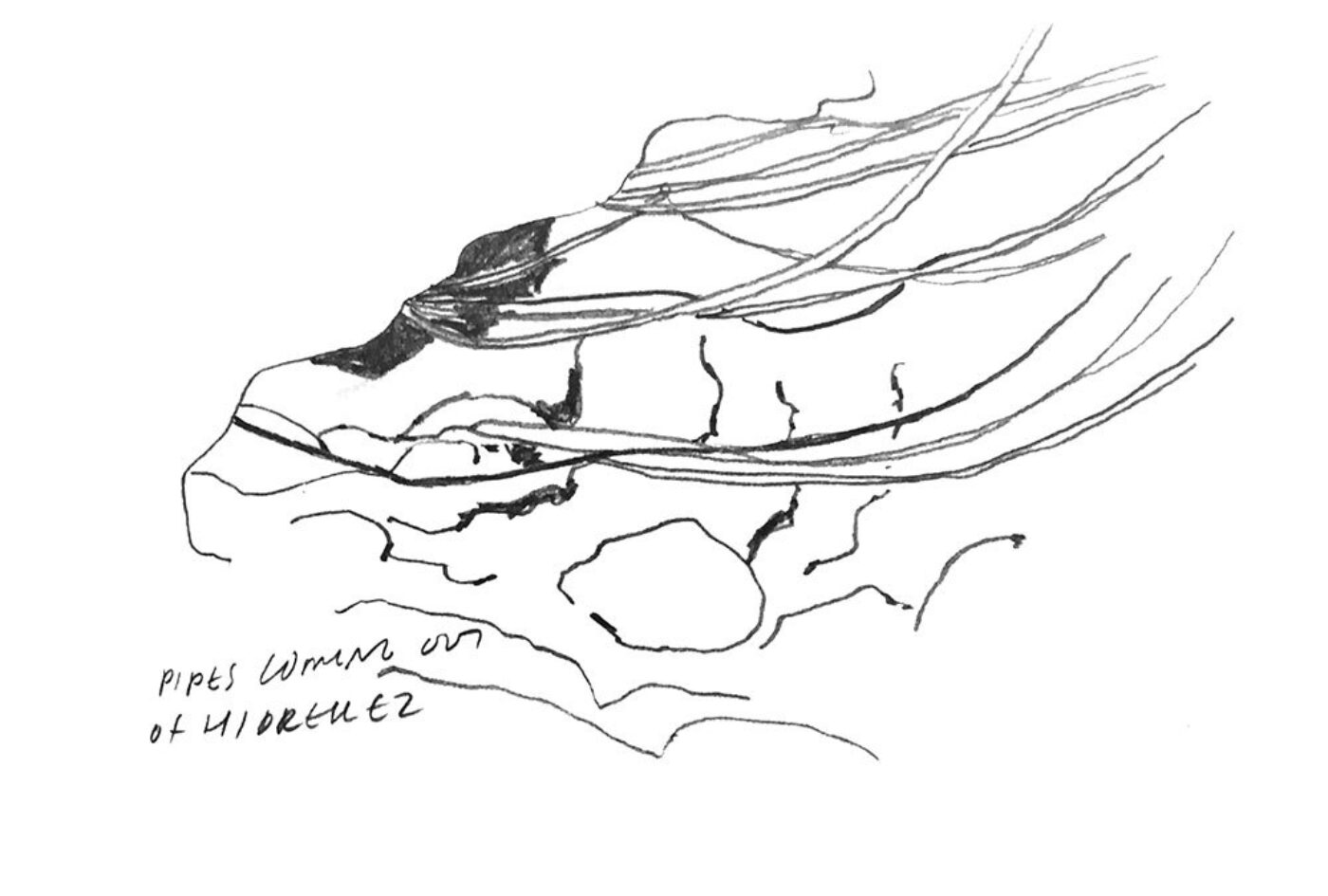 Pinara: quiet ruins in the lush hillside. There are tombs hidden among giant trees, thousand-year-old olive trees growing, and this time tortoises mating everywhere. We've never seen anyone else around; it's the most "perfect" ruin I can imagine. While there, a thunderstorm struck, with lightning that seemed to float by without any rain, and a brief rainbow appeared in the distance…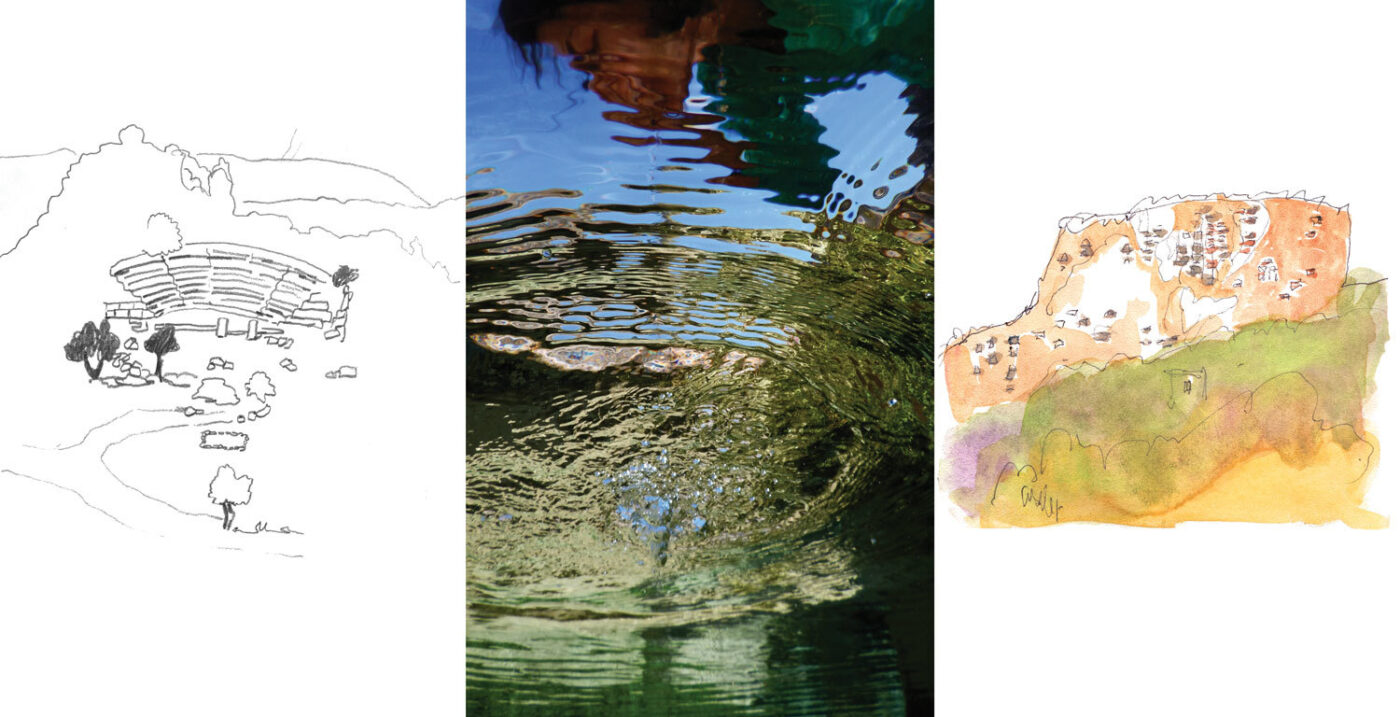 Aidan Koch is an artist and cartoonist based in New York and California. Her books include The Whale, The Blonde Woman, and Impressions (Peradam, 2014). In 2017, she founded the Institute for Interspecies Art and Relations.
Margaret Ross Tolbert is an artist based in Gainesville, whose paintings, performances, and projects about water, such as her 2010 book AQUIFERious, originate from her home in the springs heartland of Florida. 
Originally published in
Our winter issue is dedicated to this planet's greatest resource: water. With contributions from Saskatchewan and the American Southwest to Iceland and Northern Europe, an array of voices are brought together here—artists and writers investigating water as site, sustenance, and symbol, along with those expressing alarm and calling for intervention.
---
Featuring interviews with Lauren Bon, Oscar Tuazon, Jaque Fragua, Brad Kahlhamer, Ruth Cuthand, Janaina Tschäpe, Jessica Grindstaff, Tomoko Sauvage, Cecilia Vicuña, and Alicia Kopf, as well as writing by Laura van den Berg, Natalie Diaz, Stefan Helmreich, and more.