Digital Interface: Addie Wagenknecht's Alone Together by Amelia Rina
Painting with a Roomba and International Klein Blue.

Discover MFA Programs in Art and Writing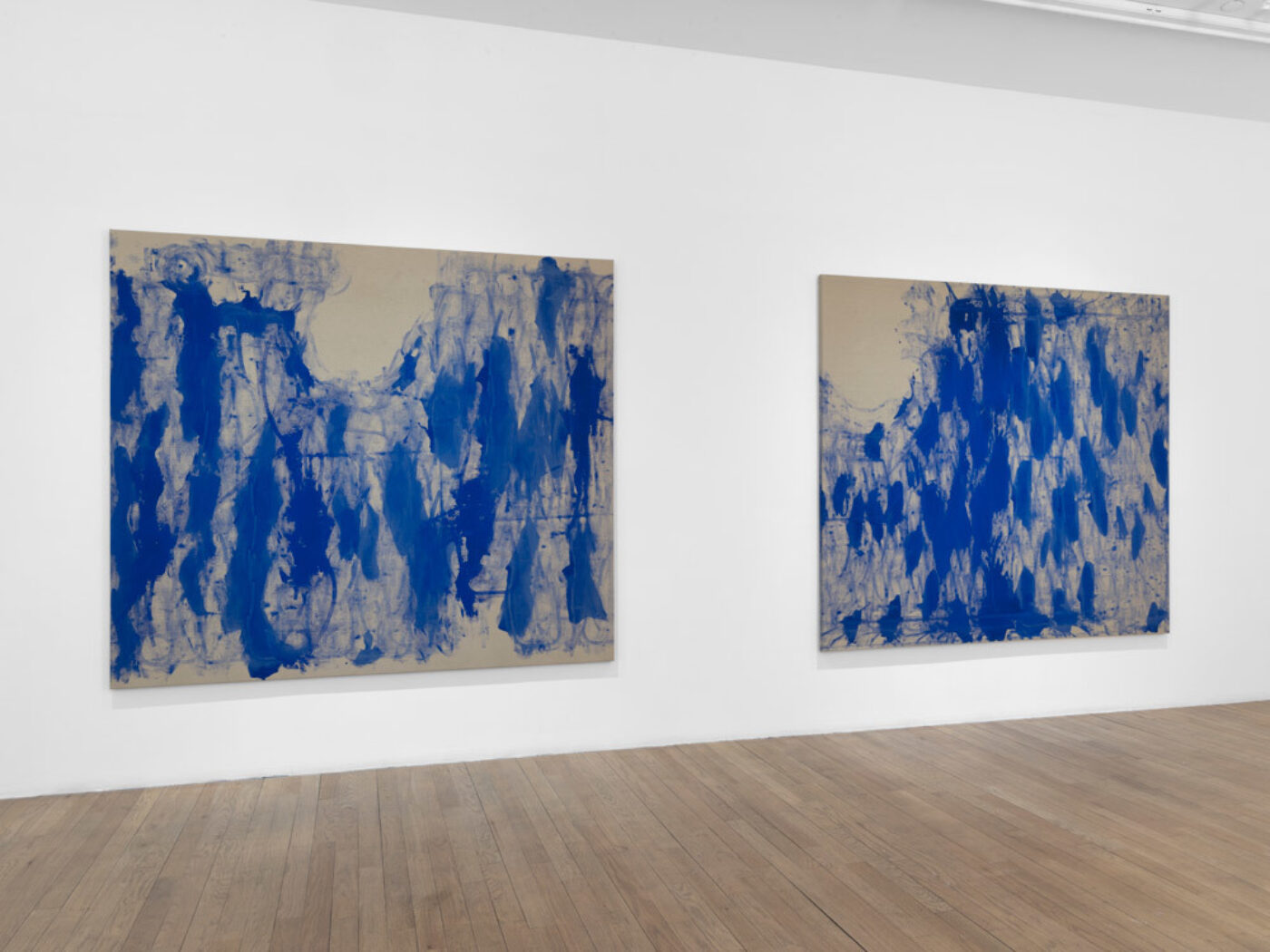 "Technology is seductive when what it offers meets our human vulnerabilities. And as it turns out, we are very vulnerable indeed," writes psychologist and theorist Sherry Turkle in Alone Together: Why We Expect More from Technology and Less from Each Other (2011). In the introduction, Turkle explains that her book "is about how we are changed as technology offers us substitutes for connecting with each other face-to-face." This new form of intimacy described by Turkle—one that paradoxically involves a high degree of isolation—sets the stage for Addie Wagenknecht's second solo show at bitforms gallery.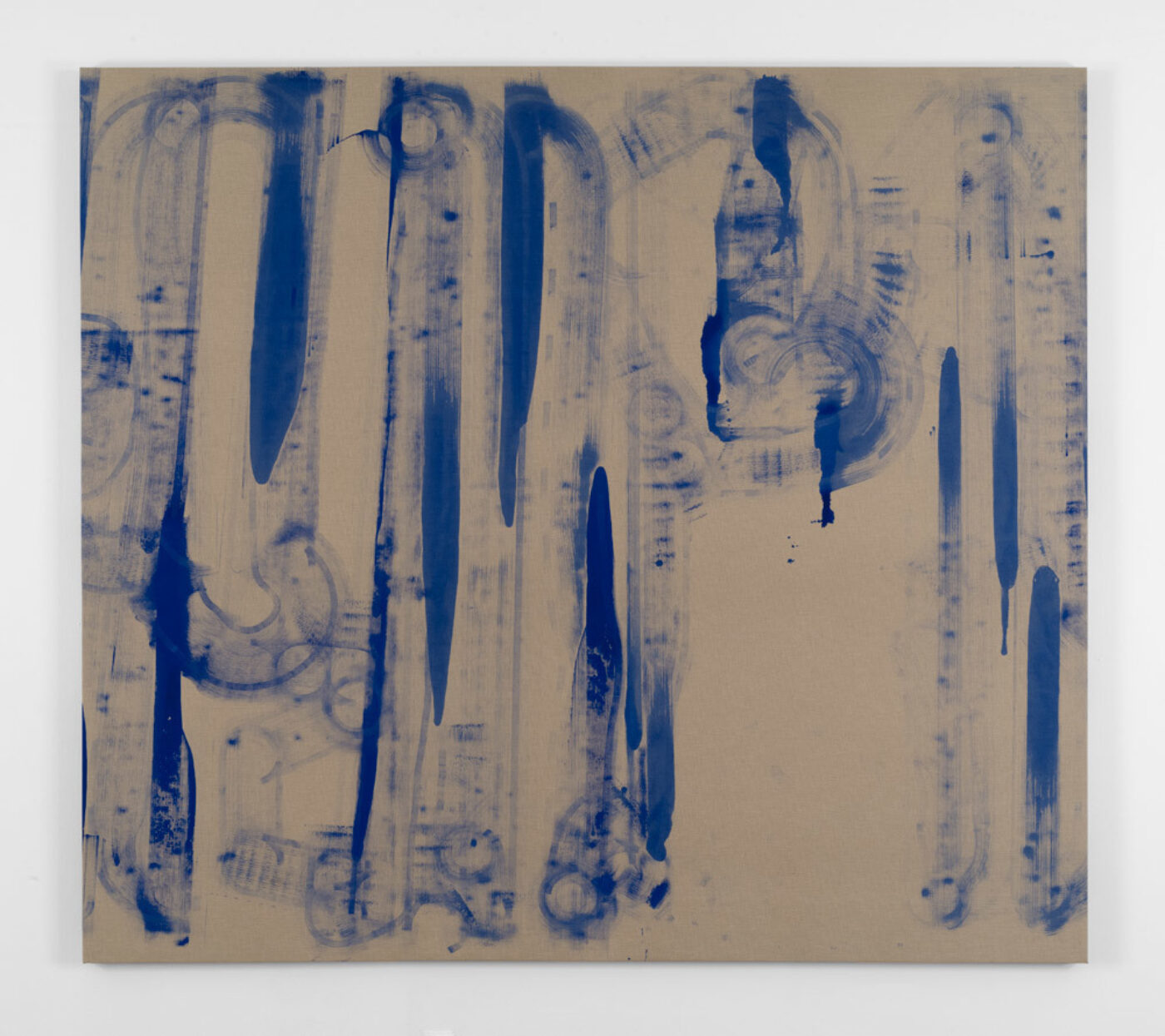 At first glance, the mid- and large-sized works on linen canvas appear to be abstract-expressionistic paintings, with a familiar ultramarine hue. The unique process described in the press release, however, transforms the paintings into performative works that challenge the exploitation of female bodies and labor in art history and society at large. To produce each piece, Wagenknecht loaded International Klein Blue pigment into an iRobot Roomba, then laid her nude body on the canvas while the cleaning robot tried to perform its programmed task of traversing the entire canvas. Wagenknecht's intervention dooms the Roomba to negate its predetermined goal: instead of cleaning a designated surface area, the frisbee-sized vacuum cleaner leaves a blue trail in its wake. Wagenknecht further prevents the Roomba's success by inserting her form into the landscape mapped out by the robot's sensors. The resulting voids would be as benign as a couch blocking the Roomba's path in its owner's living room, if it were not for the historical context that saturates International Klein Blue.
Patented in 1960 by the French artist Yves Klein, the blue pigment dubbed International Klein Blue (IKB) represents a landmark in the history of Minimalism. Klein used the pigment in many of his best-known works, including monochrome paintings, sculptures, and his Anthropometries, for which he would paint nude female models with IKB, then use the "human brushes" to make marks on paper and canvas, all in front of a live audience. In her reference to Klein's Anthropometries, Wagenknecht conflates a critique of the male use of female bodies (both in art and in general) with the surprisingly entangled histories of military technology and domestic labor.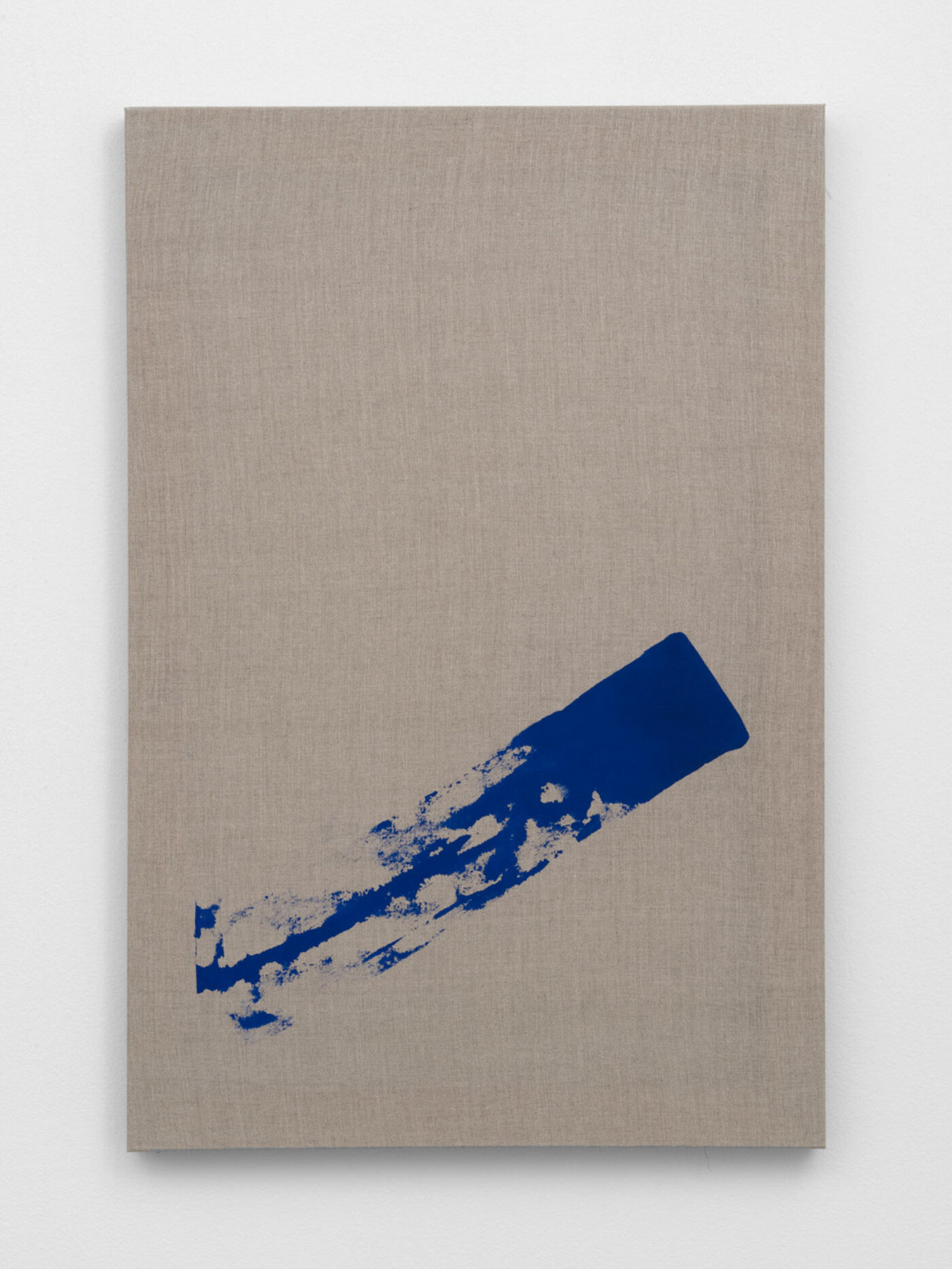 Besides the immediately recognizable ultramarine blue of IKB, Wagenknecht's paintings bear little resemblance to Klein's Anthropometries because she chose to offer alternative images of what a female form can look like. Instead of the pronounced breasts, hips, and thighs in the Anthropometries, the paintings in Alone Together aim to "challenge the notion of what a woman's body looks like, especially … when not available for sex or labor," Wagenknecht explained to me in an email. For self portrait—loneliness is what we can't do for each other (2017), her body created a rectangular space on the bottom edge of the canvas, while in self portrait—social graph (2017), she occupied a triangular swath of the upper-right corner. Surrounding each abstracted female form, the Roomba's dogged attempts to address every inch of the canvas result in fluctuations between dense strokes of IKB and wispier, faded stains that reveal the robot's mechanical underbelly.
The relationship Wagenknecht addresses—between the marks and voids—challenges our assumptions about presence and absence, and who has the right to choose their physical condition. Many global cultures expect women, especially those who perform domestic, emotional, or sex labor, to be invisible. Invisibility can mean literally being unseen by others, or it can manifest as a lack of wages or basic rights. In this way, the Roomba is a perfect woman: it does not care about not having rights. When discussing the progression of the Roomba's design, iRobot CEO Colin Angle said: "Its ideal form is a robot that you put in your home, and every day it goes and vacuums, and you may never see it, but every day you come home and your floors are thoroughly vacuumed. You never touch it, and that's a perfect solution." iRobot's interest in invisible laborers becomes more sinister when considering its history of developing military robotics, such as the sweetly named Urbie, developed for the Defense Advanced Research Projects Agency to be used in urban combat, and Fetch, which was designed to detect and dispose of landmines on inactive battlefields.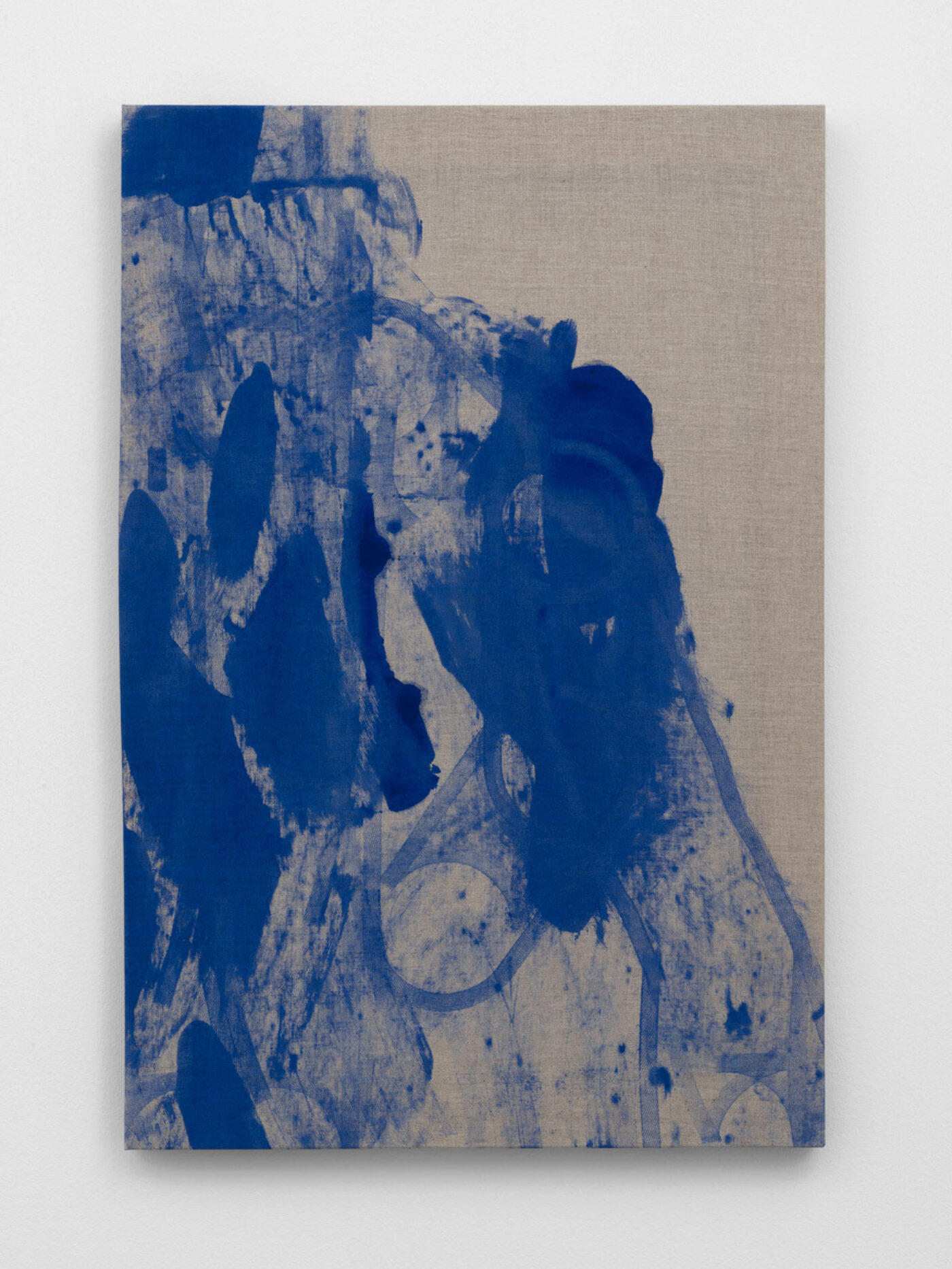 Furthermore, as robots like Roombas and home assistants like Amazon's Alexa and Google Home integrate deeper into our daily lives, so does the Internet of Things. This omnipresent network connects all our "smart" devices, from mobile phones to refrigerators, and sends our data to the companies that manufacture them. Our data is then ostensibly used to make the connected devices more efficient for individual consumers, but also turns consumers into products sold to advertisers so they can more efficiently sell products back to consumers. This unique form of surveillance has generated an unexpected result: as we become more dependent on digital devices to mediate our actions and interactions, we begin to experience them as "creatures" instead of machines and form bonds with them. We trust these digital partners to track our most personal details—everything from what we eat and our location to our heart rates and ovulation cycles. Yet despite increasingly sophisticated technologies, a disconnect remains. Batteries die, Siri misunderstands our voice commands, motion sensors recognize white skin, but not black. Wagenknecht's paintings oscillate between a puckish obstruction of the Roomba's task and a portrait of the disregarded, often unseen technological mediations of everyday life, made visible.
Addie Wagenknecht: Alone Together is on view at bitforms gallery in New York until February 17.
Amelia Rina is a critic, writer, and editor currently based in Brooklyn.